This week on 'Road to St George' I was able to sit down with Laura Philipp, who will undoubtedly head to Utah as one of THE favourites to win the 2021 IRONMAN World Championship. She gave me a fascinating insight into her mindset heading in.
Laura Philipp has been waiting almost three years for this – the opportunity to again bid for IRONMAN World Championship glory.
The 34-year-old German star finished fourth on her first trip to Hawaii in 2019, and she was looking forward to seeing if she could improve on that a year later. The wait has been a long one, but now – at last – the moment is almost here.
The wait is over
She told me: "That's actually what I was waiting for since 2019. I got fourth in Kona in 2019 in my first IRONMAN World Championship, and that definitely left me hungry for more. Of course I was looking forward to 2020 too, and then it didn't happen and the next year it also didn't happen.
"I think we are all just so hungry for racing each other and motivated. To have two World Championships this year makes this year a really special one and I'm very grateful – hopefully I will be healthy and ready to race."
The move to St George from Hawaii is a trip into the unknown for the IRONMAN World Championship, and it's the same for Laura.
"I've never been to St George, I've only seen videos from the 70.3 race. It looks stunning – I really love the landscape over there – so I can't wait to actually go there and experience it myself."
While the course will present very specific challenges for the athletes on May 7, Laura is clearly very hopeful it will be puzzles she is built to solve.
"I'm an athlete that's made for hard courses, I think they really favour me and I also love technical bike courses. I don't know if the bike course is really technical or the hardest part is just the climbing and the descents are easy. This is something I still don't know and I will only find out when I get there.
"I'm prepared for a hard race but also a super super nice opportunity. I think having the World Championship outside of Kona is something very very special, especially with a wetsuit swim – that's something that should favour me. I only learned to swim at 24 so I still have some years ahead where I have to keep up and up my swim game.
Philipp on St George course
"I'm looking forward for a hilly course, I try to prepare myself as well as possible. I included many hills already and I'm sure there will be more to come. It's funny to see that Instagram is full of athletes running or cycling up hills. I think everyone is looking forward to it and so am I."
One of the knocks on elite triathlon – and there are many reasons – is that too often the best do not race the best. This will not be the case in St George, and Laura believes more stellar fields in the future can result in incredible performances, and times.
Laura on Sub8 and times
"So there's this Sub8 project this year and I think even without pacers it would be possible for strong women to reach that time. I got a bit of a taste back in Dubai racing Daniela (Ryf) – if you have strong competition I think this can really bring the best out of you and you can push each other to whatever limit it is and to fast times.
"I think if we get more races with big fields and strong competition – and a fast course of course – then we will definitely see some amazing fast times. Especially on the female side there is a lot more to come."
Laura reinforced her point by referencing her dominant win at IRONMAN Austria in 2021. She clocked 8:35:32 in winning there, but did it with virtually no competition.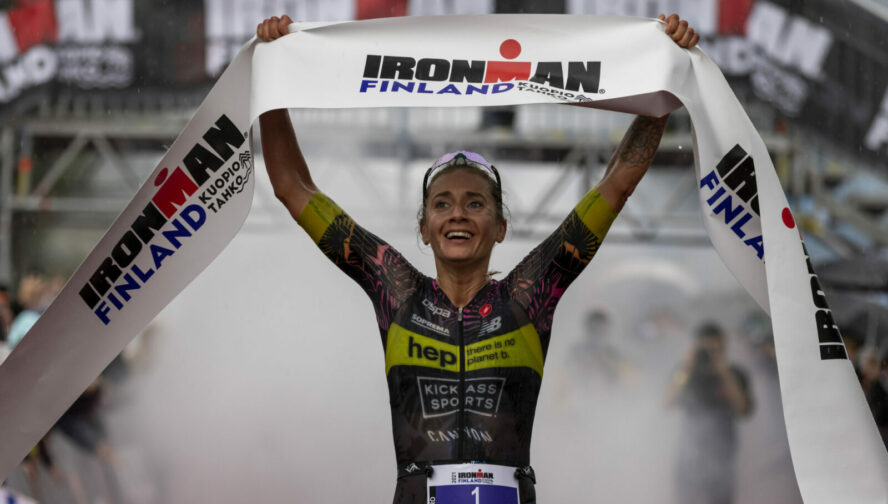 "Klagenfurt was more a race against myself. I really had to push myself – I had a massive gap after the bike already so I kind of pushed myself to my limit.
"I guess in St George there will be other women pushing me, or we will be pushing each other, and I think this is something that will add another spice factor. It will probably be easier to push hard because you simply have to to be in the mix.
"I haven't had many racing opportunities like this – so I'm looking forward to exactly this because it's hard to predict. I don't know how my race will unfold or how I will feel if I am under pressure. But it's definitely something that I think will create something positive."