Dreams came true today at DATEV Challenge Roth with Franconian local Andi Dreitz and Brit Lucy Charles-Barclay both climbing one step higher on the podium to claim their victories.
On Saturday at the bike check-in, Andreas Dreitz predicted a first Franconian victory at DATEV Challenge Roth, and today his prophecy come true in a time of 7:59:02. Behind him, Jesper Svensson (SWE) and Cameron Wurf (AUS) placed second and third place at the 'Triathlon Dream Factory'.
Dreitz led the race from 40km on the bike claiming the fastest split of the day in 4:13:12 and ran an entire 2:51:11 marathon in the lead but it was no easy win – "I went through many ups and downs today. This victory here is insane."
In a packed triathlon stadium in Roth, the local hero was welcomed by the Walchshöfer family and cheered by thousands of fans. And just in time for the winner's finish, the sun finally made its way through the clouds as Dreitz soaked up the enthusiastic applause of the fans, the flower ceremony and the obligatory champagne shower.
Svensson led out of the swim in 48:27 but the three Andies (Dreitz, Böcherer and Potts) pushed him into fourth which was where he started the run. He worked his way back towards the front, running a 2:48:43 to claim second place in 8:02:20. Third placed Wurf had also made a prophecy come true on the run course: He wanted to show this year in Roth that he not only can cycle very fast, but can also run fast which he did today posting a 2:50:37. Unlike last year, he did not lose any places on the run and finished in 8:04:08. Fastest run split of the day went to David McMcNamee in 2:41:01.
In the women's field Lucy Charles-Barclay raced a wire-to-wire win. The young Briton led out of the water in 49:01, 5:28 ahead of Rachel McBride (CAN). While she held onto the lead, it was slowly being whittled away by chasers Sarah Crowley (AUS) and last year's winner, Daniela Bleymehl (GER).  With a cry of joy, the 25-year-old crossed the finish line to loud cheers and a new personal best of 8:31:09. "I can not thank the spectators enough for their support. It's so important, because you can never stop pushing and giving everything."
Sarah Crowley exited the water in fifth and maintained this position until she made her move at the 70km mark up to third before coming off the bike in fourth. A 3:00:02 marathon saw her run up to second place on the podium. Bleymehl rounded off the podium in third in 8:43:17.
For full results, visit www.challenge-roth.com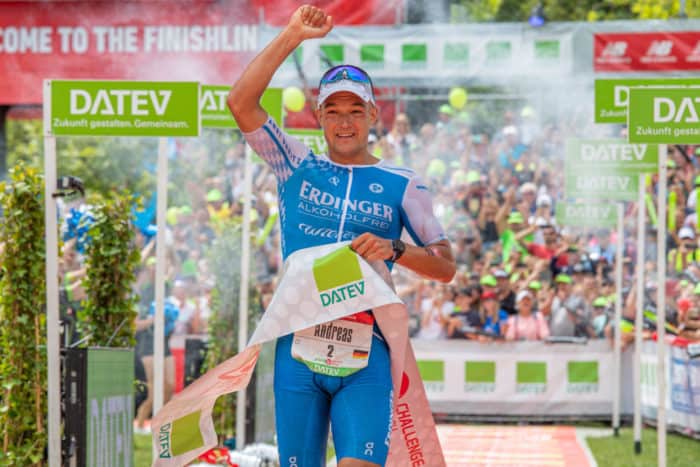 POST-RACE: YOU CAN WATCH THE COVERAGE HERE: