When Lucy Charles-Barclay was ruled out of both the IRONMAN World Championship in St George and that Sub8 bid, it was a big blow for both events.
Lucy would have lined up as favourite for the women's title in Utah, and likely the same for that head-to-head with the great Nicola Spirig in Germany in early June.
Now though Sub8 will move in a different direction, with a replacement for Charles-Barclay set to be announced in the coming days.
Two-time Kona king Chris McCormack, one of the men behind the much-hyped project, spoke to the MX Endurance Podcast in a wide-ranging interview about the elite triathlon landscape heading deeper into an incredible 2022 calendar.
Macca on LCB injury
First he spoke at length about the injury which ruled out Charles-Barclay, explaining: "It's sad, personally sad for any athlete getting injured, especially somebody of Lucy's calibre, so early in the season and right around critical racing with St George in a month. Her going in as one of the favourites for that event.
"I think first of all we're robbed of seeing an amazing athlete coming into what could have been her flagship year. We saw that IRONMAN 70.3 World Championship win last year in Utah, she was coming in to resurrect those three World Championship silver medals over the Ironman distance potentially, in St George. So that's a shame."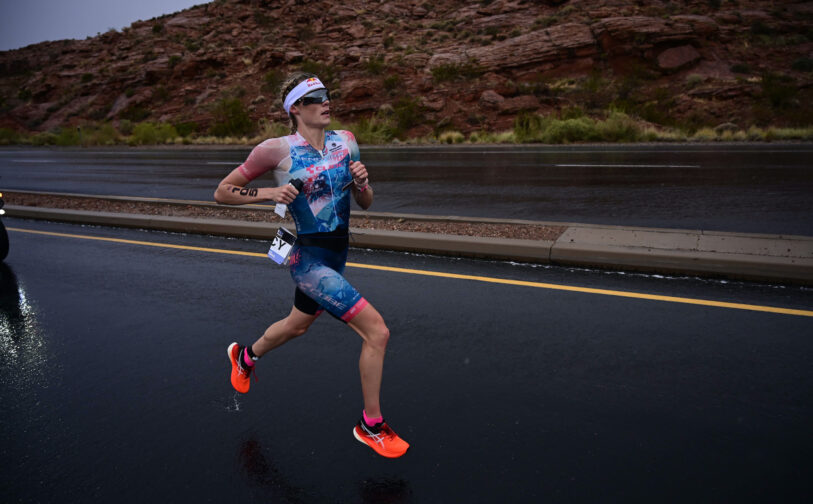 McCormack also talked about the challenges athletes face as their performance levels increase, and how that can often be the danger zone when it comes to injuries.
"Someone like Lucy's been an amazing athlete to follow and an amazing success but you sort of start to plateau out, with the utmost respect," he explained.
"When you get to that point where you are starting to find marginal gains, that's when athletes tend to get injured.
"That forward momentum of progress when you're new to a sport, that sort of peters off and plateaus and you're trying to find those small marginal gains in running and swimming. I think that's where she was in her training block… and unfortunately she's broken down and we're not going to see her in Sub7Sub8 from a racing capacity."
A new dynamic for Spirig
Lucy will be on hand in Germany in June, but likely as part of the broadcast team rather than racing. Not only is it a big disappointment for all involved, it means a change in the dynamic for her opponent Spirig.
McCormack said: "She's (Lucy) going to be there, she'll be working with us on television, she's been such a big part of the story in the last 18 months. She'll be there but it will disappointing not to see her go after it because the workload she was doing behind the scenes, and this unspoken rivalry with Nicola.
"You speak to any of the athletes – and we've spoken to a few athletes since Lucy has been injured, the understudy for the event – whether she wants to do it, we've talked to other athletes about coming on board, and Nicola. And Nicola was legitimately disappointed.
"A lot of the athletes we've spoken to since then really wanted to see Nicola Spirig go over this distance against somebody like Lucy Charles. There's always been discussion that Nicola could have dominated this distance if she didn't stay in short-course for so long."
Who will replace LCB in Sub8?
McCormack says talks are ongoing with two potential Charles-Barclay replacements, and both will mean a different puzzle to solve for Spirig.
"If you watch the recent video with Nicola, talking about how she was approaching it, that was under the assumption that Lucy was racing. How she was looking at the swim, bringing in the marathon runners to do that.
"Now as you know we have understudies for the men's and women's side preparing in the background for this event, who have been preparing just in case this happens. We have two, having conversations with both of them, who can potentially come in and fit the mould.
"I know Nicola's preparing just for Nicola's race. But as we said the race of a Nicola-style athlete vs a Lucy Charles is a completely different dynamic than the other athletes we are talking to who can potentially come in where it's a completely different race altogether. So it will be interesting from a racing perspective."