Great Britain's Lucy Hall continued a theme on Sunday at Challenge Family's The Championship race in Samorin, Slovakia.
The first three editions, 2017 to 2019 inclusive, had been won by Lucy Charles-Barclay, and so perhaps being another uber-swimmer called Lucy, it was written in the stars.
We spoke to her shortly after her race to find out more.
A tough way to race – Lucy Hall
While she crossed the line with a two-minute victory margin, it was achieved the hard way – from the front all day.
"I felt pretty good on the bike, and into the headwind I was trying to a bit be efficient with my pedal strokes. When we turned with the tailwind I thought, 'OK, I think I can go a little bit harder'. It wasn't necessarily to try and drop Sara, but that sort of happened naturally.
"I was a real tough race and I got pushed right to the line. I think around 11k on the run I absolutely popped! That was just a really tough way to race, I've done it before in ITU where I've gone from the gun. I did it all my own, It's tough racing though and I don't particularly want to have to try and race like that again if I can help it!"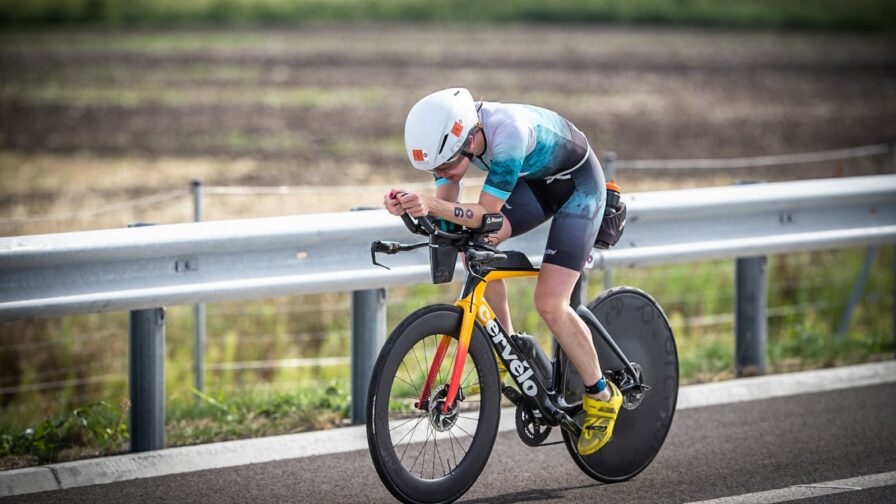 Hall considered quitting in 2020
While Lucy describes her run as "popped" from 11km, she maintained her pace a lot better than some of her first races over the middle distance, when any fading on the run came much earlier and was far more visible. Does she still feel she is growing into and gaining strength over the middle-distance format?
"Definitely. Last year was a tough year for me. I genuinely considered quitting and retiring from the sport. It was a real tough year with the pandemic, financials and things like that, as it was with a lot of athletes.
"It was tough to get over that, but now we've got a bit of a longer distance squad in Leeds with Al and Jonny Brownlee, Beth Potter, Gordon Benson, Ruth Astle. We've got a nice swim squad and that's more a part of the foundations of my winter training so it's working really well.
"My other half, Mark Buckingham, started coaching me and it's going really well. I think I had a good winter, but like you said, I think I've still got a long way to go to challenge someone like Anne Haug on the run yet!"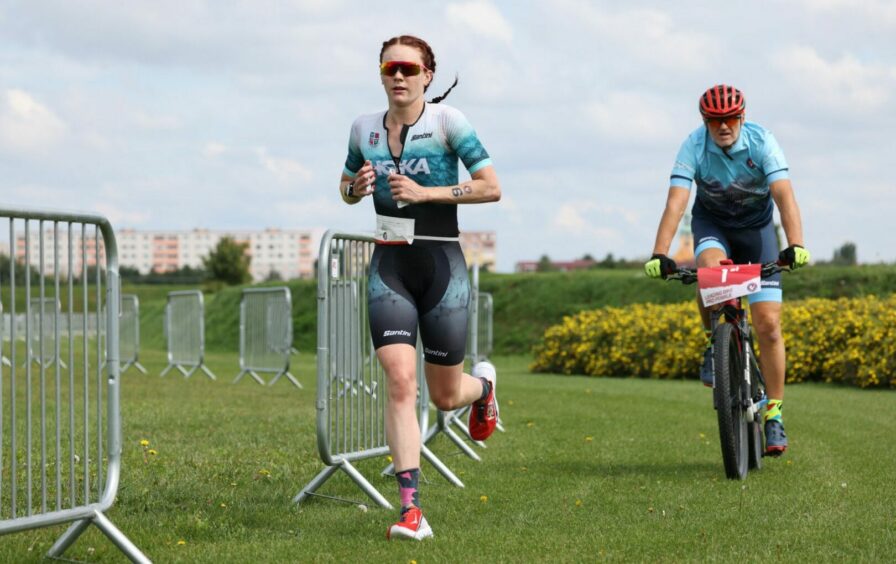 Staying on course…
Unfortunately the women's race was impacted by the main chase group – which included the likes of Fenella Langridge, Lisa Norden and Sarissa de Vries – taking a wrong turn early in the bike, effectively ruling them out of challenging for podium honours. Was Lucy aware of that during the race?
"I could tell as soon as we dead turned. I got a split quite early on that it was about two minutes back to Fenella. Then after we turned on the bike, I thought I can't see Fenella, I can't see Lisa. I thought something must be wrong, but for me I just had to keep going at the watts I know I could hold for 90km. I really do feel for those athletes, because I've been in those shoes before where I've gone the wrong way on a course and mentally to come from that is so tough. I totally feel for them all in that scenario.
"At that race [Ed. Outlaw X], I mean it was my own doing. I had a camera with me, but I still went left and it was my decision, it was on my head, so that's why when it came to this race, I knew it was a little bit complicated with all the snake turns and things and so I checked and checked and checked on my phone right up to the swim start, because I didn't want to do that again."
The impact of the PTO
With few race options in 2020, Lucy took part in several PTO-supported races including Helvellyn, Outlaw X the Pushing Limits race in Germany and the PTO 2020 Championship at Challenge Daytona. How key has the development of the PTO and their support of the athletes been?
"Like I said earlier, 2020 was a crucial year for me and so to actually have those races to focus on, because triathlon is what I love. I love racing and it gave me that hunger to push on over the winter after Daytona.
"Daytona was just such and amazing experience for me, I loved every second of it – even though I dropped off a cliff at 10km on the run – it's a bit of a recurring theme (!). You get so much from those races, and for the PTO to put them on, when I know it must have been so tough to organise in a pandemic, I couldn't be more appreciative that we actually have people in our corner and wanting to help us succeed in our sport."