After a year away due to the global pandemic, Challenge Family's headline middle-distance event, The Championship, returned on Sunday – less than 24 hours after the inaugural Collins Cup at the same x-Bionix sphere venue.
Given the quality and depth of athletes racing on Saturday, it would be logical to assume that a second-tier field would be filling the start lists. But in truth, there were plenty of athletes who could quite easily have gained Collins Cup selection – and a few wanting to make a point that actually, they should have been Captain's Picks.
PRO MEN: A perfect day for Angert
No surprise to anyone to see Slovakia's own super fish Richard Varga setting the pace through the opening 1.9km swim.
He made it through the swim and T1 with a 54-second advantage over Florian Angert (GER) – who was third in 2018 – followed by Eric Lagerstrom (USA +1:19), Frederic Funk (GER +1:34) and Michael Raelert (GER + 1:43). A minute further back was the trio of Sam Wade, James Teagle and Magnus Ditlev (DEN).
Varga's expertise is in draft-legal, World Triathlon racing and with the German cycling power chasing, it would not be long before he was hunted down and left to watch the uber-bikers power up the road – a very flat and fast motorway, closed especially for this weekend's events.
By 50km, Angert and Funk had moved to the front, with the young Dane Ditlev powering through to third place. Funk was the fastest rider on course, and after his wins in St Poelten and Walchsee, he was perhaps race favourite at this stage.
The two Germans – both part of the powerful ERDINGER Alkoholfrei squad – reached T2 together and were soon out onto the run. With Ditlev losing time in the final section of the bike, and now three minutes down at T2, he was really going to need the improved running he told me about earlier in the week.
A 1:54:39 bike split from Frederic Funk is a measure of just how hard they cycled, combined with the speed of the new course.
Michael Raelert, twice IRONMAN 70.3 World Champion, was fourth into T2 – but a huge 7:21 back. It would take something significant for the podium spots to change over the run, with surely only Ditlev having any hope of catching the leading duo.
Funk is part of a triathlon dynasty, with both of his parents previously Pro athletes too. Would his 2021 form win out, or would the previous success at the venue help Florian Angert to a first win of 2021? We had 21km to find out the answer to that one.
It didn't take long for Angert to put his stamp on the run, and by 6km he was already a minute clear of Funk, while Ditlev was also losing time to the 2019 IRONMAN Barcelona champion.
Angert never looked under threat, crossing the line before saying: "I can't explain how good I felt today."
Thomas Steger (AUT) produced his typically blistering run split (1:06:18), but it wasn't quite enough to make the final podium trio as he finished in fourth.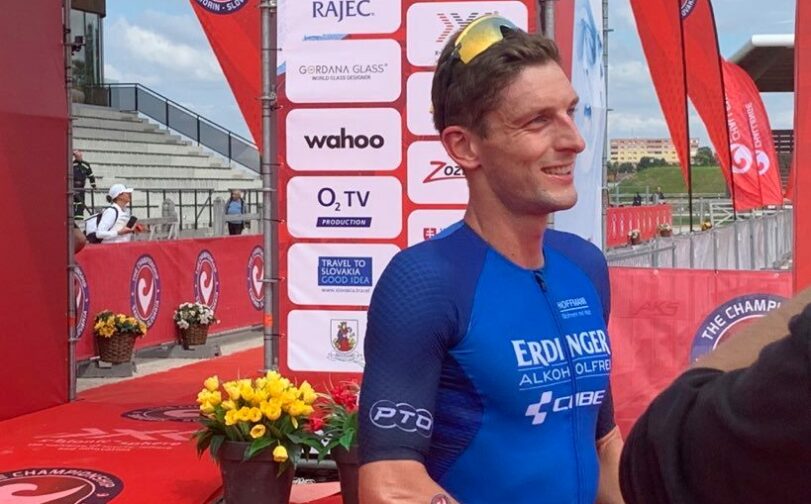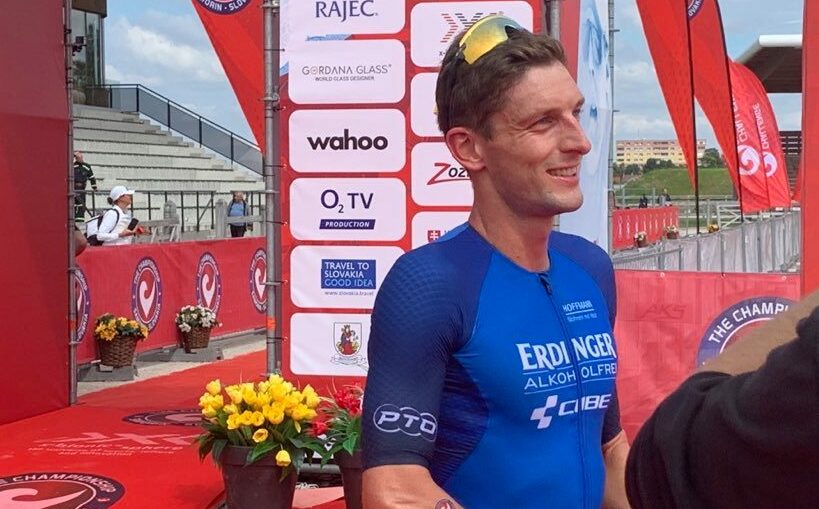 Sam Wade was the first Brit home, seventh in a field of some quality, ahead of both Eric Lagerstrom and Raelert.
The run of bad luck continued however for Thomas Davis. After several crashes and punctures already this year, he damaged his shoulder when it was caught on a hidden rope or similar at the swim start. Surely luck will be on his side soon – next week at Challenge Roth would be perfect.
PRO WOMEN:
Just as with the men, predicting the front of the Pro women's race in the water was never going to be a tough task. Great Britain's Lucy Hall and Sara Perez Sala (ESP) exited the swim together, and only Haley Chura (USA), some 20 seconds back, was close. The chase group comprised Fenella Langridge, India Lee, Sarissa de Vries (NED), Justine Mathieux (FRA), Lisa Norden (SWE) and Judith Corachan Vacquera (ESP).
While Hall and Perez Sala continued to lead the way at the front on the bike, the bad news from behind was that the chase group had taken a wrong turn early in the ride. Not quite sure of the circumstances at the time of writing, but that was going to put a big spanner in the works.
Perez Sala made her mark on middle-distance racing with an impressive display at Challenge Miami earlier in the season. A fine swimmer, she was also hugely impressive on the bike – but Great Britain's Hall would win that particular battle here.
In close order for the first third of the ride, a smooth looking Hall was riding well and started to pull clear of the Spanish athlete, so much so that as she reached the dismount line after 90km she had a lead of three minutes, with Chura now more than nine minutes back.
That earlier detour for the main chase pack had left them completely out of contention, something Hall of course could not control. It was now time to see if she could add a second win of the season, after her success at IRONMAN 70.3 Gdynia.
Starting the run, Hall lead by three minutes, with Chura now almost 10 minutes back.
Having put the effort in to drop Perez Sala, Hall was looking strong and consistent on the run, but they could come back to bite at any time. Chura (1:18:21) and Perez Sala (1:22:53) regained time on the run, but it never looked like being enough. Hall stayed strong, clocked a 1:24:43 half and took the win by two minutes.
There's something about British uber-swimming women called Lucy and success at this event.
It's just a shame that, due to the misdirection / wrong turn of the main chasers early on the bike, we didn't get to see how a quality field would stack up on a level playing field.
Challenge Family The Championship 2021 results
Sunday August 29, 2021 – 1.9km / 90km / 21.1km
PRO MEN
Florian Angert (GER) – 3:36:03
Magnus Ditlev (DEN) – 3:39:45
Frederic Funk (GER) – 3:40:25
Thomas Steger (AUT) – 3:40:46
Andreas Dreitz (GER) – 3:45:45
Boris Stein (GER) – 3:47:17
Sam Wade (GBR) – 3:48:00
11. Pete Dyson (GBR) – 3:57:20
13. James Teagle (GBR) – 4:06:00
PRO WOMEN
Lucy Hall (GBR) – 4:10:45
Sara Perez Sala (ESP) – 4:12:45
Haley Chura (USA) – 4:14:39
Grace Thek (AUS) – 4:18:04
Aleksandra Jedrzejewska (POL) – 4:18:48
9. Fenella Langridge (GBR) – 4:26:47
12. India Lee (GBR) – 4:36:43