Speedy debut races in Barcelona for Elliot Smales and Sam Pictor
"Ironman… I don't quite understand why people do it for 'fun'!"
While the eyes of the majority of the triathlon world at this time of year are focussed on the upcoming IRONMAN World Championship in Kona, the European M-Dot season still had one full distance race remaining on the calendar.
IRONMAN Barcelona in Calella gives athletes a chance to secure qualification for the Hawaii 2020 a full 12-months in advance – and is also renowned for its fast times. Two British athletes – Elliot Smales and Sam Pictor – were making their full-distance debuts, both somewhat unplanned, and both will return to the UK happy with their results – even if, for Elliot, "It was the hardest thing I have ever done and I hated pretty much every second of it after halfway on the bike."
He may have suffered, but he was 'suffering fast', ending the day in fourth position with an 8:01:22 finish time. That's actually the fastest debut time from a British athlete over the distance. An 8:13 finish for Sam (11th), in a season in which he broke his collar bone at IRONMAN 70.3 Staffordshire, will also give him plenty of positives too.
Check out the interview below with Elliot, about his debut race
IRONMAN Barcelona, Sunday 6th October
3.8km / 180km / 42.2km
PRO MEN
1st – Florian Angert (GER) – 7:45:05
2nd – Frederik Van Lierde (BEL) – 7:53:25
3rd – Nick Kastelein (AUS) – 7:57:32
4th – Elliot Smales (GBR) – 8:01:22
11th – Sam Pictor (GBR) – 8:13:00
https://www.instagram.com/p/B3SdwF6hPd7/
Elliot Smales on his IRONMAN debut experience:
After three wins in 2018 (Staffs / Dun Laoghaire / Weymouth), how would you sum up your 2019 season prior to Barcelona?
Pre Barcelona, my season may have looked a bit sparse compared to last year, but I'm actually as happy, if not more so than last year. I know I've made valuable improvements throughout my racing. 2018 was definitely a breakthrough, but my win in Jönköping was arguably my best to date, where I had to push myself to the limit to get the victory. My other results have been consistent, apart from major championships, where I feel I could've been better.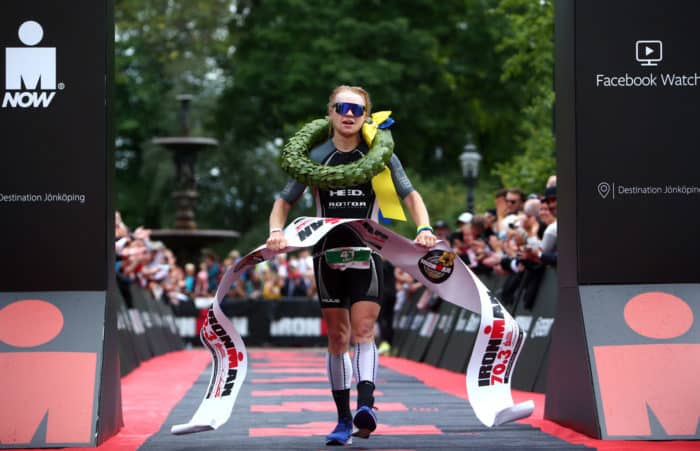 You are still young, particularly in Middle / Long distance triathlon terms. Was a full distance race this year a particular goal – or perhaps more of an end-of-season, "let's give it a try and see how it goes?" approach with nothing to lose?
My season plan revolved a lot around the 70.3 World Champs in Nice, and then qualifying for 2020 in Taupo. After qualifying at the first opportunity (Dun Laoghaire), I was left with a lot of blank space, and a choice of whether to chase more 70.3 results further afield, or try something new. I entered IRONMAN Barcelona with little expectation to finish, let alone perform, but it seemed a good time to try my first full Ironman.
The choice of Barcelona – was that more around timing in the calendar / ease of travel etc rather than course? I know that when when we spoke earlier in the season, you said that as a smaller / lighter athlete, those flatter courses don't necessarily play to your strengths?
Most definitely, in 70.3 racing the harder courses suit me better… but I wasn't about to enter something like Lanzarote as my first one! I wanted as easy a day out as possible for my first one, and being at the end of the season with friends also racing, it was a perfect fit.
You are a consistently good swimmer and came out with the small lead group including eventual winner, Florian Angert. All comfortable and to plan at that stage I'm guessing?
The swim was one of my best this year. I have a slow start and in 70.3 racing I don't always get the chance to swim through. Just before halfway a split happened and I was capable of swimming across with other athlete. That was the way it stayed for the six of us until T1.
Talk us through the bike – it looked like you went with the pace initially, were in the chase group at 90km (2:40 down on Florian), but by T2 were more than 20 minutes back…?
The bike started well. I settled into the group and felt like I was riding well, but was having to concentrate quite a lot on not getting dropped and anticipating the changes in pace. My plan was never to ride hard, but going with that group seemed a great opportunity.
Around halfway a couple of the other athletes wanted me to come through and pull a turn. That wasn't in my race plan, but physically, I just wasn't able to.
The lights went out about 60 miles in when I was dropped by all four athletes who were still with me, with Florian already up the road. I quickly became very uncomfortable and my power fell through the floor. I think I drank about four bottles of isotonic the second lap whilst rolling around below 200 watts, praying to go uphill so I didn't have to ride on the extensions, and could shift my weight on the saddle.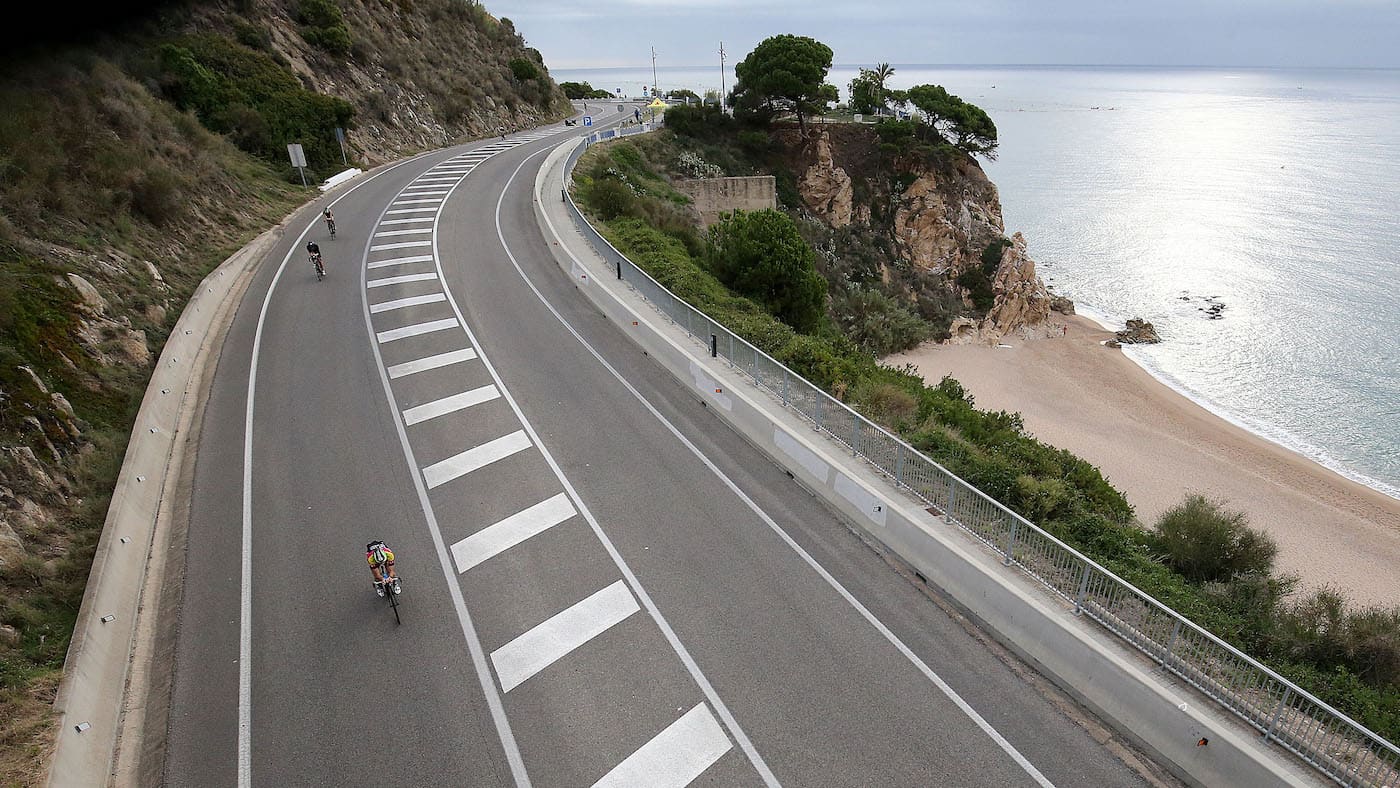 Putting on your run shoes in T2, how were you feeling about your prospects for the next three hours? We know you are a good runner from your 70.3 racing, but after a full distance bike, you must be pretty pleased with to have finished with a 2:43:59 marathon?
On the bike I was pretty sure I wouldn't even run. I knew my support crew were about 1.5km from transition, so I thought I'd just jog to there and stop. I set off, felt pretty good and settled in to just over 3:30/km pace. Stupid, but I'd naively told all the lads in Leeds, "How hard can sub-2:40 be?!".
After that moment all I wanted to do was stop – literally every step on the run. I thought if I got to the last lap then I'd have to finish, but didn't care when or where. I averaged just over 3:40/km pace for the first lap I think, and the Garmin had me at sub-78 something through the half, so I did slow down but not drastically. I was trying to run slower to save myself but once you're going it's hard.
Conventional wisdom says that 70.3 racing has much more in common with ITU racing, then it does to IRONMAN. Now you've done one, what are your thoughts… and did you enjoy it?!
It was the hardest thing I have ever done and I hated pretty much every second of it after halfway on the bike. I didn't fully understand the step up, but thought it might suit my strengths as an athlete.
Times are only a part of the story in iron-distance racing, but an 8:01:22 finish makes you the fifth fastest Brit ever over the distance behind Tim Don, Joe Skipper, Will Clarke and David McNamee – and the quickest British debutant. I guess you'll happily takes those?!
Those stats are very encouraging for me, especially after finishing fourth. I know that if I'd not messed about so much the second lap of the bike, which cost me a lot of time, it could've been a different story.
https://www.instagram.com/p/B3UhBFyB6kX/
What were the main things you learned from Sunday?
Ironman is horrible and I don't quite understand why people do it for 'fun'!
Never approach a race without specific training for it.
Do not try and ride with ex world champion in a sport you have no experience in.
Do not try and run a sub 2:40 marathon when your furthest run of the year is 14 miles.
Nutrition is a whole other level compared to 70.3 racing. I often get round races on a couple of swings of energy drink and a gel, feeling good at the finish. I drank at every single run station, water/iso/red bull/coke. Whatever I could get a hold of!
Can we expect more full-distance racing to be on your schedule in 2020, or will Middle / 70.3 still be the key focus in the short term?
I'll have to wait until the day I've forgotten about my first experience before I make that decision! But, with the 70.3 Worlds being so late in the year in 2020, it does alter a normal race schedule. That will be my main focus, but who knows, there is plenty of time next year, or hopefully in the following years to attempt the full again.