Staffordshire 70.3 winners also top the podium in Dún Laoghaire
Sunday's IRONMAN 70.3 Dún Laoghaire was a part new / part revised addition to the IRONMAN UK and Ireland tour. There had previously been three previous editions of IRONMAN 70.3 Dublin (starting in Dún Laoghaire), the revised event now also finishing in the coastal town, which lies 12km south of Dublin city centre.
Pro Men
After winning his first IRONMAN 70.3 title at IRONMAN 70.3 Staffordshire in June, Elliot Smales added another strong result on the UK circuit (he was also fourth in Edinburgh), to cross the line more than four minutes clear of Andy Potts.
A leading trio of Smales, Potts and Sigurdur Ragnarsson (ICE) gained a lead of almost two and a half minutes through the 1.9km swim on Scotsman's Bay – and more than five minutes over super-biker and home favourite, Bryan McCrystal, who recently smashed the Irish iron-distance record at Challenge Roth.
Our top PRO Men out of the water: Sigurdur Ragarsson, @Andy_Potts, Elliot Smales. #IM703DLIreland pic.twitter.com/aMGUgzkeDj

— IRONMAN Ireland (@IRONMAN_Ireland) August 19, 2018
12 months ago, after 70.3 Dublin, I said of Elliot Smales, "In his first Pro season, he's gaining valuable experience – and will be well aware that a step-up in his TT riding over the winter should net him some even better results in 2018." Well, that is proving correct. A fine swimmer and runner, he is now proving his worth on two wheels too, and by T2 was away and clear with the second fastest bike split of the day (2:26:51), only beaten by the powerhouse that is McCrystal (2:24:18). He would start the run with a three and a half minute lead over the the Irishman, with Potts and Elliot Bach (USA), five minutes down.
He was never under threat, and a 1:17:48 run resulted in a comfortable winning margin over Potts (1:16:59), the former IRONMAN 70.3 World Champion, who was able to jump into the Silver medal position.
Our #IM703DLIreland champion, @smales_elliot! What a race in tough conditions! pic.twitter.com/rgv8rXiRfN

— IRONMAN Ireland (@IRONMAN_Ireland) August 19, 2018
Pro Women
Emma Pallant – who also won in Staffordshire – had a close battle all day with Tine Deckers (BEL), to add a third 70.3 win of the season (winning in Barcelona too), at the end of a strong training block as she seeks another IRONMAN 70.3 World Championship podium, after her Silver medal in 2017.
The women were lead through the water by Rebeccah Wassner (USA) IN 29:45, with Emma Pallant next out in 31:48, alongside Amber Ferreira (USA). Tine Deckers (BEL) doesn't excel in the water – 34:15 was her time – but the five-time IRONMAN France winner was going to make this a race, and by the midpoint of the bike had reached the lead with only Emma Pallant able to stay with her.
Deckers continued the pressure over the second half of the ride and after a split six minutes quicker than the Brit, had turned her swim deficit into a 1:45 lead at T2. Pallant of course is a fine runner and 7km later had caught the Belgian athlete, before pushing on and taking another win.
Congratulations to @EmmaPallant who takes the tape to win by a margin of 1.28 at #IM703dunlaoghaire, its Emma's 3rd 70.3 win this season, she raced a smart race today and is ready for World Champs 70.3 in just 2 weeks time! pic.twitter.com/UjafdjKZNS

— TEAMDILLON (@Teamdillon) August 19, 2018
IRONMAN 70.3 Dun Laoghaire, Ireland – Sunday 19th August 2018
1.9km / 90km / 21.1km
PRO MEN
1st – Elliot Smales (GBR) – 4:13:58
2nd – Andy Potts (USA) – 4:18:12
3rd – Bryan McCrystal (IRL) – 4:23:27
4th – Artem Parienko (RUS) – 4:27:08
5th – Elliot Bach (USA) – 4:29:06
6th – Pete Dyson (GBR) – 4:29:19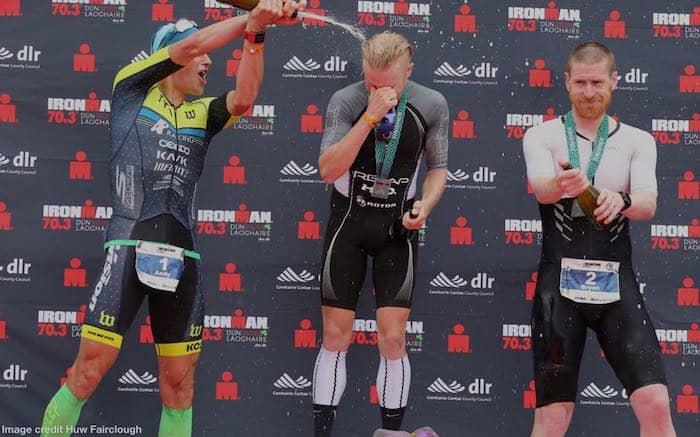 PRO WOMEN
1st – Emma Pallant (GBR) – 4:48:02
2nd – Tine Deckers (BEL) – 4:49:31
3rd – Amber Ferreira (USA) – 5:04:01
4th – Nicole Falcaro (USA) – 5:04:55
5th – Suzie Richards (GBR) – 5:10:45