The fourth edition of IRONMAN 70.3 Staffordshire saw a significant change to the course layout, with the finish area and run course moving away from Shugborough Hall and into Stafford town centre, finishing in Market Square.
Pro Women
Lucy Gossage had won all three previous editions of the race, but would not be adding a fourth. Despite recently having a great performance when winning IRONMAN Lanzarote, the day would prove "one race too many", leaving the Duracell Bunny well off the pace and outside the podium position at the finish.
Sometimes you're the hammer, sometimes the nail. I was absolutely the nail today! One race too many but no regrets. Congrats to everyone especially the podium. I am smashed!

— lucy gossage (@lucygoss) June 10, 2018
Leading the way through the opening 1.9km swim was Fenella Langridge, who has been in such good form recently after finishing third at Pays d'Aix and then second at 70.3 Barcelona. Could she add a third consecutive podium?
Langridge reached dry land in 25:36, just under a minute clear of a trio of Michaela Herlbauer (AUT), XTERRA specialist Jacqui Slack and Emma Pallant. A week after finishing fourth at The Championship in Samorin, that was a more than solid start for the IRONMAN 70.3 World Championship Silver medallist. Lucy Gossage, in the company of Nikki Bartlett, would have a deficit of more than two and a half minutes over the Pallant group at this early stage.
Bartlett clearly brought her cycling legs, recording a 2:24:28 split for the challenging course, which took her into the lead at T2, with just Emma Pallant for company. Lucy Gossage arrived three minutes later, with Herlbauer next (+4:50) and Langridge in fifth (+5:29). It was a slightly off-par ride from Fenella, but thankfully for her, fortunes would turn for the better on the run.
Sharing the podium with these cherubs! 👌🏻

3 races 3 podium #3in3

Lost my bike legs somwhere but lucky the run legs came out to play by the end!

Now time to glam up and put on my dancing shoes 💃

Who will be joining me!? pic.twitter.com/J7bpyTWnia

— Fenella Langridge (@Fenella_Alicia) June 10, 2018
With her running pedigree, Pallant was never going to be threatened over the closing half marathon and a 1:17:10 split resulted in an eight minute winning margin over Bartlett. Langridge ran herself back into a podium spot to finish less than a minute clear of Herlbauer, while Gossage went in the other direction to finish in fifth, more than 16 minutes behind Pallant.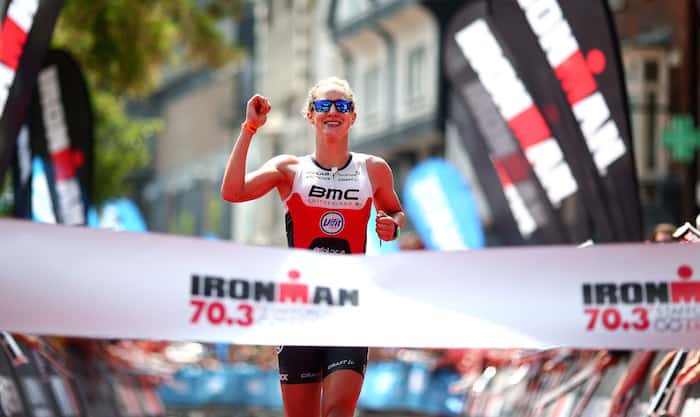 Pro Men
Third OVERALL last year (HERE), Elliiot Smales lead out the swim in 23:51, but he had a group seven in total, including Mark Buckingham, Fernando Toldi (BRA), Matt Leeman, Fraser Cartmell, Cyril Viennot (FRA) and James Davy (AUS) all within a few seconds.
George Goodwin – third two weeks ago at Challenge Salou – was isolated 54 seconds behind Smales, with the fast rising Bryan McCrystal (IRL) a full four and a half minutes back. Back on dry land, this was his territory.
The 90km bike leg saw Smales break clear from that swim group to take the lead at T2, but just 56 seconds later followed McCrystal with by far the fastest ride of the day (2:09:44), to leap-frog through the field. Cartmell, Viennot, Toldi, Leeman and Davy followed, joined by Goodwin, who had recovered from his swim deficit. That group would have three minutes to make up on Smales.
Through 2017, Smales had shown regularly that he was a strong runner and, despite his efforts on the bike, a closing 1:16:02 run split was more than enough to take his first IRONMAN 70.3 title by more than two minutes.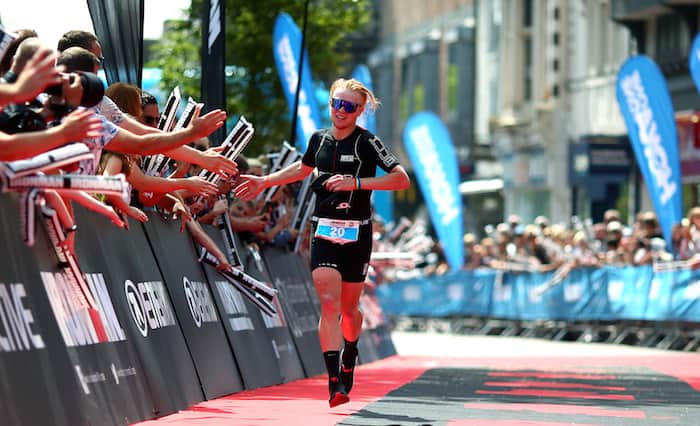 George Goodwin produced the best run of the day (1:15:15) to move up to second place, while Bryan McCrystal showed that he can still run well after a super impressive bike split, finishing with a 1:17: 42 for third place overall.
IRONMAN 70.3 Staffordshire, Sunday 10th June 2018
1.9km / 90km / 21.1km
PRO MEN
1st – Elliot Smales (GBR) – 3:59:23
2nd – George Goodwin (GBR) – 4:01:36
3rd – Bryan McCrystal (IRL) – 4:01:46
4th – Cyril Viennot (FRA) – 4:02:54
5th – Fernando Toldi (BRA) – 4:03:53
6th – Fraser Cartmell (GBR) – 4:05:06
7th – Matthew Leeman (GBR) – 4:05:31
8th – Kenneth Vandendriessche (BEL) – 4:08:22
9th – James Davy (AUS) – 4:12:37
10th – Mark Buckingham (GBR) – 4:18:42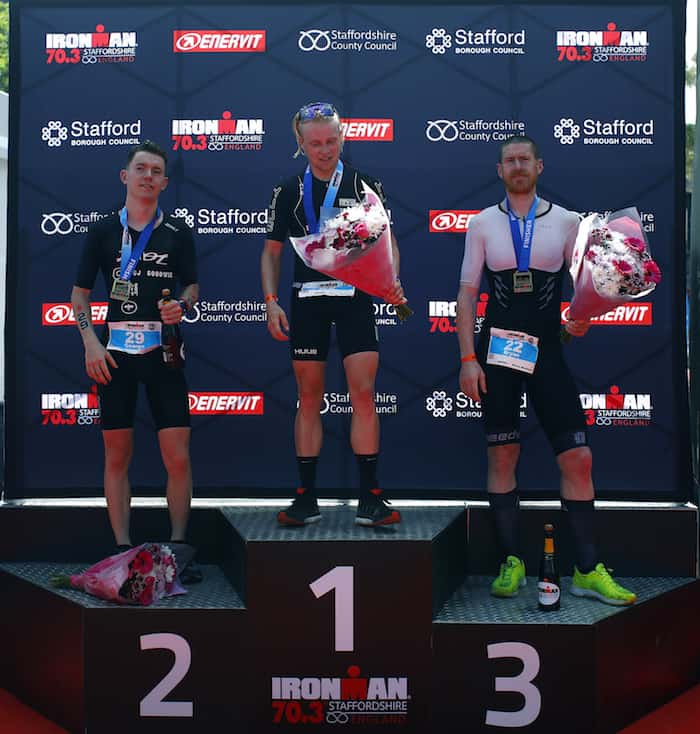 PRO WOMEN
1st – Emma Pallant (GBR) – 4:16:54
2nd – Nikki Bartlett (GBR) – 4:25:02
3rd – Fenella Langridge (GBR) – 4:29:51
4th – Michaela Herlbauer (AUT) – 4:30:47
5th – Lucy Gossage (GBR) – 4:33:12
6th – Suzie Richards (GBR) – 4:42:24
7th – Jacqueline Allen (GBR) – 4:48:54
8th – Magda Nieuwoudt (RSA) – 5:13:21