Course record en-route to another win for the Duracell Bunny in Staffordshire
Giulio Molinari runs to victory at Shugborough Hall
On a (very) big weekend of IRONMAN 70.3 racing in Europe, "scorchio" conditions welcomed around 2000 athletes to the Chase Water (swim start) and Shugborough Estate (T2 / run course), for the third edition of IRONMAN 70.3 Staffordshire.
There wasn't huge depth in the the Pro fields in terms of numbers with six women / 14 men starting – hardly surprising when you look at the weekend schedule – but the pointy-end of both start-lists did feature some real quality that would be tested by both the conditions and a challenging course. We were set for some interesting racing.
Pro Women
The Pro women's swim was remarkably predictable (which, if you were me, and were doing the on-site commentary at the swim exit, does make your job a little easier!). So, it was the fish-like Hannah Drewett out first (26:05), with the uber-biker of 2017 so far, Kimberly Morrison, two minutes further back. First year Pro Magda Nieuwoudt (RSA) was next in 29:37, before the first key time check of the day saw Nikki Bartlett and Lucy Gossage exit in 30:25 and 30:35 respectively. A two and a half minute deficit to Morrison was pretty much as expected, and it would be game on, with last years top three expected to repeat – but it what order?
Morrison soon hit the front on the bike, as she has done in every race this year, and would reach T2 alone and in the lead – but, that gap was looking more than vulnerable. Bartlett and Gossage had actually reduced their arrears by around a minute and a half on the rolling 90km, so as they arrived in T2, Morrison was just leaving. Having perhaps expected a long chase over the 21.1km run, this was great news for the chasing duo. "I had actually prepared myself mentally for possibly being told I was eight minutes down" Lucy admitted to me after the race. Having Morrison in sight was, well, a welcome sight!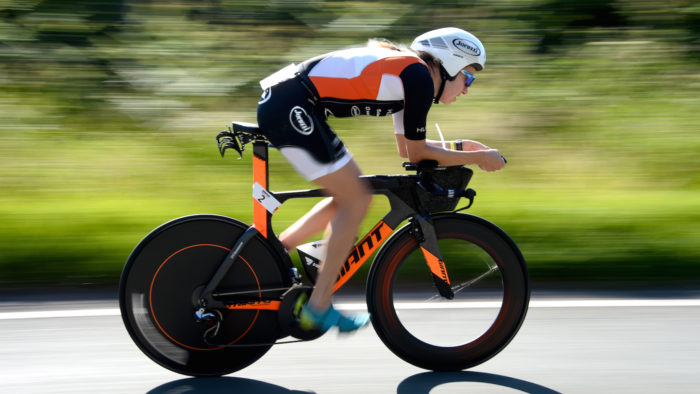 A great runner, Gossage was in prime position and would soon close her small T2 deficit, hit the front of the race and never be threatened. Indeed, her 1:25:18 run in what were very warm conditions brought her home in course record time. Happy (understatement?!), the finish line #doingalucy dancing was in progress. Three-from-three, the twice top-10 finisher at Kona remains unbeaten at this event and was absolutely thrilled.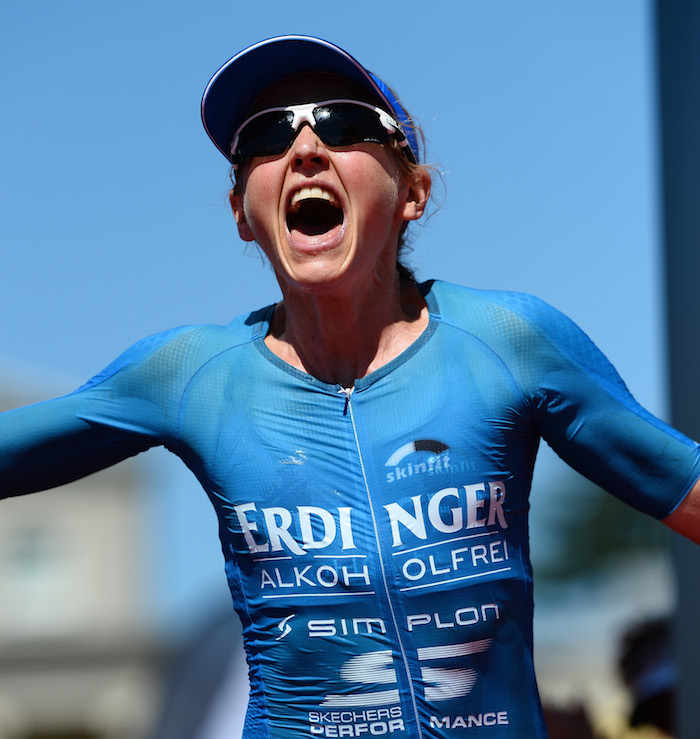 Bartlett ran strongly (1:30:05). While that couldn't challenge for the win, it did allow her to step up one place from her 2016 finish. 6th, 3rd and now 2nd – perhaps next year will be her time to shine? Morrison rounded out the all British female podium.
Happy Fathers Day! This one is for the team and everyone who supports me. Mega pleased, 2nd @IM703STAFFS congrats to everyone who raced! pic.twitter.com/E36OBK5TRq

— Nikki Bartlett (@NikkiBartlett1) June 18, 2017
Pro Men
As with the women, the easy to spot swim technique of Harry Wiltshire was at the head of affairs in the water, though in the final run-in to the T1 exit it was the youngster Elliot Smales who actually lead the group on to dry land, closely followed by Harry, Giulio Molinari (ITA), Romain Guillaume (FRA), Fraser Cartmell and Philip Graves.
Once out on to the roads a trio of Graves, Molinari and Guillaume pulled away, with Graves leading in to T2 by a narrow margin. He wasn't expecting too much from himself on the day, so hanging on to the back of the lead swim pack and then producing his typical strong bike represented a good effort from him. "I was always going to get found out on the run today" he told me.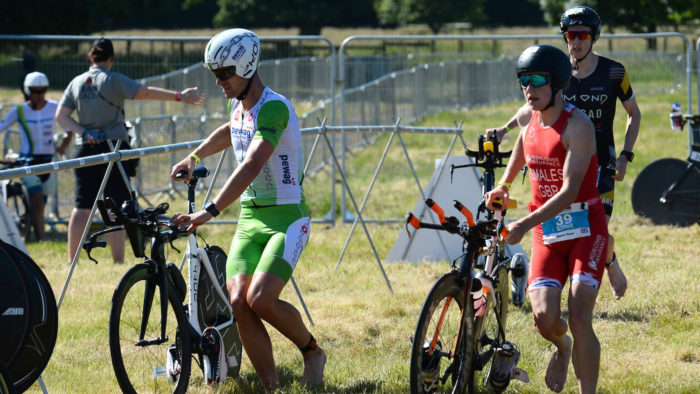 Ireland's Bryan McCrystal biked through the field to reach T2 in fourth place, 4:28 back on Graves, with Wiltshire, Cartmell, Smales, Markus Thomshke (GER) and Lachlan Kerin (AUS) five and a half minutes behind, though Wiltshire had to serve a five minute drafting penalty, effectively putting his out of contention.
6th today, upset to get a 5 min draft penalty, which could be very costly for Kona qualification. Draft officials decision is final though.

— Harry Wiltshire (@harrywiltshire) June 18, 2017
At the front of race, Molinari and Guillaume were locked together for the first half of the run, before the Italian two-time ETU Middle Distance European Champion upped the tempo to pull away and take the win. Guillaume was pleased with second, showing his recovery from a tough race at IRONMAN Lanzarote, while the fastest run split of the day from Elliot Smales (1:19:35) allowed him to emerge from the chasers and complete the podium in his first season racing as a Pro. Thomschke (4th) and Cartmell (5th) were not too far behind to complete the top five.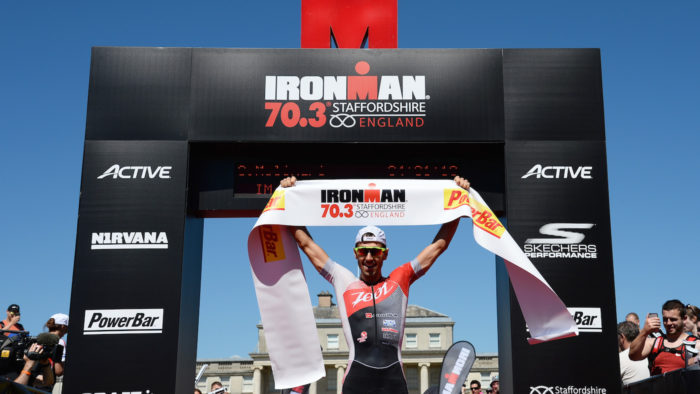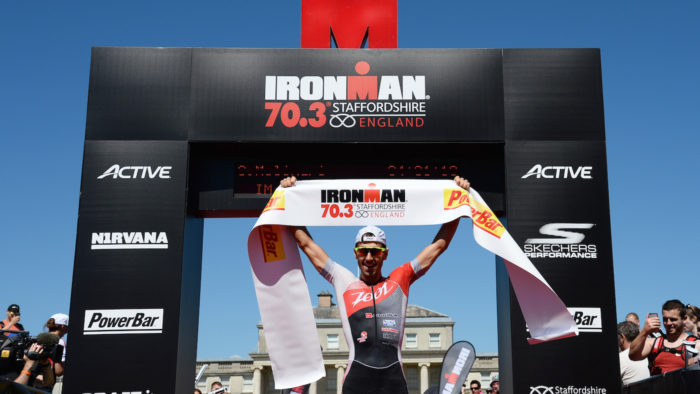 IRONMAN 70.3 Staffordshire, Sunday 18th June 2017
1.9km / 90km / 21.1km – PRO
WOMEN
1st – Lucy Gossage (GBR) – 4:28:09
2nd – Nikki Bartlett (GBR) – 4:33:12
3rd – Kimberley Morrison (GBR) – 4:40:14
4th – Hannah Drewett (GBR) – 4:57:27
5th – Brooke Brown (CAN) – 4:58:29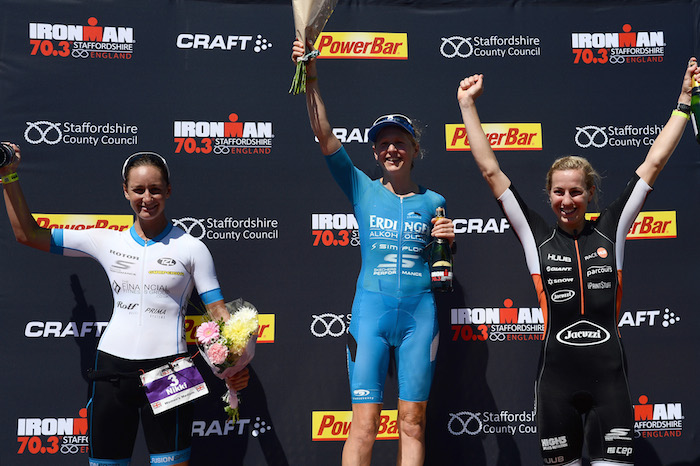 MEN
1st – Giulio Molinari (ITA) -4:01:10
2nd – Romain Guillaume (GBR) – 4:03:01
3rd – Elliot Smales (GBR) – 4:05:59
4th – Markus Thomschke (GER) – 4:07:29
5th – Fraser Cartmell (GBR) – 4:07:53