First career IRONMAN 70.3 victory for Claire Hann
Elliot Smales back to winning ways in Sweden
There were two British Pro starters at Sunday's IRONMAN 70.3 Jönköping in Sweden – and both won. Can't do much better than that. Both were important results for both athletes, for different reasons.
First held in 2016, this race has always been a good one for the Brits:
2016: 1st Jodie Cunnama, 3rd Kimberley Morrison
2017: 3rd Kimberley Morrison
2018: 2nd Kimberley Morrison
With Morrison racing at home (and winning) on Sunday at the Outlaw Half Holkham, it was over to new talent to carry on the trend – and against some big name home athletes, did they deliver in style in some very close racing against quality opposition.
Hann makes her mark
Second last year at IRONMAN 70.3 Reugen in Germany, Hann has been quietly building to full fitness after a running injury in recent months. She had a strong swim-bike effort (and a planned DNF) at Challenge Lisboa in May, before recently finishing 10th at the IRONMAN 70.3 European Championship in Elsinore. This performance represents a significant step up from that effort.
Hann exited the swim in the company of no less than the defending champion, London 2012 Olympic silver medallist and recent Swedish National Road Race champion, Lisa Norden (SWE). They were two minutes clear of Pernille Jensen (DEN), with Renee Kiley (AUS) and Asa Lundstrom (SWE) a further minute and a half back.
#IM703Jonkoping
First woman out of the water: Lisa Norden, followed by Claire Hann +00:03. third comes Pernille Jensen +02:01. pic.twitter.com/qOVaALzEjQ

— IRONMANLive (@IRONMANLive) July 7, 2019
Norden powered clear on the bike, arriving at T2 with a lead of almost five minutes on Jensen, with Hann just 20 seconds further back on the Danish athlete. However, in recent years Norden has struggled with running injuries and getting consistent in that discipline, so the race was far from over.
#IM703Jonkoping – @lisanorden off the bike with a lead of 4:49 over Jensen, Hann +5:09, @AsaLundstromTri +7:39, Kiley +7:48 pic.twitter.com/5C1EVGVV5O

— IRONMANLive (@IRONMANLive) July 7, 2019
By the midpoint of the run, Jensen and Hann were together having reduced their deficit on Norden to around 2:40. At that pace, the finish looked set to be very close. The trend continued and finally, around the 19km mark, Norden was caught. Hann started to gain a few second on Jensen, but both were running strong and the gap was not decisive.
#IM703Jonkoping – @clairehanntri takes the win in a sprint final in 4:25:51, Jensen in 2nd 4:26:12, @lisanorden 4:26:43, @AsaLundstromTri 4:31:24, Kiley 4:33:13 pic.twitter.com/EQWcxVFiD0

— IRONMANLive (@IRONMANLive) July 7, 2019
With less than 1km to go, all three athletes were separated by less than 30 seconds, but the British athlete held on to secure easily the best result of her career.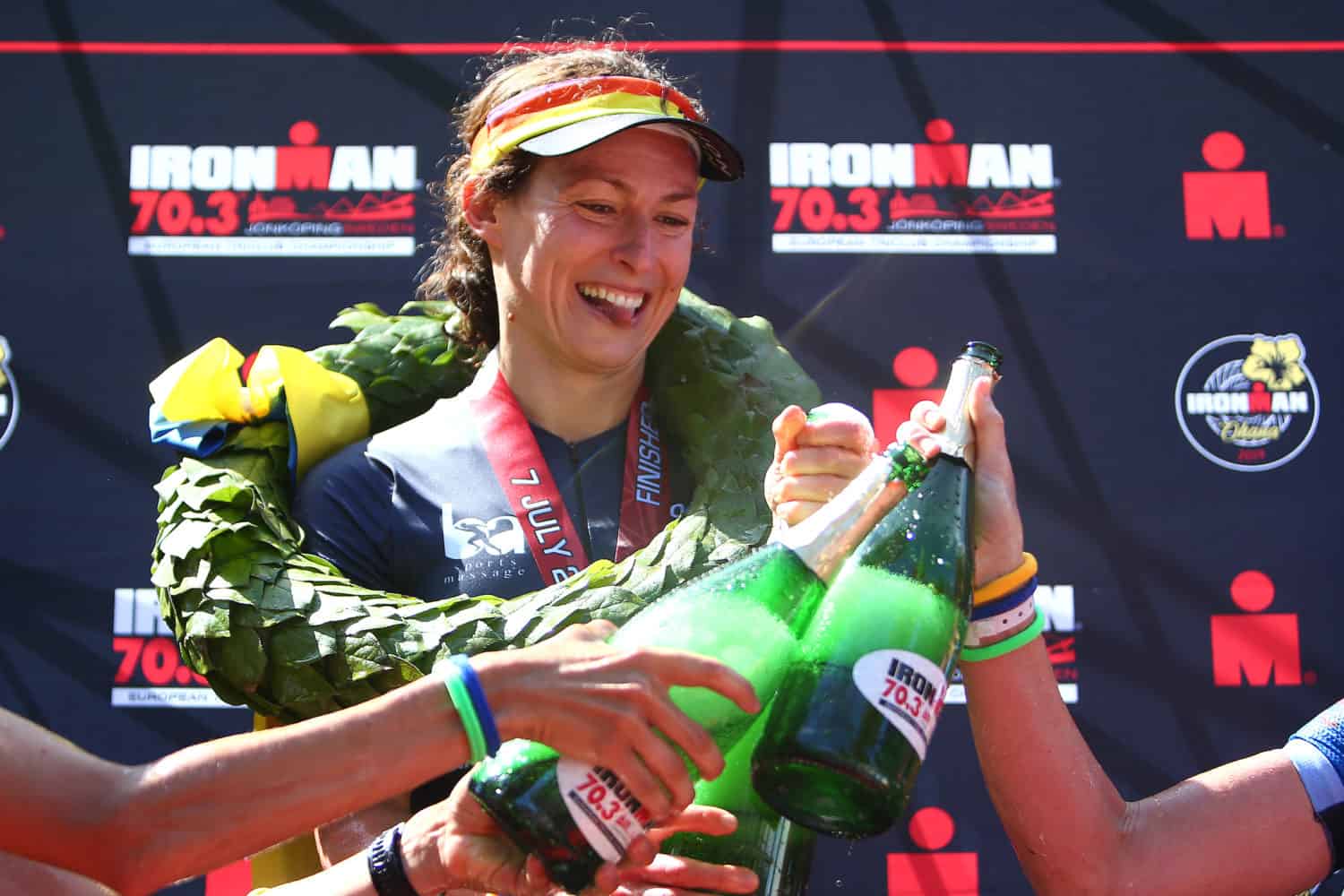 Like Frankie Sanjana recently, that's another 'first time British IRONMAN 70.3 winner' this season and should be a huge confidence boost to her progression in the Pro ranks.
https://www.instagram.com/p/BzoX8rpB4l_/
Back on top of the podium for Smales
Based on his multiple victories last year, 2019 had not gone to expectations for Elliot Smales. After success in 2018 at 70.3 Staffordshire, Dún Laoghaire and Weymouth, a distant third at Staffordshire and 13th in Elsinore was not the progress expected. Like Hann, but for different reasons, this should also come as a massive confidence boost to Elliot too. It's easy for an athlete to start doubting themselves and their training, but as the saying goes, "form is temporary, class is permanent".
Swedish uber-swimmer Alexander Berggren was almost a minute quicker than everyone in the water, but Smales was comfortably in the main group alongside Patrik Nilsson (SWE) in a group of five athletes entering T1. A swift transition allowedthe Brit to be second onto the road.
#IM703Jonkoping
First out on the bike is Berggren followed by Smales with a +00:33 gap. pic.twitter.com/oTzgqshcns

— IRONMANLive (@IRONMANLive) July 7, 2019
Robert Kallin (SWE) pushed the bike hard to arrive at T2 with a lead of T2 over IRONMAN Texas winner Nilsson, followed 30 seconds later by Smales, Mathias Petersen (DEN) and another home athlete, Rasmus Sveninningsson.
#IM703Jonkoping – Robert Kallin off the bike in 2:35:23, bike split 2:07:39, @patriktriathlon +2:04, Danielsson +2:24, Petersen +2:33, @elliot_smales +2:36 pic.twitter.com/SBsd8I9nOw

— IRONMANLive (@IRONMANLive) July 7, 2019
By the 10km mark, Nilsson had caught Kallin, but Smales, Petersen and Sveninningsson were matching him for pace, with barely 30 seconds separating the top five late into the race.
#IM703Jonkoping – Top 5 men at km 10.8 with a new leader @patriktriathlon, Kallin +0:04, @elliot_smales +0:27, Petersen +0:28, Svenningsson +0:41 pic.twitter.com/8BgzGSj4uf

— IRONMANLive (@IRONMANLive) July 7, 2019
Elliot was able to raise his pace again in the final 3km and pull clear from the BMC-Vifit Pro Triathlon team athlete Nilsson, crossing the line just 29 seconds clear after a 1:13:19 half marathon. Given Nilsson run credentials, that's an impressive performance from the young Brit.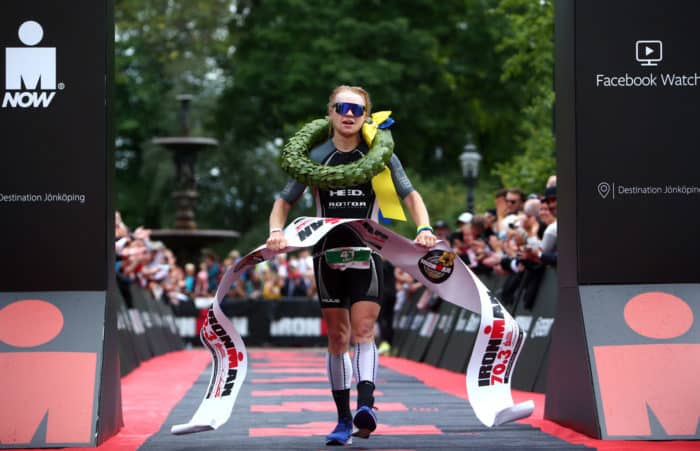 IRONMAN 70.3 Jönköping, Sweden – Sunday 7th July 2019
1.9km / 90km / 21.1km
PRO MEN
1st – Elliot Smales (GBR) – 3:52:59
2nd – Patrik Nilsson (SWE) – 3:53:29
3rd – Mathias Petersen (DEN) – 3:53:48
4th – Robert Kallin (SWE) – 3:55:10
5th – Rasmus Sveninningsson (SWE) – 3:56:15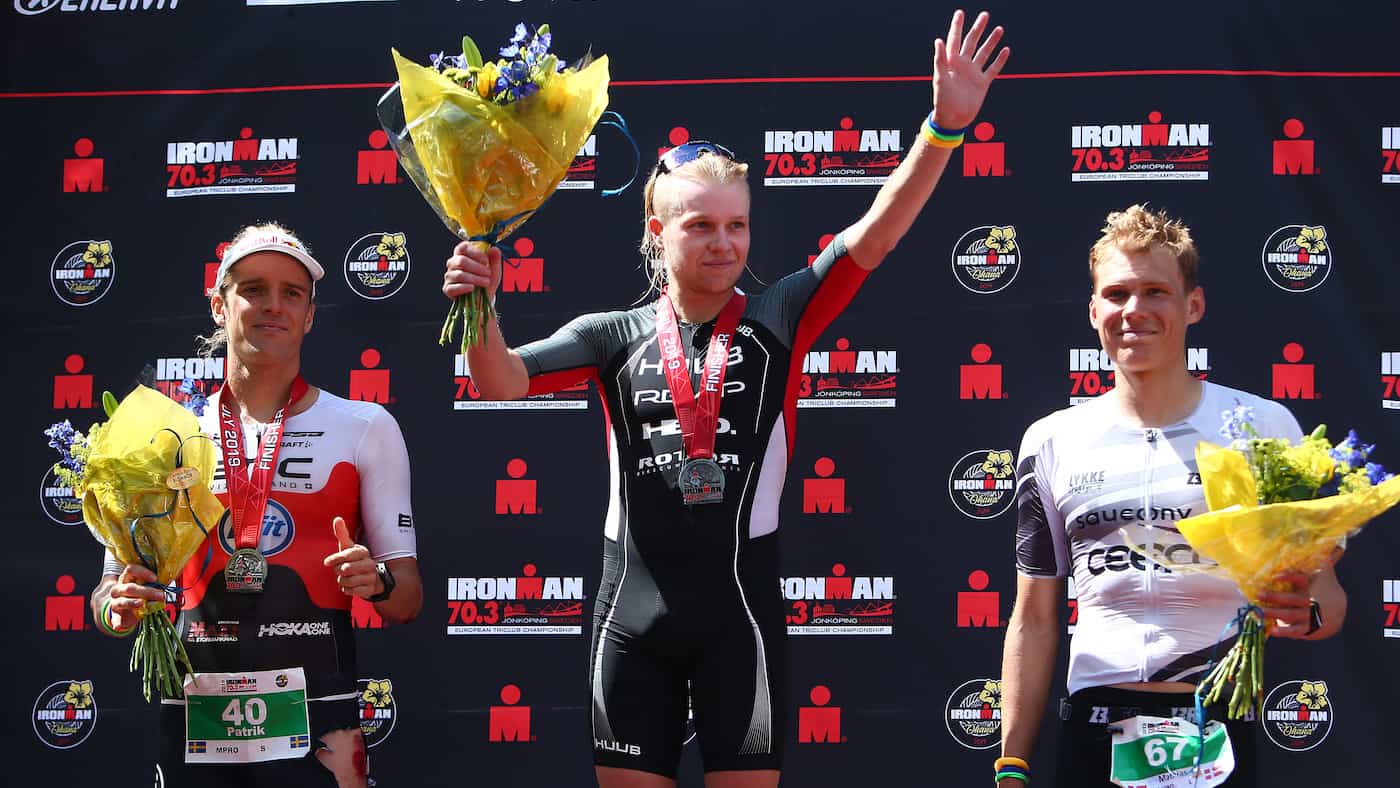 PRO WOMEN
1st – Claire Hann (GBR) – 4:25:51
2nd – Pernille Jensen (DEN) – 4:26:12
3rd – Lisa Norden (SWE) – 4:26:43
4th – Asa Lundstrom (SWE) – 4:31:24
5th – Renee Kiley (AUS) – 4:33:13