Another busy weekend just gone, one for which I was in Nottingham for both days at the Nottingham Sprint Triathlon / Outlaw Half double. Playing a bit of catch-up because of that, here's a slightly later than planned roundup on many of the big events, both International and Domestic, from the weekend just gone.
We feature Japan, Italy, Poland, Spain, Portugal, Germany, Belgium, bloody feet, a British win double, a USA clean sweep, pictures of slate and a massive cheque. Enjoy!
INTERNATIONAL RACING
ITU World Triathlon / World Paratriathlon Series Yokohama, Japan
There was another women's Team USA podium sweep in Yokohama, which saw Katie Zaferes win her third consecutive race of the 2019 ITU season. 5th / 4th / 3rd / 2nd in the season ending standings over the past four years, she is on a mission to secure top spot in 2019.
https://www.instagram.com/p/BxmssQQHSrk/
Also extending his lead in the rankings – but winning for the first time after 5th (Abu Dhabi) and 4th (Bermuda), was Vincent Luis (FRA). A race-best 29:58 run wasn't quite enough for Alex Yee to move through to a podium position, though he now stands 6th in the points despite not racing in Bermuda.
In the World Paratrriathlon Series events, the five-strong GB team collected four medals (Gold, Silver and 2x Bronze), the win going to Commonwealth Games Champion Jade Jones-Hall in the PTWC category.
Cagliari ITU Triathlon World Cup, Italy 
How would Alistair Brownlee perform in a flat, draft-legal Sprint distance race after a couple of season more focussed on longer distance (or injury rehab)? Rather well, he won. Sophie Coldwell also topped the podium in impressive style too.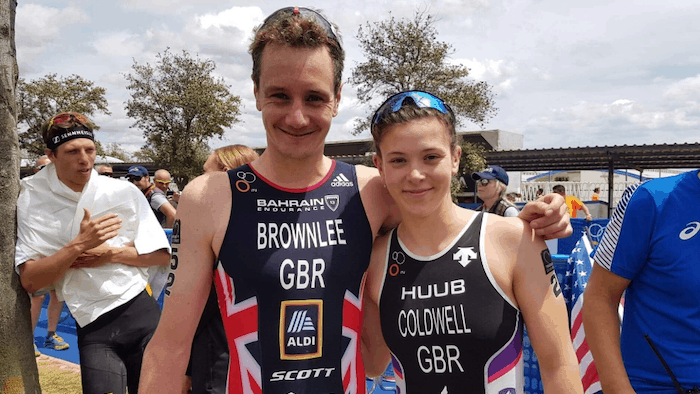 Olsztyn ETU Sprint Triathlon European Cup, Poland
Quickest through the opening 750m swim, a bike breakaway with fellow Brit Sophie Alden and recently crowned Aquathlon World Champion, Alicja Ulatowska (POL), followed by a strong run was enough for Olivia Matthias to win in Poland. That was her first ETU Triathlon European Cup win at senior level and appropriately, she was race #1. Sophie Alden built on her own strong swim/bike effort to take the Bronze medal.
The fastest run splits both cane from British athletes, with James Teagle finishing 5th in the Men's Elite and Bronwen Owen running more than a minute quicker than anyone else in the Women's Elite, to finish 12th.
https://www.instagram.com/p/Bxpr2gEHaHe/
Elite Women – FULL RESULTS
1st – Olivia Mathias (GBR) – 1:01:46
2nd – Carlotta Missaglia (ITA) – 1:01:55
3rd – Sophie Alden (GBR) – 1:01:57
12th – Bronwen Owen (GBR) – 1:02:56
13th – Sian Rainsley (GBR) – 1:03:21
Elite Men – FULL RESULTS
1st – Nicola Azzano (ITA) – 54:57
2nd – Noah Servais (BEL) – 54:58
3rd – Lars Pfeiffer (GER) – 55:00
5th – James Teagle (GBR) – 55:04
Challenge Lisboa, Portugal
Plenty of British interest in Portugal where Thomas Davis raced strongly at the head of the race alongside 2018 ITU Long Distance Triathlon World Champion, Pablo Dapena Gonzalez (ESP), through the swim and bike. That effort would cost him a little on the run, where Ruedi Wild (SUI) was able to run through and pass the speedy Spanish athlete and take the win. That left a trio of British athlete in close contention in 3rd/4th/5th, where Sam Wade had one of his best results to date, finishing with a 1:14:17 run which allowed him to pass Davis and complete the podium, with Luke Pollard in fifth place.
https://www.instagram.com/p/Bxq3nEGBNND/
In the women's Elite race, Great Britain's Claire Hann lead the way through the swim, and was towards the front of the race through the bike too, reaching T2 in second place with eventual winner Elisabetta Corridori (ITA) out in front. It was planned to be a swim / bike effort for Hann however, who withdrew (as planned) early in the run as she builds back from injury.
Lead women into T2, Curridori leads with @clairehanntri and Lehrieder 1.40min back with @susiecheetham ~35s in hot pursuit pic.twitter.com/f85CfylU22

— Andy Lane (@Dr_AndyLane) May 18, 2019
It wasn't quite the day Susie Cheetham had planned. Cheetham once finished IRONMAN 70.3 South Africa after crashing on the bike and breaking her elbow. She's clearly made of tough stuff, as this time she cut her foot very badly on some glass prior to the swim, and the result can be seen in the images below. Given that, I think fourth place can be taken as something of a victory, even if her pre-race targets would have been higher than that!
Not maiden voyage I'd planned for in my Carbon Xs. Cut foot on glass starting swim. Now 🏥 getting stitches! Started the day with smile 🤷🏼‍♀️ pic.twitter.com/ZLROEpMIsK

— Susie Cheetham (@susiecheetham) May 18, 2019
Pro Men
1st – Ruedi Wild (SUI) – 3:50:10
2nd – Pablo Dapena Gonzalez (ESP) – 3:51:39
3rd – Sam Wade (GBR) – 3:53:40
4th – Thomas Davis (GBR) – 3:54:24
5th – Luke Pollard (GBR) – 3:56:26
Challenge Lisboa 🥉 some snap shots of my day 📸 looking forward to some recovery before a busy month of racing in June😃 #NoPinz #racezone3 #challengelisboa #raceseason2019 pic.twitter.com/2K4kLwDFto

— Sam Wade (@247Swade) May 19, 2019
10th – Richard Westover (GBR) – 4:10:57
Final podium shots for @Challenge_Famil #challengelisboa good day for the @BritTri athletes pic.twitter.com/EmDHgJ958q

— Andy Lane (@Dr_AndyLane) May 18, 2019
Pro Women
1st – Elisabetta Corridori (ITA) – 4:16:00
2nd – Eva Wutti (AUT) – 4:22:08
3rd – Carolin Lehrieder (GER) – 04:24:10
4th – Susie Cheetham (GBR) – 4:26:40
6th – Gemma Frost (GBR) – 4:33:42
DNF – Claire Hann (GBR)
IRONMAN 70.3 Barcelona, Spain
From one tough Brit to another! A week ago, Fenella Langridge crashed out of IRONMAN 70.3 Pay d'Aix in France and ended up with stitches in both elbows. On Sunday – a year after finishing second at the same race – she won IRONMAN 70.3 Barcelona. First out of the swim Anja Ippach (GER) for company – a previous 4th place finisher in Kona – they had a lead of almost two minutes over their chasers.
By T2 Ippach had gained 1:46 on Langridge, but both had ridden faster than everyone else. The Brit was swift through transition and immediately start to cut further time back on the run to take the lead before the 5km mark arrived. A fastest run split of 1:22:43 gave her a big win, while Ippach was going the other way and would drop back to fourth position.
https://www.instagram.com/p/BxpA0ruhJBQ/
The men's race would have been an all British podium sweep… were it not for that pesky Bart Aernouts! Appropriately, the Kona Silver medallist would end up in a run battle with the Kona Bronze medallist (David McNamee) – once they had caught the two and a half minute T2 lead of Nicolas Dougall (RSA) at least. The Belgian had ridden almost four minutes faster than McNamee after his typical weak(er) swim start to the day, so who would prevail?
It took around 10 miles for Aernouts to finally close what was just a 30 second deficit for McNamee starting the run, but he was able to push on and take the win with a 1:12:29 run split. In fine running form was young British athlete George Goodwin (who we featured recently), who was even quicker than Aernouts on the run (1:11:48), which enabled him to pass Elliot Smales and secure the final podium spot.
Top 5 men: @bartaernouts 4:05:07, @DavidMcNameetri 4:06:36, @teamGoodwinTri 4:07:37, @elliot_smales 4:08:39, Moreno Molins 4:11:50 #IM703Barcelona pic.twitter.com/HimKQyBJM7

— IRONMANLive (@IRONMANLive) May 19, 2019
Pro Women
1st – Fenella Langridge (GBR) – 4:37:42
2nd – Sara Van De Vel (BEL) – 4:44:14
3rd – Gabriella Zelinka (HUN) – 4:45:09
4th – Anja Ippach (GER) – 4:46:55
5th – Laura Siddall (GBR) – 4:47:28
DNF – Caroline Livesey (GBR)
https://www.instagram.com/p/BxqOtmhhYs9/
Pro Men
1st – Bart Aernouts (BEL) – 4:05:07
2nd – David McNamee (GBR) – 4:06:36
3rd – George Goodwin (GBR) – 4:07:37
4th- Elliot Smales (GBR) – 4:08:39
11th – Mark Buckingham (GBR) – 4:15:50
Challenge Heilbronn, Germany
The triathlon world is a better place when Sebastian Kienle is fit and racing well. When he's also happy with his swim and setting the fastest run split on the way to victory, well, it would seem he is well on the road to recovery after his long-term injury following his DNF in Kona last year.
https://www.instagram.com/p/Bxr4OccCepS/
I'd predicted that Laura Philipp would win this one in the Pro women's race and having managed to gain a small lead on Daniela Bleyhmehl (GER) at T2, that all looked on track. However, she was struggling early in the run with what appeared to be an ankle injury and would soon after have to withdraw from the race. Bleyhmehl – the 2018 Challenge Roth winner – went on to take the win by a significant margin.
There was an impressive performance from British Age-Group athlete Tara Grosvenor (who I interviewed last year). Quickest AG athlete overall, she also set the fourth fastest time of the day including the Pro athletes – just as she did at IRONMAN 70.3 Marbella recently. It was her birthday too… you can expect to see her racing in the Pro category sooner rather than later.
https://www.instagram.com/p/BxpsUm3h0eu/
Pro Men
1st – Sebastian Kienle (GER) – 3:45:41
2nd – Florian Angert (GER) – 3:48:22
3rd – Ruben Zepuntke (GER) – 3:50:55
4th – Andreas Dreitz (GER) – 3:51:39
5th – Julian Erhardt (GER) – 3:55:36
Pro Women
1st – Daniela Bleyhmehl (GER) – 4:18:08
2nd – Els Visser (NED) – 4:28:16
3rd – Corina Hengartner (SUI) – 4:30:40
DNF – Chantal Cummings (GBR)
Other international news included Emma Pallant winning (for the fourth week in a row!), at the Sailfish Lanzarote Open Water Swim (1.9km results), and Paratriathlete George Peasgood continuing to prove he is quite a talent at cycling as well, winning at the UCI World Road Cup in Belgium. Can Emma make it five in a row with a win at IRONMAN Lanzarote on Saturday?
https://www.instagram.com/p/Bxkd1lYBRgO/
DOMESTIC RACING
We've already reported on the Outlaw Half Nottingham (HERE), where Will Clarke showed his class by taking the win by a big margin and smashing the course record (and collecting £1,500) in the process. Claire Weller, a regular at Outlaw races, took the women's title by running down Bex Rimmington.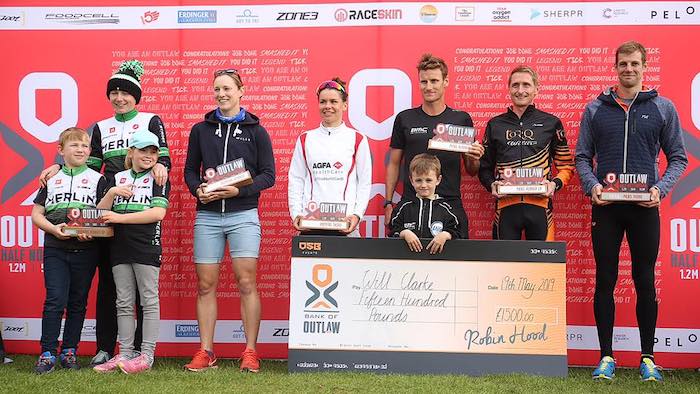 The was Triathlon England Championship action at the Southport Triathlon (RESULTS), where William Draper (Manx Tri) and Claire Williams (Chester Tri Club) were the quickest. The accompanying BUCS (Student) Championship was won by Leon Chevalier (University of Bath) – adding to his BUCS Duathlon win last year – and Erica Byram (Leeds Beckett), who had sister Lucy in second place.
It's been another good week for Team Bath #DualCareer student-athletes in @BUCSsport competition, this time at the #BUCSTriathlon 👏https://t.co/TMZY7O4D6v pic.twitter.com/mklDKrerfx

— Team Bath (@TeamBath) May 20, 2019
The TATA Steelman Triathlon hosted the Welsh Championships, where Liam Lloyd continued his excellent season with another win ahead of Chris Silver. Hannah Munday was the women's champion. Full results HERE.
The Grafman Middle Distance (results HERE) was won by Pete Dyson (Red Top) and Nicola Beck (NEWT), while the Slateman Triathlon saw Scott Hill (RAF Triathlon) and Rebecca Hoare (ERDINGER / Army Tri) top the Classic Distance (RESULTS) Scott also won the Sprint distance event on Saturday to secure the two-day 'Slateman Savage' title as well. The longer 'Legend' distance (RESULTS) was topped by Stephen Derrett and Rosie Davies (BRAT Club).
Nothing like a clean sweep!!!! Awesome racing @Scotthill1983 at #SlatemanTri @aahevents pic.twitter.com/0tT7cPejcB

— RaceSkin (@_RaceSkin) May 20, 2019