Fast and close racing at the 2018 DATEV Challenge Roth
The pre-race favourites for the 2018 DATEV Challenge Roth were Sebastian Kienle (GER) and Great Britain's Lucy Charles – and that widely accepted expectation almost came true. However, Daniela Sämmler had other ideas, and the unbeaten start to the 2018 season of Lucy Charles ended in Bavaria… but only just.
Pro Men
Starting a 6:30am, the 3.8km swim in the Main Donau canal did little to separate the vast majority of the favourites. Fraser Cartmell lead the way in 47:44 (a time that Lucy Charles would soon eclipse), leading a huge group of 18 athletes into T1 within 21 seconds, including race favourite Sebastian Kienle (GER) and Kona bike course record holder, Cameron Wurf (AUS). Typically much further back in the water, those athletes benefitted from the flat water, narrow, almost pool like conditions of the Roth swim. Joe Skipper wasn't part of that pack however and he would emerge in 47:17, a minute and a half later.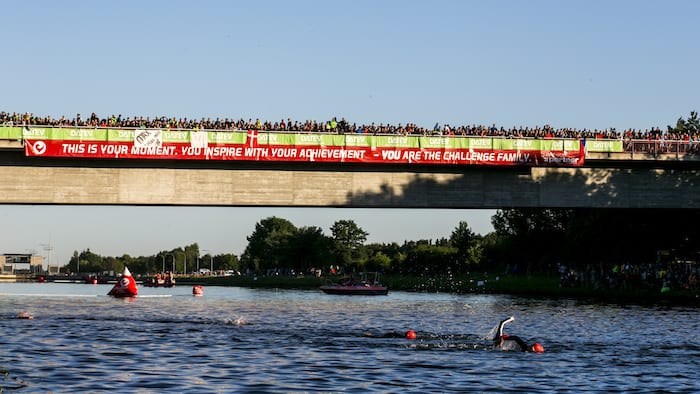 The first 70km saw – and no surprise given their swim – über-bikers Wurf and Kienle at the front of the race. The surprise, perhaps, was the Jesse Thomas (USA) was with them, the trio two minutes ahead of Niclas Bock (GER) and two and half minutes clear of Andreas Dreiz (GER) in fifth. At this stage Joe Skipper had moved up in position to 13th, but was now more than eight minutes behind the fierce pace being set at the front of the race.
Thomas held on until halfway, before shortly afterwards having to back off and by the time that T2 appeared, Wurf had got himself a two minute margin over Kienle (remember, just a week after he finished third at IRONMAN France), Dreitz was third (+6:10) while Ireland's Bryan McCrystal had blitzed through the field to fourth place (+10:48). Jesse Thomas,  having paid for his early efforts, was now 13 minutes back in fifth. Second for the last two years, Joe Skipper was now almost 18 minutes back in eighth – but had still ridden 4:22:16. The damage was done by Wurf's course record 4:05:37, Kienle's 4:07:29 while McCrystal's 4:09:36 explained how he blasted through the field during his strongest discipline.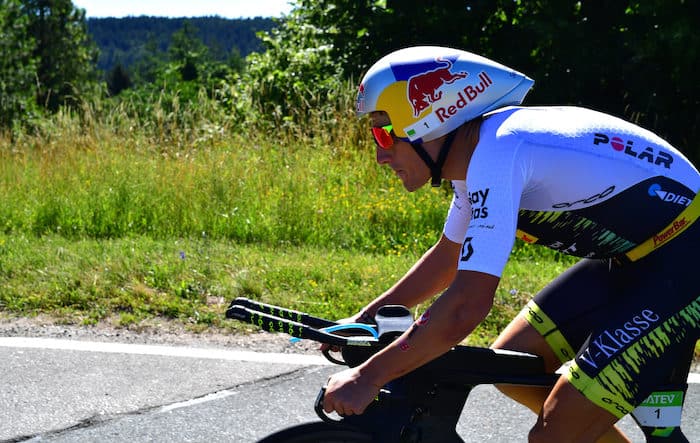 Kienle caught Wurf inside the first 5km and by 8km was two and half minutes clear. Showing no weakness and never under threat, he closed out his first win at Challenge Roth with a 2:47:45 run (the fourth fastest of the day), for a swift 7:46:23 total time and a winning margin of approaching seven minutes over Andreas Dreitz.
Jesse Thomas may have been (too?) brave in the early stages of the bike, but it didn't show on the run, where a 2:44:52 allowed him to complete the podium. Having had a running injury earlier in the year, Joe Skipper proved his recovery from that with a race best 2:42:27 marathon to add fourth place to his second places in both 2016 and 2017. The top six (Wurf in fifth, James Cunnama in sixth), all went under the eight hour mark.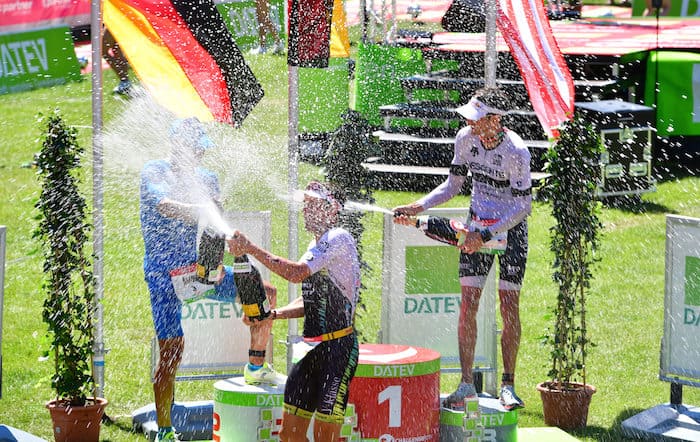 Pro Women
If you follow the sport, I don't need to tell you who was first out of the water… only that Lucy Charles (solo, from a separate start), was a minute quicker than all of the men in 46:48. She was more than four minutes ahead of Alicia Kaye (USA) and Lucie Zelenkova (CZE) and approaching eight minutes in front of Daniela Sämmler (GER). Of the other expected challengers, we had Yvonne Van Vlerken (NED), Laura Siddall (GBR) and Kaisa Sali (FIN) all together nine and half minutes behind the IRONMAN World Championship Silver medallist.
The first half of the bike appeared to be 'normal service', with Charles remaining in front, seven minutes clear of Sämmler with Sali having moved through to third at +8:38. Van Vlerken, Kaye, Siddall and Bianca Steurer (AUT) were now 11 minutes down, meaning that the leading seven were all moving at, give or take, similar speeds over the first half of the ride.
Charles continued to lead until T2, by which time Sämmler had actually closed to less than four minutes, with Sali now having been joined by Van Vlerken ten and a half minutes after the Brit. Laura Siddall, third last year, had dropped a couple of minutes over the second 90km but was still very much in contention, but Steurer and Kaye appeared to be now losing significant time. The top five appeared to be set – the run would decide in which order they would finish.
Over most of the first half of the run, Charles and Sämmler were running at practically the same pace, the time gap between the pair staying very consistent. Sali, the 'runner' amongst the five was making gains, but still over seven minutes down at 18km. Siddall was also in great run shape, almost matching the pace of the Finn and gaining ground on Charles and Sämmler.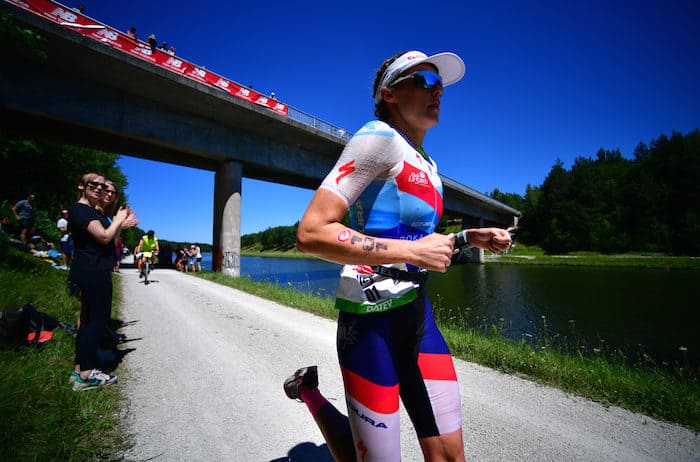 The tide started to turn in the third quarter of the run with Sämmler now closing in on the in-form Brit, and in turn trying to hold off the charge of Sali from behind. At 30km Lucy's lead was just 43 seconds, with Kaisa now also now less than three minutes behind. By 40km, Sämmler had made the pass, but with Charles just 17 seconds behind, it wasn't yet decisive. Sali was still 3 minutes back – too late for her to contend for the win?
WIth a kilometre to go, the lead was up to 23 seconds… but Sämmler was also starting to cramp, leaving Lucy to try and fight back and the pair in the finishing stadium together, where the German reached the line to take victory by just nine seconds.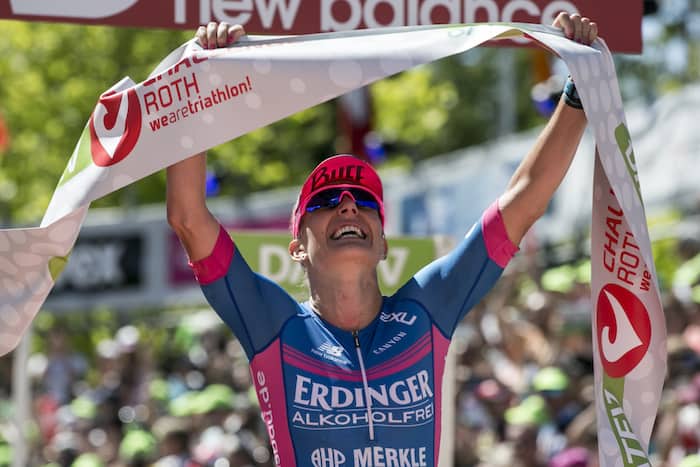 Sali clocked the fastest female marathon time (3:00:04) to complete the podium, less than two minutes clear of Laura Siddall who almost match the Finn's run time with her own 3:00:35.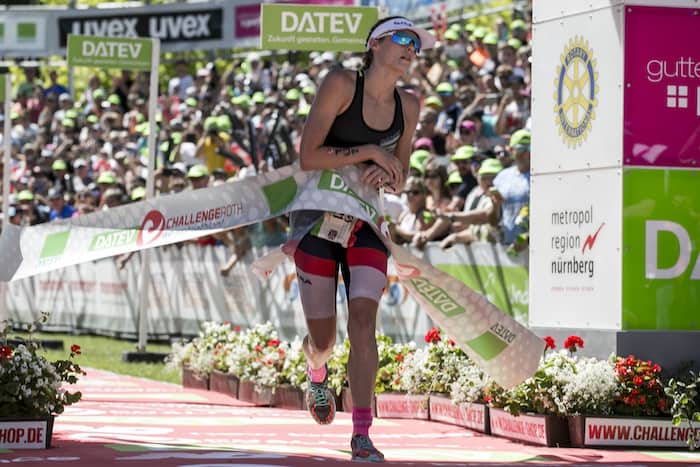 Challenge Roth – Sunday 1st July 2018
3.8km / 180km / 42.2km
PRO MEN
1st – Sebastian Kienle (GER) – 7:46:23
2nd – Andreas Dreitz (GER) – 7:53:06
3rd – Jesse Thomas (USA) – 7:54:38
4th – Joe Skipper (GBR) – 7:56:57
5th – Cameron Wurf (AUS) – 7:58:17
6th – James Cunnama (RSA) – 7:59:15
7th – Evert Scheltinga (NED) – 8:04:28
8th – Bryan McCrystal (IRL) – 8:07:37
9th – Lukas Kramer (GER) – 8:08:21
10th – Paul Schuster (GER) – 8:14:55
WOMEN
1st – Daniela Sämmler (GER) – 8:43:42
2nd – Lucy Charles (GBR) – 8:43:51
3rd – Kaisa Sali (FIN) – 8:46:49
4th – Laura Siddall (GBR) – 8:48:42
5th – Yvonne Van Vlerken (NED) – 8:54:40
6th – Bianca Steurer (AUT) – 9:02:44
7th – Karen Steurs (BEL) – 9:29:43
8th – Julia Ertmer (GER) – 9:37:48 (* AG 35-39)
9th – Lucie Zelenkova (CZE) – 9:40:26
10th – Elena Illeditsch (GER) – 9:41:15 (* AG 25-29)