Fifth place for both Alex Yee and Georgia Taylor-Brown at ITU World Triathlon Yokohama, with Britain's paratriathletes picking up four medals out in Japan.
In his first ever standard distance race on the World Series circuit, Alex Yee looked close to the podium after posting the quickest run split of the day in Yokohama. However after losing vital time in T2, the 21-year-old was left to pick his way through the field over the 10k distance and, despite clawing back 30 seconds after the first lap, wasn't able to reach the leading quartet. The race was eventually won by Frenchman, Vincent Luis, with Henri Schoeman just seconds behind following a sprint finish. Hungary's Bence Bicsak claimed his first World Series medal to take the bronze ahead of five-time World Champion, Javier Gomez.
Britain's Tom Bishop showed his strength on the bike by putting in a significant solo effort. He later dropped back to reserve energy and eventually finished in 20th place.
Alex Yee, 5th at ITU World Triathlon Yokohama, said:
"It was a really, really tough race. I felt very good during the first 5k of the run, but I didn't want to burn out so held back a little once I'd made up some ground on the leaders – I knew I wasn't going to quite catch them.
"I'm learning more and more with every race. It's great to be in this kind of form over the standard distance and be able to compete with the like of Javier, Henri and Vincent – they're such great athletes."
The women's race saw a podium clean-sweep from USA, with Katie Zaferes continuing her unbeaten streak for 2019. Georgia Taylor-Brown showed everything is going in the right direction, finishing in 5th place after a consistent race all-round. Jess Learmonth crossed the line one place behind her teammate after stretching out the swim and being forced to set a lot of the pace on the bike.
A lead group of seven athletes, including all three American's, had the best part of a two-minute lead going out onto the final discipline. Despite a solid run from Learmonth, Zaferes and Summer Rappaport stretched it out on their own to take gold and silver, with Taylor Spivey claiming the final podium spot.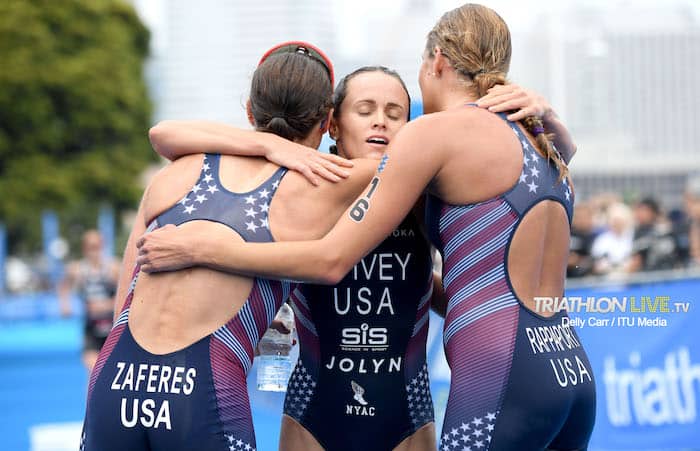 Taylor-Brown worked her way well up the field over the final discipline, clocking the second fastest split of the day after Zaferes, with Non Stanford finishing close behind in 8th.
Britain collated four medals across the paratriathlon classifications, including gold for Jade Jones-Hall in the women's PTWC. Showing her form from the start, Jones-Hall took 25 seconds out of reining World Champion, Emily Tapp of Australia in the first km on the bike. She pushed on to take gold 30 seconds ahead of 2016 World Champion, Kendall Gretsch of USA, with Tapp's teammate Lauren Parker being awarded the bronze medal.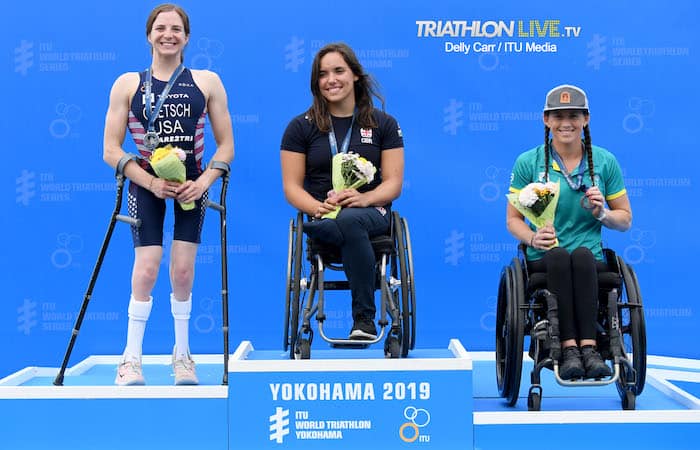 Fran Brown managed her return to racing well to take silver in the PTS2 category. The former international para-climber finished behind USA's Allysa Seely, replicating their podium spots from that of the 2018 ITU World Championships. An issue with her wetsuit added unnecessary time to Claire Cashmore's T1 in the PTS5 race, potentially preventing her from picking up the top podium spot. Grace Norman finished just seconds ahead of the Brit; Cashmore having defeated the USA athlete last September on the Gold Coast.
Returning to the start line following a year out, Melissa Reid (Guide: Rosie Lindsay) took the bronze medal in a PTVI race won by current world number one, Susana Rodriguez of Spain. A swift run saw her work her way into the medals over the final discipline. Steve Crowley finished in 5th place in the PTS4, showing an improvement on his season opener in Milan last month.
Mike Cavendish, British Triathlon Performance Director, said:
"Our paratriathletes really impressed today. Jade performed incredibly well to beat a strong field, including the World Champion, and across the board we've posted some great performances. Athletes have returned from injury or extended periods away from competition, making results even more notable.
"On the Olympic side, we might not be returning with medals this time but there are some big positives from our men and women, and we have learned a lot. Whilst none of the our athletes quite managed to meet the first part of British Triathlon's automatic selection criteria for Tokyo here in Yokohama, they are all delivering some strong individual disciplines and will know what they need to do to put it all together ahead of the home WTS race in Leeds, and the Tokyo Test Event in August".
ITU World Triathlon Yokohama – RESULTS
Women's race
Katie Zaferes, USA, 1:52:12
Summer Rappaport, USA, 1:52:33
Taylor Spivey, USA, 1:53:29
5. Georgia Taylor-Brown, GBR, 1:54:25, 6. Jess Learmonth, GBR, 1:54:52, 8. Non Stanford, GBR, 1:55:10
Men's race
Vincent Luis, FRA, 1:43:21
Henri Schoeman, RSA, 1:43:24
Bence Bicsák, HUN, 1:43:26
5. Alex Yee, GBR, 1:43:57, 20. Tom Bishop, GBR, 1:45:23
Full results available at https://triathlon.org/results/result/2019_itu_world_triathlon_yokohama
 Yokohama ITU World Paratriathlon Series – GBR RESULTS
Men
5. Steve Crowley, PTS4, 1:05:03
Women
1. Jade Jones-Hall, PTWC, 1:09:01 2. Fran Brown, PTS2, 1:20:32, 2. Claire Cashmore, PTS4, 1:08:01, 3. Melissa Reid (Guide: Rosie Lindsay), PTVI, 1:13:26
Full results available at https://triathlon.org/results/result/2019_yokohama_itu_world_paratriathlon_series