Meet the fast improving Tara Grosvenor
A potential Kona podium finisher on debut?
British Age-Group athlete Tara Grosvenor (www.taragrosvenor.wordpress.com) will be racing the IRONMAN World Championship for the first time on 13th October. Having only completed her first triathlon three years ago, her rise has been rapid. From completing her first 70.3 race two years ago on a borrowed bike, she has made great strides and after winning her category at IRONMAN South Africa in April, she is now enjoying life in Hawaii and enjoying getting ready for the big day.
After the season of results she has had, could she be a potential podium finisher and collect over of the coveted Umeke bowls? That's one of the questions I asked her…

---
From what I can work out, you've not been involved in triathlon for many years. What is your sporting background, and when did that lead you to swim/bike/run?
I've always been an active person and have always had a competitive nature, but I don't really come from a sporting background. Competitive sport started for me in February 2013, which is when I ran my first ever race. This opened a door for me – always wanting to push the limits until I was running ultra distance, self-navigational mountain marathons and international multi-day mountainous stage races.
Triathlon didn't begin for me until mid-2015 (in a surf wetsuit on an ally bike), when I did a local sprint tri. The first 70.3 I did was Mallorca in 2016 (the year of the rain…), again on a hire bike with no real training to speak of. I remember finishing that – barely able to walk – but completely hooked and thinking, "If I can do that, I can do anything…"
You did IRONMAN South Africa in 2017 (2nd, 25-29, 10:34) and this year (1st, 30-34, 10:00). Having not been in the sport too long, how quickly did Kona become a target – and what was it like to earn that spot in Port Elizabeth?
IRONMAN South Africa 2017 was a bit of an experiment and I was completely shocked at my result, not least because I raced on my road bike… I guess Kona hit my radar after my 2017 race.
After a bit of a last minute reshuffle of my 2018 race plans – due to a slight change in personal circumstances – I made a fairly late decision in January 2018 to return to South Africa with every hope of qualifying for Kona this year, with the knowledge that there was likely to be more than one slot in my AG as I moved up this year and with it being a Championship race. There was more pressure this year though – as I was intent on beating my prior year time (and you never know what might happen on the day). I had also sustained a calf injury during Israman 113 which left me unable to run seven weeks prior to the race which meant my build preparation changed focus slightly. This made the feeling of crossing the finish line even more amazing and earning my slot with gusto was more than I could have ever hoped for from my return trip to South Africa.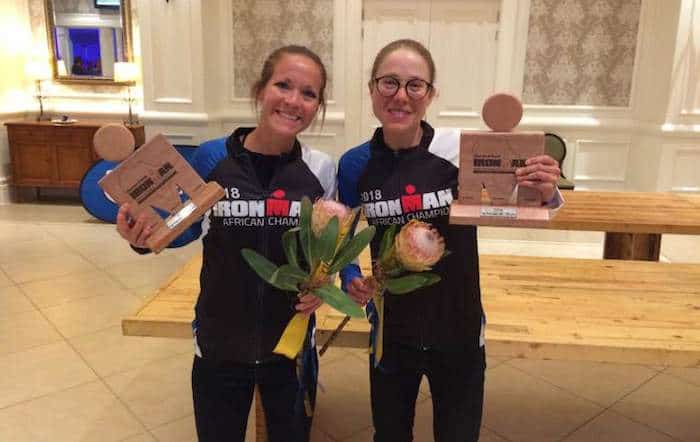 It looks like you've also had a busy year including Israman 113 (2nd overall), The Championship (2nd in AG), 70.3 Vichy (1st in AG) and Challenge Heilbronn (1st in AG). That's an impressive set of results – are you happy with your progress?
Absolutely. It's been a busy but extremely rewarding year, one where I have learnt a lot about myself as an athlete and as a person. Someone said to me, not too long ago that there are no silver bullets in triathlon. I feel like I have worked really hard for my progress and results this year and the hard work really has paid off.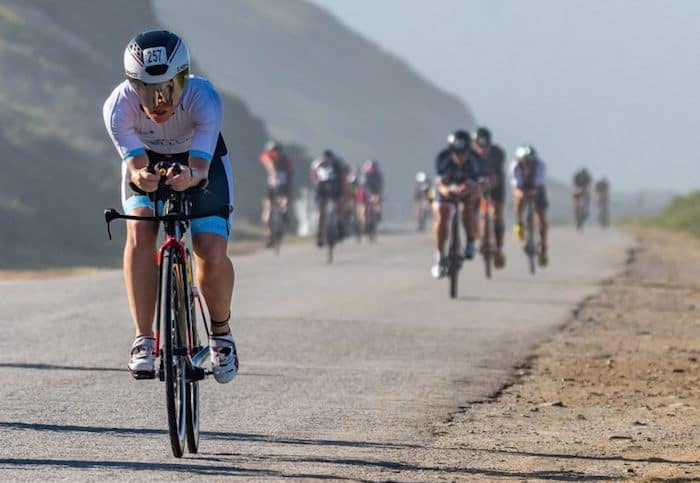 What's the 'day job' for you? (And does that also involve working while you are in Kona?)
I work at TSB as the Analytics and Insight Manager for the Credit Cards Portfolio. My boss has been so supportive of my Kona venture (actually all my triathlon ventures this year) – I couldn't be luckier really. So yes, I have been working from my Lanai in Kona which has enabled me to acclimatise and get over jet lag in plenty of time while being able to support the team at work. It's actually provided a great distraction so far from any race nerves. Plus, a Lanai in Kona with geckos practically crawling across my keyboard and a view of palm trees doesn't make for a bad office!
I believe you are coached by Hywel Davies (www.tri-becoaching.co.uk) – what's your approach to training under his guidance, and what does that typically mean in terms of weekly hours for example?
Yes, Hywel has coached me since Oct 2017 – it was a bit of a shock to the system working with Hywel initially as it was very different to the more casual coaching arrangement I had during 2017 with my prior coach. Training with Hywel's guidance has been awesome this year and I have a lot to thank him for as I have seen real improvement in my results and ability in all disciplines since he has been coaching me (including how I approach things mentally).
There have for sure been sessions that I have read it and thought…. 'Really??!' – but it's almost like Hywel has a sixth sense for pushing the limit without breaking me, and 99% of the time I finish a session feeling surprised and pleased that I got my head down and pushed on to hit the numbers or targets set. I generally don't take (and don't really like), rest days – tending to ease up intensity as opposed to stopping completely. I can train anything from four hours in a week (tapering into a race) all the way up to near to 25 hours (on camp). Generally, I average 12-14 hours per week though.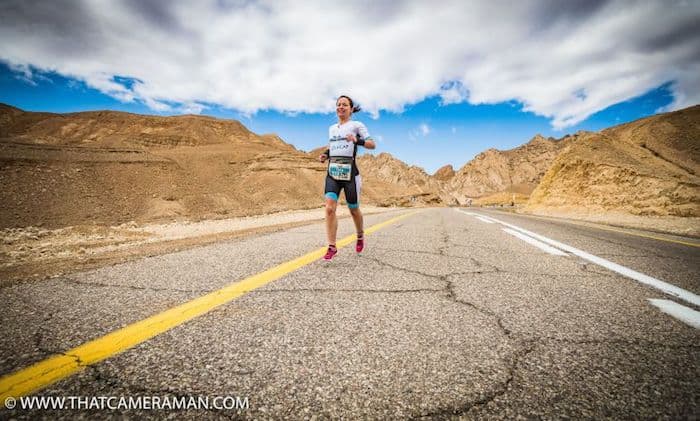 What would you say your strengths / weaknesses are as an athlete?
If you had have asked me that at the start of this year, I would have quickly said my strength was running, with biking and swimming comparatively not being as strong. However, I have worked hard this season to focus on this with Hywel and feel like this has paid dividends, having ridden a solid 100m TT last month (4:17:12) and some consistent strong timed swims over the summer that I am happy with. That makes this question less easy to answer.
I would say that a strength though, is that I love all the disciplines as much as the next – which means that I look forward to something about every session. I have also spent a fair amount of time getting to know my bike this year and tinkering with it (fitting my own oval chain rings, replacing rear derailleur cages plates etc – YouTube is a blessing). I used to worry about bike mechanicals on course, but rolling my sleeves up and building confidence in this area removes stress when travelling with my bike and also during the bike leg.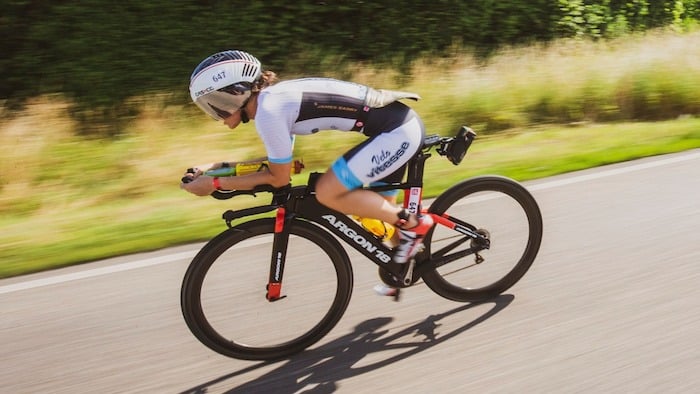 When did you arrive in Hawaii – and how as the experience been so far? Having got there early, you must have seen the 'buzz' starting to build by day as more and more athletes arrive?
I arrived in Hawaii on 22nd September. From stepping off the plane into the outdoor airport to writing this now (a week and a half later), I have loved every second (including the very hot and sweaty run sessions…. I think). It really is a place of dreams here – swimming with dolphins and turtles, a crystal-clear ocean, sunsets, blue skies and constant warmth…
The buzz is just starting to build now – Dig Me beach at 7am and my early morning swims are feeling less lonely, Ali'i Drive is noticeably busier with athletes putting in their last run sessions before the race and the Queen K is a hive of activity with TT bikes zooming up and down the shoulders eagerly checking each other out. It's starting to feel like a different place to when I arrived and I am pleased that I have been able to see and experience a sleepy Kona before the madness commences.
How are you coping with the conditions and temperatures, and have you done much training on the course?
It was really hot (even the locals were commenting on it), the week I arrived – with very little wind, compared to the apparent norms, making it a bit of a shock to the system After a couple of weeks here it's starting to feel normal and I am getting used to the constant heat and humidity. It is surprisingly different to what I have raced in before (compared to South Africa for example – which hit 35degrees in 2017 on race day, is home to a notoriously windy bike course and generally more difficult than normal swim due to the sea conditions there).
I have had lots of opportunity to swim, bike and run on the course – staying on Ali'i Drive a couple of kilometres from the new run turn point has been great. I also took the opportunity to bike to Hawi and back with a group of girls I met here which made for a great day out and a really invaluable session in my final build to race day.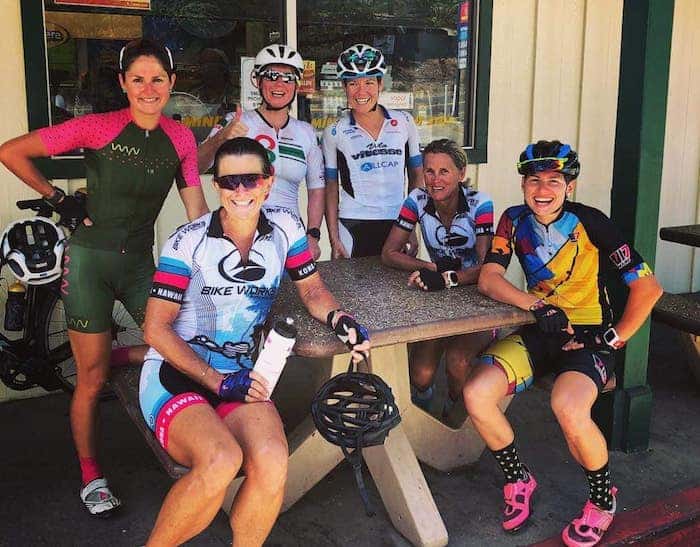 Kona is notoriously difficult for first-timers, but looking at your results this year and that time in South Africa, on a good day a podium (top-5 in Kona) finish in your AG is certainly possible. Do you have any particular targets / goals for the race, performance wise?
As you eluded to, Kona is a difficult race. Since I have been here I have seen first hand what makes this a difficult race. While it would be nice to round out my season with a top-5 Age Group finish in my first trip to Kona – I'm not going to get caught up with this. I want to enjoy my race and I will give it my best shot and let's just see where that leaves me in the rankings against a field of extremely strong ladies.
What are you most looking forward to on race day?
That very emotional but electric feeling of nearing the end of the race, knowing it's almost in the bag and experiencing that feeling of crossing the finish line! The feeling that all the hours of hard work have paid off and the feeling of doing myself, my coach and all the people who have supported me on my journey proud.
Any post-Kona plans – other than the after party?!
I have heard some wild after party stories – so I can't wait for this. Otherwise, there will be a little downtime and there is a house move on the cards in December (after receiving news my house had sold for a second time the weekend I arrived to Kona). After that I will get my head down for a solid winter training block to get myself in the best shape I can be for Challenge Roth next year.