Von Berg defends, Lawrence adds a fourth Regional Champs title in Elsinore
Fenella Langridge makes it a British one-two in Denmark
I did say in Weekend Preview of the IRONMAN 70.3 European Championship on Sunday on Elsinore:
While the 'Brownlee factor' combined with the Facebook streaming will likely gain the column inches, by far the most impressive race in terms of depth of quality of field will be in Elsinore, Denmark for the 70.3 European Championship. Just a shame you won't be able to watch it.
A quick look at the online tracker, the few clips I have seen and from accounts from those on site, that proved to be spot on the money.
PRO WOMEN
Great Britain's 2016 IRONMAN 70.3 World Champion, Holly Lawrence, continues with her impressive collection of Regional Championship titles, with another win. She now holds:
IRONMAN 70.3 Middle East Championship (Bahrain 2018)
IRONMAN 70.3 North American Championship (St. George 2019)
IRONMAN 70.3 Asia-Pacific Championship (Vietnam 2019)
IRONMAN 70.3 European Championship
The big goal now of course will be the World Championship in Nice, France in September. Should she win that… then surely a trip to Buenos Aires, Argentina would be on the cards for early November and a chance to consecutively hold every IRONMAN 70.3 Championship?!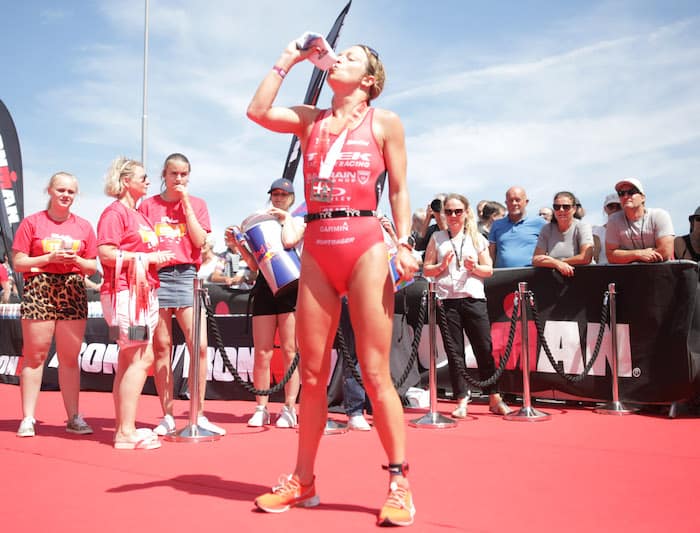 The race in Elsinore saw Holly emerge from the swim with Radka Kahlefeldt (CZE) and home athlete Helle Frederiksen for company, the Dane aiming to take the top after twice finishing second. Another two Brits followed just 50 seconds later – Fenella Langridge and Claire Hann – who in turn had just over a minutes buffer on the main chase group, headed by Chantal Cummings.
The leading trio were locked together through the opening 25km, before the pressure from Lawrence started to tell. By 60km she was two minutes up on Frederiksen and Kahlefeldt, with Langridge clear in fourth, less than 50 seconds down on the 2018 ITU Long Distance World Champion.
#KMDIM703EUChamps
Very strong @Holly_Lawrence_ on the bike. No chasers in sight. pic.twitter.com/xFlU7HVBtI

— IRONMANLive (@IRONMANLive) June 23, 2019
Lawrence's renowned bike power saw her reach T2 almost four minutes clear, but the chasing duo was now a trio as Langridge had closed her deficit. Lawrence was looking good for the win based on recent history, but it was all to play for on the run for the podium positions.
Great victory for @Holly_Lawrence_ in 4:06:24! She takes the crown #KMDIM703EUChamps in front of @Fenella_Alicia and @radkavodickova pic.twitter.com/HdwvuqAN1d

— IRONMANLive (@IRONMANLive) June 23, 2019
Holly was running strong, and while by the midpoint of the run her lead had been reduced slightly, she still had three minutes in hand with 10km remaining. Langridge and Kahlefeldt were finally able to gain a small gap on Frederiksen, but they were still locked together for 10 miles, before the Brit was finally able to gain some ground. Lawrence took another win with a 1:19:45 run, while Langridge closed with the best run on the day – 1:18:47 – to take second place, and cross the line just over a minute clear of Kahlefeldt. Radka couldn't cruise in either, with Helle still chasing her hard.
For Langridge, perhaps her best ever performance? Sure, she's won several IRONMAN 70.3 races now, but when measured against that quality of opposition and having had to both bridge up on the bike solo and then produce the best run, that's a step up in my eyes.
https://www.instagram.com/p/BzDkbcUBEhx/
PRO MEN
If the women's race was great, the men's was at the very least its equal!
Rodolphe Von Berg arrived in Denmark as the defending champion and having had a very strong performance recently when finishing third at The Championship in Samorin.
The 10-time World Champion, Javier Gomez lead the opening swim (21:09) with compatriot Pablo Dapena Gonzalez and Daniel Bækkegaerd (DEN) for company. Young Brit Thomas Davis lead a large group of chasers just 20 seconds back, which included Von Berg and Elliot Smales.
It was all change within about 10-miles as Miki Taagholt (DEN) was going all-in on the bike, building a solo lead of a minute. Behind, Gomez had been caught, which left seven athletes – Dapena Gonzalez, Davis, Von Berg, Florian Angert (GER), Pieter Heemeryck (BEL) and Ruedi Wild, plus Gomez – as a very high quality chasing group.
#KMDIM703EUChamps
Taagholt is heading away on the bike. pic.twitter.com/YK2aKXNcfB

— IRONMANLive (@IRONMANLive) June 23, 2019
Taagholt built a lead of two minutes at one point, but by the time the athletes arrived in T2 it was the defending champion who arrived first, courtesy of a 2:01:36 bike split, with a 1:40 buffer over Angert, Taagholt and Robert Kallin (SWE). The next chase group – of six, arrived three and a half minutes down on the leader and included Gomez, Dapena Gonzalez, Heemeryck, Wild, Davis and Patrik Nilsson.
Midway through the run and Von Berg's lead had been slashed by three minutes, thanks to a storming run from Gomez. By 15km it was down to just 10 seconds… at which point Von Berg fought back (just as he did 12 months ago with Adam Bowden).
Flying: @Jgomeznoya is making up a lot of ground on @Rudyvonberg – the gap is 10 seconds at km 14.5, Pablo Dapena in 3rd +1:17, Angert +2:35 together with @patriktriathlon #KMDIM703EUChamps pic.twitter.com/xWAmqwK8Ou

— IRONMANLive (@IRONMANLive) June 23, 2019
He managed to get away again, the lead grew… but then Gomez closed again. The gap at the finish? Just 11 seconds. Gomez had run 1:07:45, but it wasn't enough. Dapena Gonzalez (1:09:08 run) completed the podium.
Here is your 2019 KMD #KMDIM703EUChamps winner: @Rudyvonberg takes it in 3:39:35, silver for @Jgomeznoya in 3:39:46 pic.twitter.com/Oq7aZNVGwt

— IRONMANLive (@IRONMANLive) June 23, 2019
GB's youngsters secured sixth (George Goodwin, thanks to a 1:09:12) and eighth (Thomas Davis, thanks to his brave racing and mixing it with the elite of the sport). 13th for Elliot Smales, who hasn't quite – yet – matched the heights he reached throughout the 2018 season. With this quality of field however, any mistakes or weakness gets magnified.
https://www.instagram.com/p/BzFaB7oh5VZ/
KMD IRONMAN 70.3 European Championship, Elsinore, Denmark – Sunday 23rd June 2019
1.9km / 90km / 21.1km
PRO MEN
1st – Rodolphe Von Berg (USA) – 3:39:31
2nd – Javier Gomez (ESP) – 3:39:42
3rd – Pablo Dapena Gonzalez (ESP) – 3:40:59
4th – Patrik Nilsson (SWE) – 3:42:52
5th – Florian Angert (GER) – 3:43:03
6th – George Goodwin (GBR) – 3:43:54
7th – Ruedi Wild (SUI) – 3:44:25
8th – Thomas Davis (GBR) – 3:46:06
13th – Elliot Smales (GBR) – 3:50:15
DNF – Fergus Roberts (GBR)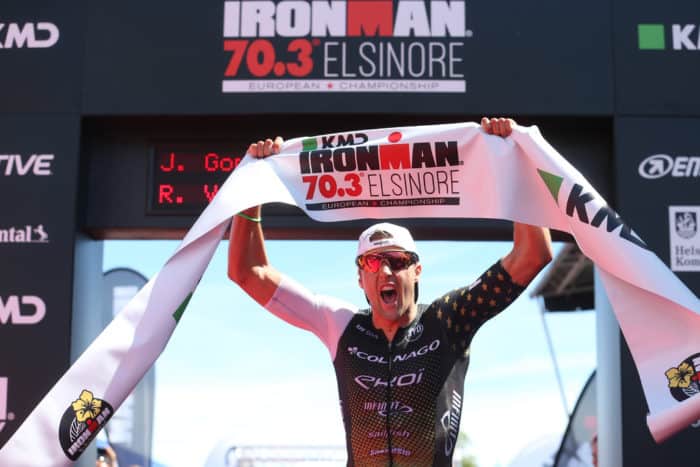 PRO WOMEN
1st – Holly Lawrence (GBR) – 4:03:16
2nd – Fenella Langridge (GBR) – 4:06:14
3rd – Radka Kahlefeldt (CZE) – 4:07:27
4th – Helle Frederiksen (DEN) – 4:08:02
5th – Sara Svensk (SWE) – 4:09:26
9th – Chantal Cummings (GBR) – 4:16:41
10th – Claire Hann (GBR) – 4:17:27