Another BIG weekend of racing…
Another Bank Holiday weekend – combined with the ITU Multisport World Championships on Pontevedra – resulted in another busy weekend of racing around the globe.
British winners this week include Holly Lawrence, Laura Siddall, Lucy Charles-Barclay and Emma Pallant. They are joined by a legend winning his TENTH World Championship title, another legend slowing few signs of slowing down as he approaches 46 and some impressive sprint finishes in from the latest ITU Triathlon World Cup event in Madrid.
With all of that and more, let's get to it, starting with a packed schedule of international events.
INTERNATIONAL RACING
THURSDAY
ITU Aquathlon World Championships, Pontevedra
Ok, so we are extended the weekend at both ends this week, as in addition to Monday's Bank Holiday in the UK, the Aquathlon World Championships were held on Pontevedra on Thursday. The Elite titles were won by Rostislav Pevtsov (AZE) and Alicja Ulatowska (POL), while – as always – the British Age-Group team were out in force collecting
Check out the full details on these separate reports: ELITE | AGE-GROUP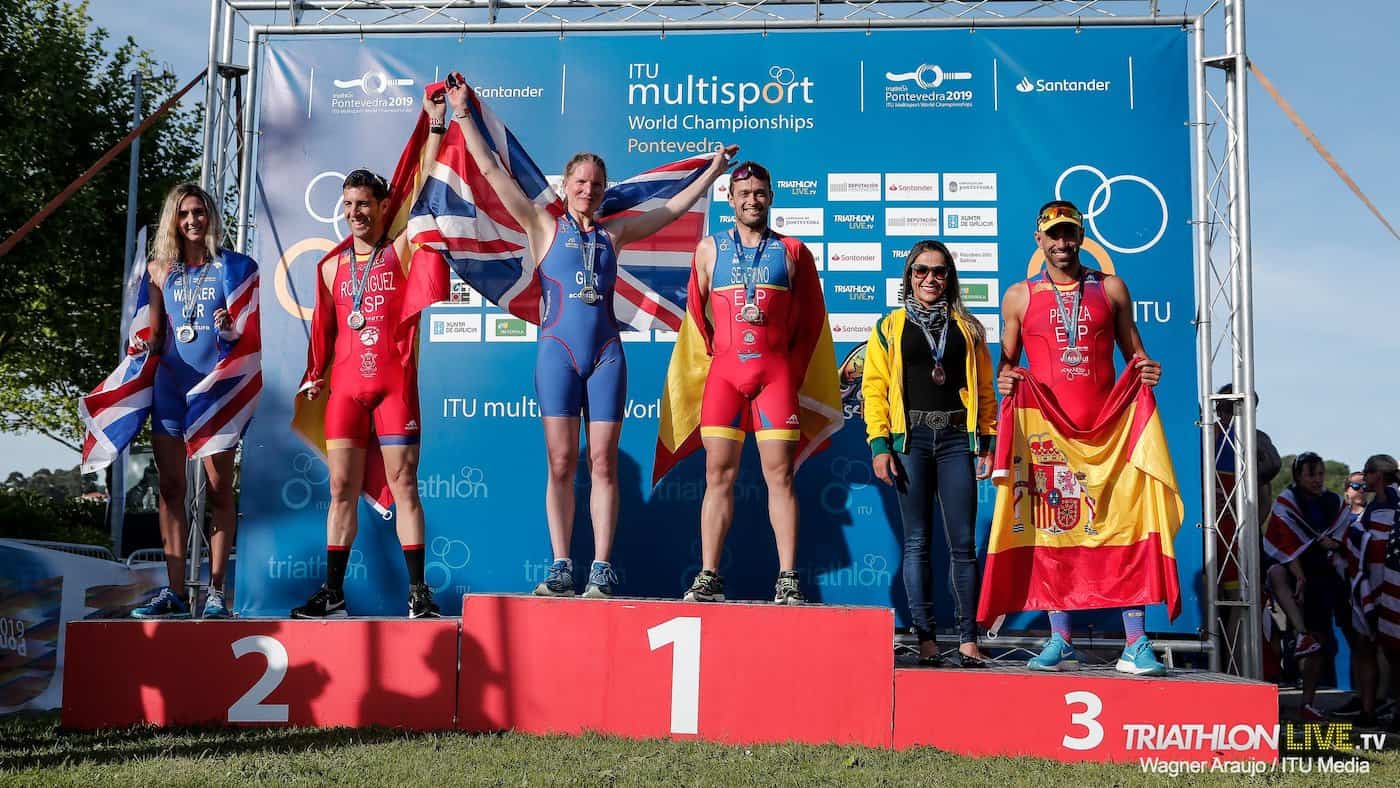 SATURDAY
ITU Long Distance Triathlon World Championships, Pontevedra
Javier Gomez surprised absolutely nobody by winning his tenth career triathlon World Championship title in his home town, while Belgium's Alexandra Tondeur added a world title to her 2018 European Championship victory in Ibiza. Check out the extended report HERE.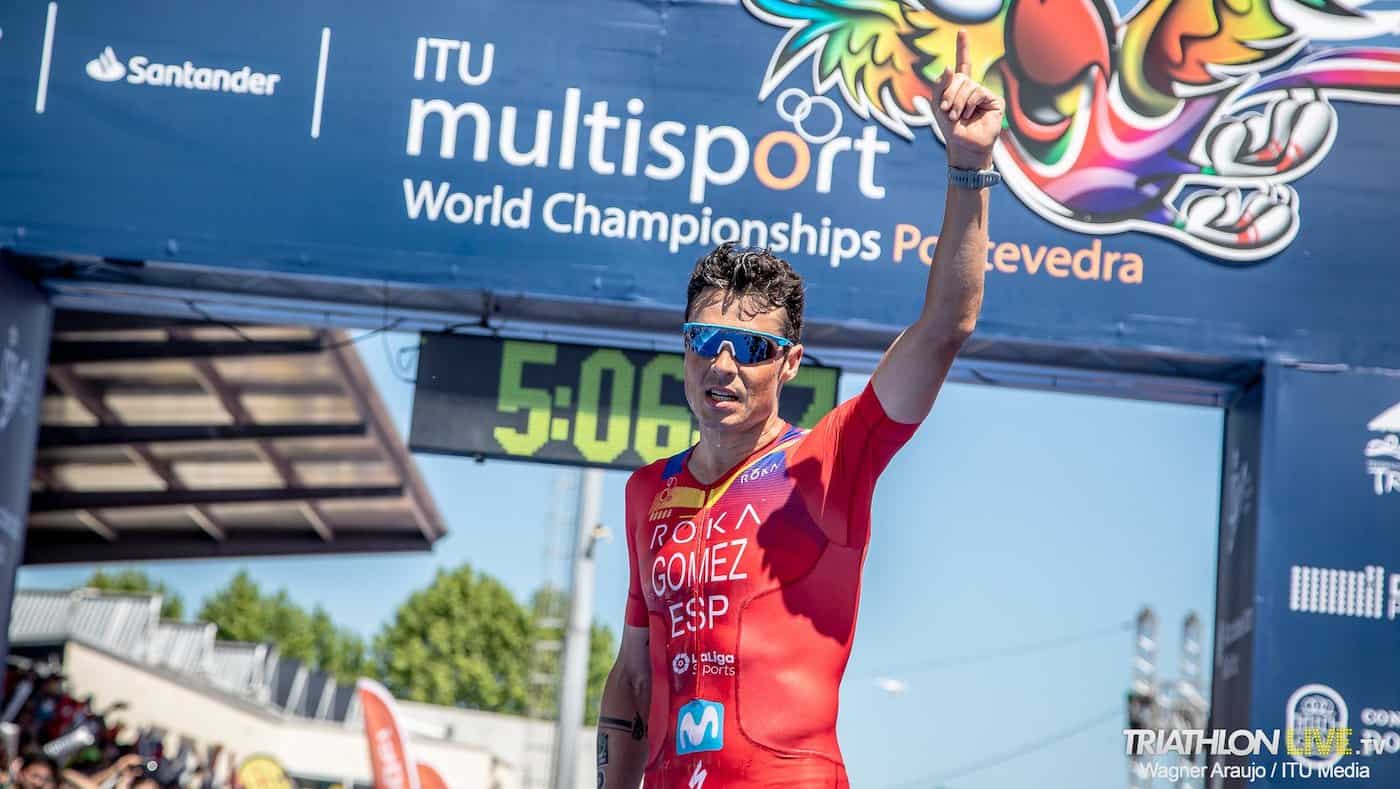 As with the Aquathlon – and indeed all of the events at Pontevedra (which by all accounts, was a huge success)) – the British Age-Group team were out in force (and in the Aquabike, which was held alongside the LD Triathlon. Check out how they all did on these links: AGE-GOUP LONG DISTANCE TRIATHLON | AGE-GROUP AQUABIKE.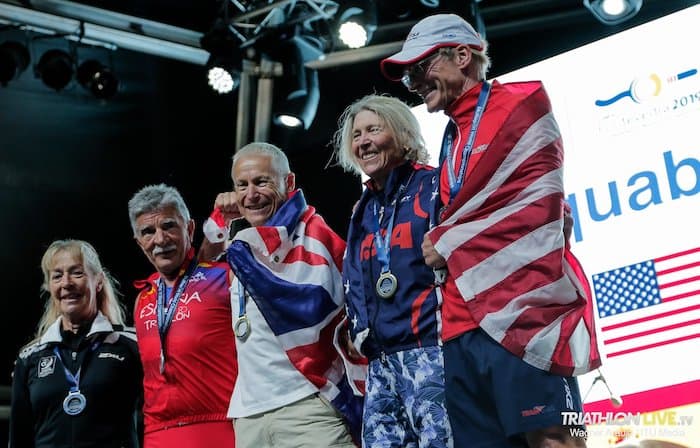 VOLCANO TRIATHLON, LANZAROTE
Now in its 35th year, the Club La Santa Volcano Triathlon saw a British female winner for the fifth consecutive year in the women's race, where Lucy Charles-Barclay followed up on the three previous victories of Alice Hector and the 2015 title for Corinne Abraham, in the middle of her latest training camp. Emilio Aguayo Muñoz (ESP), the 2018 winner, won the race again. Lucy also swam faster than all of the men. Again!
MEN
1st – Emilio Aguayo Muñoz (ESP) – 1:52:27
2nd – Stefan Schmid (GER) – 1:55:34
3rd – Raul Lecuona Gil-Roldan (ESP) – 1:55:56
4th – Reece Barclay (GBR) – 1:56:30
10th – Stephen Bayliss (GBR) – 2:01:36
WOMEN
1st – Lucy Charles-Barclay (GBR) – 2:05:12
2nd – Tessa Kortekaas (NED) – 2:10:43
3rd – Amber Rombaut (BEL) – 2:14:12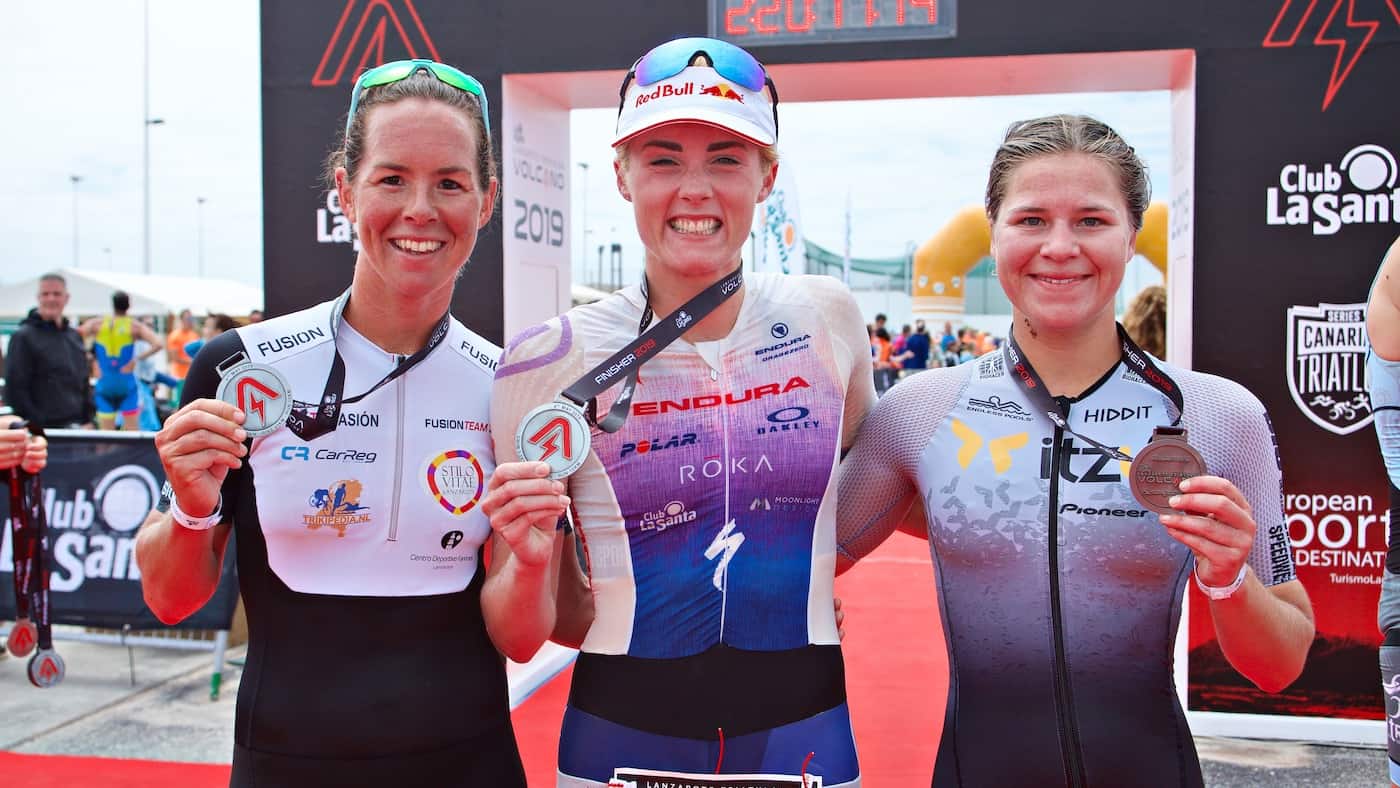 IRONMAN 70.3 ST. GEORGE, UTAH
Announced on Thursday as the venue of the 2021 IRONMAN 70.3 World Championship, the IRONMAN North American Championship once again attracted a strong field to Utah.
The winners of the last four races in St. George filled the podium in the women's Pro race – but way out in front and having taking a significant step up from her second place recently at IRONMAN 70.3 Oceanside, was Great Britain's Holly Lawrence. The IRONMAN 70.3 World Champion in 2016 was with the lead group through the swim, quickest through T1 and 90km later was almost three and half minutes clear of defending champion, Paula Findlay (CAN). Another quick transition and the fastest run split followed too, for a comprehensive and complete triathlon performance… and a winning margin of almost eight minutes. Very, very impressive.
https://www.instagram.com/p/BxDwYehg3_-/
Rodolphe Von Berg (USA) is quietly building an impressive C.V. Winner at the IRONMAN 70.3 European Championships in 2018, like Lawrence he too was second recently at Oceanside (a very close race with Ban Kanute), and after a swift swim, he was following the 'Lawrence plan' and was soon solo at the front on the bike. In another parallel, his T2 lead was also three and half minutes (over Sam Long (USA)), with Bart Aernouts (BEL) and Ben Hoffman (USA) a further 30 seconds back. In his first race back after injury at Kona, Germany's Sebastian Kienle was almost six minutes back in 8th place after a first Pro career penalty on the bike.
Seven of the top ten finishers ran faster than Von Berg – but it's a triathlon, not a running race – and his quick swim, fastest bike and 1:17:15 run was enough to hold off the fast running (1:14:54) of Kona 2018 Silver medallist, Bart Aernouts.
https://www.instagram.com/p/BxDWZHiD4LI/
PRO MEN
1st – Rodolphe Von Berg (USA) – 3:49:10
2nd – Bart Aernouts (BEL) – 3:50:58
3rd – Jackson Laundry (CAN) – 3:51:21
4th – Stephen Kilshaw (CAN) – 3:51:47
5th – Sam Long (USA) – 3:52:17
PRO WOMEN
1st – Holly Lawrence (GBR) – 4:06:05
2nd – Paula Findlay (CAN) – 4:14:03
3rd – Heather Wurtele (CAN) – 4:15:55
4th – Sky Moench (USA) – 4:16:21
5th – Jackie Hering (USA) – 4:17:03
IRONMAN 70.3 BUSSELTON
I posed a question in the Weekend Preview, "Another win for the ageless veteran, Craig Alexander, perhaps?". Well, it was – and Alexander turns 46 next month.
https://www.instagram.com/p/BxCN_iSBoQT/
PRO MEN
1st – Craig Alexander (AUS) – 3:49:53
2nd – Mike Phillips (NZL) – 3:51:14
3rd – Matt Burton (AUS) – 3:53:08
PRO WOMEN
1st – Felicity Sheedy-Ryan (AUS) – 4:20:16
2nd – Rebecca Clarke (NZL) – 4:26:46
3rd – Emily Loughnan (AUS) – 4:30:48
MALLORCA OLYMPIC DISTANCE TRIATHLON
I don't have the detailed results to hand at the time of writing, but we do know that Emma Pallant won in Mallorca for the third time, with Will Clarke straight back into racing after his DNF at IRONMAN Texas with a second place finish at Colonia Sant Jordi.
https://twitter.com/BESTswimCentre/status/1124960781861314561
SUNDAY
IRONMAN AUSTRALIA
A three-peat for Great Britain's Laura Siddall in Port Macquarie and a course record for Cameron Wurf. Check out the full report HERE.
One for the record books!#IMAUS #AnythingIsPossible pic.twitter.com/IzaVTmIAhm

— IRONMAN Triathlon (@IRONMANtri) May 6, 2019
MADRID ITU WORLD CUP
The return of ITU World Cup action to Madrid was highlighted by sprint finishes in both races. In both cases, featuring athletes from the same country.
For the women, it was a French battle which saw Emilie Morier get the better of Sandra Dodet, but the closest finish was for the men – given the same finishing time – where Justus Nieschlag just to the line ahead of Lasse Lührs. Sophie Coldwell was the top British finisher in fourth place.
https://www.instagram.com/p/BxFq47YDRw6/
ELITE MEN
1st – Justus Nieschlag (GER) – 55:51
2nd – Lasse Lührs (GER) – 55:51
3rd – Roberto Sanchez Mantecon (ESP) – 55:57
This is how close it was for Justus Nieschlag in the sprint finish today in the #MadridWC pic.twitter.com/adscsuqcz0

— World Triathlon (@worldtriathlon) May 5, 2019
35th – Barclay Izzard (GBR) – 57:46
36th – Calum Johnson (GBR) – 57:50
47th – Christopher Perham (GBR) – 58:59
ELITE WOMEN
1st – Emilie Morier (FRA) – 1:02:18
2nd – Sandra Dodet (FRA) – 1:02:19
3rd – Angelico Olmo (ITA) – 1:02:30
4th – Sophie Coldwell (GBR) – 1:02:44
6th – Olivia Matthias (GBR) – 1:02:52
7th – Beth Potter (GBR) – 1:03:03
Double podium for France in #MadridWC with Emilie Morier grabbing the first victory in a World Cup of her career and another French, Sandra Dodet, with her in the podium. In third place Italian Angelica @OlmoAngelica
📷 @pebesport pic.twitter.com/NjXxvVARAh

— World Triathlon (@worldtriathlon) May 5, 2019
CHALLENGE RICCIONE, ITALY
There were some challenging weather conditions in Italy for the latest Challenge Family event of the European season. Both victories went to home athletes, courtesy of Mattia Ceccarelli and Elisabetta Curridori.
Great Britain's David Bishop followed up fourth last week in Gran Canaria with a sixth place finish.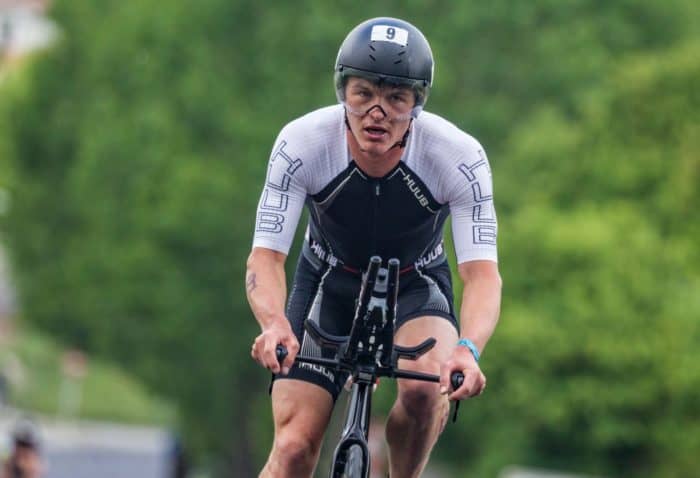 PRO MEN
1st – Mattia Ceccarelli (ITA) – 3:51:49
2nd – Thomas Steger (AUT) – 3:53:13
3rd – Frederic Funk (GER) – 3:53:44
6th – David Bishop (GBR) – 4:00:29
8th – Colin Norris (GBR) – 4:00:58
PRO WOMEN
1st – Elisabetta Curridori (ITA) – 4:25:04
2nd – Margie Santimaria (ITA) – 4:27:18
3rd – Bianca Steurer (AUT) – 4:27:33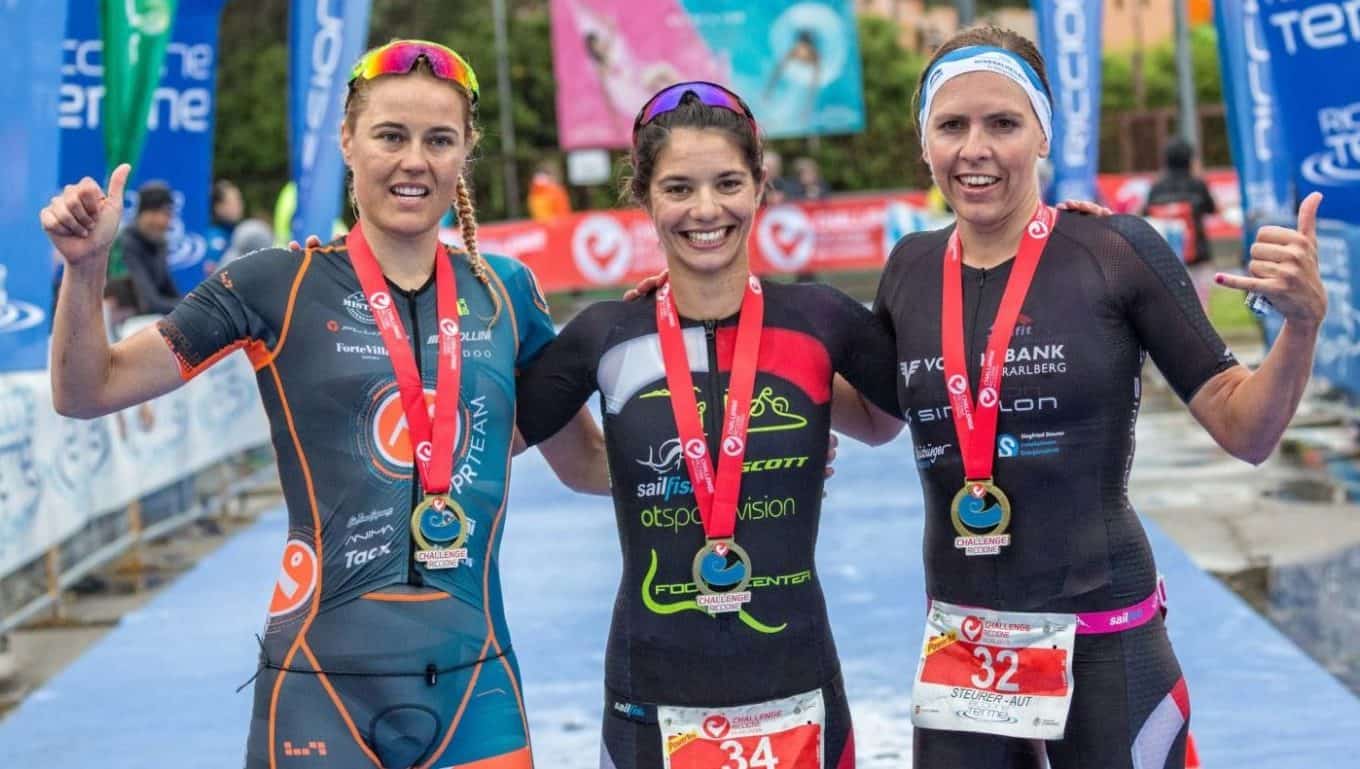 Over in Germany, the long-standing Buschhütten Triathlon Siegerland Cup saw the racing return (and a win) for Jan Frodeno, with Laura Philipp the women's champion. Winner for the last two years, Andi Böcherer, was second.
DOMESTIC RACING
Lots of racing around, but just picking out a few of note…
The Anglian Water Triathlon at Grafham Water was an ITU Age-Group qualifier. Richard Tanguy (Jersey Tri Club) took a narrow win over Age-Group World Champion Edward Castro (Bedford Harriers), the cold water meaning the swim was reduced from 1.5km to 1km. The women's race was also very close, with Naomi Wright finishing just 19 seconds quicker than Rebecca Stubbs (Southampton Tri Club). Full results HERE.
1st female overall today at Grafham Water 2020 ITU world champs qualifier. Nice to see all this Ironman training isn't making me any slower!#BTheBestUCanB #Triathlon #SwimBikeRun #IronmanTraining #NiceTriEvents #AgfaHealthCare pic.twitter.com/VNvoXjlfhK

— Naomi Keira Wright (@NaomiKeira) May 5, 2019
The Thames Turbo Sprint Triathlons have been part of Bank Holiday's for… well, forever, and in the latest event Caleb Kennedy (London Field Triathlon Club) and Victoria Solly (Clapham Chasers) were the overall winners in close races. Full results HERE.