25 Aquathlon medals for the GB Age-Group team in Pontevedra
Tarasewicz and Baker are the fastest Brits in Spain
Thursday's racing in Spain at the Pontevedra ITU Multisport World Championships was of the Swim-Run variety – specifically, a 1km swim / 5km run in the ITU Aquathlon World Championships.
The discipline is very popular with British athletes, with several also combining racing with one or more of the other events held over the Festival too. Around 200 Brits formed part of an Age-Group entry over well over 600, and while the overall medal total of 25 was slightly lower than the 29 from Fyn, Denmark last year, the number of Gold medals had doubled from five to ten. A full breakdown of those is proved below.

Catch up on all of the reports from Pontevedra 2019:
In the women's field, the fastest athlete overall was also a Brit, Henrietta Tarasewicz, who finished just nine seconds ahead of Tina Wilson. Looking at the picture below (and the speedy time…!), I'm pretty certain that is the athlete that those with very long memories may better remember as Henrietta Freeman. 'Henny' was a very talented British Junior / Elite athlete who had many successes including winning the World Junior Duathlon Championships back in 2001.
The fastest British man was Brett Baker, who was the third fastest athlete overall – good enough to earn Gold in his 16-19 category.
Fastest British athletes overall
MEN
1st – Brett Baker – 33:16 (Gold M16-19) – third fastest male AG athlete overall
2nd – Ben Rawlins – 34:14 (4th M16-19)
3rd – William Atkinson – 34:37 (Silver M20-24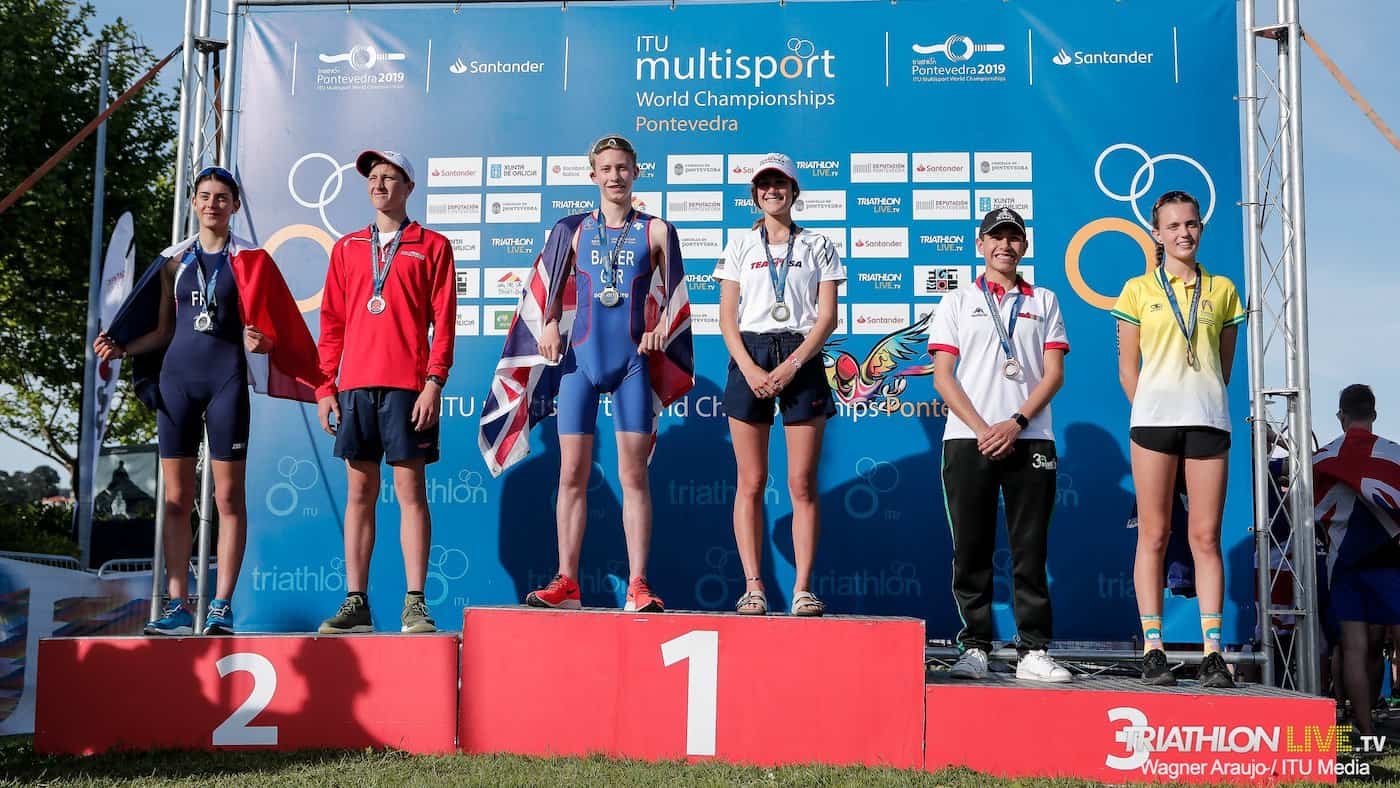 WOMEN
1st – Henrietta Tarasewicz – 35:13 (Gold F35-39) – fastest female AG athlete overall
2nd – Tina Wilson – 35:22 (Gold F40-44) – second fastest female AG athlete overall
3rd – Rebecca Wetten – 36:07 (Gold 25-29) – fourth fastest female AG athlete overall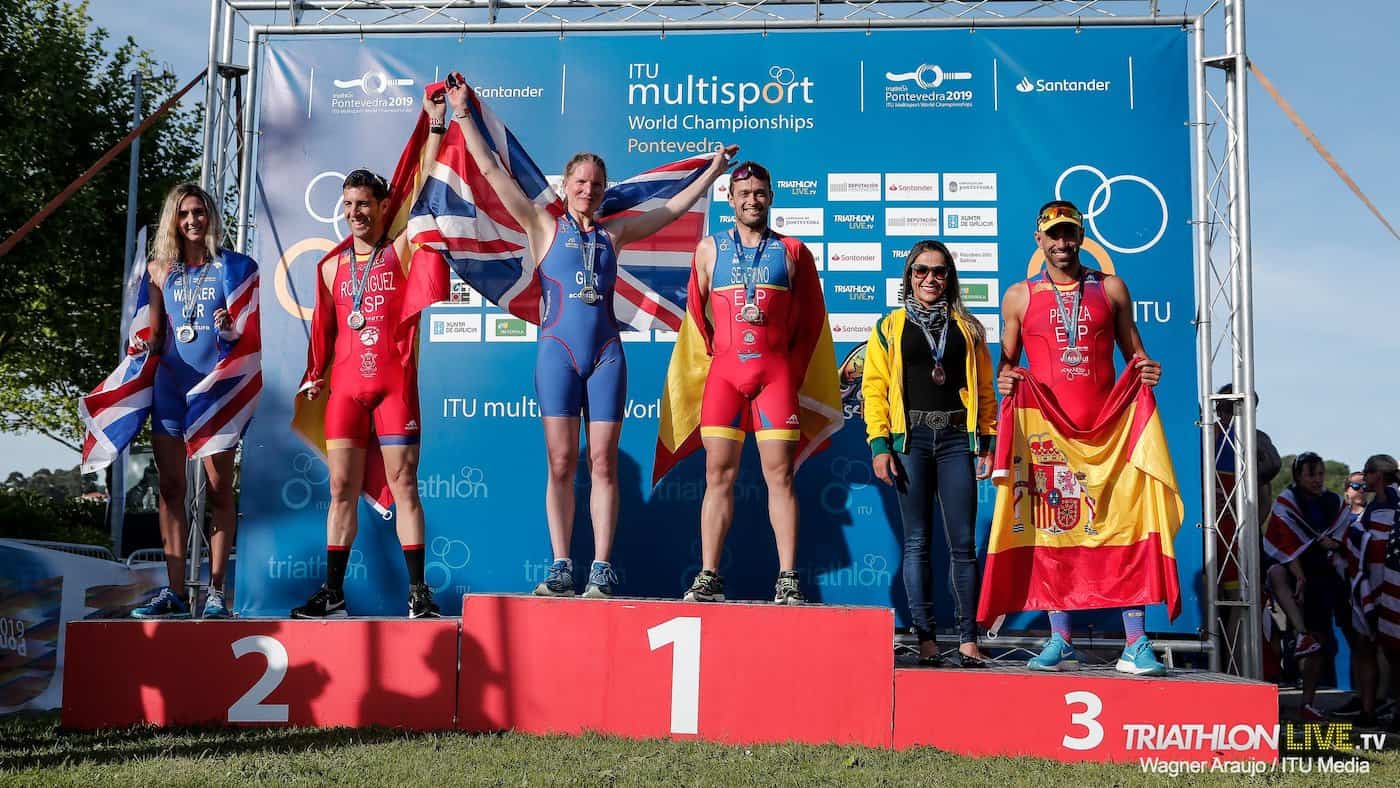 Pontevedra ITU Aquathlon World Championships – Thursday 2nd May 2019
1km swim / 5km run – ELITE
British Age-Group Medals (25)
GOLD (10)
Brett Baker – 16-19 Male AG
Amy Ritchie – 20-24 Female AG
Rebecca Wetten – 25-29 Female AG
Henrietta Tarasewicz – 35-39 Female AG
Tina Wilson – 40-44 Female AG
Sarah Richardson -45-49 Female AG
Maria Powell – 50-54 Female AG
Sean Kinsey – 55-59 Male AG
Helen Kula-Przezwanski – 60-64 Female AG
Peggy Crome – 75-79 Female AG
Shedding a few tears for @mummaPowell after bagging herself a 🥇in the world aquathlon championships!! After a string of 🥈in aquathlon over the years, her constant dedication and strive towards improvement has led to her absolutely SMASHING this race 🙌🏻🙌🏻

— Megan Powell (@DrMeganPowell) May 2, 2019
So delighted to bump into one of my favourite fellow GB age-groupers at the #ITUpontevedra world championships. Peggy won a gold medal on her 76th birthday! #daretotri pic.twitter.com/lxc40xUruu

— Louise Minchin (@louiseminchin) May 3, 2019
SILVER (10)
William Atkinson -20-24 Male AG
Alex Hemsley – 30-34 Female AG
Joe Osborne – 30-34 Male AG
Louise Walker – 35-39 Female AG
Arlene Lewis – 45-49 Female AG
Sharon Hill – 55-59 Female AG
Gordon Crawford – 55-59 Male AG
Jane Bell – 60-64 Female AG
Neil Arundel – 65-69 Male AG
Barbara Walton – 70-74 Female AG
BRONZE (5)
Emily Jevons – 20-24 Female AG
Hannah Dodwell – 25-29 Female AG
Emma Stormont – 30-34 Female AG
Katie Nimmo – 40-44 Female AG
Christine Meek – 60-64 Female AG
World Championships – Aquathlon 20-24 AG Bronze!🥉 Leading out of the swim/transition then my little legs held on for a bronze medal on the run! 🏊🏻‍♀️🏃🏼‍♀️ Still improvements to be made especially on my run but happy with that at my first world champs! #ITUPontevedra19 #Aquathlon pic.twitter.com/39eDUCvq3B

— Emily Jevons PhD RNutr (@emily_jevons) May 3, 2019