And then there were TEN (World titles for Javier Gomez)
Tondeur adds ITU World title to 2018 ETU European Middle Distance Gold
Never in doubt. At least, not in the mid of this Editor.
Javier Gomez delivered in style on Saturday at the ITU Long Distance Triathlon World Championships, which adds yet another title to his sparkling career C.V. Had the Pontevedra ITU Multisport World Championships Festival not clashed with his race last weekend at the World Triathlon Bermuda, I wonder if he might have considered racing in the Duathlon and/or the Aquathlon too 🙂
The TEN World Championship victories of Javier Gomez:
5x ITU Triathlon World Champion – 2008 / 2010 / 2013 / 2014 / 2015
XTERRA World Champion – 2012
2x IRONMAN 70.3 World Champion – 2014 and 2017
U23 ITU Triathlon World Champion 2006
ELITE MEN
The scheduled 3km swim was shortened to 1.5km due to a combination of water and air temperatures, but that change did little to change one expectation – that Spanish legend Javier Gomez would lead the way through the opening discipline. He duly did just that, and was swiftly through T1 to be away on the bike in his home town alone. Defending champion, Pablo Dapena Gonzalez, was only 14 seconds back – and the shorter swim meant that around 15 men would reach T1 within 90 seconds.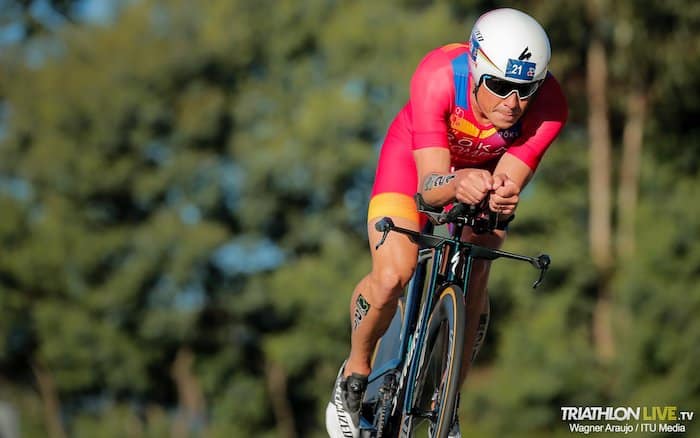 Javier's Bahrain Endurance 13 team mate, Terenzo Bozzone (NZL) was just over a minute back starting the ride, but he would soon use his powerful riding to force his way to the front of the race.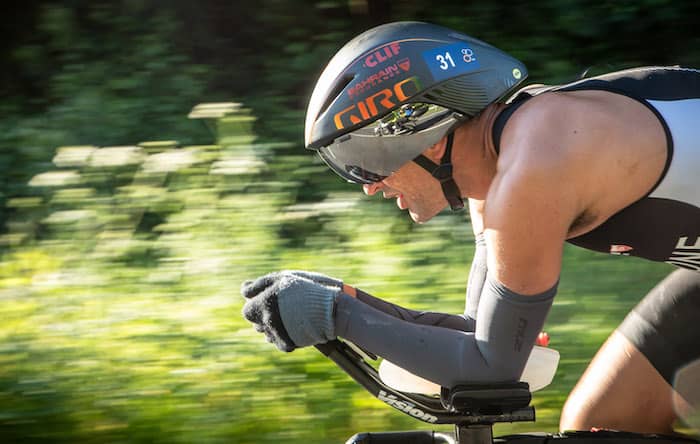 The rolling 113km was over three laps, and at the end of the first of those the leading group joining Bozzone, Gomez and Dapena Gonzalez was Miki Taagholt (DEN) and Sebastain Fraysse (FRA), but the chasers were just 45 seconds behind and would soon be joined by Lukas Kocar (CZE), who won Elite Bronze in the Cross Triathlon on Tuesday.
Additional riders would manage to bridge up to the lead pack, and as they rolled in to T2 a they included Gomez, Bozzone, Dapena Gonzalez, Antony Costes (FRA), Jaroslav Kovacic (SLO), Albert Moreno Molins (ESP) and Kristian Høgenhaug (DEN). Fraysse and Wild were less than 30 seconds further back, leaving everything to play for on the run. Well, Silver and Bronze at least… surely nobody was going to beat Gomez?
Bozzone was swift through transition and took an early lead on the four lap run course, but with Gomez leading a trio of Spanish fans, could he be the one to spoil the Pontevedra party?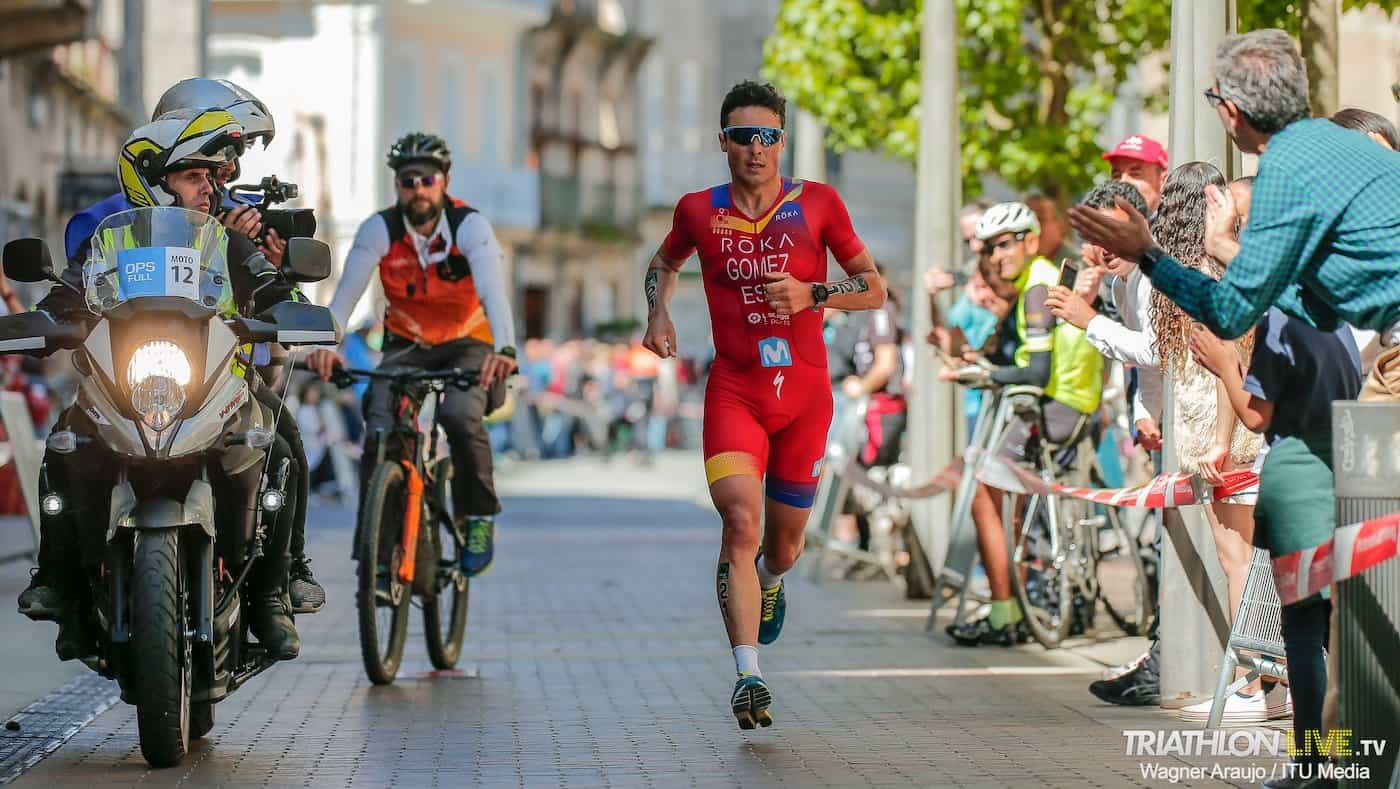 Gomez soon took the lead, looked his typical self (brilliant) and Gold was all but secured, with 25 km of running left. Dapena Gonzalez is an impressive runner himself however, with plenty of success in 2018 on the Challenge Family circuit as well as his World Championship title in Denmark.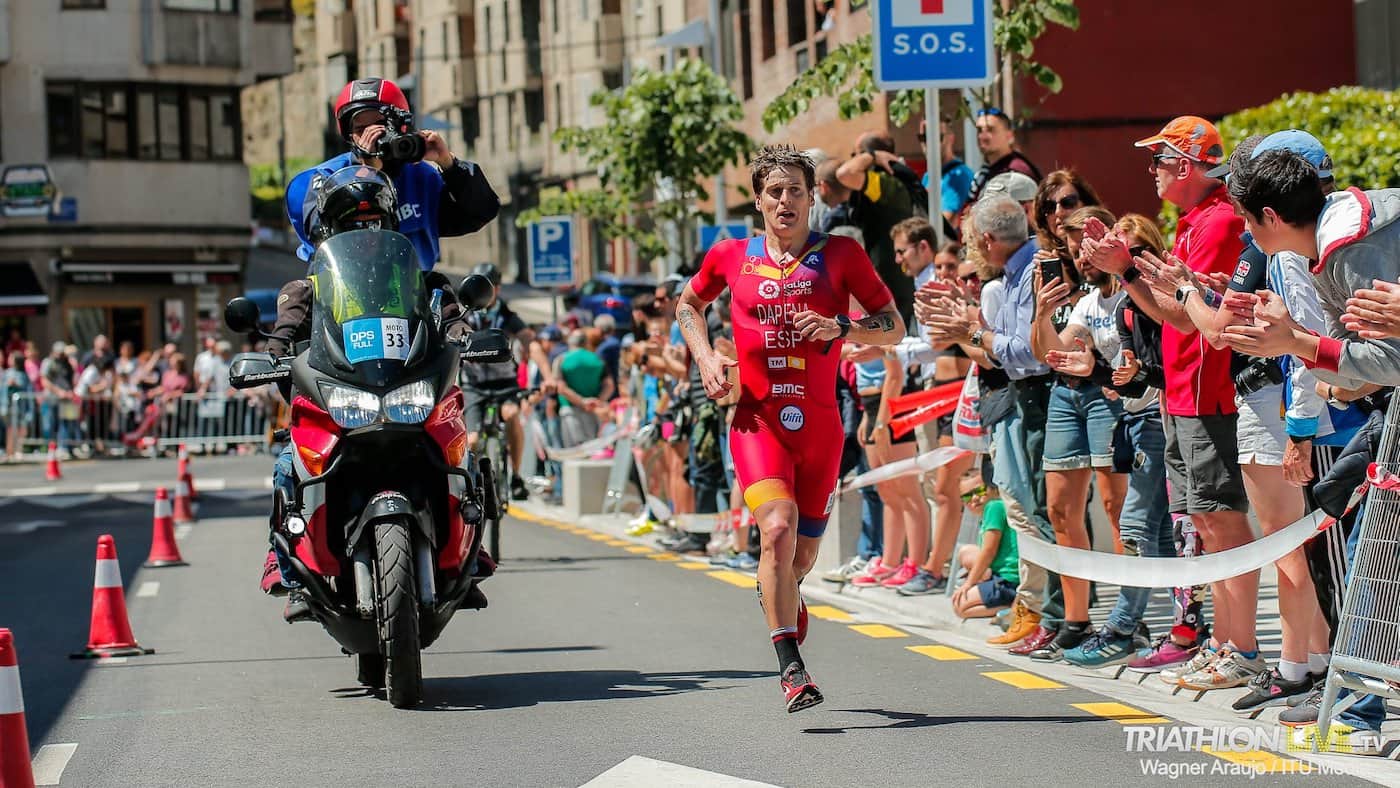 Bozzone's chances of a podium finish would soon fade. While he would finish just four minutes behind second place, it would still only be enough for seventh position overall today.
The event was in many ways built around the towering persona of Javier Gomez, and he was not going to let a different story be written, finishing with the fastest run split of the day and a winning margin of almost six minutes.
"It was unbelievable; the crowd was so amazing. It was so hard, especially that last lap on the run and they pushed me all the way and I am so glad I got this one at home. It was a very special day and I am really happy with my performance.
"It was a tough day. I felt good on the bike, it was a good bike course for me, really hard. I had some energy for the run. Everyone started really fast out of transition and I knew we would blow up, lucky I am the last to do so. I am really happy," said Gomez.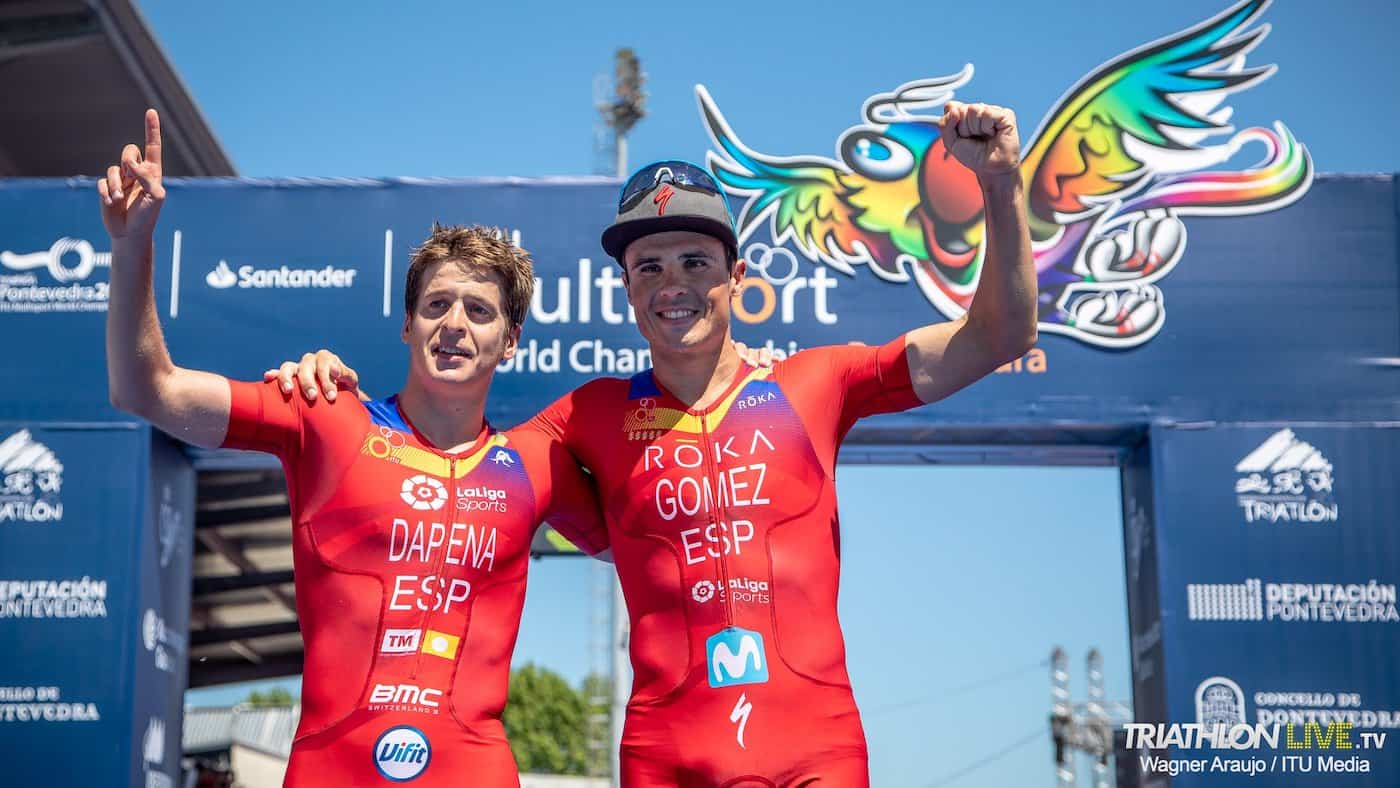 While he didn't defend his title, Pablo Dapena Gonzalez was thrilled with his Silver medal: "For everybody supporting, for me I was crying because I never expected a crowd like this. I stopped before the finish to walk and enjoy it. I'll never forget it in my life."
The final podium spot saw a sprint finish, with Jaroslav Kovacic (SLO) getting the better of Kristian Høgenhaug (DEN)
"I cannot believe that I achieved third place, I knew I was well prepared so tried to stay close on the swim, we closed the gap on the leaders. It came down to the run, amazing performance for me. I am so so happy and excited, over the moon. The crowd here is amazing. Pontevedra will stay in my heart," said Kovacic.
ELITE WOMEN
Fourth last year and World Champion in 2014, Camilla Pedersen (DEN) was quickest in the water, building herself a 40 second lead in the process.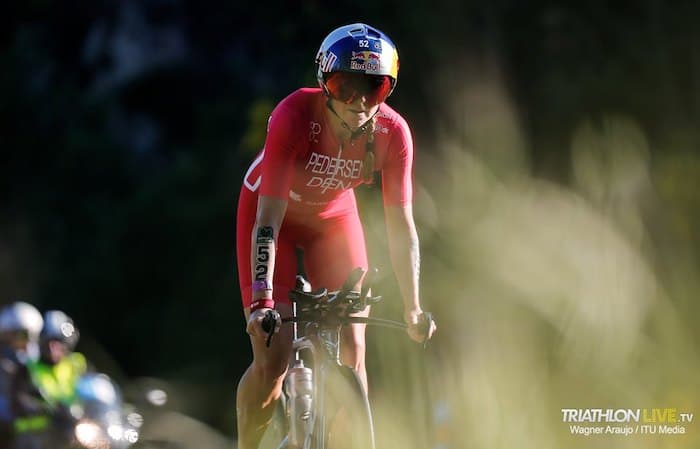 Switzerland's Emma Bilham recently won Triathlon Portocolom in Mallorca and arrived in great form. second out of the swim, she soon moved towards the front of the race but then had mechanical issues which forced her to pull over to the side of the road to try and resolve matters. She got back into the race, but lost time just as she was looking in a brilliant position.
Having lost two minutes to Pedersen in the water, Manon Genet (FRA) was riding very strongly and would catch the Dane, the pair eventually arriving together at T2 with a narrow 30 second gap over Alexandre Tondeur (BEL). Tondeur won Gold in Ibiza last year at the ETU Middle Distance Triathlon European Championships, ahead of the British pairing of Sarah Lewis and Alice Hector.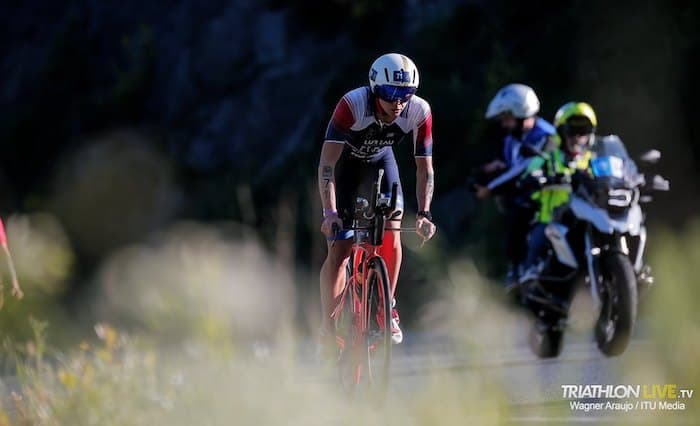 The Spanish duo of Judith Corachan Vaquera and Anna Noguera would arrive a further four minutes later – but with good running pedigree and huge home crowd support.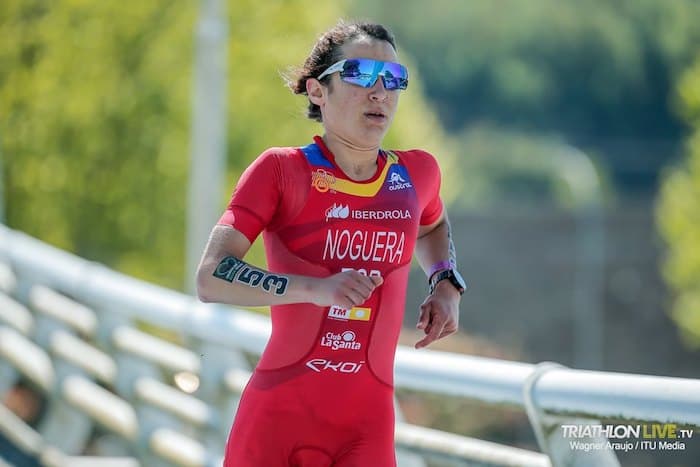 Pedersen entered this race knowing she had a running injury, and that would soon force her to retire, leaving Genet to try and hold off Tondeur – not helped by having a 60-second penalty to serve out on the course.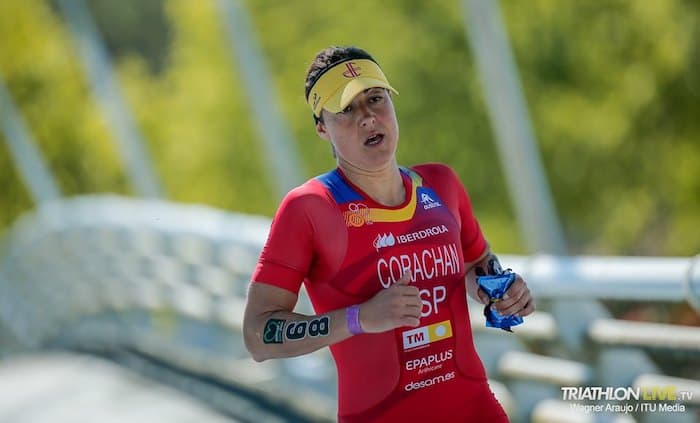 The Belgian athlete would take over the lead and control the race – and the Spanish pairing did indeed manage to run through and complete the podium, pushing Genet down into fourth place.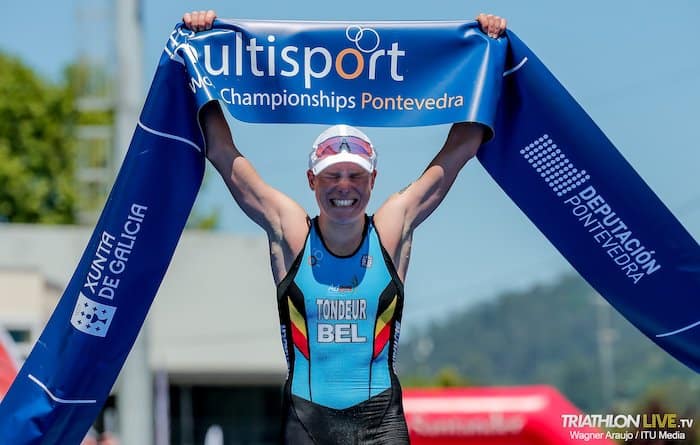 Catch up on all of the reports from Pontevedra 2019:
Pontevedra ITU Long Distance Triathlon World Championship – Saturday 4th May 2019
1.5km (shortened swim) / 113km bike / 30km run
ELITE MEN
1st – Javier Gomez (ESP) – 5:05:39
2nd – Pablo Dapena Gonzalez (ESP) – 5:11:21
3rd – Jaroslav Kovacic (SLO) – 5:12:02
4th – Kristian Høgenhaug (DEN) – 5:12:09
5th – Antony Costes (FRA) – 5:14:18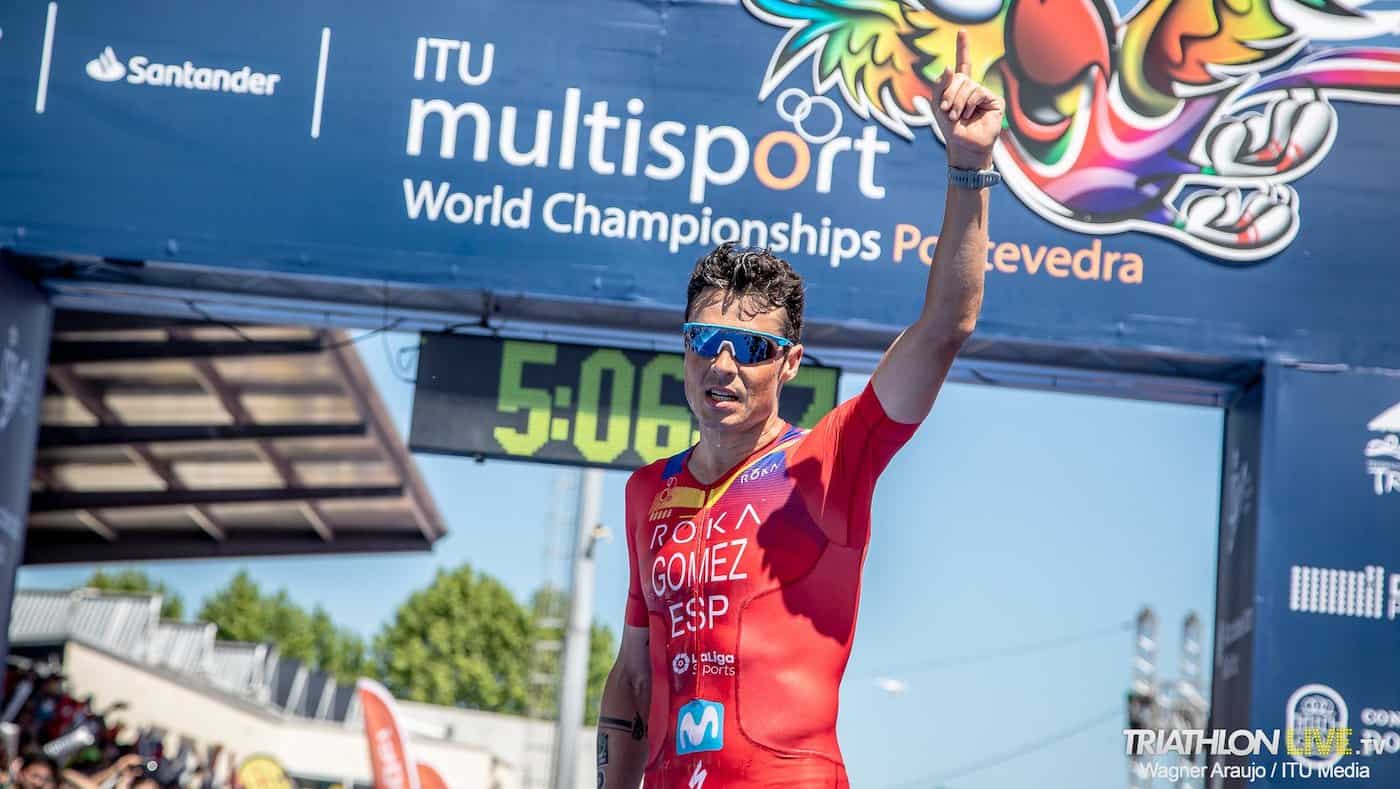 ELITE WOMEN
1st – Alexandra Tondeur (BEL) – 5:48:01
2nd – Judith Corachan Vaquera (ESP) – 5:50:06
3rd – Anna Noguera (ESP) – 5:51:33
4th – Manon Genet (FRA) – 5:54:16
5th – Maja Stage Nielsen (DEN) – 5:57:13
12th – Sophie Bubb (GBR) – 6:22:13