Off Road Gold for Rachel Kirkwood in Pontevedra
Alongside the Elite race which saw two British women on the podium yesterday in Pontevedra, Spain, it was also the turn of the Age-Group athletes to do their thing in the 2019 ITU Cross Triathlon World Championships.
Following the Duathlon races over the weekend, this was the second discipline of the Pontevedra ITU Multisport World Championships, with Aquathlon (Thursday) and London Distance Triathlon / Aquabike (Saturday) still to come.
375 athletes from 29 different nations started, with 50 of those in Great Britain colours. That team returned five medals, four of them Bronze, with the sole Gold medal being earned by Rachel Kirkwood in the F50-54 category. Rachel finished three and half minutes ahead of Anne-Mette Mortensen (DEN), who had one double Gold in both Cross Duathlon and Cross Triathlon at the Ibiza ETU European Championships in 2018.
Rachel was also the second fastest British athlete, by just eight seconds, and clearly there must be something in the name as Rachel Clay just pipped her to the line. That earned her Bronze in F40-44. Full details on all of the fastest Brits and the complete medal listing below.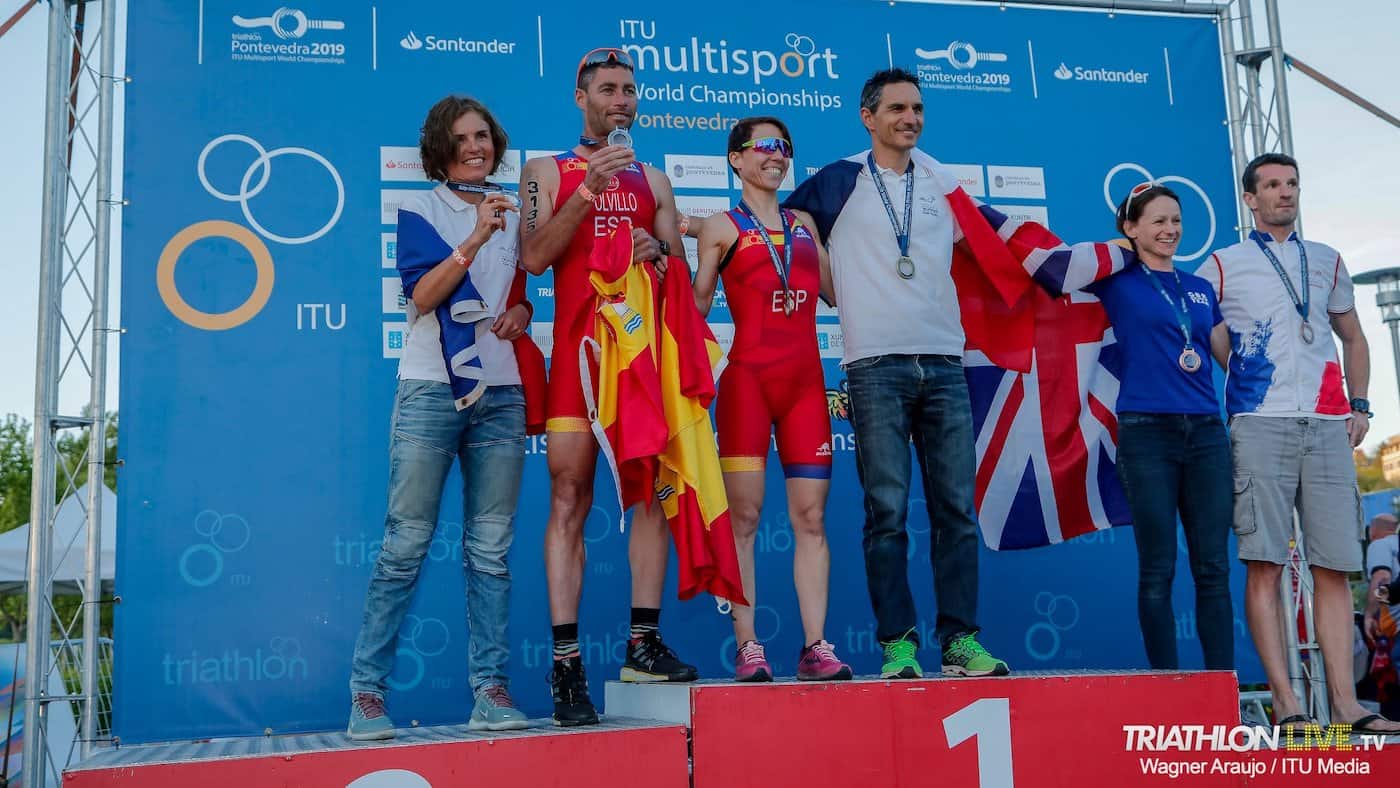 Catch up on all of the reports from Pontevedra 2019:
Fastest British athletes overall
MEN
1st – Jonathan Chatten – 2:07:09 (8th 20-24)
2nd – Graham Baxter – 2:08:19 (Bronze 50-54)
3rd – Rob Parry – 2:11:50 (9th 35-39)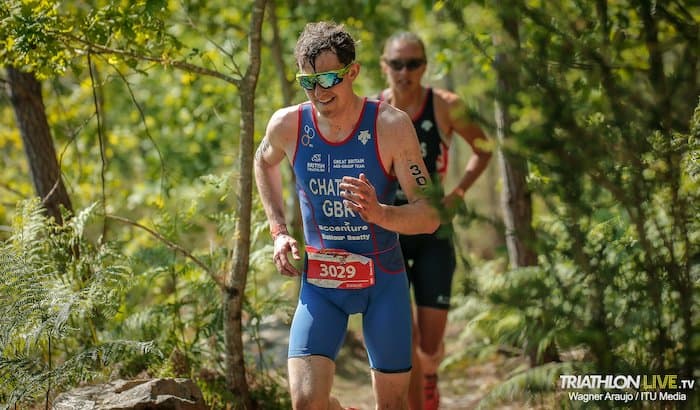 WOMEN
1st – Rachel Clay – 2:39:17 (Bronze 40-44)
2nd – Rachel Kirkwood – 2:23:25 (Gold 50-54)
3rd – Cathy Atkinson (5th 45-49)
Pontevedra ITU Cross Triathlon World Championships – Tuesday 30th April 2019
1km / 30km / 7km – AGE GROUP
British Age-Group Medals (5)
GOLD (1)
Rachel Kirkwood – 50-54 Female AG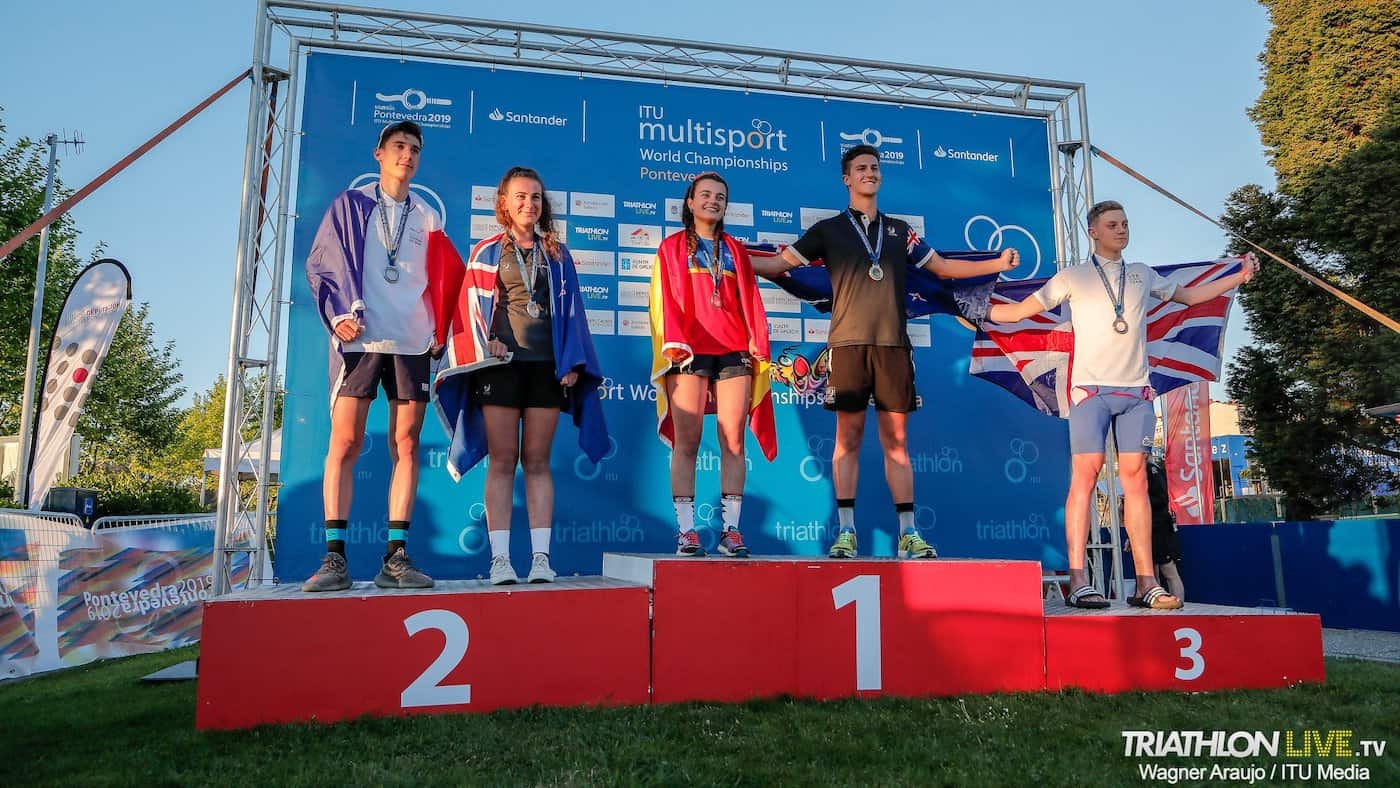 BRONZE (4)
Lewis Williams – 18-19 Male AG
Rachel Clay – 40-44 Female AG
Graham Baxter – 50-54 Male AG
Niall Baxter – 55-59 Male AG