2019 Elite ITU Cross Gold medals to Italy and France in Pontevedra
Peroncini and Forissier win their first World Championship titles
It wasn't quite the Gold and Silver double from Fyn, Denmark last year, but the duo of Jacqui Slack and Nicole Walters both secured Elite ITU Cross Triathlon World Championship podiums for Great Britain today in Pontevedra, Spain. In doing so, Jacqui matches her Silver medal from the 2017 championships, while Nicole adds a Bronze to the Silver she won behind Lesley Paterson 12 months ago.
From second last week at XTERRA Greece, France's Arthur Forissier continued his World Championship progress from 9th in 2017, 5th in 2018 to become the new Men's Elite ITU Cross Triathlon World Champion.
Elite Women
Ukraine's Sofiya Pryyma (3rd in the Ibiza ETU Champs last year), led the way through the opening 1km swim, building a lead of around 40 seconds over the British trio of Nicole Walters, Jacqui Allen and Megan McDonald. Defending World Champion Lesley Paterson was a minute and a half further back at this stage, just outside the top-10.
Eleonora Peroncini (ITA) – fourth (Penticton) and third (Fyn) over the the past two editions of this championship – was also in good position after the swim and she would break away on the bike to build a small lead at T2, leaving her 30 seconds clear of Slack, with Nicole Walters a further 15 seconds back, alongside swim leader, Pryyma.
Could Slack or Walters, the Silver medallists in 2017 and 2018 respectively, hold form for a podium, or even catch the Italian? Further down, and seemingly out of contention despite her typically speedy run legs, Paterson had lost more time over the 30km and would need an exceptional run over the 7km to bring her back into medal reckoning, starting the run approaching four minutes behind the leader.
The Italian showed no weakness on the run and even extended her lead slightly, with even a course detour approaching the finish not enough to impact her deserved victory in what was a quality field. Jacqui ran strongly for second while Nicole, not in the best run form recently with injuries, was more than satisfied to have maintained her position and rewarded for her attacking racing through the swim and bike legs.
Peroncini (ITA) is the 2019 Cross Triathlon World Champion!!'
2. Slack (GBR)
3. Walters (GBR)#ITUpontevedra19 pic.twitter.com/NmLYF1BXDl

— World Triathlon Multisport (@MultisportTRI) April 30, 2019
"I had the race of my life, it wasn't good enough for the win today, but I'm thrilled with my performance today", said Jacqui Slack post-race.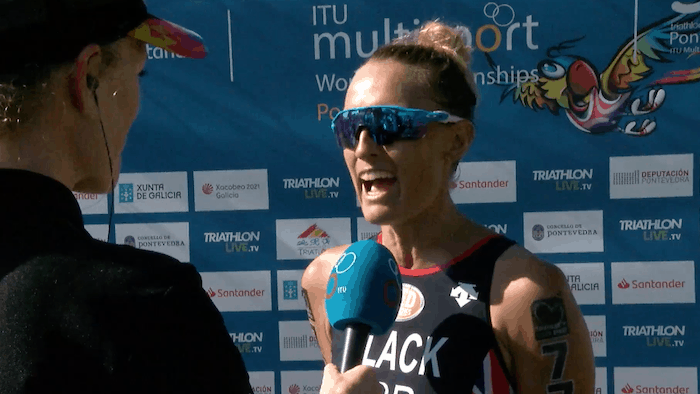 Nicole Walters said, "I'm really happy, that was a tough race this year. It was fast from the start, I wanted to be out in front. I worked well with Jacqui – the race was so competitive, I really pushed myself. My running has not been great… but I was pleased to hang on to the podium until the finish. I've got to rest for the Aquathlon now!"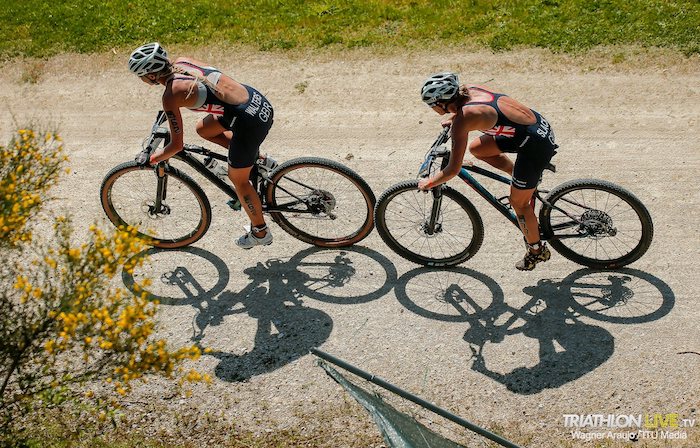 Elite Men
Spain's multiple XTERRA and ITU Cross Triathlon Champion, Ruben Ruzafa, was racing on home soil and the defending champion. His record in this championship since 2013 has been 2nd / 1st / 1st / 1st / 2nd / 1st and so he was going to be very tough to beat.
Ruzafa was 14th through the swim in his weakest discipline, but that is not unusual, and over the 30km course he closed that deficit to reach T2 in the company of Arthur Forissier (FRA), Lukas Kocar (CZE) and Josiah Middaugh (USA).
4 triathletes already in the RUN! Forissier (FRA), Kocar (CHE) @RubenRuzafa (ESP) and Middaugh (USA) #ITUpontevedra19 pic.twitter.com/dURzRQKbSp

— World Triathlon Multisport (@MultisportTRI) April 30, 2019
The fleet-footed Forissier would prove the stronger over the closing 7km run and despite looking around nervously for much of the last 2km, he took the tape with a healthy 32 second winning margin over the Spanish star. Kocar took the Bronze, and he'll be racing again on Saturday in the Elite Long Distance Triathlon World Championship.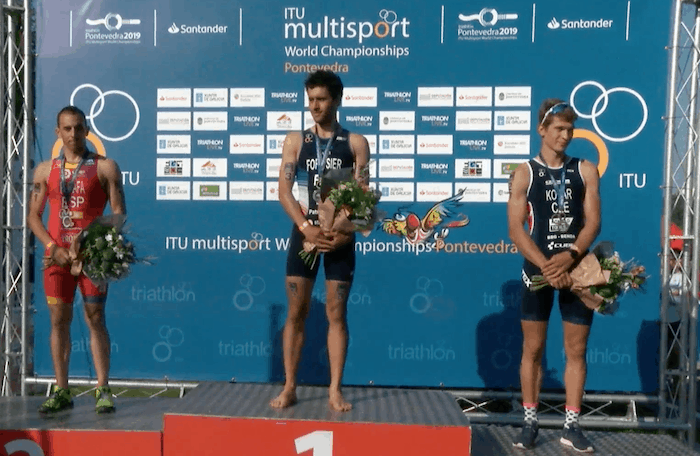 Catch up on all of the reports from Pontevedra 2019:
Pontevedra ITU Cross Triathlon World Championships – Tuesday 30th April 2019
1km / 30km / 7km – ELITE
ELITE MEN
1st – Arthur Forissier (FRA) – 1:48:21
2nd – Ruben Ruzafa (ESP) – 1:49:06
3rd – Lukas Kocar (CZE) – 1:49:05
4th – Josiah Middaugh (USA) – 1:49:24
5th – Brice Daubord (FRA) – 1:50:52
26th – Will Crudgington (GBR) – 1:58:29
27th – Doug Hall (GBR) – 1:59:04
Forissier is the 2019 Cross Triathlon World Champ!!!
2. @RubenRuzafa (ESP)
3. Kocar (CHE)
#ITUpontevedra19 pic.twitter.com/rPcVwXejDl

— World Triathlon Multisport (@MultisportTRI) April 30, 2019
ELITE WOMEN
1st – Eleonora Peroncini (ITA) – 2:10:17
2nd – Jacqui Slack (GBR) – 2:11:20
3rd – Nicole Walters (GBR) – 2:12:14
4th – Loanne Duvoisin (SUI) – 2:12:30
5th – Lesley Paterson (GBR) – 2:13:38
23rd – Megan McDonald (GBR) – 2:22:17
Pontevedra ITU Cross Triathlon World Championships – Tuesday 30th April 2019
1km / 30km / 7km – Under-23
Under-23 MEN
1st – Maxim Chane (FRA) – 1:55:58
2nd – Ruan Van Zyl (RSA) – 1:56:35
3rd – Victor Goené (NED) – 1:56:52
Under-23 WOMEN
1st – Loanne Duvoisin (SUI) – 2:12:30
2nd – Sofiya Pryyma (UKR) – 2:13:54
3rd – Marta Menditto (ITA) – 2:15:12
Under 23 Cross Triathlon top-3 #ITUpontevedra19 pic.twitter.com/asS6XhCdN6

— World Triathlon Multisport (@MultisportTRI) April 30, 2019
Pontevedra ITU Cross Triathlon World Championships – Tuesday 30th April 2019
500m / 13.4km / 4km – JUNIOR
JUNIOR MEN
1st – Oscar Gladney (DEN) – 58:05
2nd – Jose Ignacio Galvez (ESP) – 58:35
3rd – Manuel Menendez (ESP) – 58:55
Oscar Gladney (DEN) is the new Junior Cross Triathlon World Champ!!!
2. Nacho Gálvez (ESP)
3. Manuel Menéndez (ESP)#ITUpontevedra19 pic.twitter.com/dk0z907VdS

— World Triathlon Multisport (@MultisportTRI) April 30, 2019
JUNIOR WOMEN
1st – Willemijn Fuite (NED) – 1:12:24
2nd – Zoe Davison (AUS) – 1:13:15
3rd – Beatrice Medrano Serrano (ESP) – 1:15:00
Fuite (NED) is the women Junior Cross Triathlon World Champion!
2. Davison (AUS)
3. Medrano (ESP)#ITUpontevedra19 pic.twitter.com/mhvqdS7Mvp

— ITUpontevedra19 (@ITUpontevedra19) April 30, 2019