Melanie McQuaid (CAN) and Francisco Serrano (MEX) secure ITU Cross Triathlon World titles
Great Britain's Jacqui Slack earns her first World Championship podium
A busy schedule of events at the Penticton ITU Multisport Festival continued on Wednesday with the ITU Cross Triathlon World Championship events.
After five Elite medals from the British team in the Duathlon Championships (HERE) – plus a whole host of Age-Group podiums (HERE) – close racing over a challenging but stunning Cross Triathlon course, that took in vineyards, beaches, forests and cliffs, saw Jacqui Slack have perhaps the best race of her career. That performance earned her the Silver medal behind Melanie McQuad (CAN), who added Gold to her previous ITU Cross Triathlon Championship from 2011 (a race in which Jacqui was 12th).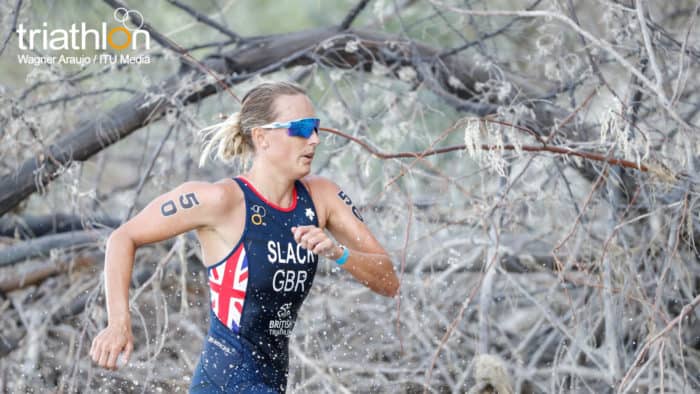 Slack was first out of the opening 1.5km swim, but had McQuaid plus Laura Gomez Ramon (ESP) and Suzanne Snyder (USA) in close attendance, that foursome with a lead of almost two and a half minutes over their chasers. Home athlete McQuaid quickly hit the front and would set the fastest ride of the day over the 31km off-road course, with Slack losing four minutes to the 2011 World Champion – but still maintaining second place at T2. Slack would run well – the setting the fastest time there too – to claw back 1:42 on the Canadian over the 8km. While it wasn't enough to take the Gold, it finished off a fine performance and a clear margin over Ladina Buss (SUI), who took the Bronze.
https://www.instagram.com/p/BYJhh6hgyP1/
The men's race proved to be a very close battle, with less than a minute separating the podium at the finish line. Ruben Ruzafa (ESP) had looked set to add a fourth consecutive ITU Cross Triathlon World Championship when he started the final run with a 45 second lead, but Mexico's Francisco Serrano was able to run him down and take the win by just 11 seconds. Third placed Kyle Smith (NZL) also won the U23 title, with Jacqui's husband, Ben Allen, finishing just off of the podium in fourth.
First Brit finisher in tenth position was Doug Hall, who commented that it was "probably the most fun I've ever had racing"
10th at @ITUmultisport cross champs. Very happy! Thank you organisers for a brilliant course. My face hurt from grinning on the downhill! pic.twitter.com/bw7FhRAw1I

— Doug Hall (@LittleDougHall) August 23, 2017
British Age-Groupers
10 British Age-Group athletes started, with Alex Rhodes (M25-29) and Sharn Hooper (F30-34) earning Silver, plus Bronze medals for Ruth Owen Evans (F30-34) and Sarah Jepson (F35-39).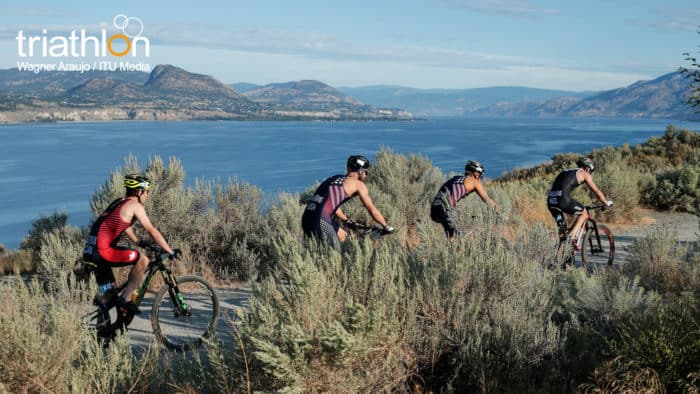 Penticton ITU Cross Triathlon World Championships – Wednesday 23rd August 2017
1.5km / 31km / 8km
ELITE WOMEN
1st – Melanie McQuaid (CAN) – 2:34:35
2nd – Jacqui Slack (GBR) – 2:36:40
3rd – Ladina Buss (SUI) – 2:39:09
4th – Eleonora Peroncini (ITA) – 2:39:24
5th – Penny Slater (AUS) – 2:40:01
12th – Jessie Roberts (GBR) – 2:48:49
Congrats to these women on being #CrossTri WORLD CHAMP MEDALLISTS! 💪🥇🥈🥉 @racergirlmel, Jacqueline Slack (GBR) and Ladina Buss (SUI) pic.twitter.com/OkLxxqHiea

— TriathlonLIVE (@triathlonlive) August 23, 2017
ELITE MEN
1st – Francisco Serrano (MEX) – 2:09:25
2nd – Ruben Ruzafa (ESP) – 2:09:36
3rd – Kyle Smith (NZL) – 2:10:16
4th – Ben Allen (AUS) – 2:10:42
5th – Josiah Middaugh (USA) – 2:11:02
10th – Doug Hall (GBR) – 2:16:17
18th – Henry Sleight (GBR) – 2:21:48
AMAZING RACING! Congrats to our #CrossTri World Champion podium! #Penticton2017 pic.twitter.com/rYiKDHNhVw

— TriathlonLIVE (@triathlonlive) August 23, 2017