Preparations for ITU Cross Triathlon World Champs defence on track for Paterson
With just over a week to go until the ITU Cross Triathlon World Championships in Pontevedra, Spain, Great Britain's Lesley Paterson got her European preparations underway with victory at XTERRA Greece on Sunday.
Paterson adds another British success at the race won 12 months ago by Nicole Walters, who – along with Jacqui Allen – will form the GB women's senior Elite squad in Spain on 30th April. That is a very strong team, including the Gold and Silver medallists from Denmark last year.
Check out this great video recap of the race with the XTERRA team have turned around in remarkably quick time – very impressive, great work.
"It was good, the first race of the season is always a challenge to get the head in the game, so it took a while to get the hang off racing again!" said Paterson. "I pushed through and was glad to take the win here in Greece"
XTERRA Greece, Vouliagmeni – Sunday 21st April 2019
1.5km / 30km /9km
PRO WOMEN
1st – Lesley Paterson (GBR) – 2:40:26
2nd – Helena Erbanova (CZE) – 2:42:41
3rd – Charlotte Deldaele (BEL) – 2:49:01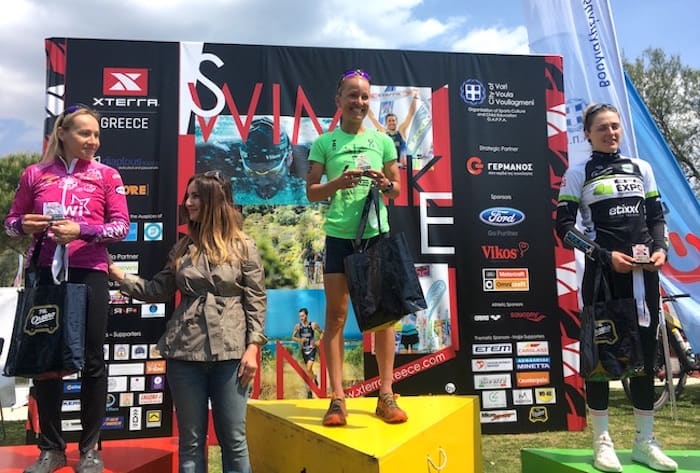 PRO MEN
1st – Arthur Serrieres (FRA) – 2:14:40
2nd – Arthur Forissier (FRA) – 2:15:43
3rd – Yeray Luxem (BEL) – 2:17:00