Nicole Walters wins XTERRA Greece
First XTERRA victory for Rio 2016 Paralympic Triathlon Guide
After finishing sixth (XTERRA Malta) and third (XTERRA Cyprus) over the past two weekends, Great Britain's Nicole Walters won her first XTERRA event on Sunday at XTERRA Greece in Vouliagmeni Bay.
In 2016 Walters was the Guide for Melissa Reid at the Paralympic Games, the pair winning a dramatic Bronze medal in the PT5 (Visually Impaired) category, passing an exhausted Elizabeth Baker on the finishing straight.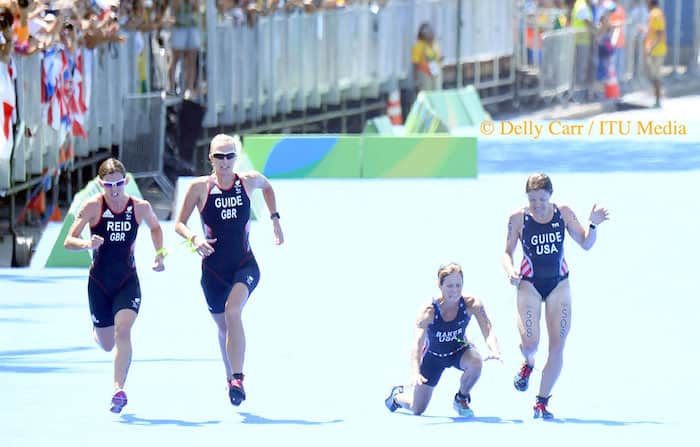 Walters is a fine athlete in her own right, finishing second overall to Emma Pallant at the 2017 Jenson Button Trust Triathlon and winning the Coed y Brenin Cross Duathlon in November.
An excellent swimmer, the opening 1.5km set the tone for Nicole's race, her 19:41 split giving her a significant advantage over the rest of the women's Pro field. Speaking to Nicolas Lebrun, XTERRA European Tour Director, she said, "I felt very strong on the swim today, and it's always good to start the race like that."
Comprising of two laps, the 30km bike course in Greece puts a premium on power over technical skills, the fast course suiting the more extensive road-based experience of the Brit.
"When I started the bike, I didn't feel amazing but tried to push as hard as I could on the fast and non-technical parts," said Walters. "I was still afraid after my flat in Malta and didn't want to experience that again, and I was expecting to see Brigitta somewhere, but I never did."
After winning the last two races in Malta and Cyprus, Brigitta Poor (HUN) started the run in second. Favourite to win again, this would not be her day however, "I had nothing in my legs today", she said.
The experienced Helena Erbenova had cycled a minute quicker than Walters and would take another 90 seconds back on the run, but it wouldn't be enough to overcome her swim deficit, leaving the Brit to take the win.
https://www.instagram.com/p/BiKaIGtFOZQ/
XTERRA Greece Championship – Sunday 29th April 2018
1.5km / 30km / 9km
WOMEN
1st – Nicole Walters (GBR) – 2:37:52
2nd – Helena Erbenova (CZE) – 2:39:35
3rd – Carina Wasle (AUT) – 2:39:59
11th – Jessie Roberts (GBR) – 3:03:00
MEN
1st – Arthuer Forissier (FRA) – 2:15:51
2nd – Marcello Ugazio (ITA) – 2:15:59
3rd – Arthur Serrieres (FRA) – 2:17:46
17th – Henry Sleight (GBR) – 2:29:14
21st – Doug Hall (GBR) – 2:34:00