European Gold added to World Silver for Nicole Walters
More GB Age-Group medals in Ibiza at Cross Tri Euro Champs
Paralympic Bronze medallist at Rio 2016 as a Guide for Melissa Reid, Great Britain's Nicole Walters continued to add to her individual successes on Thursday. The penultimate day of competition at the Ibiza ETU Multisport European Championships (with just the Middle Distance Triathlon and AquaBike remaining on Saturday), was the European Cross Triathlon Championships at Sant Josep de Sa Talaia.
Happy to be back in swim-bike-run format after sixth place on Tuesday in the Cross Duathlon, the opening swim saw four athletes exit in close contention including Antoanela Manac (ROU), who finished third in the previous day's Aquathlon.
https://www.facebook.com/IbizaMultiSport2018/videos/286738988623279/
Once on the bike Walters was able to build a lead of a minute over Laura Gomez Ramon (ESP), before adding the fourth fastest run split which was enough to extend her lead and prevent anyone catching up from further down the field. After Silver in Fyn, Denmark at the ITU Cross Triathlon World Championships plus regular podiums and wins on the European XTERRA circuit, it's been a fine year for Nicole.
Can't quite believe it. European cross triathlon champion!! https://t.co/BwFT4CSItM

— Nicole Walters (@coleywalters) October 25, 2018
In the men's elite race, Tim Van Hemmel (BEL) complete the Cross Duathlon / Cross Triathlon double.
All of the reports and news from Ibiza:
Ibiza ETU Cross Triathlon European Championships – Thursday 25th October 2018
1km / 20km / 6km
ELITE WOMEN
1st – Nicole Walters (GBR) -1:33:50
2nd – Laura Gomez Ramon (ESP) – 1:36:49
3rd – Sofiya Pryyma (UKR) – 1:36:52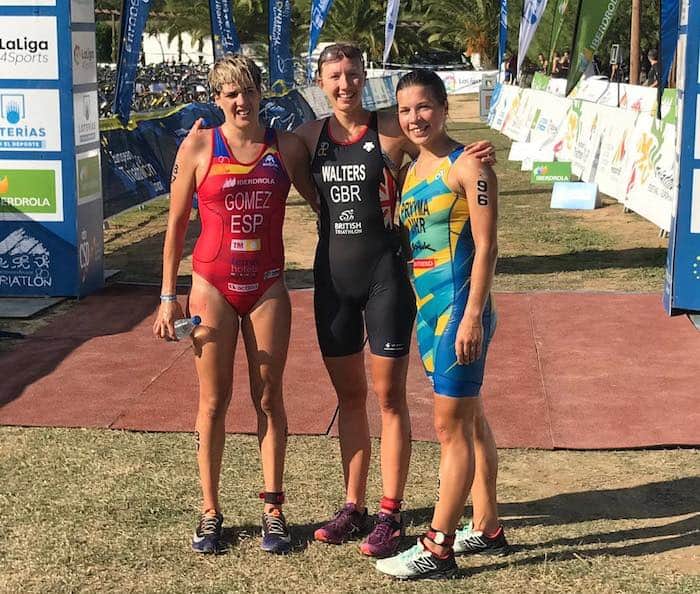 ELITE MEN
1st – Tim Van Hemmel (BEL) – 1:19:39
2nd -Brice Daubord (FRA) – 1:20:19
3rd – Marcello Ugazio (ITA) – 1:20:37
17th – Doug Hall (GBR) – 1:26:05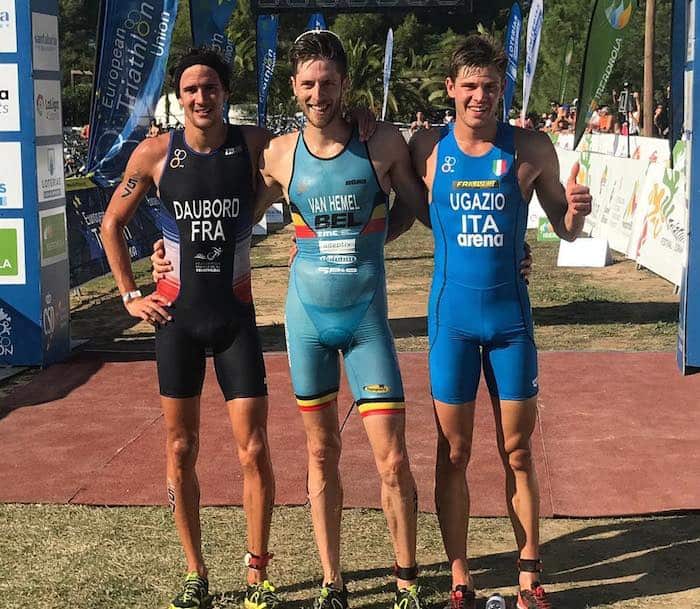 FASTEST BRITISH AGE-GROUP ATHLETES OVERALL
MEN
1st – Joseph Ricciardi (20-24) – 1:34:46
2nd – Rob Parry (35-39) – 1:35:27
3rd – Ruben Villalain (30-34) – 1:35:55
https://www.instagram.com/p/BpY6GMeFClt/
WOMEN
1st – Kerri-Ann Upham (25-29) – 1:44:16
2nd – Emily Harper (30-34) – 1:49:30
3rd – Rachel Clay (40-44) – 1:50:10
GB AGE-GROUP MEDALS (10)
NOTE – We are still waiting for the M60-64 results to be published
Gold (3)
Kerri-Ann Upham – 25-29 Female AG
Nicola Dick – 55-59 Female AG
Simon Taylor – 55-59 Male AG
Silver (4)
Emily Harper – 30-34 Female AG
Rachel Clay – 40-44 Female AG
Robert Moore – 55-59 Male AG
Colin Hunt – 65-69 Male AG
Bronze (3)
Molly Campbell – 20-24 Female AG
Ruben Villalain – 30-34 Male AG
Victoria Wilkinson – 45-49 Female AG