Lee Piercy leads the Brits, Rachel Wiseman leads the World in Pontevedra
Last year it was 27 medals, and today at the Standard Distance ITU Age-Group Duathlon World Championships – part of day one at the Pontevedra ITU Multisport World Championships – the total haul from the British Age-Group squad was 30. That follows up on 26 medals earlier today over the Sprint distance.
Catch up on all of the reports from Pontevedra 2019:
There were eight Gold medals this year and two of those –
Lee Piercy
and
Rachel Wiseman
– defended titles won last year in Fyn, Denmark. Not only that, they were also the fastest British athletes overall.
Rachel took that a stage further by being the fastest female Age-Group athlete across all categories. It was some performance… the next fastest finisher was seven and half minutes slower, with Rachel seemingly setting the fastest times on the first run, bike and second run too. I think you can all that a great day out.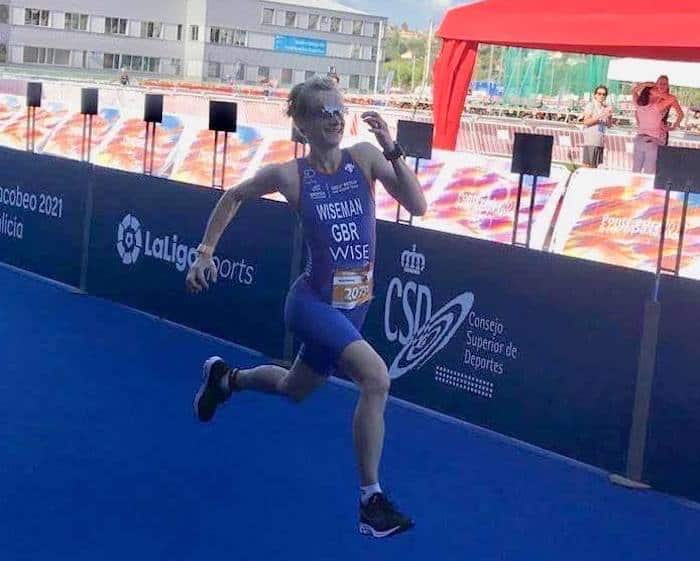 Fastest British athletes overall
MEN
1st – Lee Piercy (1st, 45-49) – 1:57:02 – 4th fastest male AG athlete overall
2nd – Djalil Baiou (3rd, 35-39) – 1:58:30
3rd – Jonathan Read (2nd, 30-34) – 2:01:04
https://www.instagram.com/p/BwxaUygDt1w/
WOMEN
1st – Rachel Wiseman (1st, 35-39) – fastest female AG athlete overall
2nd – Emma Fisher (1st, 50-54)
3rd – Beth Wilmot (2nd, 40-44)
Pontevedra ITU Multisport World Championships – Saturday 27th April 2019
ITU Duathlon World Championships – Age-Group, Standard Distance
10km / 40km / 5km (Non-Drafting)
British Age-Group Medals (30)
GOLD (8)
Emily Walton – 20-24 Female
Zoe Levin – 25-29 Female
Rachel Wiseman – 35-39 Female
Lee Piercy – 45-49 Male
Emma Fisher – 50-54 Female
Alex Le Bek – 55-59 Female
Stuart Hall – 55-59 Male
Margaret Hollamby – 65-69 Female
SILVER (11)
Paige Mcleod – 18-19 Female
Megan Powell – 20-24 Female
Riley Richardson – 20-24 Male
Hugh Harris – 25-29 Male
Jonathan Read – 30-34 Male
Beth Wilmot – 40-44 Female
Rachel Edwards – 55-59 Female
Dean Hardie – 60-64 Male
Penny Edwards – 65-69 Female
Eleanor Robinson – 70-74 Female
Vernon Thomas – 75-79 Male
https://www.instagram.com/p/BwxOchxBJ-X/
BRONZE (11)
Katherine Stringer – 25-29 Female
Ela Stachow – 30-34 Female
Jonathan Tindall – 30-34 Male
Kate Cadbury – 35-39 Female
Djalil Baiou – 35-39 Male
Philip Kruse – 45-49 Male
Chris Nicoll – 50-54 Male
Edward Short – 55-59 Male
Roy Flanagan – 60-64 Male
Elspeth Knott – 65-69 Female
Ashley Robinson – 70-74 Male