The GB Age-Group team off to a fast start in Pontevedra, Spain
After Penticton, Canada (2017) and Fyn, Denmark (2018), the third edition of the ITU Multisport World Championships started today in Pontevedra, Spain.
The festival starts with the Duathlon events, the first event of the day this morning being the Age-Group Sprint Distance race, which is held over a draft-legal format.
Catch up on all of the reports from Pontevedra 2019: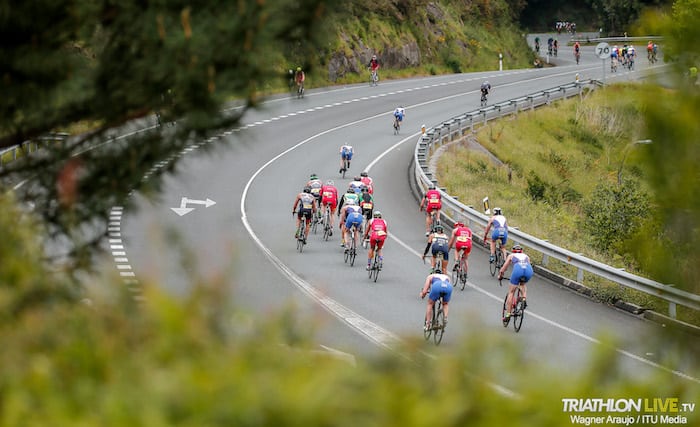 The 'scores on the doors' total comes to 26 medals, of which eight were Gold. The sole British athlete to defend their title from Fyn 2018 was Jane Holmes in the F65-69 division.
Just to prove that medals don't tell you everything, the two fastest British male athletes across all division – James Hodgson and Ben Cockburn – don't feature in the medals roundup, such was the standard in the M25-29 category, while Gwen Kinsey was the fastest British female athlete by more than a minute and a half, was the third fastest overall too… but that was still 'only' good enough for Silver in the F45-49 category.
Fastest British athletes overall
MEN
1st – James Hodgson (4th, 25-29) – 58:24 – 6th fastest female AG athlete overall
2nd – Ben Cockburn (6th, 25-29) – 58:33
3rd – Matthew Davenport (3rd, 40-44) – 58:59
WOMEN
1st – Gwen Kinsey (2nd, 45-49) – 1:07:26 – 3rd fastest female AG athlete overall
2nd – Sarah Grover (1st, 25-29) – 1:09:02
3rd – Holly DIxon (2nd, 20-24) – 1:09:04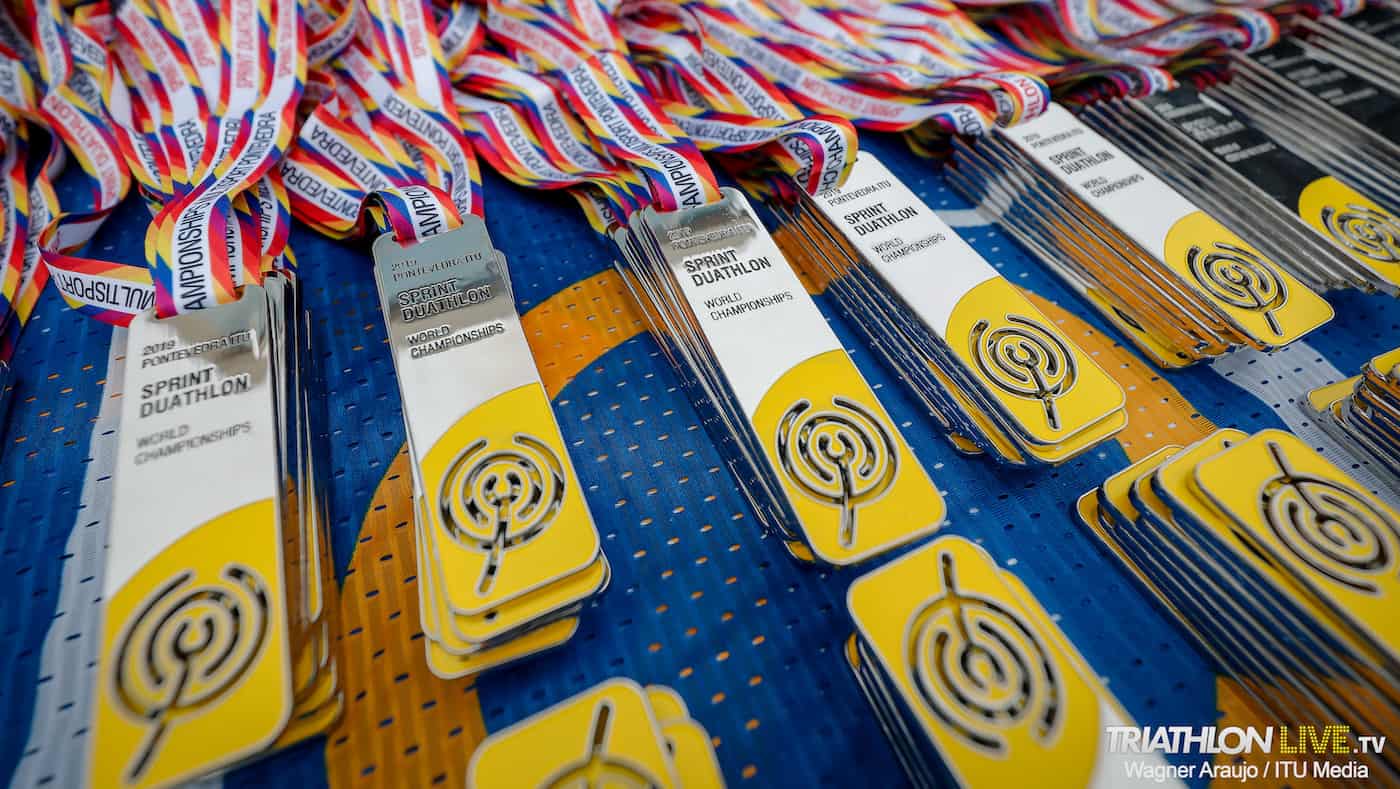 Pontevedra ITU Multisport World Championships
ITU Duathlon World Championships – Age-Group, Sprint Distance
5km / 20km / 2.5km (Draft Legal)
British Age-Group Medals (26)
GOLD (8)
Helena Dyce – 16-19 Female AG Sprint
Reece Ashfield – 16-19 Male AG Sprint
Sarah Grover – 25-29 Female AG Sprint
Emily Purbrick – 30-34 Female AG Sprint
Rodger Wilkins – 45-49 Male AG Sprint
Amanda Young – 55-59 Female AG Sprint
Wayne Aylesbury – 55-59 Male AG Sprint
Jane Holmes – 65-69 Female AG Sprint
SILVER (9)
Holly Dixon – 20-24 Female AG Sprint
Gwen Kinsey – 45-49 Female AG Sprint
Cathy Dawson – 50-54 Female AG Sprint
Sarah Gill – 55-59 Female AG Sprint
Sue Clarke – 60-64 Female AG Sprint
Phil Hurr – 60-64 Male AG Sprint
Barbara Walton – 70-74 Female AG Sprint
Mick Anglim – 70-74 Male AG Sprint
George Black – 80-84 Male AG Sprint
BRONZE (9)
Rachael Vatter – 20-24 Female AG Sprint
Charlotte Halkyard – 25-29 Female AG Sprint
Rebecca York – 30-34 Female AG Sprint
Laura Pescott – 35-39 Female AG Sprint
Marie Brush – 40-44 Female AG Sprint
Matthew Davenport – 40-44 Male AG Sprint
Claire Pluckrose – 50-54 Female AG Sprint
Craig Dyce – 50-54 Male AG Sprint
Ann Cook 55-59 Female AG Sprint