The 2021 70.3 World Champs are heading to St. George, Utah
When the shortlist of two was announced in March (HERE) of the candidate venues to host the return of the IRONMAN 70.3 World Championship to the USA in 2021, the social media response on TRI247 channels at least, was pretty clear. On that sample basis at least, news that the event will be going to St. George, Utah will be received with widely positive acclaim. With the championship already having been held in Chattanooga – the other candidate – in 2017, it seems like the logical choice too.
The next three 70.3 World Champs venues are now set:
2019 – Nice, France
2020 -Taupõ, New Zealad
2021 – St. George, Utah, USA
Also included is news that St. George will also host – on a three year rotating basis, with two as yet confirmed cities – a full distance IRONMAN, with an IRONMAN 70.3 to be held in the other years. (St. George did host a full distance race in 2010, 2011 and 2012, before the event switched to 70.3 distance from 2013)
For St. George over the next five years, that means:
2019 – 70.3
2020 – IRONMAN (North American Championship)
2021 – 70.3 AND the 70.3 World Championship (probably May and September, respectively)
2022 – 70.3
2023 – IRONMAN (North American Championship)
Here is the full announcement today from IRONMAN.
---
IRONMAN AND ST. GEORGE TO BRING NEW RACE OPPORTUNITIES TO ATHLETES WITH FIVE-YEAR HOST VENUE AGREEMENT
ST. GEORGE, UTAH SELECTED AS HOST OF 2021 IRONMAN 70.3 WORLD CHAMPIONSHIP; IRONMAN 70.3 ST. GEORGE TO ROTATE TO A FULL-DISTANCE IRONMAN EVENT IN 2020 & 2023
IRONMAN 70.3 World Championship to make first return to Southwest US since 2013
St. George to become first location in new annual IRONMAN event rotation beginning in 2020
IRONMAN, a Wanda Sports Holdings company, announced today that the city of St. George, Utah has been selected to host the 2021 IRONMAN® 70.3® World Championship triathlon. The announcement marks the return of the IRONMAN 70.3 World Championship to North America and is the first time since 2013 that the event has been hosted in the Southwestern United States.
In addition, IRONMAN also announced today a new five-year host venue agreement that includes the introduction of a new full-distance IRONMAN triathlon that will rotate between a series of cities across North America, beginning with St. George in 2020. The rotation will bring host cities a full-distance IRONMAN triathlon every three years with St. George again hosting the IRONMAN event in 2023. The 2020 and 2023 IRONMAN St. George triathlons will also be designated as the North American Championship. The other host communities in the rotation for 2021 and 2022 – which will be announced at a later date – as well as St. George, will continue to put on IRONMAN 70.3 events in the other years, giving athletes the chance to prepare on the same courses and increasing the appeal of the destinations within the triathlon community.
"Utah continues to enhance its reputation as the State of Sport by attracting world class sports events and executing on its sport and Olympic Legacy strategies," said Jeff Robbins, President and CEO of the Utah Sports Commission. "St. George is the perfect setting to host six events over the five-year term of this agreement with IRONMAN. This includes the 2021 IRONMAN 70.3 World Championship, which will bring thousands of competitors and guests from over 100 countries to Utah. The Utah Sports Commission is excited to support these world class events as the presenting sponsor," said Robbins.
"Sports continue to be an important part of our strong state economy and these six events under the IRONMAN umbrella are anticipated to generate a total of $70 million in economic impact and generate millions of dollars of national and international exposure for our state," said Utah Gov. Gary R. Herbert. "These events will showcase one of the most iconic and scenic sports backdrops and landscapes that exists anywhere in the world. Congratulations to the Utah Sports Commission, St. George and Washington County on the partnership agreement they have entered into with IRONMAN."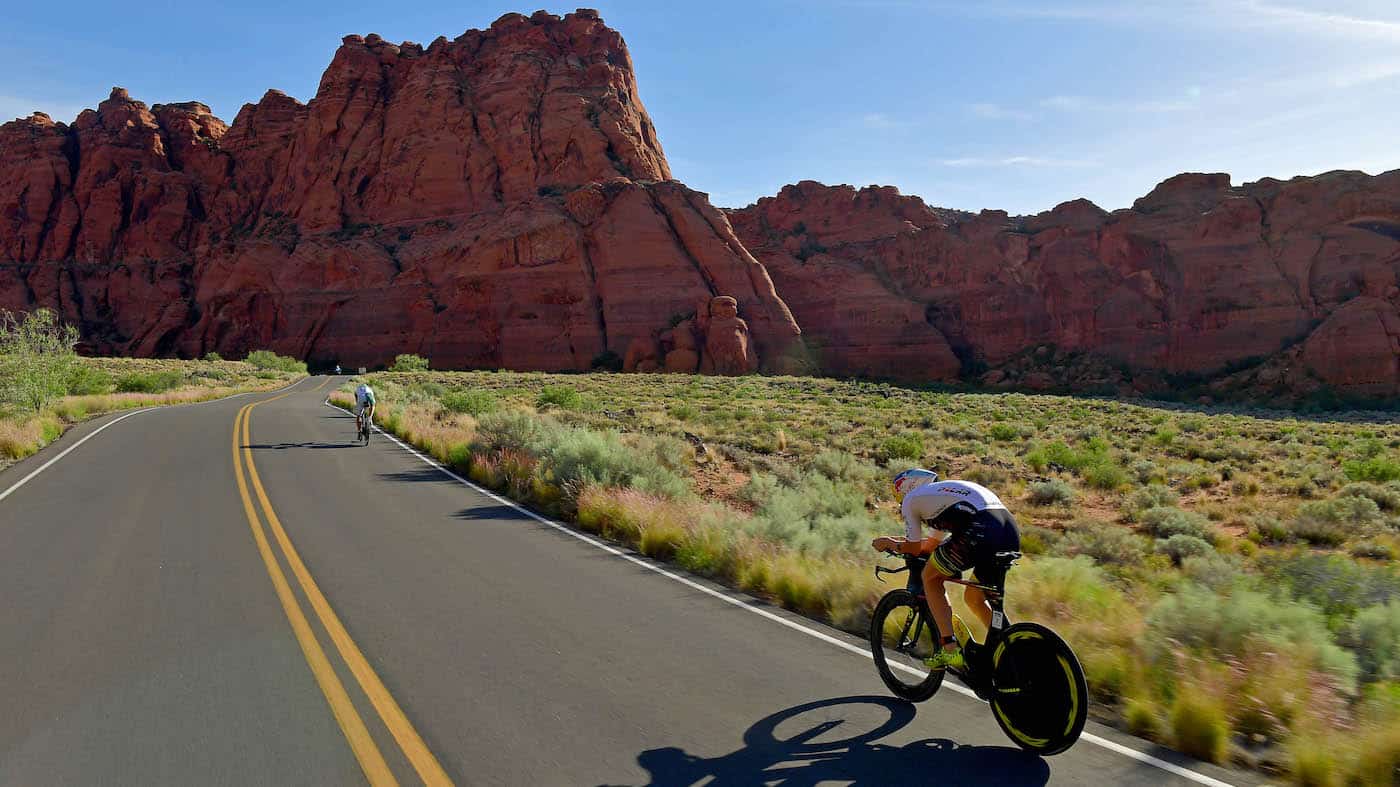 St. George enters an elite group of destinations around the world bestowed with the honour of hosting the IRONMAN 70.3 World Championship. The event originated in Clearwater, Florida in 2006 and moved to Henderson, Nevada (2011-13) prior to embarking on a global annual rotation that began with Mont-Tremblant, Quebec, Canada (2014). Each year since, it has reached new locations all over the world, including Zell am See-Kaprun, SalzburgerLand, Austria (2015); Mooloolaba, Queensland, Australia (2016); Chattanooga, Tennessee, United States (2017); and Nelson Mandela Bay, South Africa (2018). This year, the IRONMAN 70.3 World Championship will move to Nice, France before shifting back to the Oceania region in 2020 with Taupõ, New Zealand playing host.
"By moving the IRONMAN 70.3 World Championship to premier destinations around the globe each year, IRONMAN has created an inspirational event unlike any other, and we are thrilled to be part of the elite community of world championship host cities," said Kevin Lewis, Director of Washington County Tourism. "Our course showcases some of the most dramatic landscapes on the IRONMAN 70.3 circuit. The powerful combination of scenery and terrain is backed up by an energetic community that is exhilarated to host such an iconic event. Athletes who have raced here rave about the experience. Those who haven't are about to find out why."
The striking Southwestern community of St. George has been a host venue for IRONMAN since 2010. St. George's breathtaking scenery and views of the surrounding red rock canyons have made the community an ideal destination for athletes for years. The city's walkable downtown area features great local fare and boutique shopping. It is also only a two-hour drive from the nightlife of Las Vegas, with its never-ending entertainment options. The course has historically begun in the beautiful Sand Hollow Reservoir before embarking on a bike course through picturesque Snow Canyon State Park prior to a run through the Red Cliffs Desert Reserve. The IRONMAN 70.3 North American Pro Championship St. George also earned accolades in the 2018 IRONMAN Athlete Choice awards, ranking in the Top 10 for two categories – fifth in Best Overall Bike and ninth in Overall Host City Experience.
"It gives us great satisfaction to bring our athletes additional opportunities to compete in and enjoy our great partner city of St. George, and the surrounding communities in Southern Utah," said Andrew Messick, President & Chief Executive Officer for IRONMAN. "This stunningly beautiful Southwestern community has hosted both IRONMAN and IRONMAN 70.3 events for many years and has become a fantastic destination for athletes and spectators alike. Beyond the unmistakable red sandstone backdrop, St. George also provides athletes a challenging course perfect to bring about the best competition for the 2021 IRONMAN 70.3 World Championship. We look forward to seeing the world's most elite triathletes compete on this stage during what will be a special few years in this longstanding host community."
Qualification for the 2021 IRONMAN 70.3 World Championship presented by the Utah Sports Commission will begin in July of 2020 with an estimated 200,000 registered athletes from around the world expected to compete for a coveted slot at the more than 110 events in the global IRONMAN 70.3 Series. In addition, each age-group winner at the 2020 IRONMAN 70.3 World Championship in Taupõ, New Zealand will automatically qualify for the 2021 IRONMAN 70.3 World Championship.
General registration for the 2020 IRONMAN St. George triathlon will open on Tuesday, May 21. As it will be designated the IRONMAN North American Championship, the event will have an elevated professional prize purse and offer 75 age-group qualification slots to the 2020 IRONMAN World Championship.
For more information about the IRONMAN 70.3 World Championship, please visit www.ironman.com/worldchampionship70.3. Additional details on the IRONMAN St. George triathlon can be found at www.ironman.com/stgeorge. For more information on the IRONMAN brand and global event series, visit www.ironman.com.