As I highlighted in the weekend preview, the first week of April marked a significant upturn in the volume and quality of international races taking place around the world, with several exciting looking events featuring some strength-in-depth fields in a variety of formats around the globe.
How did it all go? Let's wrap it up here in the (International) Weekend Roundup:
IRONMAN 70.3 Oceanside, California
Two British athletes on the podium on Saturday where Adam Bowden added to his win in Dubai with a third place, while former IRONMAN 70.3 World Champion Holly Lawrence finished second to the four-time and reigning champion, Daniela Ryf.
Just 26 seconds down on Lawrence through the swim, and in the company of former ITU stars Sarah True (USA) and Paula Findlay (CAN), Ryf continued her 2018 cycling form which makes her surely the finest rider we've ever seen in women's long distance triathlon. Powering to a 2:18:00 bike split – more than seven minutes quicker than the next best from Lawrence – the Swiss maestro could start the run with a comfortable lead of more than six minutes. Lawrence ran well once again, at the event she broke her foot at a year ago (1:20:45), while Ryf (1:22:15) could, in relative terms, relax.
https://www.instagram.com/p/Bv-UXfHgjHd/
In the men's race, the USA's Eric Lagerstrom lead the way in the water, exiting 15 seconds clear of Ben Kanute (USA), Sam Appleton (AUS), Dylan McNeice (NZL) and Adam Bowden, who all had an additional 45 seconds over the big chasing group.
As the big leg progressed, two athletes broke clear – by four and a half minutes – 2017 IRONMAN 70.3 World Championship Silver medallist, Ben Kanute, plus Rodolphe Von Berg (USA), the athlete that beat Bowden last year at the IRONMAN 70.3 European Championship in Denmark. Bowden reached T2 in the company of Ruedi Wild (SUI) and Mike Taagholt (DEN).
Kanute and Von Berg had a fine battle on the run, Kanute initially building a lead which at one time approached a minute, but saw Von Berg fight back over the final 5km to finish just 12 second behind in a fine battle, both running 1:13's. Great Britain's Bowden has been super consistent with his middle distance running form and this time a 1:11:56 earned him the final spot on the podium.
https://www.instagram.com/p/Bv-uc1HDDIs/
PRO MEN
1st – Ben Kanute (USA) – 3:49:25
2nd – Rodolphe Von Berg (USA) – 3:49:37
3rd – Adam Bowden (GBR) – 3:53:53
PRO WOMEN
1st – Daniela Ryf (SUI) – 4:09:19
2nd – Holly Lawrence (GBR) – 4:14:06
3rd – Ellie Salthouse (AUS) – 4:16:41
IRONMAN AFRICAN CHAMPIONSHIP, PORT ELIZABETH, SOUTH AFRICA
A double for Lucy Charles-Barclay and a third IRONMAN South Africa victory in four years for Ben Hoffman. Check out the separate extended report on that event on the link below.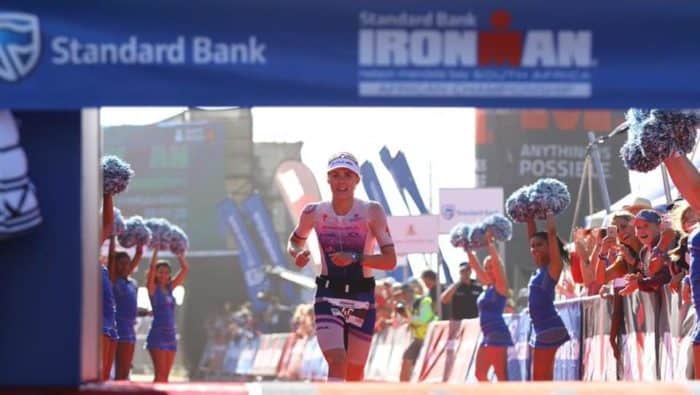 CHALLANGE SALOU, SPAIN
A good day for Great Britain's Thomas Davis in Spain, where Challenge Salou was the start of the 2019 European season of events from Challenge Family. "Came into it with one aim, getting on the podium and I wasn't letting that slip. 2019 has well and truly started!"
There was also another British third place in the women's race from Emma Pallant, which will probably be regarded as a great success given the post-race sickness that coach Michelle Dillon reports that she was suffering from! Plenty of other Brits starting their long distance year too, with lessons learned for the season ahead.
PRO MEN
1st – Pieter Heemeryck (BEL) – 3:46:40
2nd – Pablo Dapena Gonzalez (ESP) – 3:48:02
3rd – Thomas Davis (GBR) – 3:49:19
10th – Colin Norris (GBR) – 3:54:16
14th – Sam Wade (GBR) – 3:59:22
16th – Sam Proctor (GBR) – 3:59:39
Our @ChallengeSalou podium with Pieter Heemeryck, Pablo Dapena and Thomas Davis #challengefamily #challengesalou pic.twitter.com/cLwiPXze0O

— Challenge Family (@ChallengeFamily) April 7, 2019
PRO WOMEN
1st – Judith Corachan Vaquera (ESP) – 4:16:58
2nd – Daniela Bleymehl (GER) – 4:18:38
3rd – Emma Pallant (GBR) – 4:20:04
6th – Kimberley Morrison (GBR) – 4:25:11
13th – Gemma Frost (GBR) – 4:36:14
19th – Eleanor Haresign (GBR) – 5:02:02
This is the right podium of @ChallengeSalou.
1. @KORAXAN
2. Daniela Bleymehl
3. @EmmaPallant #challengesalou #challengefamily pic.twitter.com/57HpDCpM8s

— Challenge Family (@ChallengeFamily) April 7, 2019
Melilla ETU Sprint Triathlon European Cup
There's extensive reporting from Spain on the ETU website courtesy of the ever speedy team Paul Groves, which you can read on this links:
ELITE WOMEN | ELITE MEN | JUNIOR WOMEN | JUNIOR MEN
The headline result from a British perspective was third place in the Elite Men's race for Morgan Davies, with seventh for Iestyn Harrett. Italian athletes won both of the ETU Junior Cup events (Alessio Crociani and Constanza Arpinelli), and with Beatrice Mallozzi taking the Elite women's win too (Zoe Thomas was 14th, Kate Waugh DNF), only Adrien Briffod (SUI) prevented a clean sweep for azzurri.
Fantastic day of racing sees Adrien Briffod claim gold in Melilla.https://t.co/1Ow6RZApGj pic.twitter.com/oLYg7lyx63

— Europe Triathlon (@ETUtriathlon) April 7, 2019
IRONMAN 70.3 Texas
It's a statement of the obvious to say the Andrew Starykowicz is an 'uber-biker', but as I've said here many times before, you don't win major races if you are not also a triathlete.
Starky may not be the best runner out there, but when you run 1:19:39 off of a stunning 1:56:16 bike leg, that is a potent combination. The only other athlete (by one second) under two hours on the bike was Matt Russell (USA), with Andrew losing less than three minutes over the half marathon to the always speedy Matt Hanson (USA), which resulted in a dominating four+ minutes margin of victory.
Making Triathlon Great Again.#champion #703texas
pic – Digital Knight Photography pic.twitter.com/bDuhvMjRCX

— Andrew Starykowicz (@starykowicz) April 7, 2019
I highlighted in the preview that Great Britain's Frankie Sanjana had probably her best result to date at IRONMAN 70.3 Bahrain in late 2018. She may well have beaten that here and kicked of 2019 in style.
While she was sixth in Texas versus fourth in Bahrain, she went from outside of the top-10 in the swim and almost five minutes down, to setting the second fastest bike split (2:10:28, versus the 2:09:23 of Dede Grieisbauer), and reaching T2 with the chase group, behind the sole leader, Griesbauer. A strong 1:24:27 run left her sixth at the finish, amongst some prestigious company and less than a minute and a half from a podium position, the win going to Jeanni Seymour (USA). Another big step forwards, congratulations.
Pleased & not a little starstruck to finish 6th between @mbkessler & @linseycorbin at #IM703Texas today. Real shame AG race cut short by a thunderstorm- great work by staff & volunteers making sure all are safe.

Now given my splits, if anyone needs me, I'll be in the pool…

— Frankie Sanjana (@frankiesanjana) April 7, 2019
PRO MEN
1st – Andrew Starykowicz (USA) – 3:43:25
2nd – Matt Hanson (USA) – 3:47:47
3rd – Matt Russell (USA) – 3:48:44
PRO WOMEN
1st – Jeanni Seymour (USA) – 4:01:55
2nd – Lesley Smith (USA) – 4:04:34
3rd – Jackie Hering (USA) – 4:06:56
6th – Frankie Sanjana (GBR) – 4:08:20
XTERRA New Zealand, Rotorua, New Zealand
After finishing second to Penny Slater last week at XTERRA Taiwan, Jacqui Allen managed to turn the tables – by just 16 seconds – on Penny Slater (AUS), and athlete she coaches, to earn a fourth victory at the XTERRA Rotorua Festival. That was also her third consecutive win at the event.
Speaking to XTERRA Media:
"I had a better swim this week, learned from last week," said Allen. "I also played a better tactical game. I didn't waste energy on the bike, rode the technical sections well. Still, I could see Penny was catching me on the bike the last six kilometres or so. It was super windy out there today, and she is powerful through the wind. At that point I eased back and let her catch on, knew it would come down to the run, which suits me here."
"It's great to have that feeling that you can go and run really fast when you need to," said Allen.  "I was breathing hard all the way to the finish line but kept running faster. The run course is so fast and flowy, it plays to my strength. And there were so many people cheering.  I'm not sure what it is about this race for me. I like it for so many reasons, because it starts at 11:30, and I'm not really a morning person so that helps. And it's cooler than a lot of the other races, and the trails are like what I grew up riding in the UK, it just all comes together."
https://www.instagram.com/p/Bv6NDxtDgBn/
XTERRA Cyprus (Results)
Like Jacqui Allen, Nicole Walters and Doug Hall also raced last weekend at XTERRA Taiwan, and this week they had made the long return journey to Cyprus, for the XTERRA European Tour event.
After an illness-impacted performance last week, Walters was much happier with third place this week, enjoying a battle with Italy's Eleonora Peroncini on the run for 2nd/3rd positions. "I had a good race today, and pleased to make it around in one piece," said Walters. "Peroncini is a good runner, and when she took off at the 7K mark I just couldn't go with her."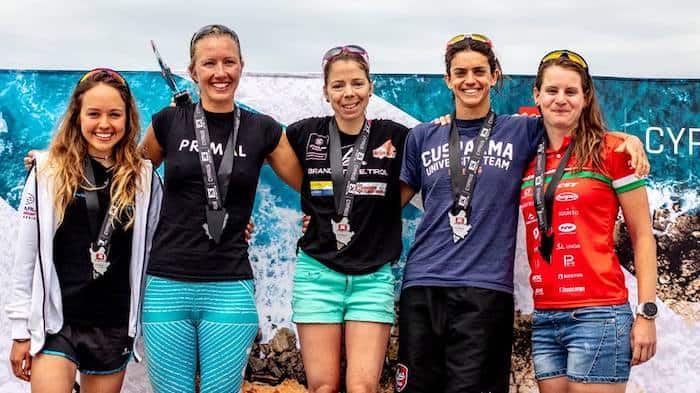 Tenth this week, Doug wasn't quite so happy with his race this week.
https://www.instagram.com/p/Bv9zVzEjR5U/
ELITE WOMEN
1st – Carina Wasle (AUT) – 3:10:22
2nd – Eleonora Peroncini (ITA) – 3:11:46
3rd – Nicole Walters (GBR) – 3:12:47
ELITE MEN
1st – Filippo Rinaldi (ITA) – 2:39:20
2nd – Xavier Dafflon (SUI) – 2:43:40
3rd – Geert Lauryssen (BEL) – 2:44:07