A Norway triple and a Great Britain double in Bahrain
Deja vu as Norwegian trio dominate at 70.3 Middle East Championship
The 2018 edition of IRONMAN 70.3 Bahrain – the Middle East Championship – saw close racing all day, less than a minute between the winners at the finish line… and a successful defence of their 2017 title for both Holly Lawrence and Kristian Blummenfelt.
The day certainly belonged to Norway (Men) and Great Britain (Women). We'd already seen a podium sweep from the Norwegian trio at World Triathlon Bermuda and that was repeated today… in a different order. With three in the top four, the British women were just one position away from a podium sweep of their own.
PRO MEN
The opening 1.9km swim saw a swift 20:58 time from Eric Watson (BAH), who had Great Britain's Adam Bowden and Alexander Polizzi (AUS) right on his feet. Just 30 seconds later a group of athletes followed in close order, which included all three Norwegians – Blummenfelt, Casper Stornes and Gustav Iden – plus Andreas Raelert (GER) and Terenzo Bozzone (NZL) among them.
First and second the past two years, Terenzo's attempts at a third win in as many weeks – after success at IRONMAN Western Australia last weekend – would soon come to a halt, the Kiwi pulling out of the race relatively early on the bike, his body not recovered enough to be able to cope with the effort required to be competitive today. The shape of the race soon unfolded and early in the bike leg it was four athletes away and clear at the front, with Adam Bowden the only one able to go with the fearsome pace being set on the flat and fast course by the powerful biking of the Norwegian trio.
Adam stuck with them until well into the second half of the ride, before losing a little time in the final stages. He reached T2 clear in fourth place, 1:18 down on Blummenfelt / Iden / Stornes. He wasn't hanging around though, with a 1:58:25 bike split, versus the best of the day (1:56:32) from Stornes. That effort gave him a three minute buffer over the next group of six athletes, Yvan Jarridge (FRA), Matt Trautman (RSA), Andreas Raelert (GER), Ondrej Kubo (SVK), Milosz Sowinski (POL) and Alexander Polizzi (AUS).
Little separated the Norwegian trio over the first third of the run, but Stornes was the first to drop back slightly as they completed the first 10km. Iden and Blummenfelt remained locked together for 10 miles, before Kristian was able to gain a few seconds and hold that until the tape, eventually finishing just 21 seconds clear to take the victory. Perhaps more importantly, it secured his first win of a 2018 season which has seen lots of consistency and podiums, but without standing on that top step. Before today.
Top 5 men: Blummenfelt 3:29:04, Iden 3:29:25, Stornes 3:33:31, Bowden 3:35:03, Trautmann 3:39:21#IM703Bahrain pic.twitter.com/eUpCc3QERb

— IRONMANLive (@IRONMANLive) December 8, 2018
The revised and even flatter / faster run course than 2017 saw Blummenfelt clock 1:06:58 with Iden just a few seconds slower with a 1:07:13. Bowden matched Stornes with a 1:11 to maintain a strong fourth place in what has been an excellent debut season over the longer distance, non-drafting format.
PRO WOMEN
Winner 12 months ago, Holly Lawrence was returning to action for the first time since breaking her foot in April this year. She lead out of the swim, lead off the bike and was never headed all day – but with only a 53 second winning margin, that doesn't mean it was an easy day.
The 2016 IRONMAN 70.3 World Champion, as expected, lead the way in the water with Ellie Salthouse (AUS) 1:04 back and Amelia Watkinson third +1:38. Sarah Lewis hit T1 with a 2:18 deficit, while the third British representative, Frankie Sanjana, was seventh +4:31. Despite that start, it would prove a good day for her.
Lawrence lead the way on the bike and recorded the fastest split (2:10:43), with for much of the ride, Salthouse, Watkinson and Lewis in a close battle for second. Salthouse was able to reach T2 alone two and half minutes back, gaining a potentially important minute or so over the typically fast-running Lewis [UPDATE: Sarah punctured in the last 5km, explaining that loss of time].
Best bike ride to date until a puncture with 5km to go! Chased hard on the run but not quite enough road. Proud to place 2nd today at Middle East 70.3 Champs #IM703Bahrain pic.twitter.com/TzuVLAUvBu

— Sarah Lewis (@Sarahlewis111) December 8, 2018
Watkinson dropped out of contention with what I'm guessing was a mechanical, which allowed Frankie Sanjana – who had a strong bike herself (2:13:46), to move up to fourth place starting the run.
Holly Lawrence is still in the lead in women's race #IM703Bahrain – the defending champion is on the way to T2 pic.twitter.com/WafuRLMjl9

— IRONMANLive (@IRONMANLive) December 8, 2018
Salthouse initially reduced Lawrence's T2 advantage by 30 seconds over the first 5km, but then the Brit started to regain that time back. The real challenge was coming from Lewis. 4:06 back starting the run, by 5km that was 3:05, by 10km was 2:14 and at 15km 1:16. At they rate, they were on course to reach the red carpet together. Holly was able to dig deep however and, despite her injury problems this year, hold strong and with a 1:21:55 run, cross the line 52 seconds ahead of the 1:18:41 half marathon from Lewis.
https://www.instagram.com/p/BrH7XRyAB3e/
Salthouse was safe in third, running a 1:26:36 to complete the podium while Sanjana was a touch quicker than that – 1:26:20 – for fourth. That, against this quality of opposition, is surely her strongest all-round performance to date? Great work Frankie.
Top 5 women: Holly Lawrence 3:59:24, Sarah Lewis 4:00:13, Ellie Salthouse 4:06:25, Frankie Sanjana 4:11:45, Annah … pic.twitter.com/2hM7CYe8T6

— IRONMANLive (@IRONMANLive) December 8, 2018
Speaking to Bahrain Endurance 13 Media, Holly said of her race:
"I really wasn't sure about my fitness coming in. I knew I was healthy enough to compete, so I couldn't be happier especially at one of my favourite races. It was a fast course, but you're only as good as the competition. I wasn't too happy with my bike but I'm really happy with my run considering my injury hampered my run [training]. I felt great the whole time."
IRONMAN 70.3 Middle East Championship, Bahrain – Saturday 8th December 2018
1.9km / 90km / 21.1km
PRO MEN
1st – Kristian Blummenfelt (NOR) – 3:29:04
2nd – Gustav Iden (NOR) – 3:29:25
3rd – Casper Stornes (NOR) – 3:33:31
4th – Adam Bowden (GBR) – 3:35:03
5th – Matt Trautman (RSA) – 3:39:21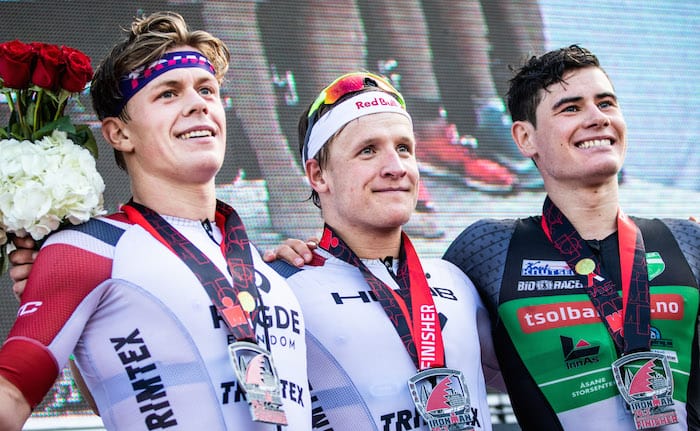 PRO WOMEN
1st – Holly Lawrence (GBR) – 3:59:20
2nd – Sarah Lewis (GBR) – 4:00:13
3rd – Ellie Salthouse (AUS) – 4:06:25
4th – Frankie Sanjana (GBR) – 4:11:45
5th – Annah Watkinson (RSA) – 4:13:17