Blummenfelt and Lawrence take IRONMAN 70.3 Middle East Championship titles
No million dollar pay day for Gomez and Ryf
It was all set to be a day of big, BIG money at the IRONMAN 70.3 Middle East Championship Bahrain, but the Nasser Bin Hamad Triple Crown went unclaimed today in Manama. Having won at IRONMAN 70.3 Dubai and the IRONMAN 70.3 World Championship this year, both Javier Gomez (ESP) and Daniela Ryf (SUI) had the opportunity to claim a $1million bonus with another win in Bahrain, but it wouldn't be their day.
MEN
Javier Gomez started in fine style and with clear intentions, a speedy and solo 21:52 swim seeing him take an early lead of 1:14 over a chase group which included the 70.3 debutant, Kristian Blummenfelt (NOR), defending champion Terenzo Bozzone (NZL), Antony Costes (FRA), Pieter Heemeryck (BEL) and Sven Riederer (SUI) among several others.
If Gomez had plans of winning gun-to-tape solo, those hopes evaporated very quickly as Bozzone soon hit the bike pace that saw him blow everyone away last year. He rode straight past the five-time ITU World Champion in no time at all, with his objective quite simple – build a big lead by T2. Only Blummenfelt could stay in contention, but even he was three minutes in arrears at the end of the bike leg, with Gomez arriving – along with Johann Ackermann (GER) – almost seven minutes behind. Bozzone's bike split was 1:58:00 – and the course was an accurate 90km too. Speedy.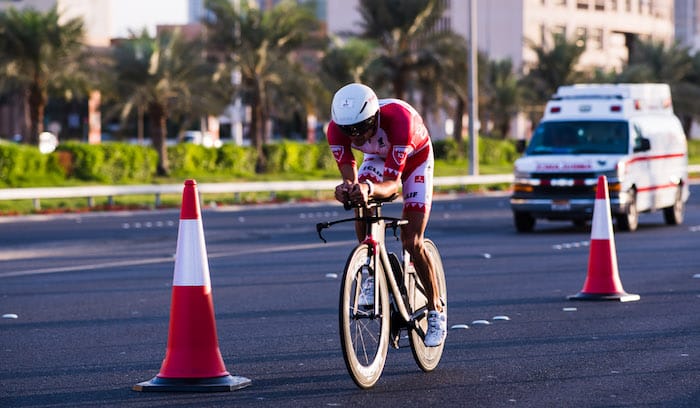 The young Norwegian immediately started cutting the lead of the Kiwi, and by 12km they were running together. Terenzo stuck with the pace for a couple of kilometres, but with the start of the final run lap approaching, Blummenfelt upped the pace and pulled away. Despite slowing over the last few kilometres, the 23 year old would take a 70.3 win in his first attempt, with Bozzone (second last weekend at the Island House Triathlon), arriving at the finish line just 38 seconds later. He's off to defend his title at IRONMAN Western Australia next. A busy man racing over all distances and formats too.
Haha last 4k #nothingleft #IM703Bahrain pic.twitter.com/3GMS3MX7Q9

— Kristian Blummenfelt (@kristianblu) November 25, 2017
Swiss veteran, Sven Riederer completed the podium, with Gomez taking fourth place after a tough day in which he was seen walking during the run at one point. Respect too for the fifth place of Matt Trautman (RSA). Given the severity of the bike crash he suffered in January this year, his performance is exceptional.
https://www.instagram.com/p/Bb6naiOA_-v/
WOMEN
Most pre-race thoughts (and hopes) were for a head-to-head between the undisputed Queen of Middle and Long distance racing, Danieala Ryf, and Great Britain's 2016 World Champion, Holly Lawrence. When they exited the water just 10 seconds apart, it was 'game on'.
Anne Haug (GER) was third to emerge from the 1.9km swim in Bahrain Bay (+1:14), with the British trio of Emma Pallant, Sarah Lewis and Rachel Hallam all together in 4th/5th/6ht (+2:04). Angela Naeth (CAN), Eva Wutti (AUT) and Jenny Shulz (GER) were 7th/8th/9th, but almost four minutes back from Lawrence.
The early stages of the bike saw Lawrence setting the pace over the single lap, 90km bike circuit – but with Ryf never too far behind. Ryf stepped up the pace in the second half ("dropped me like a stone"), to arrive at T2 almost two minutes clear of Lawrence – who promptly had a speedy transition to start the run just 1:35 behind the reigning World Champion. Behind, Naeth, Haug and Pallant reached transition just over seven minutes behind Daniela – but with Haug and Pallant's run speed, certainly not out of contention.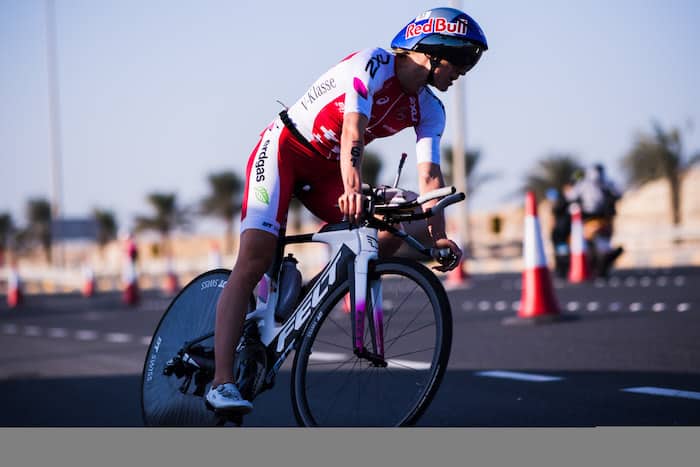 Lawrence was soon chipping away at the lead of Angry Bird, and by the 7.5km mark had taken pole position. As expected, Haug and Pallant had pulled away from Naeth, with the German looking the most likely to fill one of the podium slots. But, which one?
Lawrence continued to look good on the run, clearly working hard, but moving well – attentions then turned to the speed with which Haug was moving. With three miles to go the gap was down to 1:56, a mile later it was 30 seconds less and with just a kilometre to go, the German was barely 20 seconds in arrears. Was this going to end in a sprint? Lawrence was giving everything, and she needed to, since as she crossed the line to break the tape, Haug was already on the red carpet herself and would fall less than 10 seconds short of making the pass and taking the win at the very last moment.
https://www.instagram.com/p/Bb61Q9QFiBc/
Daniela Ryf held on for third, with Emma Pallant less than a minute further back in fourth.
IRONMAN 70.3 Middle East Championship Bahrain – Saturday 25th November 2017
1.9km / 90km / 21.1km
MEN
1st – Kristian Blummenfelt (NOR) – 3:40:24
2nd – Terenzo Bozzone (NZL) – 3:41:02
3rd – Sven Riederer (SUI) – 3:47:14
4th – Javier Gomez (ESP) – 3:48:25
5th – Matt Trautman (RSA) – 3:49:19
6th – Pieter Heemeryck (BEL) – 3:49:35
7th – Ronnie Schildknecht (SUI) – 3:51:23
8th – Horst Reichel (GER) – 3:52:38
9th – Arnaud Guilloux (FRA) – 3:53:25
10th – David Please (SVN) – 3:54:07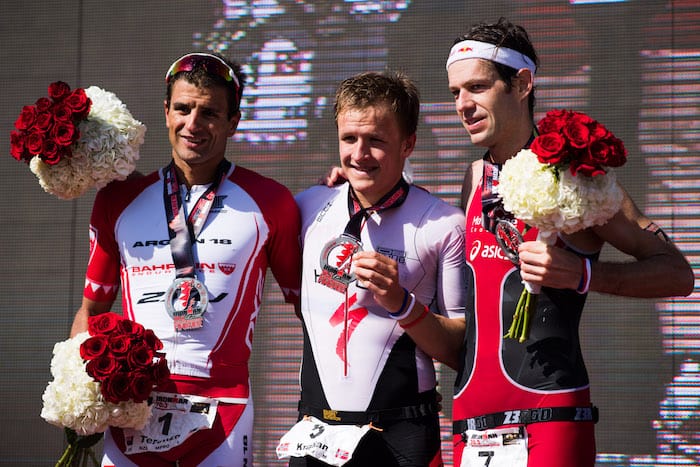 WOMEN
1st – Holly Lawrence (GBR) – 4:02:33
2nd – Anne Haug (GER) – 4:02:43
3rd – Daniela Ryf (SUI) – 4:06:13
4th – Emma Pallant (GBR) – 4:07:07
5th – Angela Naeth (CAN) – 4:10:41
6th – Eva Wutti (AUT) – 4:18:31
7th – Sarah Lewis (GBR) – 4:19:40
8th – Jenny Schulz (GER) – 4:21:34
9th – Svenja Theos (GER) – 4:23:05
10th – Rachel Hallam (GBR) – 4:32:42
DNF – Chantal Cummings (GBR)