(All images below © XTERRA Asia-Pacific Championship)
The fantastic 2019 season of South Africa's Bradley Weiss continued on Saturday, with victory at the XTERRA Asia-Pacific Championship at Kenting National Park, Taiwan.
Winner at IRONMAN 70.3 South Africa in January and a recent winner at IRONMAN 70.3 Taiwan too, the 2017 XTERRA World Champion adds another off-road victory to XTERRA South Africa in February. Great Britain's 2017 ITU Cross Triathlon World Championship Silver medallist, Jacqui Allen, took second in Taiwan – though will have finished with a smile, given that she was beaten by an athlete that she coaches, Penny Slater (AUS). That's a good day all round, reflected in the header image.
https://www.instagram.com/p/BvntRoJDkh3/
The day didn't go quite as well for the British athlete who followed Jacqui as the ITU Cross Triathlon World Championship Silver medallist, Nicole Walters, who lead out of the water but then faded to eighth – but given what she had been suffering from as explained in her Instagram post below, simply making it through the race might well be regarded as success. We'll be seeing a lot more from her later in the season, illness free.
https://www.instagram.com/p/BvtM8LQDhSQ/
The weekend went much better for Nicole's husband, 'Little' Doug Hall. He was very happy with his seventh place in a quality men's race. "Happy with my race today, 7th place in the strongest field the Asia-Pacific champs has ever seen. I still feel there is more to come, fitness was good but I was lacking that top end speed that comes with a couple of races under the belt."
If approaching three hours of racing on Saturday wasn't enough, Doug had also signed up for the 26km XTERRA Kenting Trail Run on Sunday as well, where he finished second overall (FULL RESULTS). "The course rates as one of the best I've ever run, so tough but so scenic."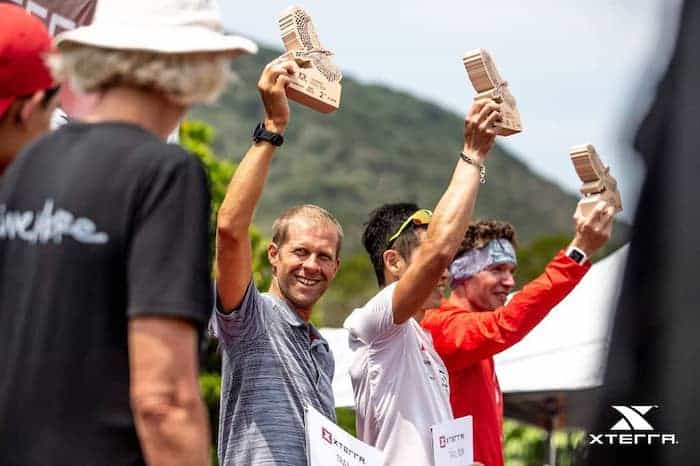 XTERRA Asia-Pacific Championship, Taiwan – Saturday 30th March 2019
1.5km / 26km / 10km – FULL RESULTS
PRO MEN
1st – Bradley Weiss (RSA) – 2:29:06
2nd – Sam Osborne (NZL) – 2:30:56
3rd – Brice Daubord (FRA) – 2:33:44
4th – Ben Allen (AUS) – 2:38:17
5th – Maxim Chane (FRA) – 2:44:15
6th – Lewis Ryan (NZL) – 2:44:20
7th – Doug Hall (GBR) – 2:45:35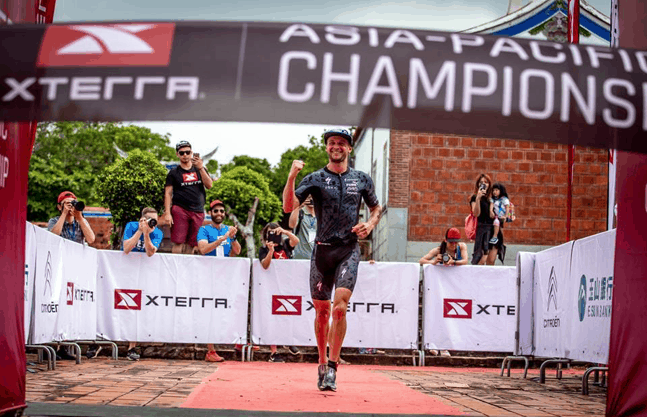 PRO WOMEN
1st – Penny Slater (AUS) – 3:03:12
2nd – Jacqui Allen (GBR) – 3:05:22
3rd – Carina Wasle (AUT) – 3:08:12
8th – Nicole Walters (GBR) – 3:24:49