A 'home' double in Buffalo City as South Africa dominates
Second again for Emma Pallant, DNF for Elliot Smales
Having won the race for three of the past four years, Matt Trautman's run of success at IRONMAN 70.3 South Africa was ended by fellow countryman and 2017 XTERRA World Champion, Bradley Weiss, today in a close and exciting race.
Second to Jeanni Seymour 12 months ago, this year it was another South African, Annah Watkinson, who prevented Emma Pallant from reaching the top step of the podium this year.
PRO MEN
With the usual 1.9km swim shortened to around 1.15km due to rough sea conditions, the leaders were out in little more than 15 minutes with Great Britain's Elliot Smales (who i recently interviewed), leading the way. Having been training in South Africa in recent weeks, he was looking to kick off 2019 early and build upon his three IRONMAN 70.3 victories last year. It wouldn't prove to be be his day.
With the likes of Bradley Weiss (RSA), Matt Trautman (RSA), James Cunnama (RSA) Evert Scheltinga (NED) and Cyrill Viennot (FRA) all within 60 seconds of Smales' pace in the water, the swim was not going to be a huge factor in the race outcome today.
The primarily out-and-back course in South Africa may feature a (closed) main road / motorway for much of the route, but it is not an easy or fast course, rising from the sea to the 45km turnaround.
The 45km bike mark sees Bradley Weiss with a time of 01:27:41. pic.twitter.com/nquY9Ax3Yo

— IRONMAN South Africa (@IMSouthAfrica) January 27, 2019
Kevin Maurel (FRA) initially held the lead, but mechanical issues would impact his race, leaving 2017 XTERRA World Champion, Bradley Weiss, to show his skills on the road and reach T2 alone with the fastest bike split (2:14:25). Ryan Schmitz (RSA) was next (+1:42), before Johannes Moldan (GER) and Matt Trautman followed in close order, about 2:30 down on the leader.
For Smales, T2 would see the end of his race and not quite the race performance he was hoping for to end his South African training camp. He told me post-race:
"Pulled out after the bike. Was struggling to put the power down and my glutes became really tight. Struggled to stay on the skis for the last 15 miles and really struggled to pedal for the last 5."
Out on the run course and Trautman was the man on the move, quickly moving from fourth to second inside the first 6km and barely half a minute down on Weiss. By 11km they were together and surely the writing was on the wall and a fourth title ready to be collected by Trautman?
Bradley Weiss is still in the lead on the run at the 10.75km, with Matt Trautman hot on his heels!#StandardBank #IM703SA pic.twitter.com/MDUBITfdKG

— IRONMAN South Africa (@IMSouthAfrica) January 27, 2019
Wrong! Weiss then pulled away over the next 5km and would hold strong to the finish line to take the win with a 1:19:29 run by 1:02 over Trautman (1:18:10). Third-place James Cunnama (winner in 2014) showed his typical strong run performance (1:18:18) to complete an all rainbow-nation podium.
Congratulations Bradley Weiss!#StandardBank #IM703SA pic.twitter.com/W51w4mARYB

— IRONMAN South Africa (@IMSouthAfrica) January 27, 2019
PRO WOMEN
There may have only been four Pro women starting today, but that wasn't going to stop the top two from having a close battle for the best part of four and a half hours.
Annah Watkinson (RSA) gained 24 seconds over Emma Pallant in the swim, but with a tough (and mostly uphill) run into T2, Emma had all but eliminated that advantage by the bike mount line.
Top 3 ladies out the water: Annah Watkinson 20:26, Emma Pallant 20:30, Jade Roberts 22:11

— IRONMAN South Africa (@IMSouthAfrica) January 27, 2019
There was little to separate the pair on the bike either, both reaching the 45km turn within eight seconds of each other, before Watkinson was finally able to open a small gap of one minute before T2. Once again Emma was swift through transition to further reduce that margin and within the first kilometre there was little more than 30 seconds to separate them on the run.
Annah Watkinson followed closely by Emma Pallant heading to the 72km mark.#StandardBank #IM703SA pic.twitter.com/KXEOfzJaoZ

— IRONMAN South Africa (@IMSouthAfrica) January 27, 2019
Following a similar trend to the men's race, Pallant closed the gap and caught Watkinson and briefly took the lead, before Annah was able to turn the tables and then pull away again. 53 seconds at 11.2km became two minutes at 16.3km, and that would remain the way until the finish. Watkinson ended with a 1:24:49 run split to the 1:26:01 of Pallant.
Congratulations Annah Watkinson!#StandardBank #IM703SA pic.twitter.com/gVnIGp5oBz

— IRONMAN South Africa (@IMSouthAfrica) January 27, 2019
IRONMAN 70.3 South Africa, Buffalo City, East London – Sunday 27th January 2019
1.15km** / 90km / 21.1km (** Swim shortened)
PRO MEN
1st – Bradley Weiss (RSA) – 3:53:51
2nd – Matt Trautman (RSA) – 3:54:53
3rd – James Cunnama (RSA) – 3:56:26
4th – Cyril Viennot (FRA) – 3:58:56
5th – Ryan Schmitz (RSA) – 3:59:38
DNF – Elliot Smales (GBR)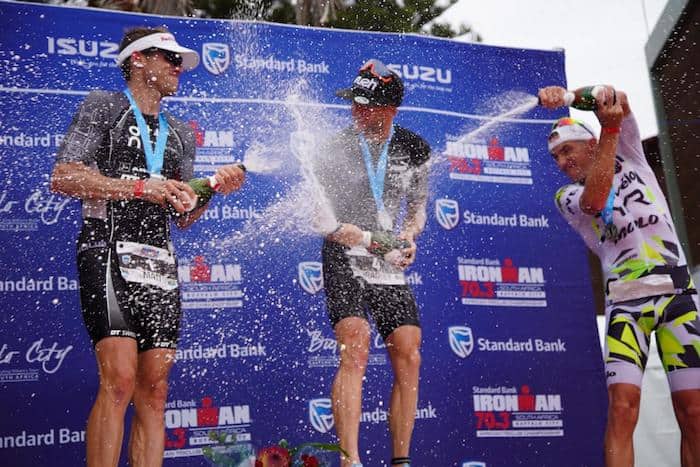 PRO WOMEN
1st – Annah Watkinson (RSA) – 4:21:15
2nd – Emma Pallant (GBR) – 4:23:12
3rd – Jade Roberts (RSA) – 4:44:06
4th – Sabrina Stadelmann (SUI) – 4:52:14
Storming her way to a 2nd place finish on her @Ride_BMC Timemachine and a solid start for @EmmaPallant at #IM703SA pic.twitter.com/7nA8mHf5MG

— BMC Pro Triathlon Team p/b 2XU (@BMCProTri) January 27, 2019