It's the (Bank Holiday) Weekend Preview
What do we have to look forward to this weekend? A few highlights:
A British athlete defending a 2018 IRONMAN win.
A former British 70.3 World Champion returning to a race she won two years ago.
Three World Championship races (one of which is today, Thursday).
A Spanish legend racing in his home town… and expected to win one of the few titles he doesn't already have.
At least FOUR events being broadcast live.
Ok, let's put some meat on those bullet point bones and take a deeper look at the racing weekend ahead…. which will explain why the 'weekend' preview title this week covers five days 🙂

INTERNATIONAL RACING
ITU Aquathlon World Championships, Pontevedra (Thursday)
The weekend starts now. Sort of. Later today (Thursday), the latest in the busy schedule of events at the Pontevedra ITU Multisport World Championships in Spain sees the Aquathlon World Champs, held over a 1km / 5km format.
You can watch the coverage live, if you have a subscription to the TriathlonLIVE service (www.TriathlonLive.tv). With an annual subscription cost of approx. £25, for a triathlon fan, it really is a small amount to pay for what has been so far this season lots of coverage. There are three live streams coming up this week alone, alongside a host of archive coverage (going way back to the first ITU World Championships in 1989!), plus additional interviews and a lot more. I know we all like stuff for "free" – and I'm not on commission here – but I do think that is a very fair price for what will include more than 40 live events alone in 2019.
Ok, back to the action, and from GB perspective our only Elite entrant is Nicole Walters (3rd in the Cross Triathlon on Tuesday). Iain Dawson will race in the Para PTVI category – plus of course more than 200 British Age-Group athletes.
The start times are:
Elite / U23 / Junior – 15:00 local time, 14:00 UK time
Para – 15:30 local time, 14:30 UK time
Age-Group – 16:00 local time, 15:00 UK time
ITU Long Distance Triathlon World Championships, Pontevedra (Saturday)
Also on TriathlonLIVE – race start = 08:00 local time / 07:00 UK-time
The final event of the Pontevedra championships will be the ITU Long Distance World's (with the Age-Group only Aquabike running alongside it). Pontevedra is the home town of five-time ITU World Champion and twice IRONMAN 70.3 World Champion, Javier Gomez. Javier returned to World Triathlon Series racing last week and looked liked he'd never been away. It's going to take something very special to beat him.
"It will be very special to compete in my hometown this Saturday. Long distance is not exactly what I'm training for at the moment, but can't miss such a great event at home!"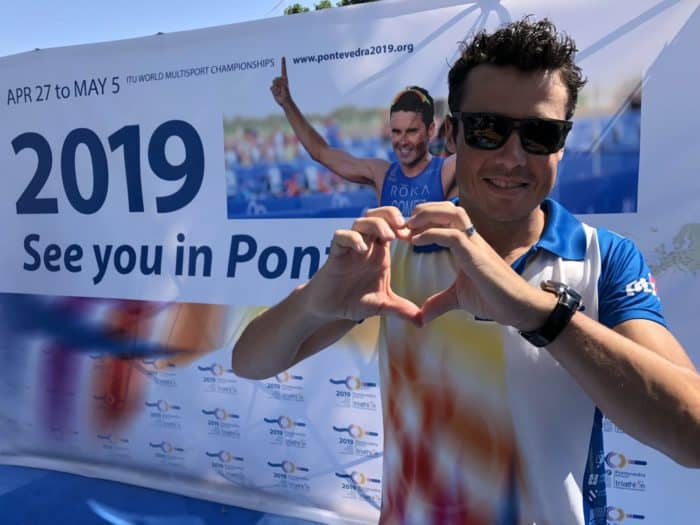 The defending champion is also from Spain, Pablo Dapena Gonzalez, and it would be no surprise to see both of them on the podium. Other notables to watch include Terenzo Bozzone (NZL), Ruedi Wild (SUI), James Cunnama (RSA), Antony Costes (FRA), Cyril Viennot (FRA) and Jaroslav Kovacic (SLO).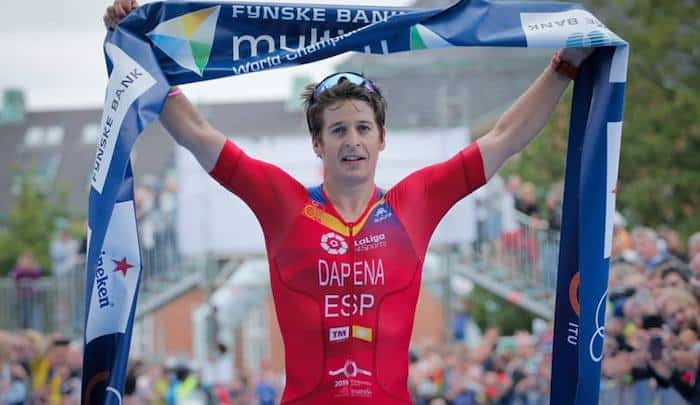 The defending women's champion, Helle Frederiksen (DEN) withdrew from the race this week, and so Camilla Pedersen (recent winner in Cannes), Maja Stage Nielsen (DEN), Alexandra Tondeur (BEL) and Gurutze Frades (ESP) – who filled positions 4th-7th last year – will be in contention for podium honours. They will perhaps joined by Emma Bilham (SUI) and recent Challenge Salou winner, Judith Corachan Vacquera (ESP). Multiple Age-Group medal winner, Sophie Bubb, will have her first GB Elite start on Saturday.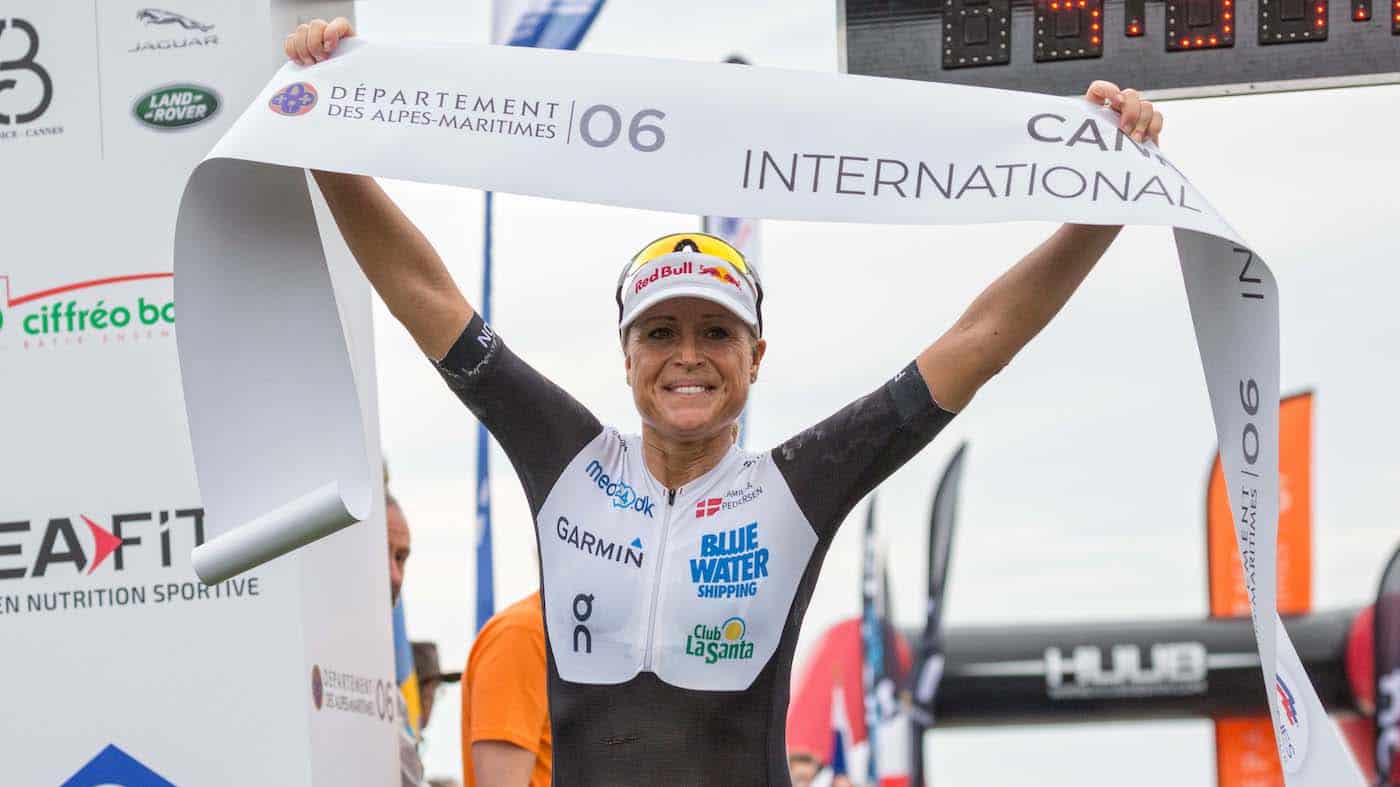 Start lists: ELITE MEN | ELITE WOMEN
IRONMAN 70.3 St. George, Idaho (SATURDAY)
With North American Championship status, a $75,000 prize purse a challenging course and strong Pro field, St. George is always a competitive race. This was the event Alistair Brownlee won in 2017, the same year Holly Lawrence took the women's title. No Alistair this year, but Holly (who was also second in 2016) does return, along with 2018 champion Paula Findlay (CAN), 2015 and 2016 winner Heather Wurtele (CAN) and there are plenty more contenders on the START LIST too.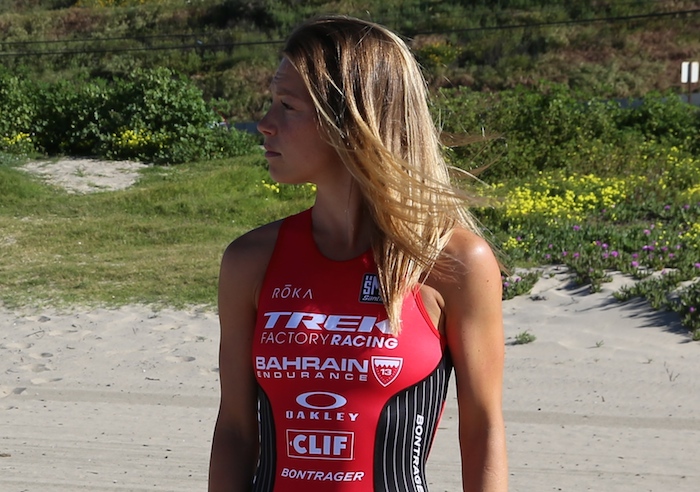 Injury has rules out Lionel Sanders (CAN) from starting (he's gone 1st / 2nd / 1st the last three years), but German's 2014 IRONMAN World Champion, Sebastian Kienle, returns to racing after his own post-Kona injury problems for a race he's finished 2nd / 3rd / 2nd at in the past three editions. The triathlon world is a better place with a fit and healthy Kienle, so fingers crossed he is back to full health, with no doubt full fitness to follow as the season progresses,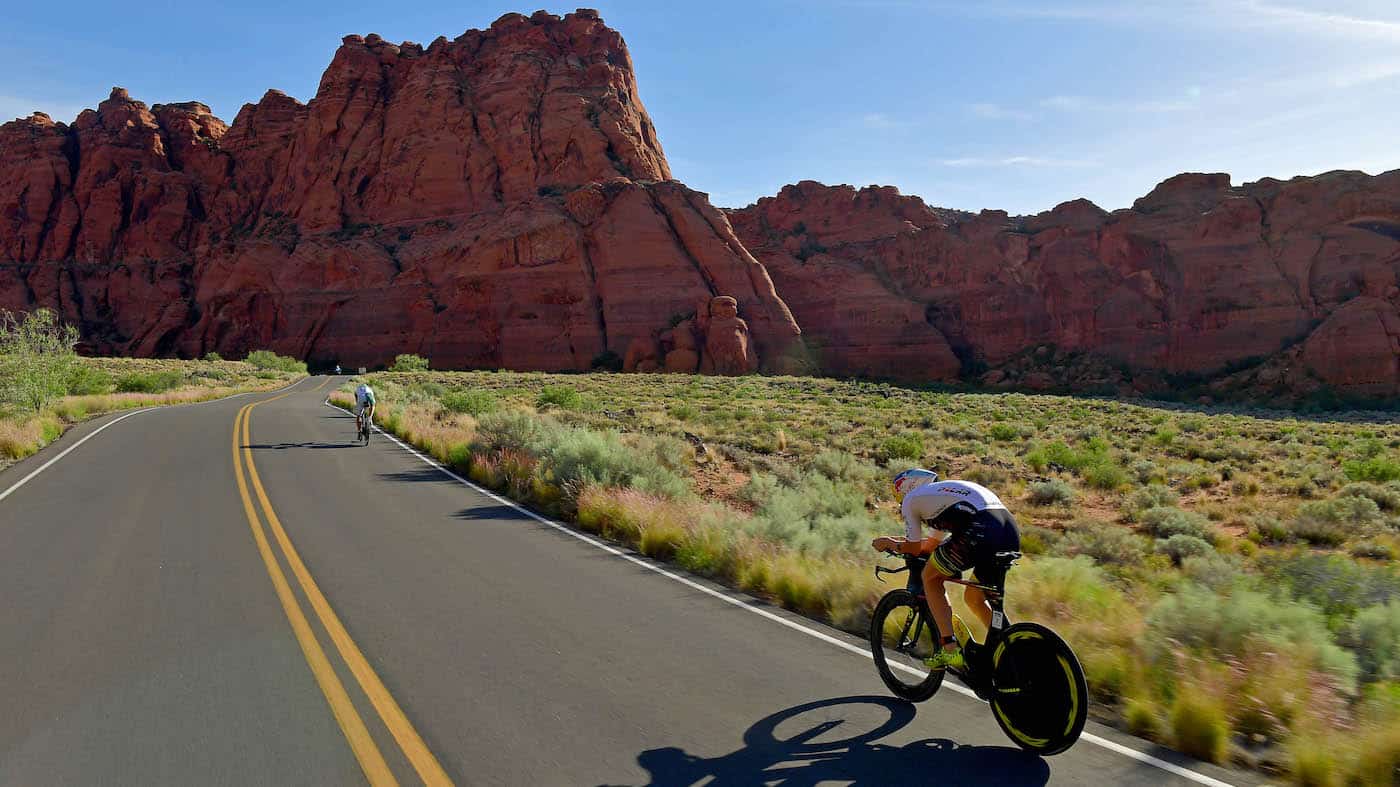 IRONMAN Australia, Port Macquarie (SUNDAY)
This race will be broadcast live via Facebook Watch and the IRONMAN Now Facebook page. Race start time is 07:10 (local time) for Pro athletes, which is 22:10 (UK time) on Saturday night.
Can Great Britain's Laura Siddall secure a third consecutive title on Sunday? Australia was her first IRONMAN title in 2017 – she's since won IRONMAN New Zealand and Challenge Madrid as well – before repeating 12 months ago. That was three full distance victories in 2018. impressive.
By her own high standards, 2019 hasn't got off to the best start with third at Challenge Wanaka and fourth at IRONMAN New Zealand, but almost two months on from those races she'll have had time to regroup and plan her approach into Australia. It won't be easy however, with Caroline Steffen (SUI) – winner at IRONMAN Western Australia in late 2018 – on the START LIST.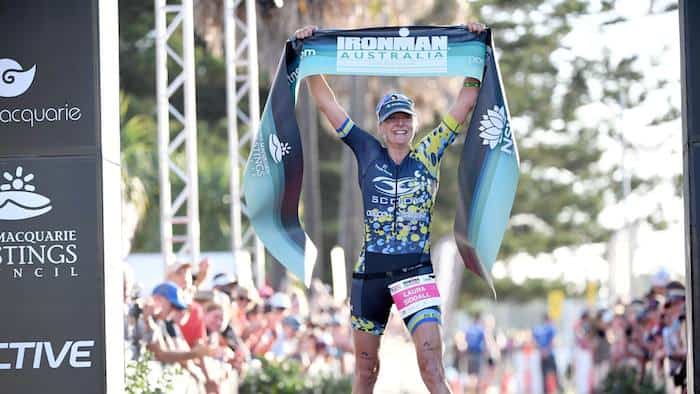 The men's race features former IRONMAN 70.3 World Champion Tim Reed and fellow Aussie and Kona bike course record holder, Cameron Wurf. He's already in winning mode this season at the Cannes Triathlon.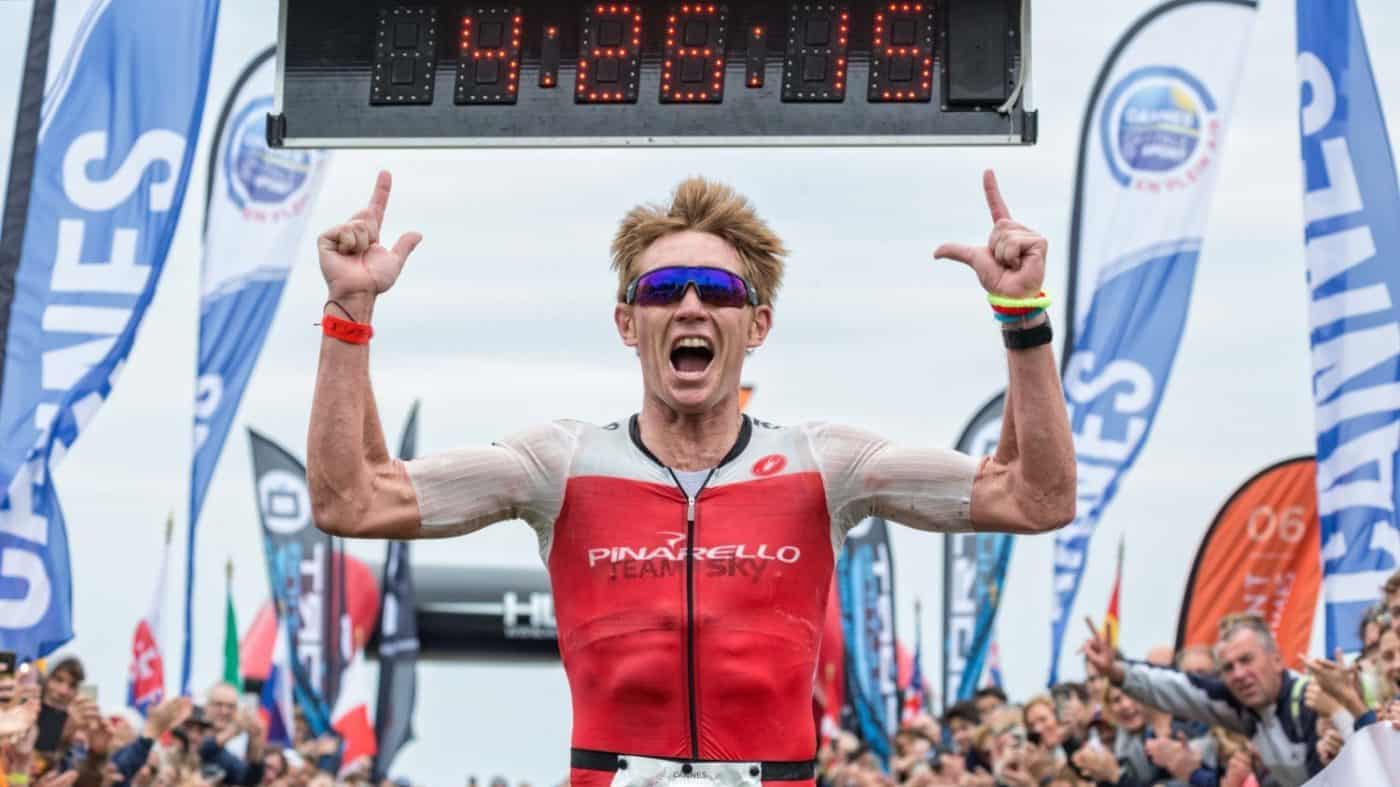 Madrid ITU World Cup (SUNDAY)
Another event which will be broadcast via TriathlonLIVE,  the Sprint distance start times are:
Elite Women – 11:30 local / 10:30 UK-time
Elite Men – 13:15 local / 12:15 UK-time
After a years absence, the Madrid World Cup returns to the calendar – and also return to Casa de Campo lake, with a brand new course. Plenty of British interest at this one, with Sophie Coldwell, Olivia Matthias, Beth Potter, Barclay Izzard, Calum Johnson, Chris Perham and Gordon Benson all on the start list.
After struggling with injury through the early part of the season, 2018 ITU World Triathlon Leeds winner, Richard Murray (RSA) is back in action. Check out the extended ITU preview of the race HERE.
Challenge Riccione, Italy (SUNDAY)
The second edition of this race (which relocated from Rimini for 2018), the European Challenge Family season continues following race in Salou and Gran Canaria. Home athlete Giulio Molinari won last year and he is back, as are second and third placed Thomas Steger (AUT) and Frederic Funk (GER).
David Bishop finished 4th at Challenge Mogán Gran Canaria today! pic.twitter.com/0EV0v47EOY

— HUUB Design (@HUUBDesign) April 27, 2019
After a strong fourth place last week in Gran Canaria, David Bishop is set to race again, along with Colin Norris who was second last year at IRONMAN 70.3 Vichy.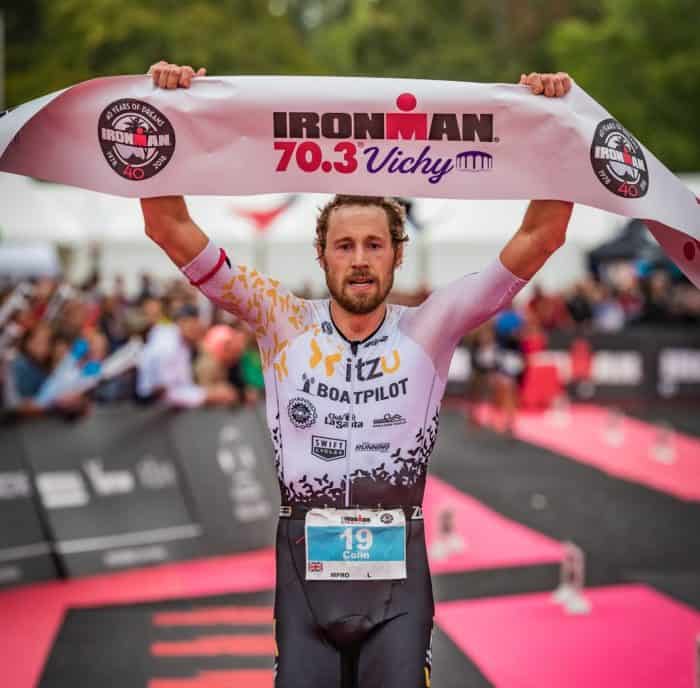 OTHERS…
The M-Dot calendar this week also includes IRONMAN 70.3 Busselton, Australia – another win for the ageless veteran, Craig Alexander, perhaps?
Also on Saturday is the 35th edition of the long-standing Volcano Triathlon (Olympic Distance) at Club La Santa in Lanzarote. The event has been won for the last three years by Great Britain's Alice Hector, but she won't be going for number four as she's racing a week later at the ETU Powerman Middle Distance Duathlon European Championships in Denmark. We understand that Lucy Charles-Barclay is due to race however, so the British run of success could well continue. As always, expect plenty of GB Age-Group athletes to be racing in the middle of their early season training camps too.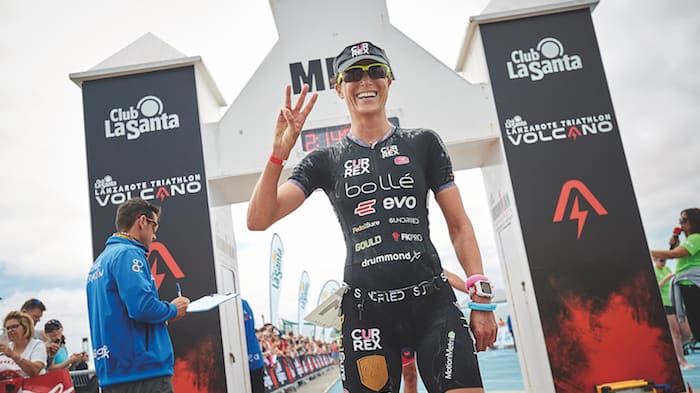 Another athlete returning to racing action – in a pool swim triathlon (!) – is twice IRONMAN and reigning IRONMAN 70.3 World Champion, Jan Frodeno. This is no small events however, the Olympic distance (with a 1km pool swim) Buschhütten Triathlon Siegerland Cup is a major event in Germany, which has seen previous winners including Andi Böcherer, Sebastian Kienle, Lothar Leder, Faris Al-Sultan and in 2011, Jodie Stimpson was the women's champion.
DOMESTIC RACING
It's no surprise that as we enter May the volume of races on the UK schedule starts to ramp up. With such a busy weekend gone, another one coming up (and a World Championship later today…), I won't try and list everything this week, but here are a few selected highlights:
Plus of course the Bank Holiday regulars of the Hart Triathlon (DETAILS), Tonbridge Triathlon (DETAILS), the Thames Turbo Sprint Triathlon (DETAILS) and the Tadcaster Triathlon (DETAILS).
If you are racing this weekend, good luck – and as always, we'll do our best to bring you the latest news from another packed weekend schedule.

| Weekly Suggested Products from ORCA | |
| --- | --- |
| | |
| | |