Race favourites takes the victories in Spain
Impressive Age-Group performance from Katrina Rye
(Big thanks to Activ Images for providing the images – http://activ-images.fr/)
Spain was very busy with endurance racing on Saturday. As well as IRONMAN 70.3 Marbella (report HERE), there was also the start of the 2019 ITU Multisport World Championships, with the Duathlon World Champs kicking off that  event. Catch up on the news from Pontevedra on these links: Elite | Age-Group Sprint | Age-Group Standard.
Plenty of British athletes at all of those – just as there was at the fourth edition of the Gloria Challenge Mogan Gran Canaria.
In the Weekend Preview I'd firmly nailed the 'favourite' status to 2017 champion Emma Pallant, and second two years ago, Pieter Heemeryck (BEL). That proved to be correct.
While Celine Schaerer (SUI) lead the way in the swim in typical style, Pallant's 1:25 deficit in the water was in cut through a swift T1, and 90km later she had a five minute lead, which she more than doubled by the finish. The 2017 IRONMAN 70.3 World Championship Silver medallist required no repeat of that six second victory over Lucy Charles this time around.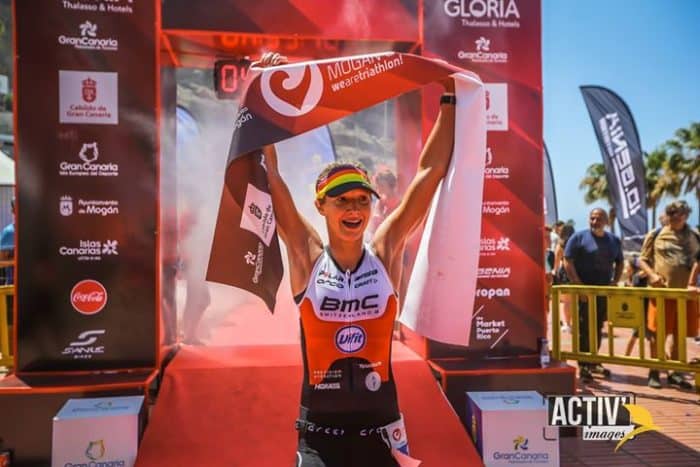 There was significant British interest in the men's Pro race, with five athletes racing – and they filled position 4, 5, 6, 7 and 8 at the finish, with David Bishop winning the "first Brit" (virtual) award.
https://www.instagram.com/p/Bw1mlAjDCgm/
Manuel Küng (SUI) emerged from the swim solo, 40 seconds ahead of Heemeryck and Thomas Davis, leading most of the field over the next 30 seconds. The Gran Canaria course is a challenging one and once the 90km was completed Küng still lead the way alone, but Great Britain's Luke Pollard had powered his way through to second less than a minute back. Heemeryck was still in a good place just 54 seconds behind Luke, with the chasers now more than two minutes further back. Thomas Davis, Sam Pictor, Chris Silver and David Bishop would all start the run in close order.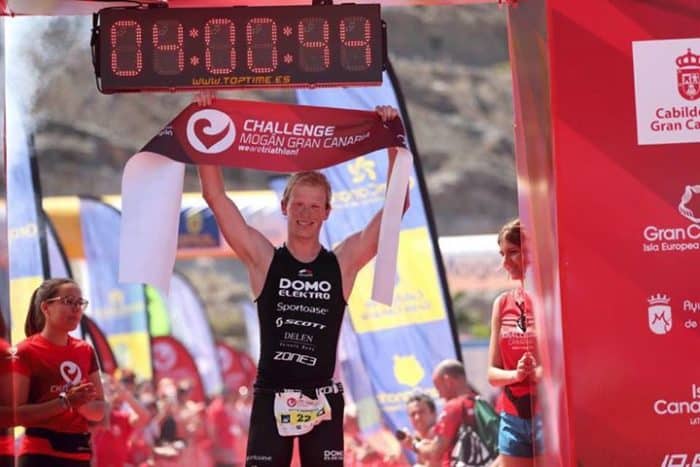 The Belgian athlete proved his class on the run to take the win, with Küng holding strong for second, while Nan Oliveras (ESP) was the best of the chasers to complete the podium, as Pollard would fade after his bold riding in his first Pro Middle Distance race.
Debut pro middle distance race at @Challenge_Famil Gran Canaria, went all or nothing and unfortunately went from podium to finishing 8th. But why would you race any other way? 😅 #allin
•
Thanks @trimaxmag for the 📸 pic.twitter.com/e9ydz9DZkx

— Luke Pollard (@LukePollard91) April 28, 2019
Age-Group
There was a very impressive performance in the Age-Group ranks. We recently published the news that Katrina Rye would be joining the Team Freespeed squad for 2019. Already a winner locally in the UK this season at the East Leake Triathlon, she was first female Age-Group athlete overall by a huge margin of 15 minutes, in a time just five minutes slower than women's Pro winner, Emma Pallant. Her plans for 2019 included the Age-Group IRONMAN 70.3 World Championship in Nice. That sort of performance might have her considering race Pro, sooner that she planned.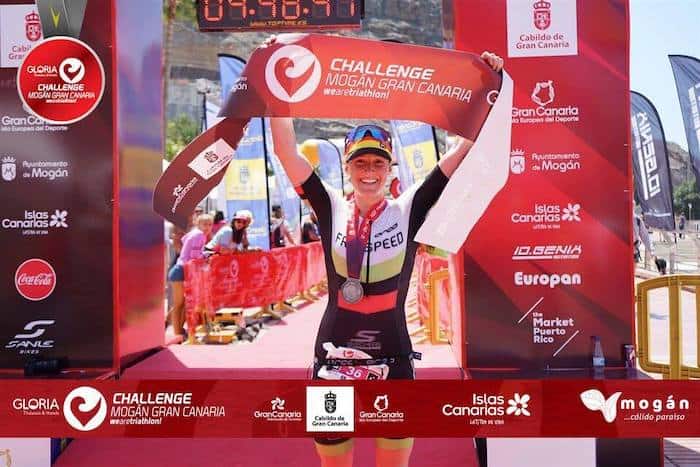 Gloria Challenge Mogan Gran Canaria – Saturday 27th April 2019
1.9km / 90km / 21.1km – FULL RESULTS
PRO MEN
1st – Pieter Heemeryck (BEL) – 4:00:44
2nd – Manuel Küng (SUI) – 4:02:21
3rd – Nan Oliveras (ESP) – 4:04:13
4th – David Bishop (GBR) – 4:05:09
5th – Sam Pictor (GBR) – 4:05:48
6th – Thomas Davis (GBR) – 4:06:10
7th – Chris Silver (GBR) – 4:07:08
8th – Luke Pollard (GBR) – 4:08:11
https://www.instagram.com/p/Bww5Sv3D3NH/
PRO WOMEN
1st – Emma Pallant (GBR) – 4:36:07
2nd – Tessa Kortekaas (NED) – 4:48:58
3rd – Celine Schaerer (SUI) – 4:51:03
4th – Caroline Livesey (GBR) – 4:52:23
Tough race yesterday. But what a smasher of a location. @ChallengeMGC has been a great experience. Would definitely recommend this race, as long as you like hills 😀
Thx @trimaxmag for 📷 pic.twitter.com/goMDLkOG7H

— Caroline Livesey (@tri_c_livesey) April 28, 2019
AGE-GROUP MEN
1st – Luis Hernandez Cano (ESP) – 4:24:35 (30-34)
2nd – Barnaby Palmer (GBR) – 4:30:43 (25-29)
3rd – Nicola Dominguez Garcia (ESP) – 4:31:33 (30-34)
4th – Ben Prioux (FRA) – 4:33:32 (40-44)
5th – Mark Livesey (GBR) – 4:35:04 (45-49)
AGE-GROUP WOMEN
1st – Katrina Rye (GBR) – 4:41:13 (25-29)
2nd – Katherine Renouf (GBR) – 4:56:25 (25-29)
3rd – Liane Van Egmond (GBR) – 5:28:06 (40-44)