Wet, wet, wet in Weymouth
(Photo credits: Huw Fairclough for IRONMAN)
On a weekend full of weather warnings and races being cancelled elsewhere, it was no surprise that the 2018 edition of IRONMAN 70.3 Weymouth saw cold, wet and windy conditions on a tough day in Dorset. The race didn't completely escape the weather, with the swim shortened to 950m on advice from the swim safety team. Conditions took their toll on the Pro field, with seven out of thirteen (men) and four out ten (women) not reaching the finish line.
Wet and rough conditions for the athletes at the #IM703Weymouth. pic.twitter.com/7RERS08WZN

— IRONMANLive (@IRONMANLive) September 23, 2018
Pro Men
The shortened swim was lead out by Germany's Nils Frommhold, with Elliot Smales – winner in Staffordshire and Dún Laoghaire – a few seconds back. Will Clarke and Fraser Cartmell were only a further 12 seconds later, but there wasn't too much to separate the bulk of the field. The early stages of the bike would provide the shape of today's racing.
In his final outing before Kona, Will Clarke had moved to the front at the half way mark, with youngster George Goodwin (winner in Vitoria) going with him. Frommhold followed at 1:25, with Elliot Smales alone in fourth, now 3:40 in arrears.
By the 40-mile mark, Clarke was alone and clear with Goodwin seemingly out of the race, his lead now up to 2:38 over Frommhold and 4:50 on Smales. Now up to fourth was Alexandre Blain (FRA) a former Pro cyclist who was actually the last Pro out of the water, just a minute behind Smales.
Looking great, disaster would strike Will Clarke with a flat. Not the result he wanted for sure – but all signs were surely there that his cycling legs are in great shape ahead of the IRONMAN World Championship.
What a shame. I was leading with 3mins+ at 75k with amazing legs and then flatted and by the time I got back on after finally fixing it was borderline hypothermic. Coldest I've ever been at a race 😔. Knew this would be a race of survival… pic.twitter.com/ymb6vQ7g3S

— Will Clarke (@Theclarke) September 23, 2018
Clarke was out – and Frommhold would be next – which lead to Blain completing his 'last to first' bike ride, reaching T2 25 seconds ahead of Smales. Sam Pictor (winner of the Outlaw Half Nottingham), Fraser Cartmell, Sam Proctor (winner of the Outlaw Half Holkham) were the next mini group in, 3:30 behind the leader.
Blain was through T2 very quickly and extended his lead, but he knew he would have some fast feet chasing. Smales was in the lead within two miles and would maintain that to the finish for his third IRONMAN 70.3 victory on the British tour this season. The two 'Sam P's' would battle for Silver and Bronze, both running very similar times, and it would be Pictor ahead of Proctor at the finish, with Blain finishing up in fifth place.
Yessssss @samproctortri ❤️

photo credit Huw Fairclough pic.twitter.com/NCspmTqFhg

— Kimberley MORRISON (@TriathlonKim) September 23, 2018
Pro Women
Former ETU European Triathlon Champion India Lee – in her debut 70.3 race – lead the way through the swim, 22 seconds ahead IRONMAN 70.3 Edinburgh winner, Fenella Langridge, who had Claire Hann (second last weekend at 70.3 Ruegen) with her. Spain's Anna Noguera Raja was alone in fourth, with a group of British athletes – Chantal Cummings, Natalie Seymour, Gemma Frost, Suzie Richards and Nikki Bartlett – closely bunched, around two and a half minutes back on the leader.
All change midway through the bike and Bartlett, Langridge and Lee were together at the head of the race, with Claire Hann now three minutes back. Just two weeks after IRONMAN Wales, Nikki Bartlett continued her powerful riding over the second half of the 90km, smashing her way to the fastest bike split, starting the run 2:19 ahead of Fenella Langridge and 3:41 clear of India Lee. How would Lee's ITU legs stack up over 21km? Pretty well…
Bartlett still in the lead and Langridge 2nd behind her. #IM703Weymouth pic.twitter.com/npv8cmSxFS

— IRONMANLive (@IRONMANLive) September 23, 2018
Lee was running faster than Langridge, who in turn was running faster than Bartlett… it was getting very close at the front of the race. By 15km Lee had finally managed to take the lead, but with Langridge just 20 seconds back and Bartlett hanging tough just a further eight seconds later, the race was very much on.
India Lee has taken over on the 2nd part of the run course and just won the #IM703Weymouth in 04:25:05. Congrats!! pic.twitter.com/o7lRFZBT5R

— IRONMANLive (@IRONMANLive) September 23, 2018
India Lee's pace was too much for Langridge and Bartlett over the final 5km – but Bartlett was not going to give up and she managed to fight back to take second place by just five seconds.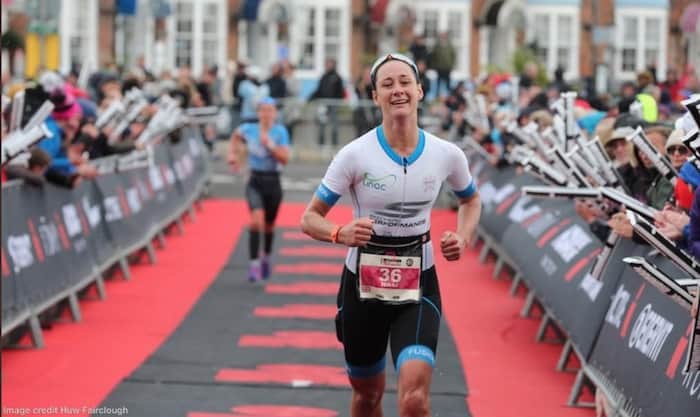 IRONMAN 70.3 Weymouth – Sunday 23rd September 2018
950m / 90km / 21.1km
Pro Men
1st – Elliot Smales (GBR) – 4:03:08
2nd – Sam Pictor (GBR) – 4:06:29
3rd – Sam Proctor (GBR) – 4:07:27
4th – Alexandre Blain (FRA) – 4:10:44
5th – Fraser Cartmell (GBR) – 4:12:42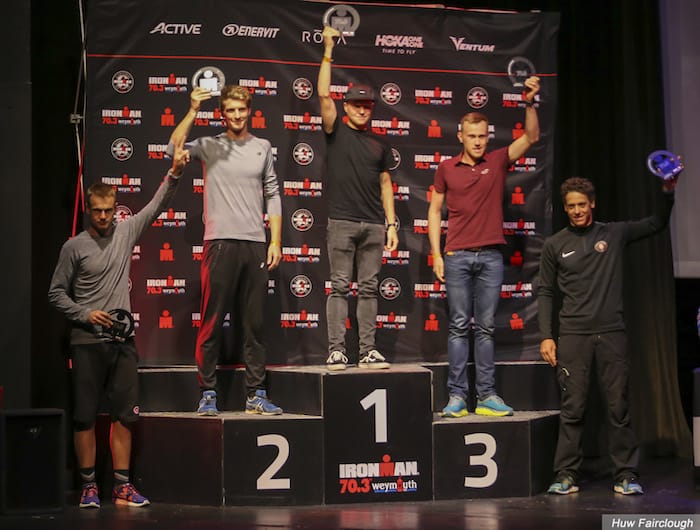 Pro Women
1st – India Lee (GBR) – 4:25:05
2nd – Nikki Bartlett (GBR) – 4:28:01
3rd – Fenella Langridge (GBR) – 4:28:06
4th – Chantal Cummings (GBR) – 4:33:46
5th – Suzie Richards (GBR) – 4:43:25