Stunning running takes Norway's Gustav Iden to World Championship Gold in Nice
A stacked field and a challenging course promised some great racing at the IRONMAN 70.3 World Championship over the weekend – and both races delivered.
Second last year in South Africa, Alistair Brownlee went into the race in great form, fitter and faster 12 months ago. He had a great race, came off the bike in a group of three, to start the run more than three minutes clear of Ben Kanute and five plus minutes ahead of everyone else. Despite that, a 1:10:43 run split was still not enough as Gustav Iden (who has ridden his regular ITU road bike with clip-on tribars), powered to a 1:08:10 split to take the title in fine style from that leading trio who were so impressive on the hills and descents around Nice.
Impressive racing from young Brit George Goodwin too. 12th place might not grab headlines, but he was mixing it with some of the very best names in the sport, finishing ahead of the likes of Andrew Starykowicz (USA), Pablo Dapena Gonzalez (ESP) and Patrick Lange (GER) to name just three. A very impressive World Championship Pro debut.
Having been away all weekend at the British Triathlon Big Weekend and only caught snapshots of the race, here is the men's event roundup courtesy of IRONMAN.
---
NORWEGIAN GUSTAV IDEN RACES TO FIRST IRONMAN 70.3 WORLD CHAMPIONSHIP VICTORY IN DRAMATIC TITLE CHASE
An epic battle unfolded on the second day of the 2019 IRONMAN®70.3® World Championship as a field of the world's top male professional triathletes took on a tough and technical course in Nice, France today. With a bike course that included multiple passes and exciting head-to-head racing, it was 23-year-old short-course specialist Gustav Iden (NOR) that claimed victory after a powerhouse performance on the bike and run. Multi-time Olympic Gold Medalist Alistair Brownlee (GBR) and local favourite Rodolphe Von Berg (USA) fought hard for the second and third spot on the podium. Approximately 3,500 male athletes were registered to race at the 2019 IRONMAN 70.3 World Championship.
Following yesterday's exciting female race, the day kicked off with ideal conditions. Due to higher water temperatures, the race featured a non-wetsuit swim. Josh Amberger (AUS) took the expected early lead in the swim, exiting the water in 23:15. Brownlee followed only two seconds behind with the chase pack of Sam Appleton (AUS), Ben Kanute (USA) and Daniel Bækkegård (DEN) following closely. The calibre of racing showed as the first 15 athletes out the water were separated by no more than 15 seconds, while other race favorites like Sebastian Kienle (GER) and Frederik van Lierde (BEL) were chasing further back in the field.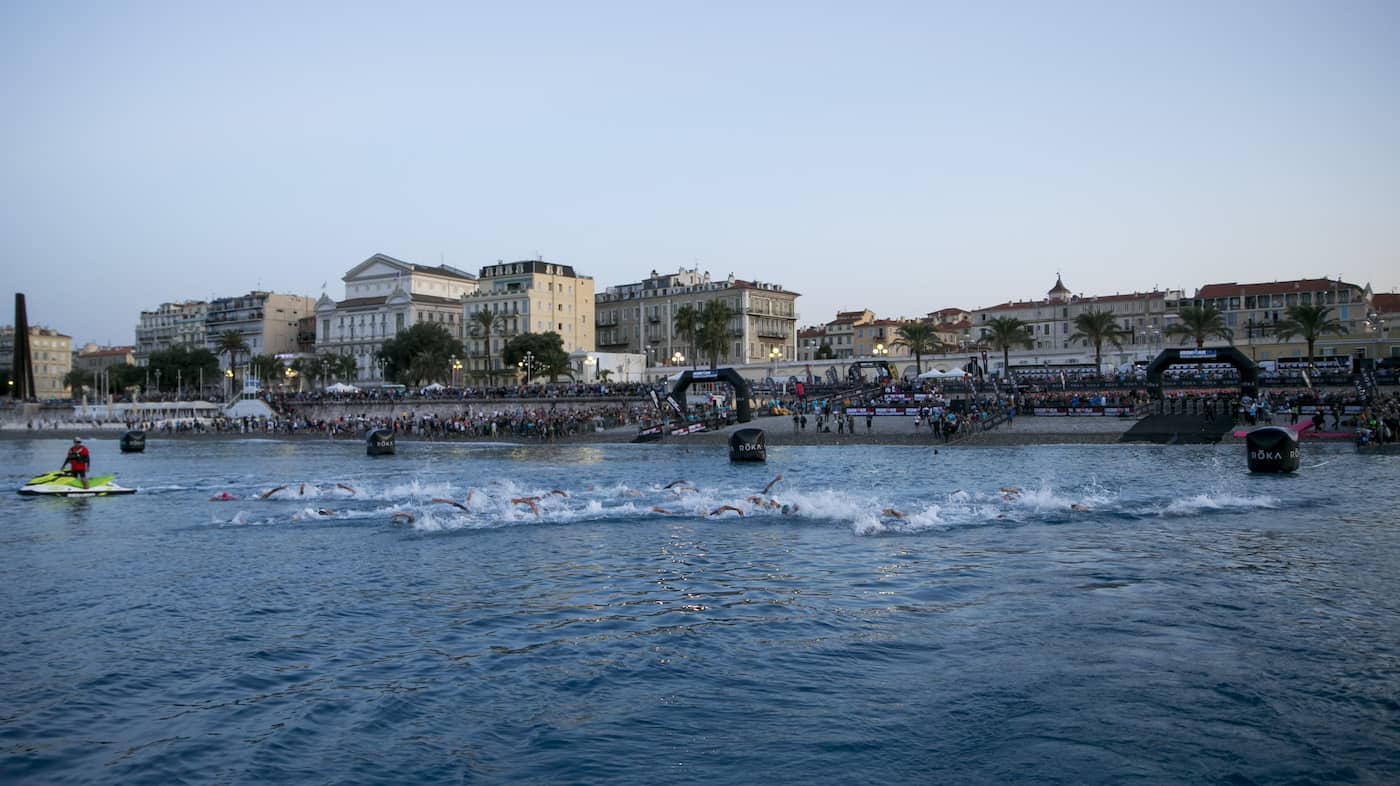 Out of transition, it was Kanute and Brownlee attacking the bike course with Kanute taking the early lead before Brownlee passed to take control of the race around 27km. Kanute was not letting Brownlee ride off uncontested, but the true threat was reeling them in from behind in the form of incredible bikers Iden and former Nice-local Von Berg.  Having grown up training on the roads in-and-around Nice, Von Berg had the home turf advantage, knowing exactly when to attack. Iden, an experienced biker and ITU athlete, was calculating his moment at the same time and passed Kanute for second place as positions changed frequently into Col de Vance. While Brownlee was looking comfortable into the climb, Von Berg saw his opportunity and made a sensational charge for the lead on the descent at about 60km – surprising Brownlee and Iden with the bold move. Von Berg's gusto paid off as he held off Brownlee, Iden and Kanute to enter Transition 2 in first place with a bike split of 02:17:24, the fastest of any pro on the day.
Having entered T2 with only seconds separating them, the race was on between Von Berg, Brownlee, and Iden. It was a battle of will and skill as the leaders ran nearly side-by-side for the first 6km – Brownlee pushed hard to gain ground, however he could never truly get away from Iden who stayed close and made his pass just before the 6km mark to take the lead of the race.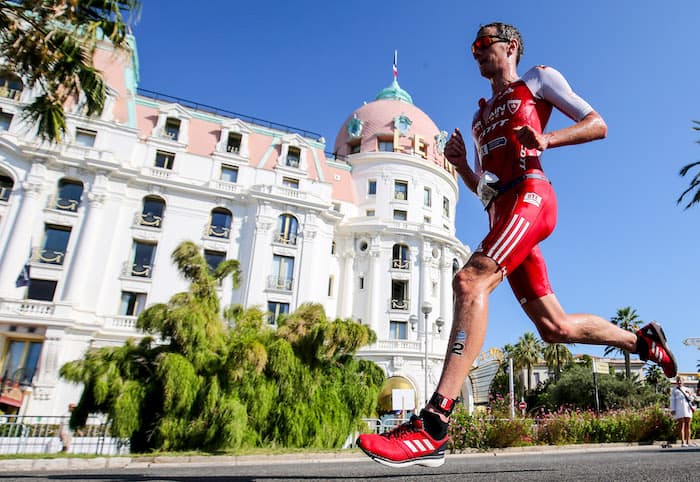 The pro male chase pack led by Von Berg was approximately 01:24 behind at 6km, but the energy expended on the bike course was starting to show as his pace slowed. While Brownlee worked hard to stay with Iden, the Norwegian's speed in the sweltering conditions was too much to beat. Iden cruised to victory in 03:52:35, putting nearly three minutes between him and his closest rival. Brownlee finished second in 03:55:19, while Von Berg claimed the last step on the podium in 03:56:45 to the delight of locals.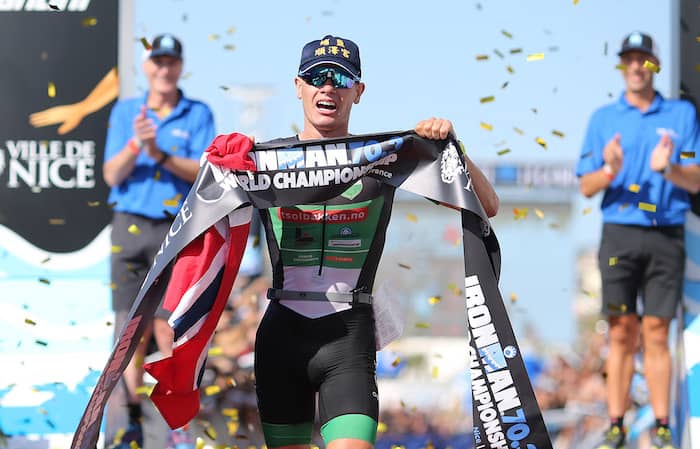 "It feels so amazing. I was joking on Instagram that I was just going to go out and go do it, but to be here as a World Champion – its unbelievable, and it's amazing," said a happy Iden on the finish line. "I was just thinking about staying in the front pack and maybe pushing a bit on the downhill. The race tactics changed during the race though! To be World Champ right now is so amazing and now I'll be focusing on the Olympics next year. I'd love to go long-distance and do an IRONMAN, and then I'll try really, really hard to win the IRONMAN World Championship in Kona one day too."
IRONMAN 70.3 World Championship, Nice, France – Sunday 8th September 2019
1.9km / 90km / 21.1km
PRO MEN
1st – Gustav Iden (NOR) – 3:52:35
2nd – Alistair Brownlee (GBR) – 3:55:19
3rd – Rodolphe Von Berg (USA) – 3:56:45
4th – Kristian Blummenfelt (NOR) – 3:59:21
5th – Sebastian Kienle (GER) – 4:00:18
6th – Bart Aernouts (BEL) – 4:01:30
7th – Javier Gomez (ESP) – 4:01:30
8th – Sam Appleton (AUS) – 4:02:15
9th – Bradley Weiss (RSA) – 4:03:09
10th – Ben Kanute (USA) – 4:04:36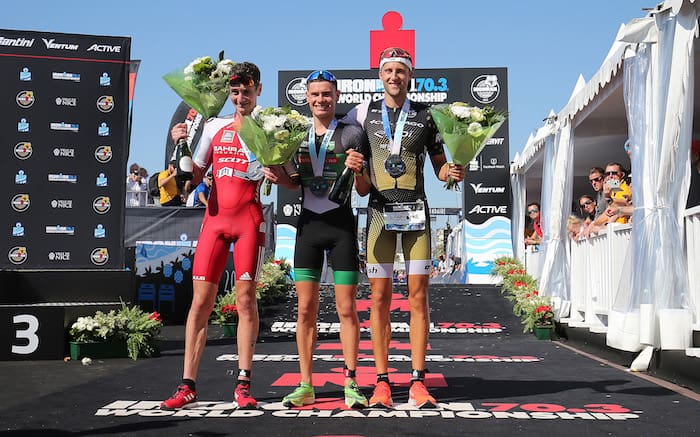 12th – George Goodwin (GBR) – 4:05:44
20th – Elliot Smales (GBR) – 4:09:47
21st – Adam Bowden (GBR) – 4:10:18
25th – Sam Pictor (GBR) – 4:14:09
30th – Thomas Davis (GBR) – 4:16:48