Three legends deliver in style in Port Elizabeth
Frodeno | Brownlee | Gomez. It doesn't get much better than that
Expectations, in truth, can often let you down. All the best ingredients can be thrown into the pot, and yet, the final dish can be significantly less than the sum of its parts. That could easily have been the case for Sunday's Male Pro race at the 2018 IRONMAN 70.3 World Championship in Port Elizabeth, South Africa.
When you have Alistair Brownlee, Jan Frodeno and Javier Gomez on the start-list, three of the true galacticos of the sport for the past decade, on-paper at least, you are looking at one of the most-anticipated showdowns of the middle-distance for many years**
(** Probably worth noting that, within their ITU racing careers, such events were completely normal – something to learn there, perhaps…?)
There is always a danger than other athletes get overlooked, that the heavyweights of the sport can't all deliver on the same day. NOT TODAY.
When a group of six athletes reached T2 together with a lead of almost five minutes over the rest of a quality field, you know that the racing is on. Respect to Sam Appleton (AUS), Ben Kanute (USA) and Pieter Heemeryck (BEL) for being part joining the legendary trio starting the run.
We couldn't have dreamed of a better race. @janfrodeno @AliBrownleetri @Jgomeznoya @sam_appo @benkanute have all reached T2 together.

Do not miss this run: https://t.co/DRAL10Rxpg pic.twitter.com/dvLjASQOLp

— IRONMAN Triathlon (@IRONMANtri) September 2, 2018
A swift T2 saw the German legend hit the half marathon first. Appleton followed with Brownlee out in third, five seconds later. Reigning champion Gomez was sluggish, and the sixth of six to start his 21km, 14 seconds later.
Frodeno looked great, Brownlee swiftly dispatched Appleton and looked even better. Within 2km he had passed Jan, pushed on and gained around five seconds. Too much, too soon? Gomez wasn't losing anything, he was soon into third place and as they went through the first 2.5km, there was less than ten seconds between them. The race that everyone wanted was happening.
Through the 2018 season, Jan Frodeno had shown exactly zero seconds of vulnerability, crushing every race, every discipline and every athlete in his path. He was far from broken… but this would truly be a race. Short on run training this year due to injury, what shape was Alistair in? Well, by 5km he had seen both Frodeno and Gomez come right by him and could now see their backs run away from him. All over, writing on the wall, meltdown? Actually, no!
We're just a few minutes into the run and the fireworks have already begun. After initially being passed by @AliBrownleetri, @janfrodeno repasses him to move back into 1st.

Watch the action live on https://t.co/DRAL10Rxpg @HOKAONEONE pic.twitter.com/JFxQDm93MU

— IRONMAN Triathlon (@IRONMANtri) September 2, 2018
Using his typical even pacing, Gomez bridged up to the shoulder of Frodeno but had no desire to pass. In truth, I'm not sure he ever lead the race today for a single second? 10km later… he was still there, Brownlee was now a minute back in third place, but having composed himself, was looking strong. Fighting back for the win was looking a challenge, but he was ready to take advantage of any fade from either Jan or Javier.
And then… Frodeno attacked. And he attacked HARD. He 'dropped the hammer' and Gomez couldn't stay with him. The gap opened, the German was pulling away, and a minute later, Gomez almost stopped. He was in big, BIG trouble, holding his stomach. Was it all over for the five-time ITU World Champion and defending champion? His chances of victory were over – but it opened the door for a resurgent Brownlee.
.@janfrodeno has made his move! 💥

Watch the last minutes of the Isuzu #IM703WC live at https://t.co/DRAL10Rxpg. pic.twitter.com/SEaHmvzmGK

— IRONMAN Triathlon (@IRONMANtri) September 2, 2018
Frodeno's effort had not broken him, he was back into rhythm and the form he has shown all year would be delivered again. He would regain the World Championship title he earned three years ago in Zell am-See. Brownlee was still looking good and regained second from his long-term rival Gomez, but the chances of a late charge for Gold was gone. Gomez was able to get through his bad patch, get back running and would complete a legendary podium.
.@AliBrownleetri checks in with @kayeman to talk about his race at the Isuzu #IM703WC. pic.twitter.com/jBKLNYSP4J

— IRONMAN Triathlon (@IRONMANtri) September 2, 2018
The run times – and yes, we have to take them with a grain of salt without a course certification certificate – were 1:06:34 for Frodeno, 1:07:40 for Brownlee and 1:08:16 for Gomez. Adam Bowden (1:10:15) was the next best, finishing in a fine seventh. Whatever the distance was, however you want to spin it, that was stunning running.
"I didn't realize Javier was gone. I was running for my life and breathing so hard I didn't hear anything myself." – @janfrodeno talks about his Isuzu #IM703WC race. pic.twitter.com/AQijQuKRnk

— IRONMAN Triathlon (@IRONMANtri) September 2, 2018
Has the bar truly been raised today in Men's 70.3 racing? Quite possibly. Please, let's not wait a full year to see it again.
IRONMAN 70.3 World Championship, Port Elizabeth, South Africa – Sunday 2nd September 2018
1.9km / 90km / 21.1km
PRO MEN
1st – Jan Frodeno (GER) – 3:36:31
2nd – Alistair Brownlee (GBR) – 3:37:42
3rd – Javier Gomez (ESP) – 3:38:27
4th – Ben Kanute (USA) – 3:42:44
5th – Pieter Heemeryck (BEL) – 3:43:06
6th – Sam Appleton (AUS) – 3:43:58
7th – Adam Bowden (GBR) – 3:48:17
8th – Braden Currie (NZL) – 3:49:17
9th – Michael Weiss (AUT) – 3:50:39
10th – Rodolphe Von Berg (USA) – 3:51:36
16th – Elliot Smales (GBR) – 3:55:43
17th – Mark Buckingham (GBR) – 3:55:50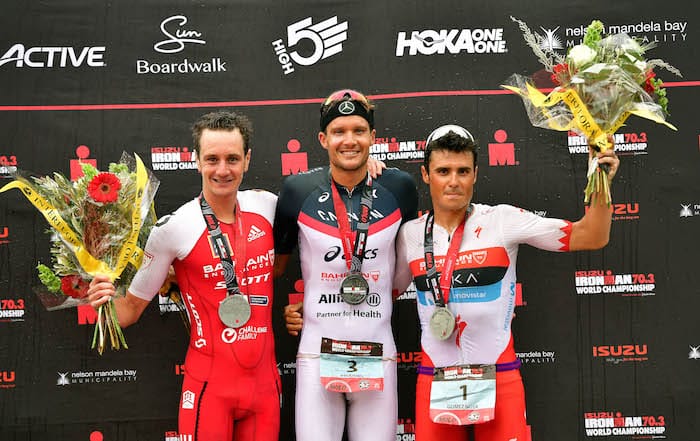 https://www.instagram.com/p/BnOPHY-BdYq/