The Orbea Ordu M20iTeam 2020 of Sam Wade
Sam Wade along with athletes such as Tom Davis, is one of the exciting crop of British talent that has made the move from specialising in short-course, draft-legal triathlon to middle-distance non-draft racing. We take a close look at his Orbea Ordu time trial race bike.
In 2018 Wade was working full-time alongside trying to move forward with his triathlon aspirations. It was his standout successes in domestic age-group racing that year (see below) which made him realise it was time to return to elite racing. Wade had previously raced at elite level during university, which included a third place at the London Triathlon in 2014 and a bronze medal at the Senior Elite Sprint Triathlon Championships in Liverpool.
2018 Age-Group Success
In short, if your first name didn't rhyme with Spam and your surname with Trade it was unlikely you were going to win a male overall AG title in 2018. Wade won the overall age-group titles in the British Triathlon Middle-Distance Championships, Triathlon England Middle-Distance Championships, British Triathlon Standard-Distance Championships, and the Triathlon England Sprint-Distance Championships, the later with a finishing time of 57.59 which was over a minute faster than the closest competition.
Since the start of 2019 Wade has been based in Cardiff with the National Triathlon Performance Centre Wales and tasted pro-success in only his second professional middle-distance race with a third-place finish at Challenge Lisboa.
Orbea Ordu
In 2021 Wade is looking to make further progress in the competitive middle-distance racing scene, and will be riding an Orbea Ordu M20iTeam 2020.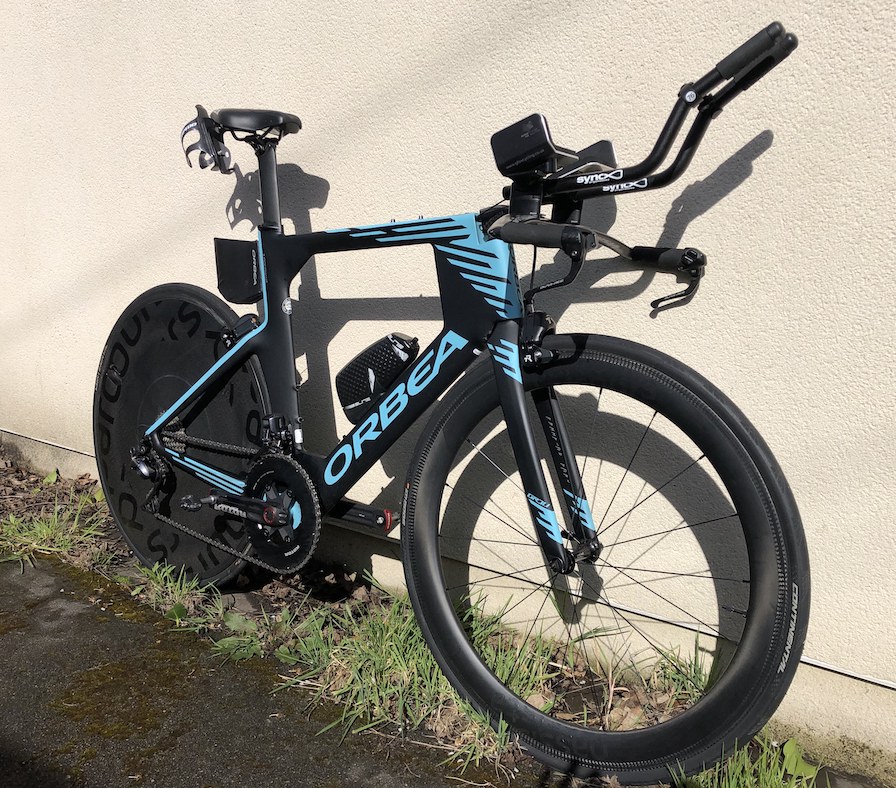 Wade's Orbdea Ordu is decked out in the colours of online training platform TrainXhale and Wade is an advocate of the bike, including its user-friendly adjustability:
"…..[I] have enjoyed its responsiveness and speed out on the road. I have been impressed by the ease at which you can make adjustments to the front end of the bike using the Vision Metron Aerobars, the TriRig Omega X aero brakes are also very user friendly and come as standard."
Brakes
TriRig brakes are renowned for their aero benefits, but Wade further explained there are also practical benefits compared to integrated brake systems:
"I am thankful to do away with the integrated brakes [on his previous race bikes] which have caused me many headaches in the past with the lack of braking power and rim rub whilst riding in wet conditions"…." the plus of rim brakes on the Ordu is that they are easy to adjust when travelling and there is no fear of disc rub which in a time trial can be a big problem."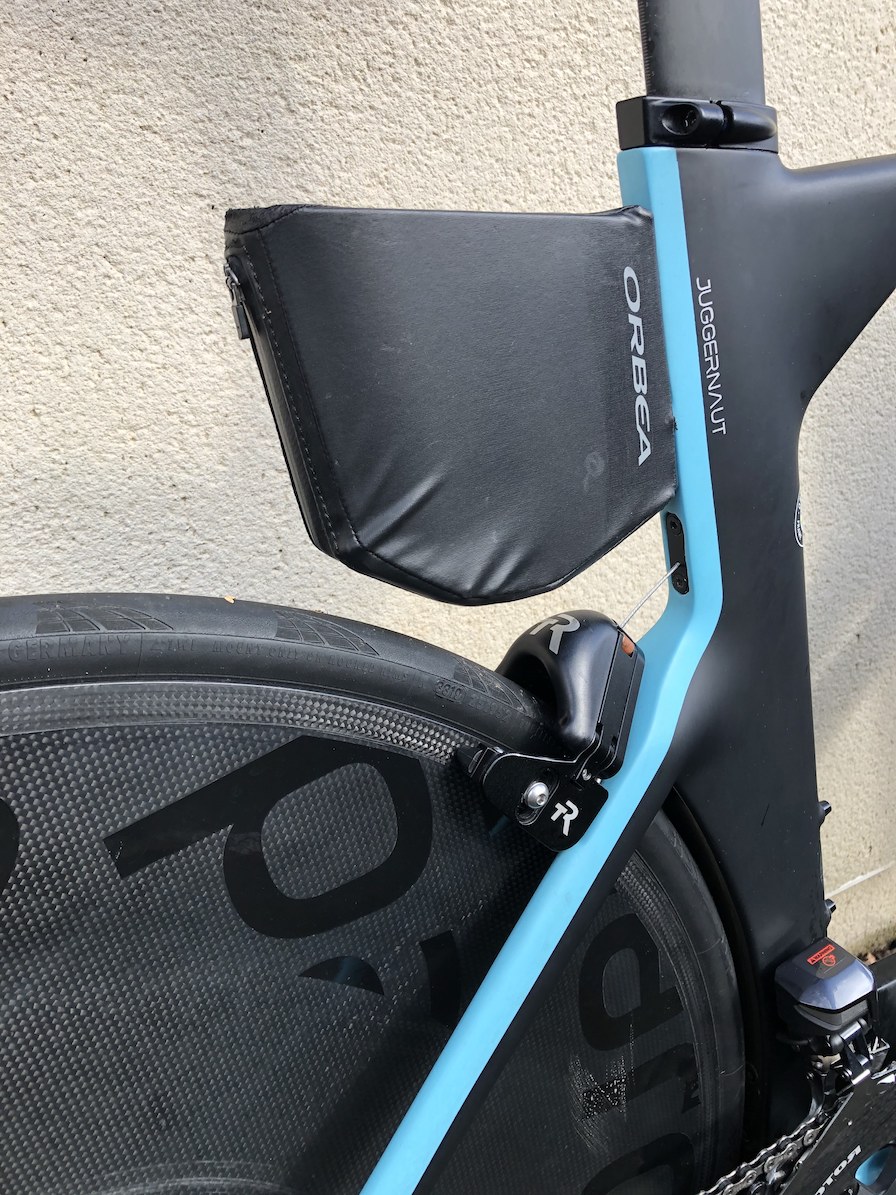 In regard to disc brakes, Wade is a convert and uses them on his road bike, and is envious of the new Orbea Ordu Disc:
"The new Orbea Ordu Disc does look incredible and I am interested to see how it compares to riding rim brakes, particularly when taking on more technical courses."
Wade is 182cm tall and often finds himself on the cusp of a medium and large frame. In this instance he opted for a large Orbea Ordu and explained the benefits:
"I am usually on the edge between sizes but I have found that being a slightly larger athlete the extra length allows me to stretch out and sink into a more comfortable and aerodynamic position."
Customisation
Wade's Orbea Ordu looks heavily customised, and the front-end of the bike is no exception. With the assistance of George Fox Cycling he has made several changes to optimise his position:
"I am using the Sync High Rise 3D Extensions with a set of George Fox Cycling high sided arm cups which have allowed me more freedom to sink into my position and push out with my arms for more stability on the bike. I have also added Sync TT grips to my aero extensions and handlebars for extra comfort."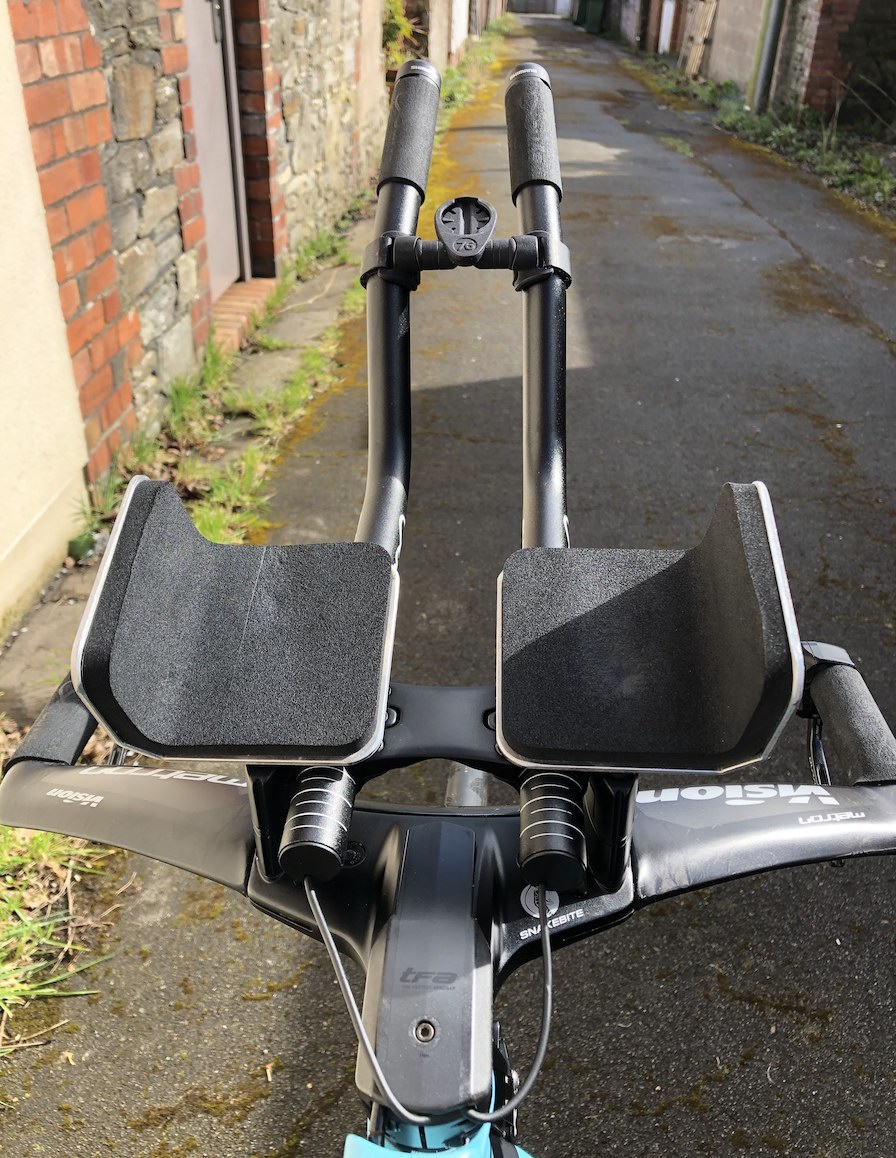 Wade described the importance of being comfortable on the bike, including how after Onit Sports had helped build his bike he carried out a DIY bike fit with limited success, and this led him to seek the services of George Fox:
"He [Fox] made some minor but very important changes to my position which increased my 'comfort' whilst in my TT position and has allowed me to sustain my position for longer periods. Over the winter I have been putting a lot of work in to be able to hold my power numbers whilst in my new position and have seen some really good progress."
Wade's Orbea Ordu is equipped with a mixture of Shimano Ultegra and Dura-Ace components. Wade has fitted gear-shifters on the end of his ski-poles and on the brake levers to allow him to change gear whilst maintain an aero position and when going up climbs or descending.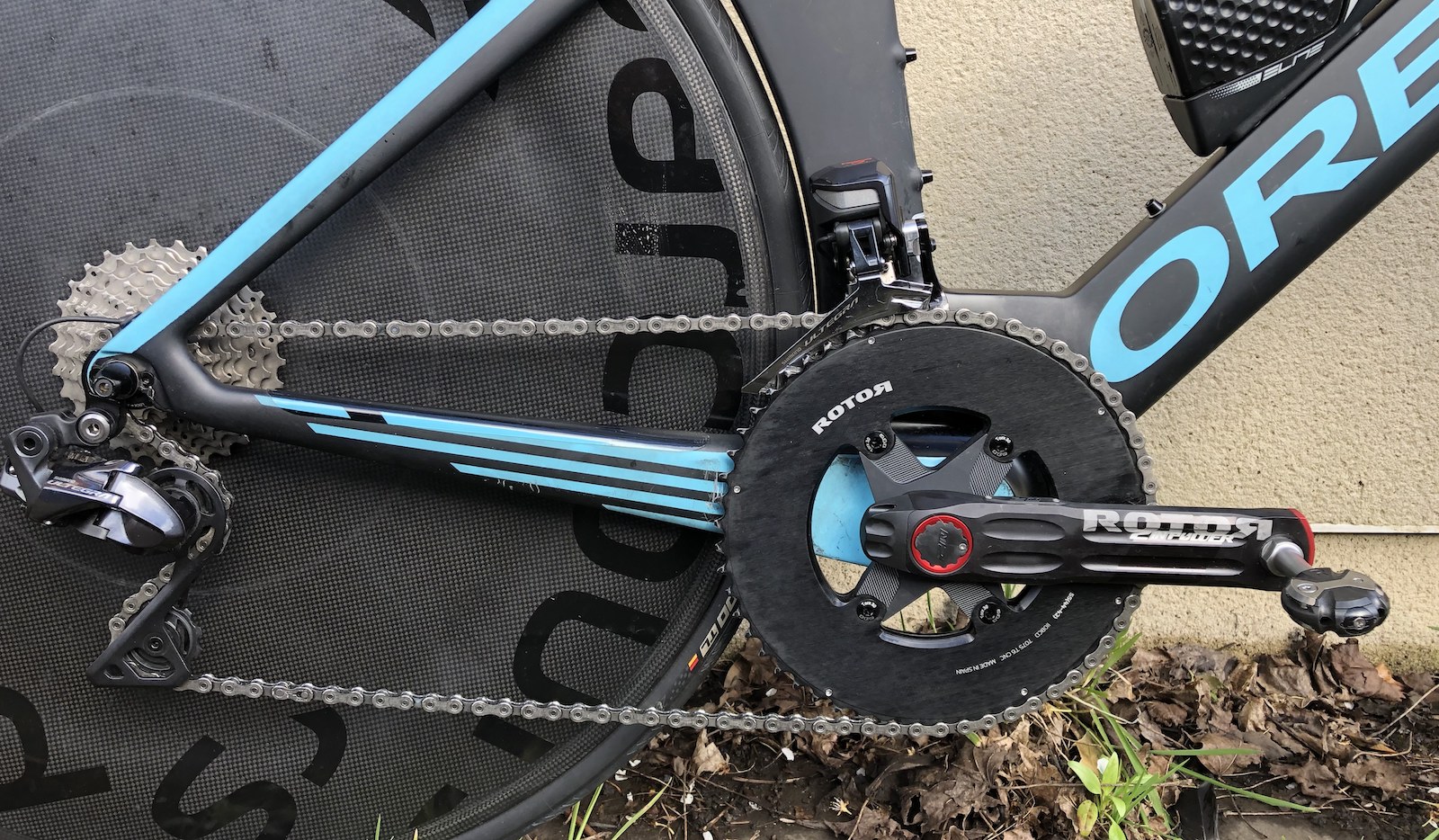 The current set-up on Wade's Orbea Ordu pairs Rotor 2INpower cranks with Rotor Aero NoQ 55-42 chainrings, whilst Wade uses a 11-30 cassette to offer the range in gears he needs:
"This is a good gearing ratio for the majority of courses and allows me to run a more efficient chain line then I would if I went for the more traditional 53-39 which I used during my days racing on the ITU circuit."
However, Wade explained that the course profiles for pro-races appears to be trending to bike legs more like Challenge Daytona and Challenge Samorin (which Wade plans to race in August), and he'll be changing his gear options accordingly:
"…for flatter courses, which are becoming more of a feature in pro racing, I will be swapping these [the Rotor Aero NoQ chainrings] out for my Aerocoach Arc Dual TT Carbon chainrings (58-44) to help improve my chain line efficiency."
Crank-wise, Wade has recently moved to 165mm from 172.5mm after researching the purported benefits of shorter cranks on the bike and when seeking to run quickly off the bike. "I decided to make the switch after reading a lot about the shorter cranks allowing for a lower body position on the bike whilst also having the added benefit of opening up the hip angle to allow for an easier transition between the bike and run," he explained.
Power Meter
Like many serious athletes Wade uses a power meter for his training, but advises against being a slave to the power numbers in a pro-race and that power isn't the only factor to make you go fast:
"I have Rotor 2INpower DM cranks to record my power and cadence data when training and racing. I use my power meter religiously during training and will have my numbers in front of me so that I can gauge my effort levels in relation to the aims of the session."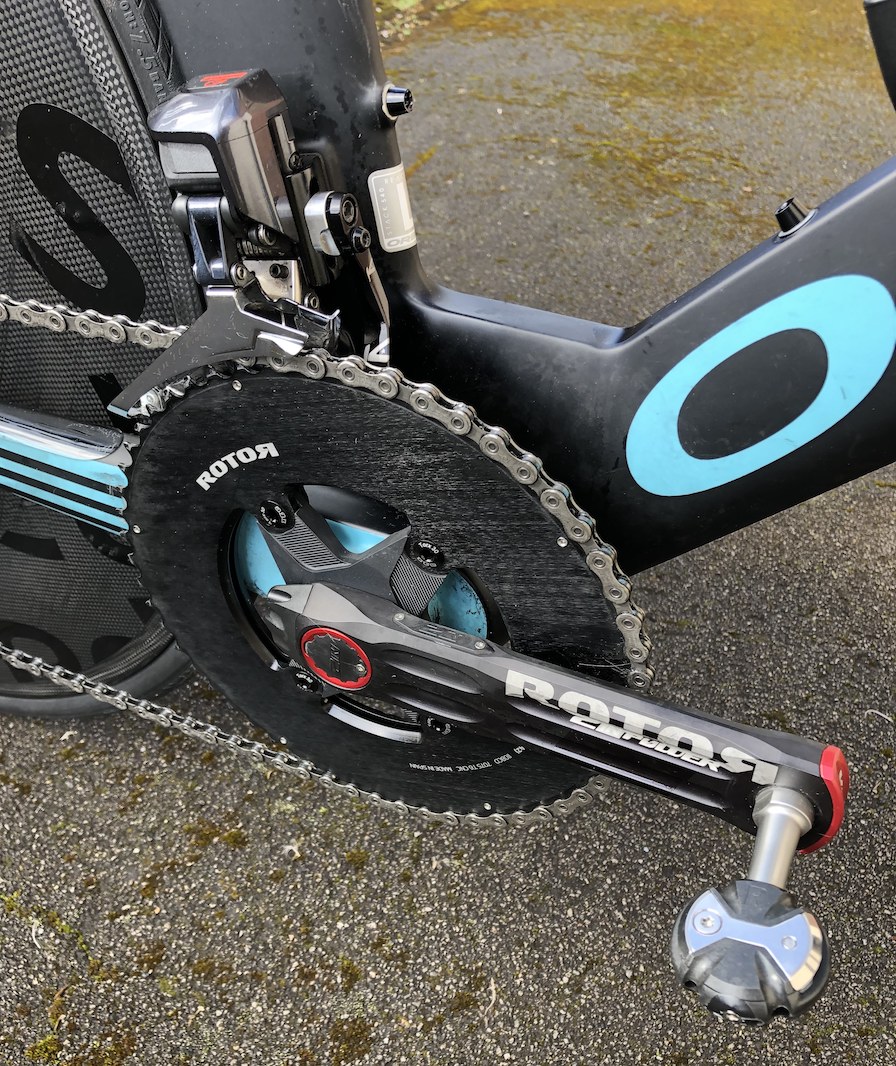 He continued: "With the intensity of pro racing and the need to push beyond your limit for large periods I mainly go off feel and average speed during race efforts whilst recording the power data to analyse afterwards. I have learnt that pushing good power is important but there are lots of other factors that contribute to going fast on a bike. I have been guilty of overanalysing myself during races if my power is not where I feel it should be and this can have a negative impact on my performance."
Wade started using a power meter back in 2015, favouring Garmin Vector pedals, but with him now using the crank based power meter, he has taken the opportunity to start using Speedplay Zero Stainless Pedals.
"After recommendations from people in the know and doing some reading on their [Speedplay pedals] benefits with adjustability, cornering clearance and slight aerodynamic advantage, with the integration into the cleat, I felt they would be worth trying out over the winter before the 2021 season kicks off to see if I got on with them," he explained.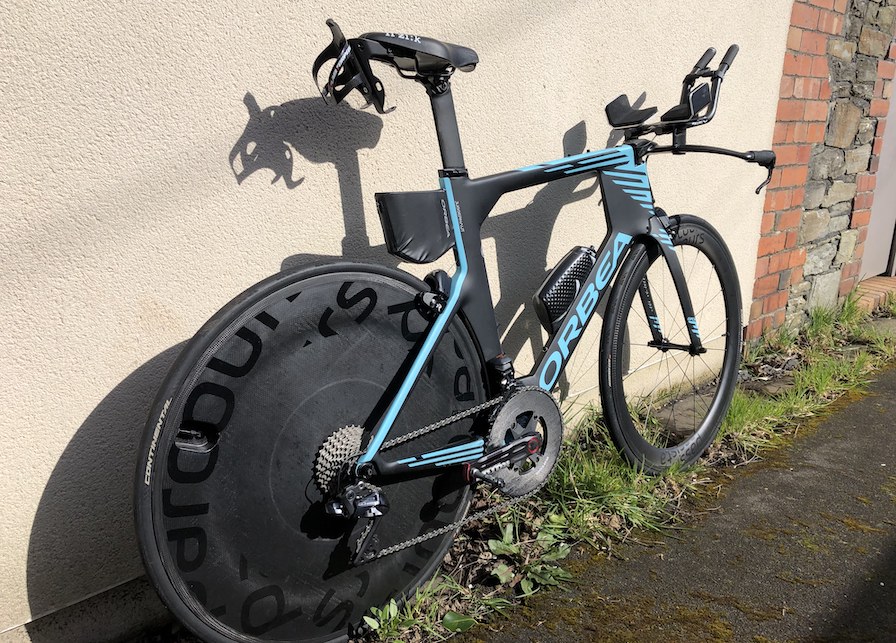 British wheel brand Parcours support Wade and for race-day he favours the combination of the 56mm deep Passista and a rear disc. Wade referred to the extent of the R & D and wind-tunnel testing Parcours undertakes and speaks highly of the wheelset in real-world scenarios: "I have only been impressed by their build quality and speed out on the race course."
In addition, when race day arrives, Wade equips his Orbea Ordu with 25mm tubeless Continental GP 5000s tyres (when training he uses 28mm clincher Continental GP 4 Season tyres) and swaps in a waxed chain.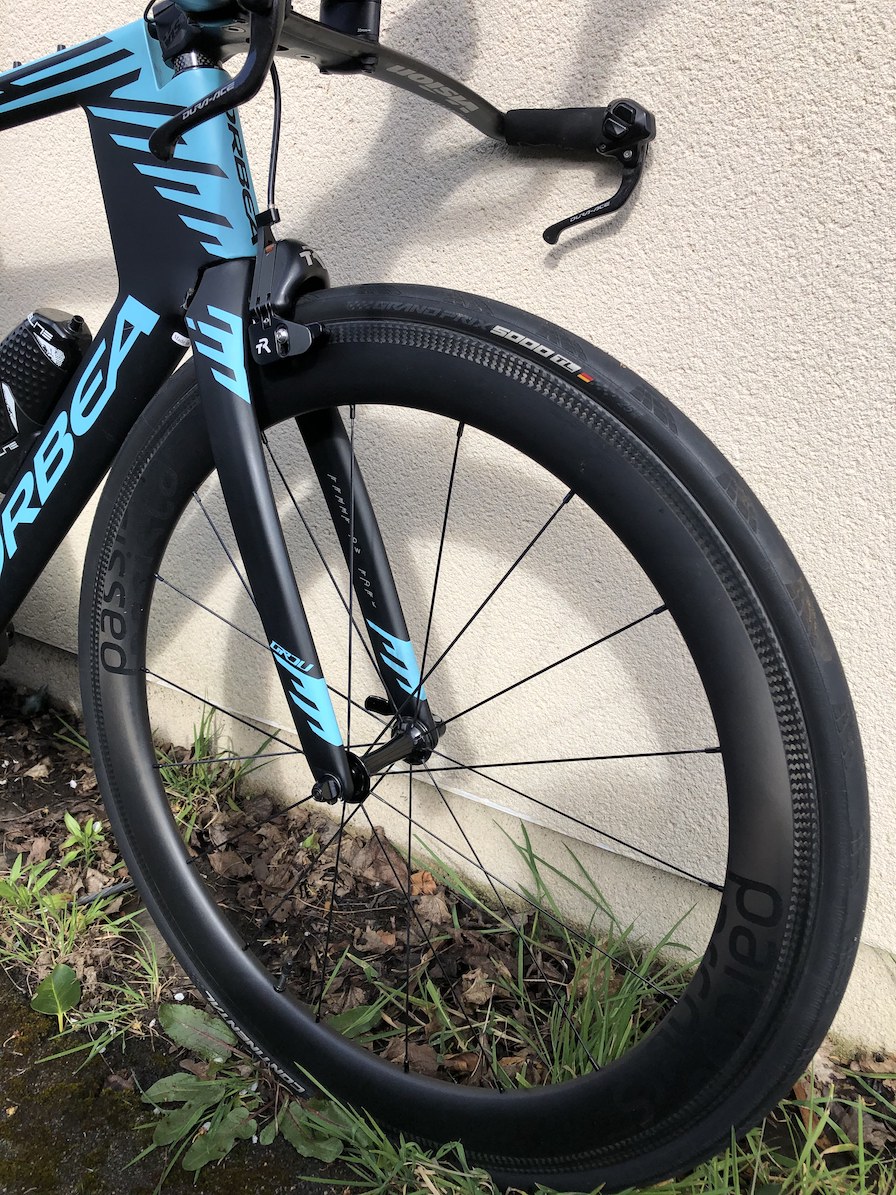 Comfort
As previously said, comfort is paramount when it comes to cycling and Wade's saddle of choice is the Fizik Transiro Mistica TT, a style of saddle he has used for several years:
"…although the one [Fizik Transiro Mistica TT] I have on my Orbea is new I have used a similar model since I started using a time trial bike back in 2014. The new iteration has a grippy surface to help reduce sliding forward on your saddle and the bottle cage attachment on the back just makes it a really good, comfortable & triathlon specific saddle."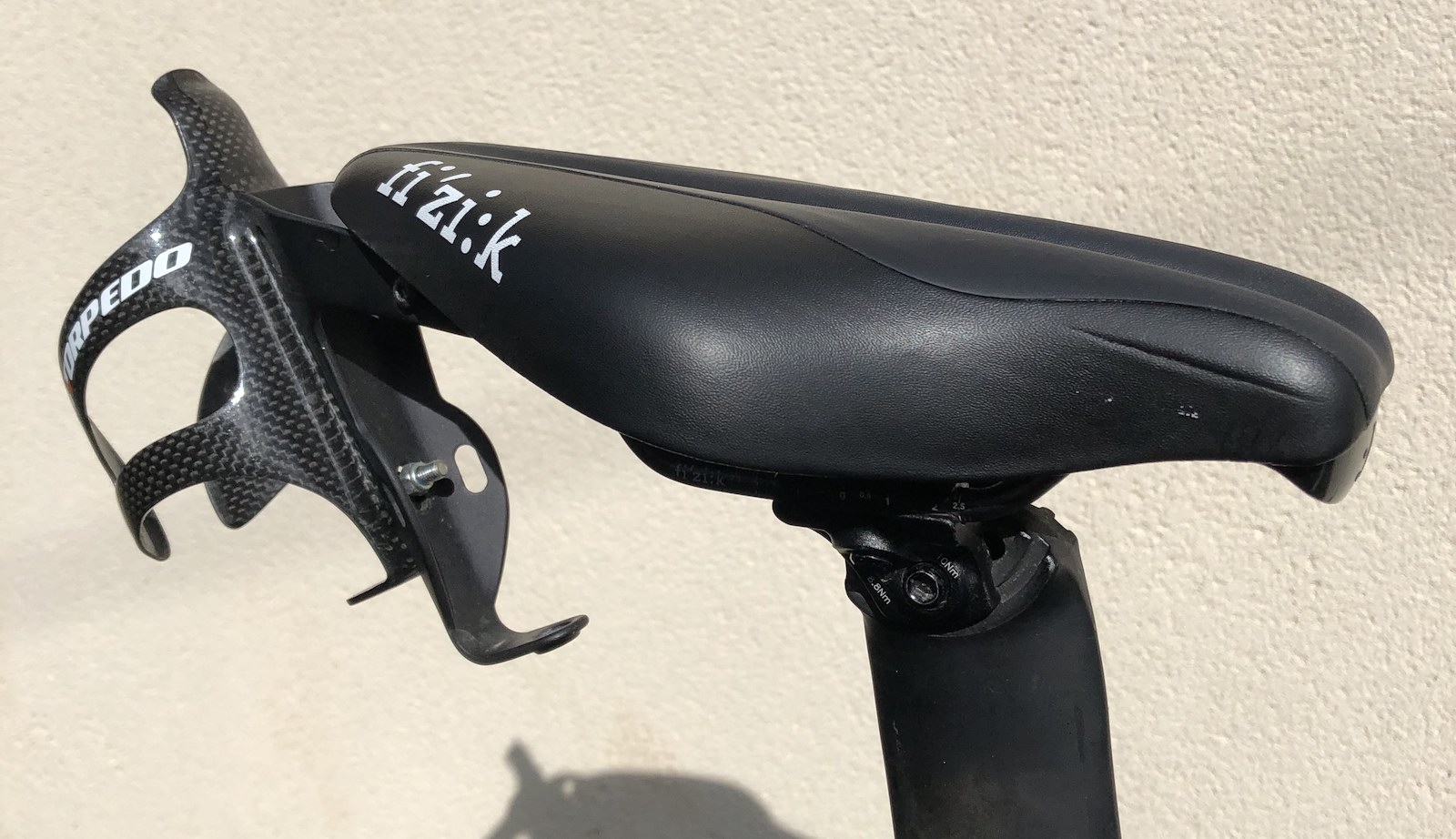 Reflecting Wade's move to middle-distance racing, he understands the importance of being able to sustain an aero position and sees the indoor trainer as a good opportunity to work on his aero tuck:
"I have always tried to use my time trial race bike on the trainer as I see it as a good opportunity to practise my aero drills as well as trying to hit my specific power numbers whilst in my racing position. Having these aero drills as a focus also helps break up the monotony off the steady indoor rides when the British winter is at its worst."
Making the move from racing for sub-2 hours to above four hours means hydration and nutrition on the bike is an important consideration. Wade shared that he had experimented with a number of different options but for this year he has settled on a three-bottle combination:
"This season I will be using an aero bottle between my arms, an aero bottle on the downtube and a standard bottle behind my saddle. My bottles usually contain one Precision Hydration PH 1500 tab in each to help keep on top of my sodium levels and avoid cramping during the bike and run. On my top tube I use a Xlab Stealth Pocket to store my nutrition which will usually just consist of 2 x 60g packets of Shot Bloks."