The Championship delivers again
What. A. Race.
The 2017 debut (HERE) of The Championship from Challenge Family delivered in fine style, and Sunday's second edition certainly did not disappoint either.
An amazing venue at the x-bionic sphere in Samorin, Slovakia, a great Pro field, 20-metre draft rule (for Pro and Age-Group athletes), slick organisation, great course and so much more make this a race that you really should have on your 'to do' list.
Full disclaimer: Yes, I was working at the event as host of the live stream, but truly, this event really does deliver. The best feedback you can get is from the athletes that made the trip and raced – check out their feedback on all of the usual social media outlets – there are a lot of very happy competitors (from 60 countries) here. The event fully deserves to grow further and is more than worthy of your support. You won't be disappointed.
Champions defend
As well as producing another great event, there was also a repeat on the top step of the podiums where Lucy Charles and Lionel Sanders retained their titles, both races following a very different pattern to 2017.
Pro Women
The first surprise of the day came one hour before race start, with news that the water temperature was 22.5°c and that meant a non-wetsuit swim for Pro athletes. That would surely change the dynamic, with several Pro's – Lucy Charles included – not having packed their swimskins 'just in case'. Of course, that made little difference to Miss Charles.
Lucy lead out of the water of course, and this year had gained a lead of more than two minutes over Annabel Luxford (AUS), Ellie Salthouse (AUS) and Radka Vodickova (CZE). A great swim from Kimberly Morrison saw her exit in fifth place, ahead of the expected main 'chase' pack (which included fellow Brits Emma Pallant, Sarah Lewis and Alice Hector). Her day got even better after a swift T1, and she started the bike in fourth, ahead of last years Silver medallist, Luxford. Charles and Morrison were definitely the 'winners' in the water.
Morrison managed to make up a little time of Charles over the first quarter of the race, but from then on they were moving at almost the same speed – and faster than everyone else. Morrison took the fastest bike split (2:12:35), with Charles only a few seconds slower (2:12:58). For me, probably the best bike performance of her career to date from Lucy, when measured against someone of the proven ability of Morrison. Not bad for a 'swimmer'…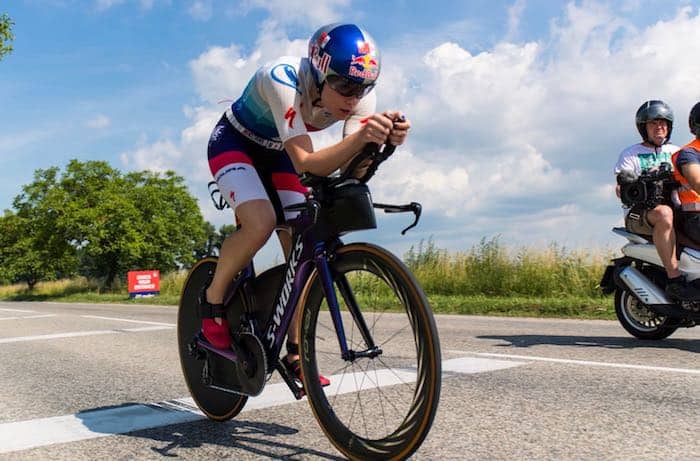 Morrison reached T2 2:20 behind Charles, with Heather Wurtele (CAN) and Radka Vodickova (CZE) five minutes behind the defending champion. The danger – if there was going to be one – would likely come from the next trio of Anne Haug (GER), Emma Pallant (GBR) and Kaisa Sali (FIN). Haug in particular has looked peerless in her short middle distance career to date, is a fan of the heat too – but would almost seven and a half minutes be too much of a gap?
Charles looked great on the run. Into a good rhythm, strong and with a big lead to control. Haug did indeed run fantastically – a 1:15:56 split – but Lucy had it under control and her 1:21:33 was more than enough to take the win. Haug finished strongly for second, while new mum in January, Radka Vodickova (CZE), surprised everyone – herself included – to take an ecstatic third place.
Pro Men
Lionel Sanders having a deficit from the swim isn't news (despite his significant improvements over the past 18 months). The significance was that he was 1:45 further back than Sebastian Kienle (GER). Had he lost the race within the first 30 minutes?
The first 45km saw a lead group of four – Florian Angert (GER), Maurice Clavel (GER), Sam Appleton (AUS) and Pieter Heemeryck (BEL). Riding strongly, with the benefit of a tailwind – and fairly too, more than sticking to the 20-metre drafting rules – they were not waiting around for the expected Kienle / Sanders express.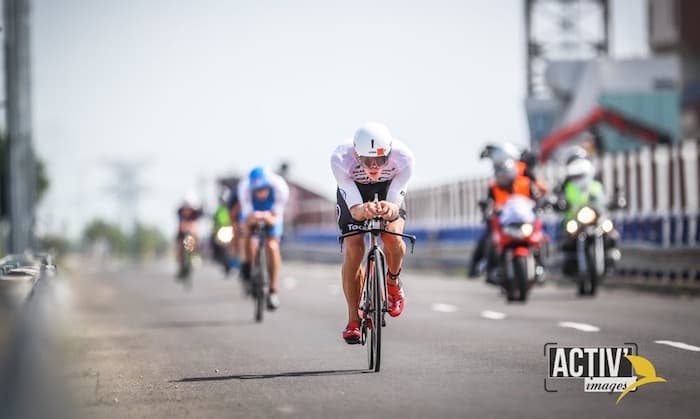 On the return leg, second year Pro Florian Angert (GER) was putting his cards on the table. He pulled clear and would reach T2 with a two minute advantage. Kienle eventually bridged up to the remaining trio of leaders, and he had Antony Costes (FRA) with him. He powered into second place with around 10km of the bike left – but everyone dug deep and Kienle, Clavel, Appleton, Heemeryck and Costes arrived in close order.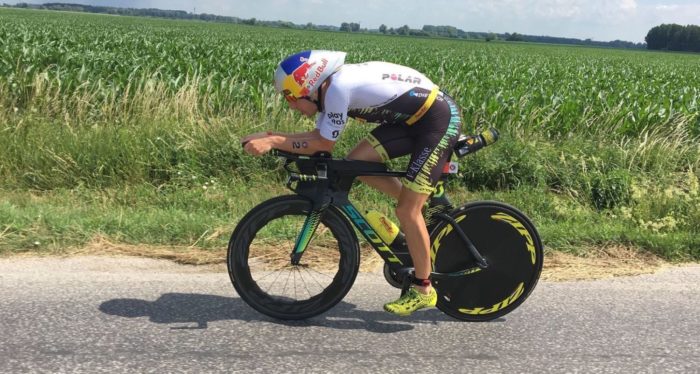 Despite the fastest bike split (1:58:15), Sanders arrived more than three minutes in arrears and in seventh place. It's a long time since that has happened.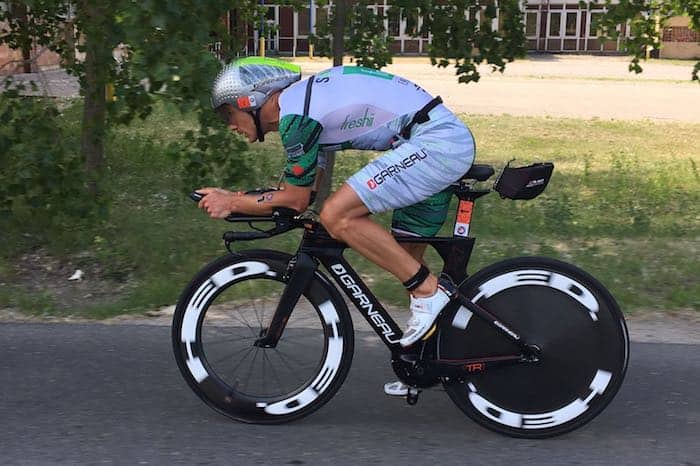 A second year Pro, Angert was showing no fear against the established stars and started the run well. However, 'well' was not going to be enough today, with Kienle and Sanders amongst those chasing you down.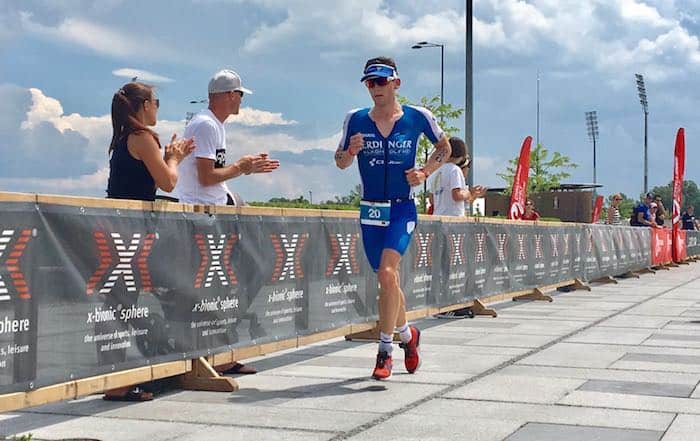 Last year it took Lionel 15km to finally drop Sebastian on the run. This year it took him a full 17km simply to catch him. This was brutal racing. Sanders tried to move straight past, but Kienle was ready and didn't let him go. Was this going to be a 'McCormack / Raelert' moment from Kona 2010? We still didn't know.
A kilometre later and the race took another turn – Sebi attacked, and Lionel had to deep (even) deeper to stay with him. Amazing. However, that would prove to be the last throw of his competitive dice and soon after Lionel sensed that and pushed on. This time, the gap grew and Kienle had no response. Last year had been a sensational race. This year? Probably even better.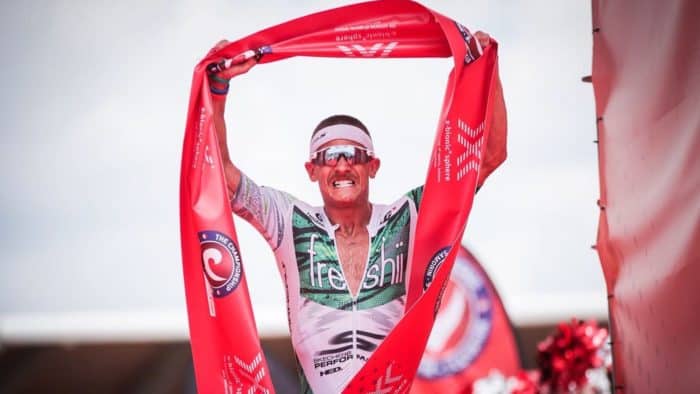 The Championship, Samorin, Slovakia – Sunday 3rd June 2018
1.9km / 90km / 21.1km
PRO WOMEN
1st – Lucy Charles (GBR) – 4:06:10
2nd – Anne Haug (GER) – 4:07:58
3rd – Radka Vodickova (CZE) – 4:11:40
4th – Emma Pallant (GBR) – 4:12:50
5th – Kaisa Sali (FIN) – 4:13:59
6th – Heather Wurtele (CAN) – 4:15:13
7th – Kimberley Morrison (GBR) – 4:19:19
8th – Katrien Verstuyft (BEL) – 4:25:53
9th – Sarah Lewis (GBR) – 4:27:36
10th – Ellie Salthouse (AUS) – 4:28:40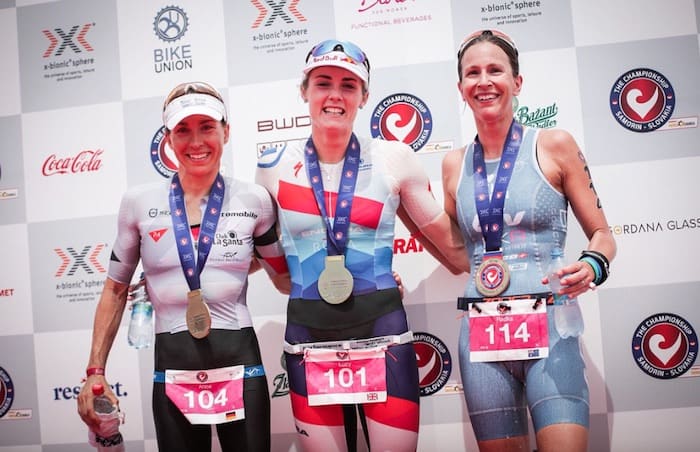 PRO MEN
1st – Lionel Sanders (CAN) – 3:43:28
2nd – Sebastian Kienle (GER) – 3:44:32
3rd – Florian Angert (GER) – 3:47:22
4th – Pieter Heemeryck (BEL) – 3:48:50
5th – Maurice Clavel (BEL) – 3:49:49
6th – Anthony Costes (FRA) – 3:50:45
7th – Michael Raelert (GER) – 3:51:17
8th – Adam Bowden (GBR) – 3:51:28
9th – Andreas Dreitz (GER) – 3:54:09
10th – Ivan Kalashnikov (RUS) – 3:54:41