I said in my pre-race preview for Sunday's IRONMAN 70.3 Gdynia 2021, that Poland had proven a happy hunting ground for British athletes James Teagle and Lucy Hall.
Early this year, they took first and second respectively at LOTTO Challenge Gdansk. Even better news on Sunday, with both topping the podium, this time on the Baltic coast.
Three in a row for Teagle
James followed up his Gdansk victory on home soil in July, brushing off any pre-race favourite pressure with a dominant win at the PTO-supported Outlaw Half Holkham in North Norfolk. He'll likely be taking another step up the PTO Rankings after Sunday's efforts.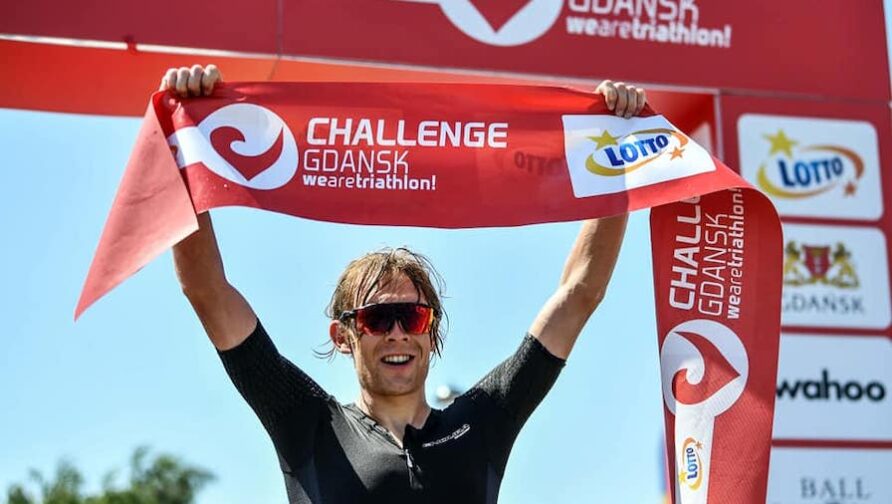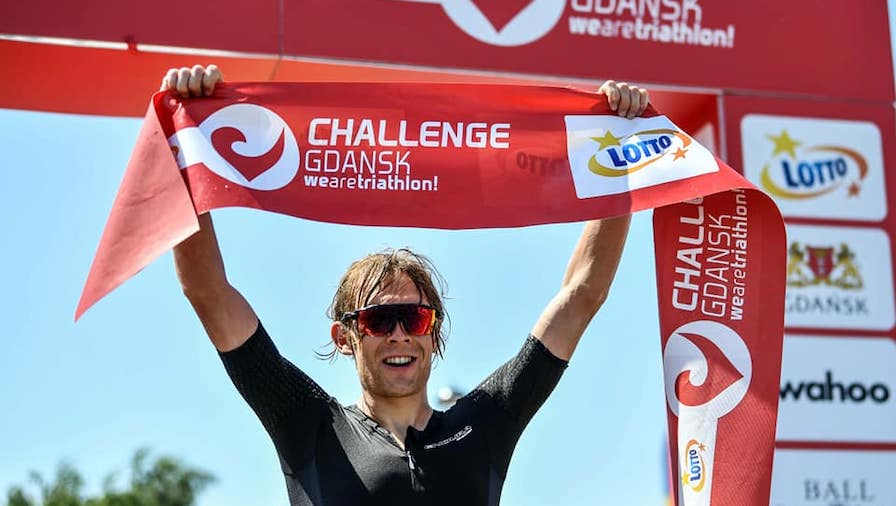 No break in the swim for the men, where eight athletes – including Teagle and Ireland's Chris Mintern – reached T1 separated by just 10 seconds. Sweden's Robert Kallinn was a minute further back.
If the swim changed little, the bike leg blew up the race. Teagle soon made his way to the front, and would complete the majority of the 90km alone, reaching T2 in first place following a 2:06:17 split. Sweden's Kallinn was a touch quicker, leaving him just 35 seconds back, but crucially they had separated themselves from the field. Chris Mintern led the chasing group of seven athletes more than five minutes back. That included former Grand Tour pro cyclist Adam Hansen. [UPDATE – Robert Kallinn also had to recover from a crash on the bike, while leading].
Teagle (1:16:34) and Kallinn (1:17:21) both ran solidly to ensure no changes to first and second over the 21km, while behind, Ireland's Mintern came out on top of a real battle to complete the podium, with 3rd-6th separated by just 35 seconds.
Lucy Hall plays 'Catch me if you can'
Lucy Hall was an Olympian at 20 years of age, nine years ago now at London 2012. One of the best swimmers in the sport, she has been making the transition to middle distance events over the past couple of years.
As well as her Gdansk silver, she was also second at the PTO-supported Dorney Triathlon in June. She would turn silver into gold here with a gun-to-tape victory.
If the swim had little impact on the men's race, the contrast couldn't have been greater for the women. Hall powered through the 1.9km to build a lead of almost five minutes over home athlete Aleksandra Jedrzejewska, and would never be seen again.
Hall can also ride strongly too, and 90km and 2:21:51 later, she was entering T2 with a lead doubled to a mammoth 10 minutes over Jedrzejewska, Katrien Verstuyf (BEL) and Margie Santimaria (ITA).
While Jedrzejewska made up time with a race-best 1:19:40 run, she was still four minutes back on the British athlete at the finish, which represented a first Pro victory over the longer distances for Hall.
IRONMAN 70.3 Gdynia 2021 Results
Sunday August 8, 2021 – 1.9km / 90km / 21.1km
PRO MEN
James Teagle (GBR) – 3:51:54
Robert Kallinn (SWE) – 3:53:15
Chris Mintern (IRL) – 3:56:38
Kacper Stepniak (POL) – 3:56:52
Sergiy Kurochkin (UKR) – 3:57:01
PRO WOMEN
Lucy Hall (GBR) – 4:18:45
Aleksandra Jedrzejewska (POL) – 4:22:44
Katrien Verstuyft (BEL) – 4:30:30
Margie Santimaria (ITA) – 4:34:19
Mariella Sawyer (RSA) – 4:36:24