James Teagle and Ruth Astle claimed excellent victories and course records at the Outlaw Half Holkham on Sunday.
The pair both ran out convincing winners of the PTO-supported event in Norfolk – taking home £1800 each in prize money.
PTO Men – Teagle follows up
Teagle followed up his recent Challenge Gdansk success with a comfortable win here, coming home in 3:52:13, more than three minutes clear of Kieran Lindars, who himself was following up on a top-10 finish at Dorney Lake last month. Sam Wade grabbed the final spot on the podium.
Coming out of the water Teagle was positioned well, and a 2:10:17 bike split kept him right in contention. He would make a decisive move on the final run leg.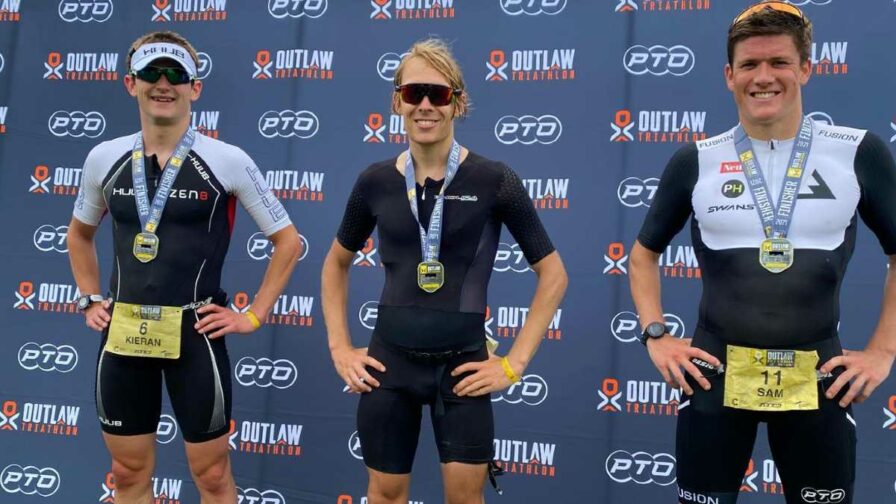 Teagle's run split of 1:14:44 was the best of the day and allowed him to take control at the head of the field to complete a convincing victory.
PTO Women – Astle dominates
Astle ran out a convincing winner, mainly thanks to a superb run which put the issue firmly beyond doubt.
Ruth (28:57) came out of the water just 10 seconds behind eventual second Kimberley Morrison (28:47), and those two then produced fireworks on the bike to go clear at the front. Ruth's 2:22:05 split was 25 seconds quicker than Morrison's 2:22:30.
When the field headed out of T2 Astle would take control as she dominated on the final leg, producing a run split of 1:26:36 – almost 12 minutes faster than Morrison's 1:38:28.
Elite – Palmer, Weston and Lord star
There were great performances from the Elite ranks too, where Harry Palmer set the fourth fastest time overall for men, while Rosie Weston and Hannah Lord were the second and third fastest women overall.
That should enable Rosie to claim a Pro licence, which was her pre-race objective. Harry follows up on an excellent fourth place overall at the Outlaw Half Nottingham, while Lord's effort was her first start over the middle distance. Watch out for her in months and years to come.
Future stars? Kings Lynn Youth excel
The Relay event in Holkham saw a cracking performance from the youngsters of Kings Lynn Triathlon Club. Their team was Esmie Kidman (14) on the swim. Her time of 27:10 was only beaten by two of the Elite female wave.
She handed over cycling duties to Elliot Hibell, who has only been riding for a year with a longest previous TT effort of 25-miles!
The half marathon was then completed by Mitchell Bunn (18) who also runs for Renegade Runners, who bought the team home with a 1:20 run and fantastic overall finishing time of 4:05:32. Impressive work all round!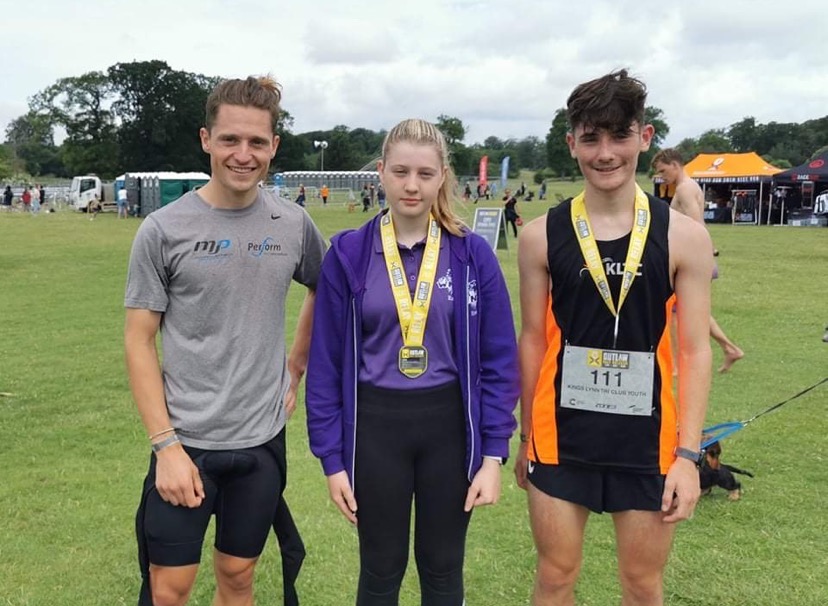 Outlaw Half Holkham Results 2021
Sunday July 4, 2021
PTO Men
James Teagle 3:52:13
Kieran Lindars 3:55:48
Sam Wade 3:56:32
William Draper 3:59:00
James Scott-Farrington 3:59:18
PTO Women
Ruth Astle 4:20:27
Kimberley Morrison 4:32:52
Claire Weller 4:40:34
Henny Tarasewicz 4:49:51
Elite Men
Harry Palmer 3:57:55
Andrew Horsfall-Turner 4:01:46
Hugh Brashaw 4:02:24
William Cowen 4:05:42
Alex Woodman 4:07:15
Elite Women
Rosie Weston 4:28:36
Hannah Lord 4:31:50
Lucy Davies 4:38:26
Lauren Wilson 4:41:19
Bex Rimmington 4:42:32