"It's been a bit of a globe trot to get here," says Max Stapley of how he landed at his current training base of Leeds and the prospect of representing Team GB in 2023.
And no wonder – he was born in France, grew up in Canada and Australia but is now in the process of switching allegiance to the GB trisuit.
We caught up with him to find out more about that journey and look ahead to what the immediate future holds.
Making his mark
The 2022 season ended with sixth place in the U23 World Championships in Abu Dhabi, in the neutral strip of World Triathlon, as he helped animate the race in the select front group on the run.
His swim time was two seconds faster than eventual winner Connor Bentley, they had identical splits on the bike and it was only the 10km run that made the difference – Bentley clocking 30:57 to Stapley's 31:37.
Fine margins but things going in the right direction is very much a theme of the year.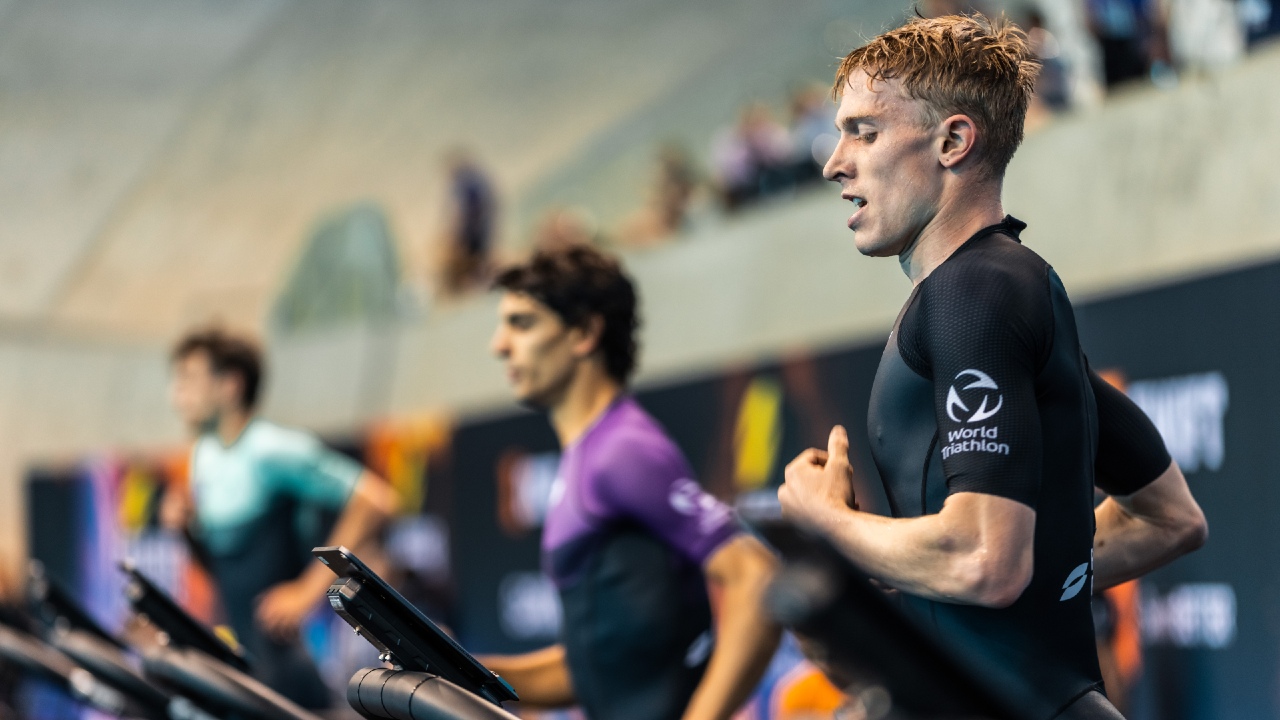 Rewinding to the start of the season, Max explains: "I kicked off my year a bit unconventionally. I hadn't planned to go to the Arena Games but then was suddenly on the podium in Munich [Ed: a close second behind Aurelien Raphael] and that flowed on to a top five in London and ninth in the final in Singapore, so sixth in the series overall which was super special. It was my first involvement with Super League and really helped me shoot up the World Triathlon rankings so that I was in the top-70 for the first time.
"And then following that I had some decent results at the French Grand Prix. But, unfortunately my World Cup results this year haven't been where I wanted them for one reason or another. I think performing really well at the Arena Games might have cost me a bit in Arzachena and then at Pontevedra I didn't have that bad a race, but was just lacking in that final two kilometres of the run which pushed me out of the top 10, and then I got a bit ill before Bergen. That all sounds like a bunch of excuses but it's just the story!"
Macca a big influence
The globetrotting has also included a detour to Dresden for the Sub7Sub8 project where his swimming prowess helped Joe Skipper in the build up, all the result of a chat with Chris McCormack at that Arena Games finale in Singapore.
"Macca asked me if I'd head there and it was an incredible experience. Seeing the professionalism of the bike time trial crew led by Dan Bigham – it was unreal and opened my eyes to a whole new way of thinking. I think it's great when something new like that comes to the sport.
"I was in awe all weekend. So much of what we do and potentially take for granted is down to Chris – Super League, Arena Games, Sub7Sub8, he does such a great job with innovation. All kudos to him. He brings so much to the sport. We're a sport that needs to grow and initiatives like those do exactly that."
Stapley suffered a couple of crashes in the SLT campaign but also got in the mix a couple of times too – again citing it as all part of the learning curve.
He said: "It's been an extremely enriching experience, travelling the world and racing the best guys day in, day out. After that crash in London, I was 12th and 11th in the next two which is there or thereabouts where I am against these guys at the moment, fighting for those eighth to 12th positions.
"And you're not actually that far off when you look back at the races, they are tiny margins. For instance at Malibu I was 13 or 14 seconds off Hayden [Wilde] after the swim in the last leg. So you're 11th position-wise but you're not miles back from a time perspective, which is encouraging for the years to come."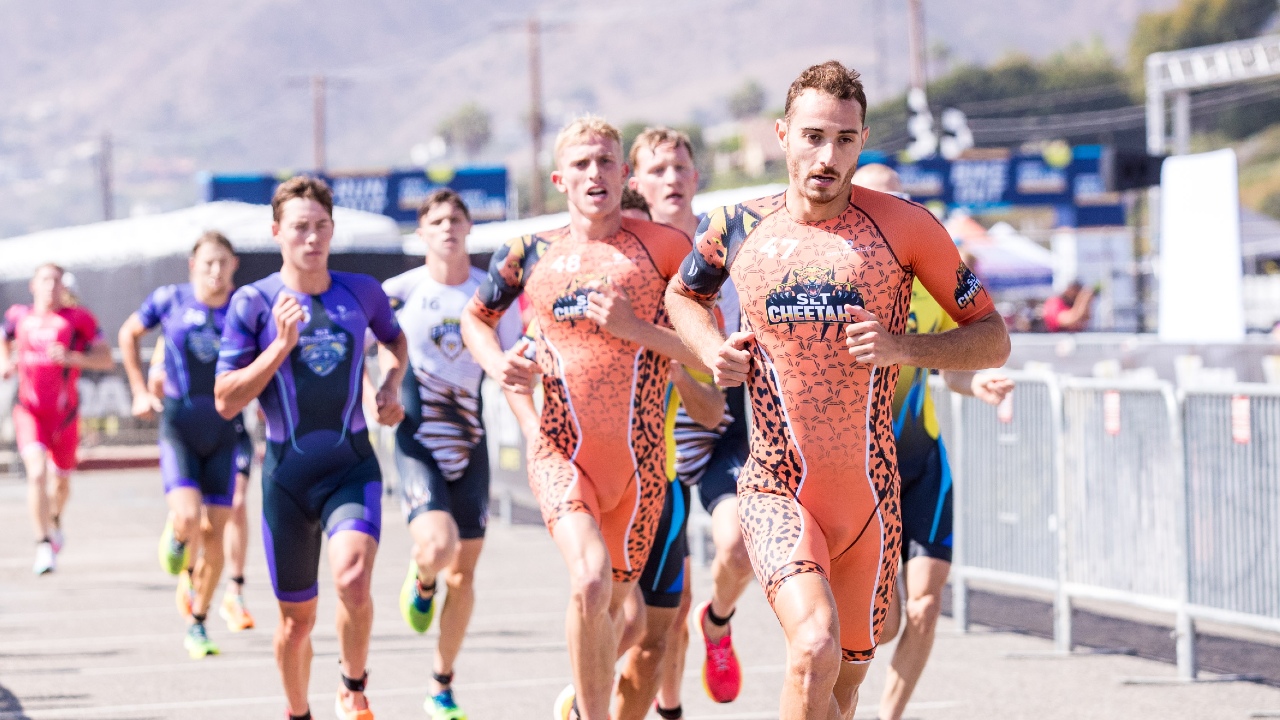 And Stapley knows the area he needs to focus on, explaining: "The men's racing at this moment is looking very run-orientated so realistically over the Olympic distance you need to be looking at running 30 minutes and fractions to be competitive and over 5k something like 14:15, 14:20 off the bike. So realistically you need to look at yourself and say 'right, it's time to gear it up'.
"So I'm looking to go away to South Africa in mid-February and making sure I get that big running block on a soft surface."
Leeds now home
And despite being only 23 his wide-ranging experiences, both culturally and training-wise, should stand him in good stead.
He ran the show at the team presentations at SLT Toulouse when he took over the mic and introduced his fellow athletes in fluent and super-knowledgeable French, while he's also picked up plenty from his various triathlon training groups.
He said: "It's kind of been a bit of a globe trot to get here. I've been fortunate to train with plenty of different groups and learned a great deal from each of them."
One of those stints was with Jamie Turner and the famous Wollongong Wizards – the New South Wales training group that helped develop the likes of Aaron Royle, Ashleigh Gentle and Jake Birtwhistle, as well as 2016 Olympic champion Gwen Jorgenson.
But back to the here and now – how has he found himself based in Leeds and poised to represent Team GB?
The first part of that equation is simple: "I've landed in Leeds purely thanks to Kate [Waugh, his girlfriend, who was crowned U23 World Champion in Abu Dhabi last month].
"I visited her late in 2021 and trained for two to three weeks and just decided to stay.
"The set up is so good in terms of the support and the group, there is nowhere else in the world where you get that sort of support, especially as a non-funded athlete. When I was offered the spot I just couldn't turn it down."
And in terms of the second part of the question, he explains: "I got to May last year and my Australian passport wasn't granted so I'm currently – despite the way I sound – not an Australian at all. That therefore rules me out of participation at the World Championships, the Olympic Games, the Commonwealth Games.
"And the immigration laws in Australia would just make it physically impossible for me to get the passport – I would have had to spend a lot of time in Australia, miss racing and it wouldn't have worked.
"So I thought I've got a British passport, now live in Leeds and the federation is more than happy to have me so let's just make the move. Realistically you're entitled to do what's best for you as an athlete with the passports you have. So crossing my fingers for a positive outcome and looking at being in a GB suit by mid-May next year."
A gifted young athlete, getting better year on year, 2023 promises much in the fascinating triathlon journey of Max Stapley.