You'll rarely see her without a smile, but British long distance triathlete, Nikki Bartlett, has even more to be happy about with a great start to her 2021 season. The winner of IRONMAN Lanzarote and IRONMAN 70.3 Dun Laoghaire has just been announced as the latest Brit to join the Team ERDINGER Alkoholfrei elite squad, alongside Tom Davis.
Given the difficulties of 2020 and the uncertainties that lay ahead for 2021 at the time of writing, credit too to ERDINGER Alkoholfrei for their continued investment in the sport at all levels. Hopefully it won't be too long until we can all enjoy a refreshing isotonic recovery 'pint' at a finish line in the sun!
---
Nikki Bartlett latest triathlete star to join Team ERDINGER Alkoholfrei
Loughborough-based pro Nikki Bartlett has become the latest triathlete to join the Team ERDINGER Alkoholfrei elite squad supported by the isotonic Bavarian alcohol free wheat beer. Nikki joins the team, which also includes Daniela Bleymehl, Patrick Lange and Tom Davis from the start of the year as competitors hope for a return to a more active training and competition schedule during 2021.
"I have been a pro-triathlete for five years" commented Nikki "but know that there is no overnight success and feel as if I'm still at the beginning of my career, with 2019 being something of a breakthrough year. Like many others I spent 2020 working on becoming a better athlete and am the fittest I've been, so making the Team ERDINGER Alkoholfrei elite squad has come at just the right time and is a real honour. It's something I've dreamed about and the belief they have shown in me will give me even more incentive to succeed and I look forward to wearing the ERDINGER Alkoholfrei blue with pride, supporting those who are supporting me. I have lots of confidence to carry the improvements I've made into this year and it will be a real privilege to prepare for another season alongside such esteemed team-mates."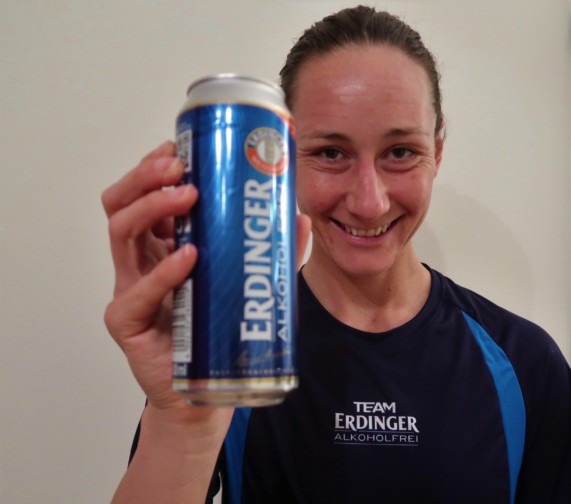 Commenting on her invitation to join the team, UK Country Manager Peter Gowans said "Nikki epitomises everything that Team ERDINGER Alkoholfrei stands for, with heaps of self-motivation and a positive attitude to achieving her goals, whilst also encouraging and inspiring those around her. She will be a huge asset to the team and I'm sure that her support and encouragement within the wider triathlon community will help spur others on to aim for even higher levels of achievement."
With competitions curtailed in 2020, Nikki was able to take part in just a handful of events but turned in solid performances at Helvellyn, Outlaw X and Daytona, as well as competing in three IRONMAN VR Pro Challenges. Subject to competitive races returning, her 2021 schedule includes IRONMAN Majorca, Kona, Wales and Frankfurt with an ultimate ambition of finishing in the top five in Kona within the next few years.
Nikki is also a race guide with the British Paralympic team, working with PTVI Paralympic silver medallist, Alison Peasgood and they have a big year ahead of them. "Qualification for the 2020 Paralympics was postponed due to the pandemic" said Nikki "so Alison and I will be giving it everything we've got to make sure we're at Tokyo this summer and winning a Paralympic medal, if we qualify, would be absolutely amazing."
Members of Team ERDINGER Alkoholfrei will continue their individual training programmes but will also be encouraging each other as they prepare for a successful year of representative competition once current restrictions are lifted.