With water at around 6°c and an 'uphill' swim combined with an obstacle course… the Red Bull Neptune Steps is – by normal measures – a slightly bonkers event.
And that, perhaps, is why the final in Glasgow on Saturday included an Olympic Games triathlete and European Games Champion (Gordon Benson), ITU World Cup winner (Mark Buckingham), multiple World Championship medallist (Marc Austin), British Triathlon Age Group Athlete of the Year (Edward Castro) and World Junior Championship medallist (Con Doherty), all finishing in the top ten.
Second last year, Marc Austin was once again the best of the triathletes, finishing third and earning another Red Bull Trident.
I wonder if this will be appearing as a new event in the next edition of Super League Triathlon?!!!
---
YOU ONLY SWIM WHEN YOU'RE WINNING
Mark Deans and Jennifer Davis claim gold in the third annual Red Bull Neptune Steps
More than 300 brave competitors took to the Forth & Clyde Canal on Saturday for the ultimate test of physical and mental strength in Glasgow on Saturday.
In a stacked field, which included Olympic triathlete Gordon Benson and World Universities Champion Grant Sheldon, Mark Deans from Glasgow used his experience to win the title for the third year in a row.
Survived 3 rounds in 6 degree water today in pursuit of another @RedBullUK trident. @YondaRacing packing pic.twitter.com/otSSTw7BkU

— Marc Austin (@marcja94) March 18, 2017
The 21-year-old conquered the course in just five minutes and 49 seconds, with Andrew Horsfall-Turner completing the race just two seconds later in a nail-biting finale. Scottish ITU triathlete Marc Austin came third.
Meanwhile, in the female race, another Scot secured the win despite competition from thrill-seekers from across the globe.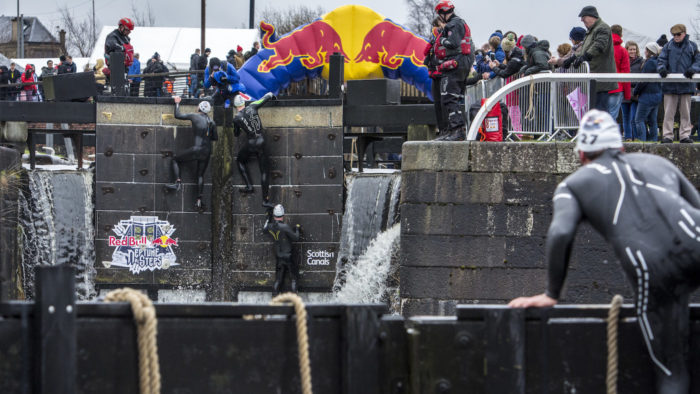 Jennifer Davis from Dalgetty Bay fought off 19-year-old up and coming open water swimmer Lilyelle Craw Seaman from Bothwell to claim the female competition in seven minutes and 18 seconds.
Mark Deans from Jordanhill said: "I gave myself a bit of work to do. I was catching him bit by bit and I knew I had enough sprint in me to get him in the end. Experience is everything in these races. It's all about knowing what position and how to tackle the obstacles.
"Conditions were so tough this year as the flow of water made the obstacles even more challenging. I'm going to keep on winning this event for as long as I can. It's in my home town. All my friends and family were cheering me on. There's nothing else like it."
Jennifer, an Edinburgh University student and Scottish water polo international, used to compete alongside Mark during her days in Scotland's open water swim team.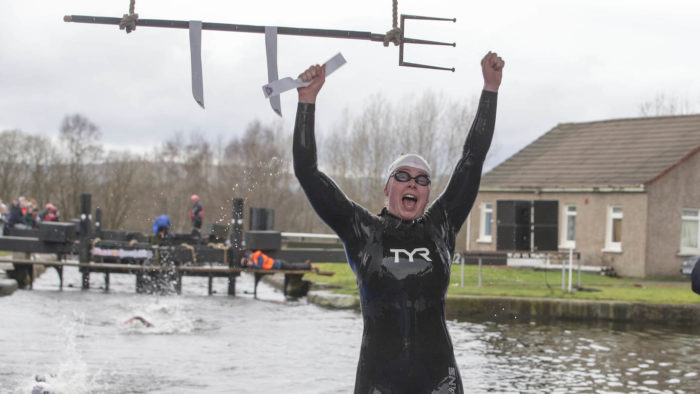 The 25-year-old said: "I've been keeping a close eye on this event for years. There's so much up and down and you're constantly changing what you're doing. I've never done anything like this before so wasn't sure how I'd get on. Your hands get so cold during the climb.
"It was different to anything I've ever done before. It's intense but thankfully the adrenaline kicked in. I'll definitely be back next year."
Mega day at #RedBullNeptuneSteps. @marcja94 3rd, I was 5th or 6th, @gordonleeds just coming over the last obstacle…… #banter pic.twitter.com/2YPXLpfyvy

— Mark Buckingham (@TriBucko) March 18, 2017
Competitors from as far afield as Canada and Lebanon took on the world's only uphill swimming race as thousands of spectator lined the course.
Athletes went head to head in heats throughout the day, before advancing to separate male, female and junior competitions. The winners from each round moved onto the semi-final heat and eventually the final.
Each canal gate featured a different obstacle, which the swimmers had to climb over before diving into the next section of water, including cargo net, ropes, wood ladder, rope ladders and a climbing wall.
For more information on Red Bull Neptune Steps, visit redbull.co.uk/neptunesteps.
'On Board' with Gordon Benson
What did you do today?
I was in Glasgow Canal three times and loved it#redbullneptunesteps #notwarm #itsnotalwaysthatsmall
📸: @afloralcrown pic.twitter.com/5Pbb6oosG6

— gordon benson (@gordonleeds) March 18, 2017
Results
1st – Mark Deans – 5:48
2nd – Andrew Horsfall-Turner – 5:51
3rd – Marc Austin – 6:06
4th – Scott Deans – 6:14
5th – Mark Buckingham – 6:27
6th – Edward Castro – 6:33
7th – Garod Thomas – 6:37
8th – Gordon Benson – 6:44
9th – Con Doherty – 6:46
1st – Jennifer Davies – 7:18
2nd – Lilyella Craw-Seamen – 7:29
3rd – Fiona Gibson – 7:42