Holkham's Sam Proctor in Six Week, Sixty-Hour Cycling Challenge for NHS Superheroes
On Sunday 19th April, pro-triathlete Sam Proctor, a team member at The Victoria Inn, Holkham, started a mammoth six week cycling challenge to raise money for The Queen Elizabeth Hospital King's Lynn Charitable Fund.
The idea for the challenge was prompted by the ongoing achievements of the team at The Victoria Inn at Holkham, during the COVID-19 crisis – in delivering meals to NHS staff at the Queen Elizabeth Hospital in Kings Lynn, as well as meals, estate-grown potatoes and other produce for vulnerable people within the local community. The challenge is running for six consecutive Sundays, with Sam cycling a minute for every meal delivered to the NHS that week. An average of 600 meals are being delivered weekly, which means a mighty 10-hours of cycling for Sam each Sunday.
Supporters can join Sam for live video streaming via Holkham's and his own social media channels, as well as having the opportunity to cycle with Sam via Zwift. Sam will be set a different route each week, including a leg-pounding virtual ascent of Mount Everest. The challenge also includes NHS worker phone ins, duo rides with surprise guests and a potential two-day, 10-hours per day, final weekend climax. The challenge itself will take place in The Orangery at The Victoria Inn, with inspiring views out over the Holkham National Nature reserve.  All participants will, of course, be joining Sam virtually.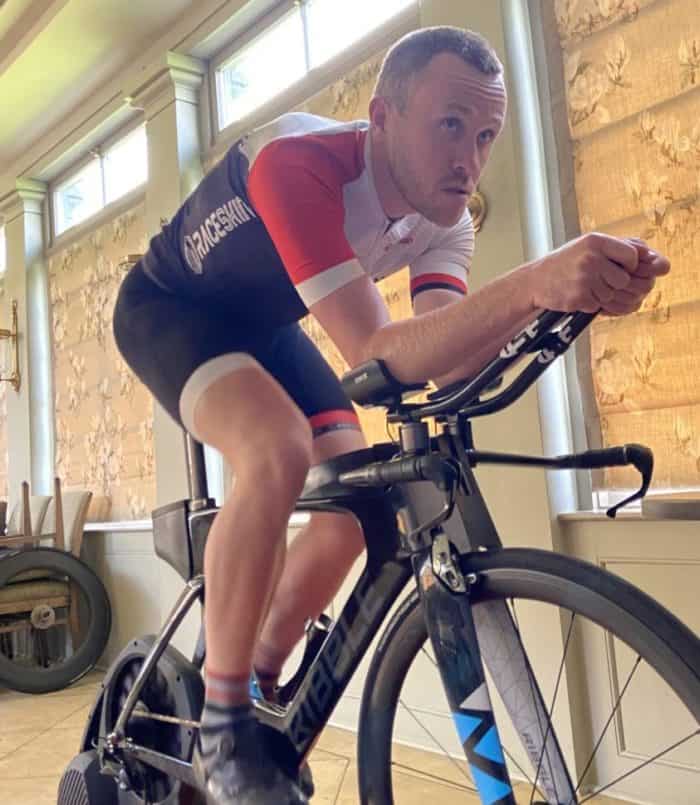 As Sam explains, "I am excited to have this challenge to focus on. Yes, it is tough, but not in comparison to the amazing work our NHS staff are carrying-out to help save lives during this pandemic. I've made a good start and am looking forward to more people joining me over the next few weeks."
Joining Holkham and Sam in the challenge are a raft of local food suppliers and global sporting supporters and sponsors. Supporters include Ribble Bikes, ERDINGER Alkoholfrei, Hoka One and Zwift.
Peter Gowans of ERDINGER Alkoholfrei is cheering Sam on all the way, saying "This challenge is typical of the drive and determination that secured Sam a place in the ERDINGER Alkoholfrei UK Triathlon Team. He's shown a winning spirit by combining training with fundraising for such an important local cause and we know that he and The Victoria Inn team are already making a real difference".
Sasha Castling of Ribble Bikes added "We're incredibly proud to support Sam in his challenge and naturally as one of our sponsored riders we jumped at the chance to help him and the team. We would love everyone to join us in wishing him the very best over the six weeks and helping to raise as much as possible."
Likewise, Sasha Hart at TORQ Nutrition gave their response on hearing about the challenge, "TORQ are enjoying being a part of such an incredible challenge and hope that Sam's great effort will help to inspire other athletes to similarly become involved, in channelling their energy & enthusiasm in a positive way. We sincerely hope that the cycling and triathlon distance challenges will help to raise further awareness and funding for our incredible NHS staff, who have dedicated so much to us all. It is a great honour to support Sam, and we wish him all the best."
Head of staff engagement at the QE Hospital, Amanda Jane Weir, shares her gratitude for the forthcoming challenge, "Everyone at The Queen Elizabeth Hospital King's Lynn really appreciates the messages and support we are getting from our community. It means so much when staff are working so hard to keep patients and each other safe and well. The meals being delivered to the hospital have really boosted morale and Sam's challenge is fantastic. Thank you so much to everyone who supports him."
Overall, the main aim of this challenge, titled Holkham's NHS Heroes Cycling Challenge: Powered by Proctor, is to raise as much money as possible for an incredibly worthy cause. Supporters wishing to donate during the six-week period will be able to do so via Just Giving: https://www.justgiving.com/fundraising/poweredbyproctor
To follow Sam's challenge visit:
For phone-ins during the rides call: 07595 437188
For more information, please visit https://www.holkham.co.uk/ or contact holkham@perowneinternational.com / +44 (0) 207 078 0295