Sian Rainsley made an encouraging return from injury with second place at the Europe Triathlon Cup Caorle over the weekend.
Last year saw the British athlete perform well at Super League's Arena Games as well as notch a top 10 at WTCS Hamburg where she was also part of a young winning Mixed Relay team alongside Kate Waugh, Barclay Izzard and Sam Dickinson.
But this season started in the worst possible way as she suffered a ruptured anterior talo-fibular ligament and a grade 1 calcaneofibular ligament tear after rolling her ankle in a pot hole on a run.
Forcing the pace
That had left her booted up in January rather than out training but four months on she returned to Italy for the Continental Cup event and made it onto the podium.
She led out the swim, was part of the break on the bike and then – in what was the big unknown – stayed on strongly on the run to grab the silver medal in an overall time of 57:36, seven seconds behind winner Selina Klamt of Germany.
We caught up with her afterwards to hear how it had all gone and find out what's next.
She told us: "My first race of the season is done and in all honesty, it went better than I thought it would. It's hard to have full confidence in your run form when you've missed a chunk of it. With this, the plan was to make it as hard a swim-bike race as possible and hopefully get a head start on some of the speedy runners.
"The plan was a success! After a crazy beach start with many dolphin dives, I put my head down and focussed on getting to the buoy first.
"The tide and current was insanely strong and definitely made for an extra few meters on the swim as we were being pushed in the wrong direction. I pushed the pace and led for the majority of the 750m – more like 800m – swim but passed on the dolphin dives out by a fellow athlete."
So far so good
And the aggressive gameplan continued out of T1, with Rainsley adding: "We mounted our bikes and the field was split which was perfect! A group of four of us had a small lead so we kept the pace on to make the others work.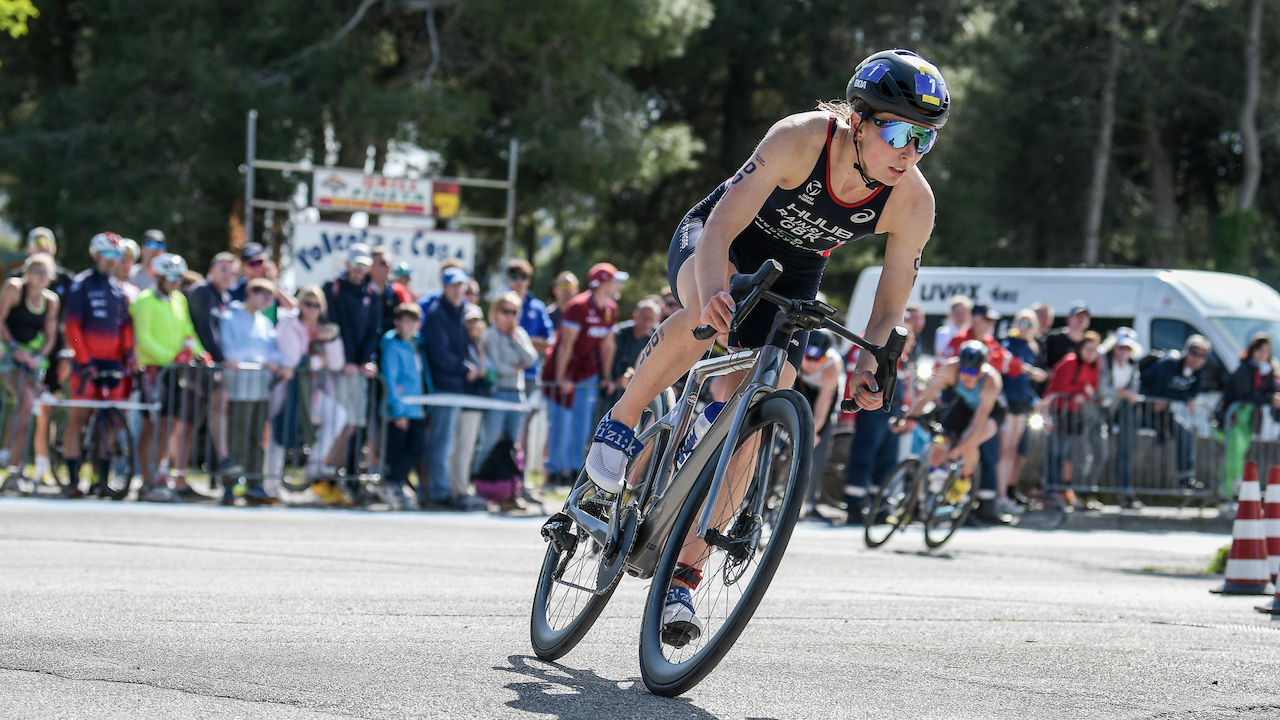 "I was feeling strong so did a lot of the work and even broke away solo for half a lap. By the end of lap three, it had become a group of 11. I continued to push the pace, now alongside some British teammates for company. We managed to get the gap to over 40 seconds to the group behind which fortunately contained some of the speedy runners I'd be worried about."
The run felt like a complete unknown.
So far so good, but the moment of truth had arrived: "Sessions have been building nicely but there's not been lots of them and with only a couple of strides off the bike previous to this race, I knew it was going to be a shock.
"A good T2 had set me up nicely and we were running as a group of seven for the first 1.5km. In all honesty, I wasn't feeling overly confident for a podium at this point. We were taking it in turns to up the pace and one by one, people were dropping until, myself and a Belgium athlete [Jolien Vermeylen, who would finish fourth] were also dropped by the flying German athlete [Klamt].
Strong finish
"Running in second and third, I wanted to keep the pressure on. Into the headwind, the Spanish athlete [Cecilia Santamaria] managed to join us so now we were running for second, third and fourth and nobody wants to finish fourth, especially when it's coming down to a sprint finish. I wasn't taking my chances and surged with around 800m to go and managed to stay clear for second – a way better run than I'd expected!"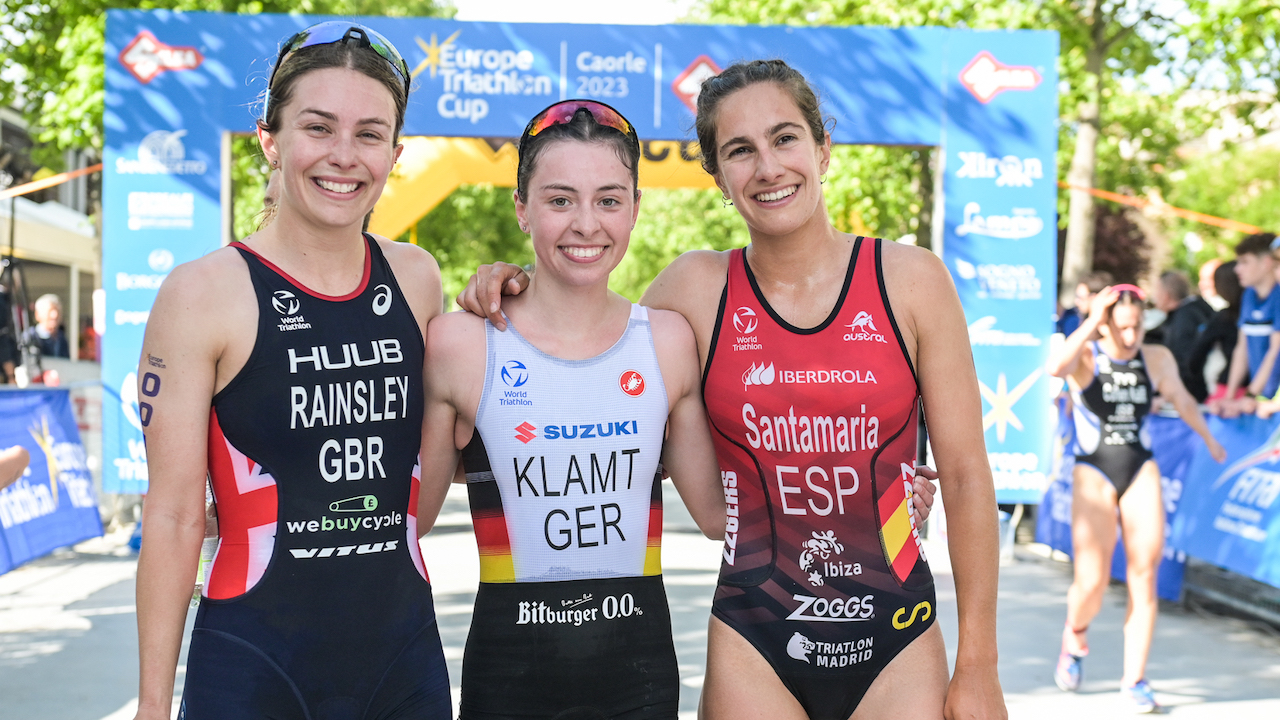 And she revealed afterwards that she won't have to wait long for her next race which takes place in Madrid in the first week in June, adding: "I'm happy to get the season rolling and now looking forward to hopefully building on this towards the European Championships."
Meanwhile there was a British one-two in the men's race with World U23 Champion Connor Bentley winning by two from Ben Dijkstra, who in turn was just a second ahead of France's Valentin Morlec.