Alongside an already busy weekend of racing around the world, the latest Continental Cup event in Europe took place on Saturday at the Europe Triathlon Cup Caorle in Italy.
Located a short ferry ride up the Adriatic coast from Venice, this popular event was in its third year and also hosted the first of four 'Rising Stars' focussed events in the European Triathlon Junior Cup series. With that, the Europe Triathlon team were putting significantly increased profile, social media coverage and also live stream broadcast to raise awareness and build the profile of their future stars.
We had four excellent races – and I was very pleased to be the broadcast commentator for them all. Here's a wrap on how it all played out.
Junior Women: Szalai makes winning debut
There can't be too many 15 year-old athletes, making their debut on the Europe Triathlon Junior Cup series, who've already gained significant profile outside of their home nation. Step forward Fanni Szalai. The Hungarian youngster was the breakthrough name this year in the Arena Games Triathlon Series when up against the seniors as she took a podium spot in Sursee and then finished eighth in the London Final.
The large entry – this event was a qualifier for the World Junior Championships – meant that this was a two-day semi-finals and finals format, over a super-sprint (300m / 9.5km / 1.9km) distance. Despite only needing to finish top-9 to qualify, Szalai won her heat – the fastest of the day – by a relative country mile. Giving her bib #1 for the final, any concerns that her qualification efforts represented tactical naivety were quickly extinguished in the final.
Leading out the swim, she was part of a breakaway group of around 12 that earned themselves a 10-15 second advantage at T2 – and inside the the first 30 seconds of the run she took control and never looked like being challenged. Remember, she was racing against high-quality athletes up to four years her senior, several of whom have European and World Championship medals to their name already. With plenty of time to high-five the crowds and enjoy the long finishing straight, she still dominated.
'Rising Stars' was the branding for this event. Quite appropriate in the case of Fanni Szalai.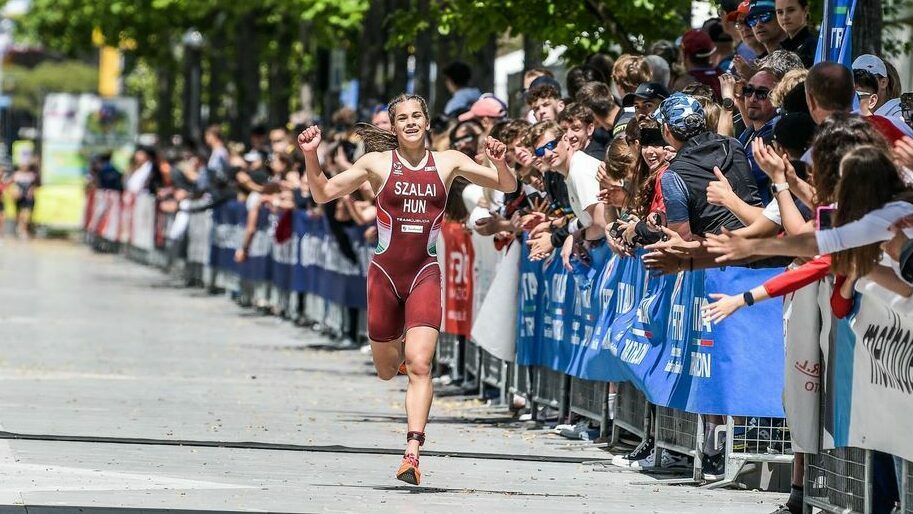 Junior Men: Italian hat-trick
The last two editions of this race had seen home athlete, Euan De Nigro, take the title for the Azzuri. Even at Junior level, that sort of C.V. provides pressure and expectation – but De Nigro dealt with it in style, and ran to victory once again in what will be his last chance to race in this event as he turns 20 next year. You can be all but certain we'll see him back 12 months from now in the Senior Elite race.
"On the bike we tried to push away immediately and we formed a good group, with all of us collaborating. Nils attacked on the run and I was already struggling… but then on the last few hundred metres I just attacked all the way, and of course Caorle is my favourite race and now I've one it three times in a row. All of the crowd screamed my name, it's amazing."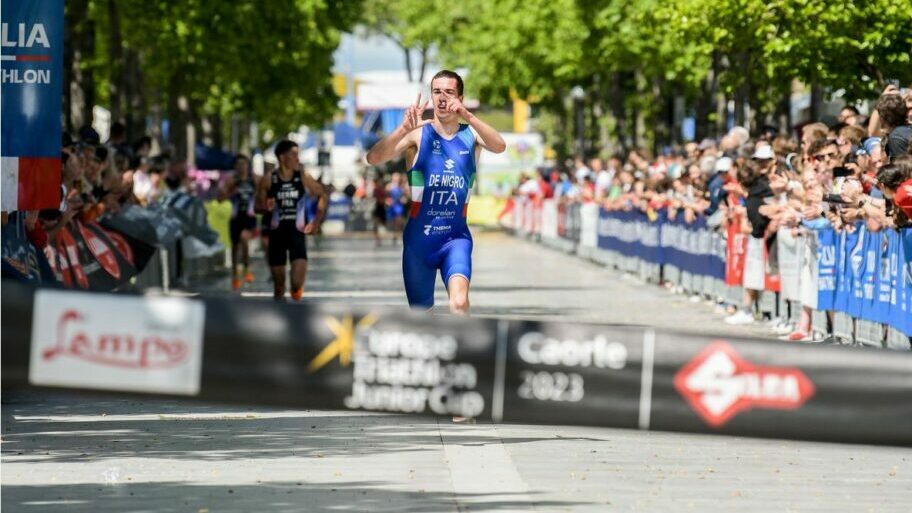 Senior Women: Klamt steps up, Rainsley returns
12 months ago Germany's Seline Klamt took bronze here in a sprint finish, but this year she returned to make the race hers.
In what would be a theme for the day, a small group of 12 managed to get away soon after the swim and remain in place until T2. That included a quintet of Brits – Sian Rainsley, Daisy Davies, Sophie Alden, Hollie Elliott and Sophia Green. Significantly, it also meant that they had distanced the 2022 Caorle gold and silver medallists, Carlotta Missaglia and Angelica Prestia, and also the fast running Tilda Mansson, the reigning World and European Junior Champion.
Klamt wasn't waiting around for a sprint this year, and with around 3km to go made a decisive break and nobody could go with her. Off the back of some early season injuries, Rainsley was happy to return to racing with second place after battling hard with Cecilia Santamaria Surroca (ESP) and Jolien Vermeylen (BEL) in the closing kilometre. Click here for her reaction.
Klamt commented, "I hoped for a good race this year, but I never expected to win. It was an amazing way to start the season."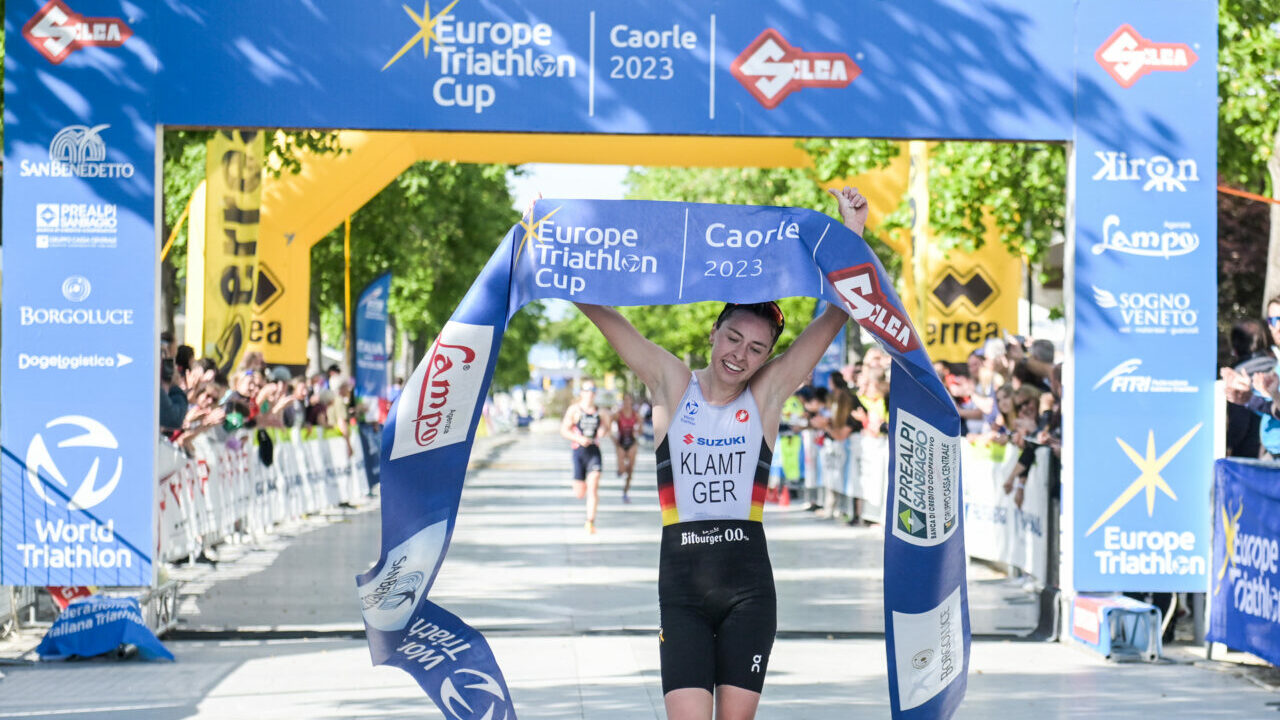 Senior Men: Bentley battles Dijkstra to British one-two
The final race of the day was the Senior Men, and it also provided a fourth different nation topping the podium.
Arena Games Triathlon London winner, Nicolo Strada, lead the way through the opening 750m swim alongside former European Junior Champion, Henry Graf (GER). Gaps behind were small however, and U23 World Champion, Connor Bentley, and fellow Brit, Ben Dijkstra, were in close contention.
That quartet were joined by Alberto Gonzalez Garcia (ESP), Valentin Morlec (FRA), Alessio Crociani (ITA) and Baptiste Passemard (FRA) as a hard-working group of eight established an advantage of more 48 seconds over the chasers as they arrived at T2. That was too much for anyone to bridge, and ultimately the breakaway group would be rewarded with the top eight positions at the finish.
Despite losing a couple of seconds through T2, Bentley was soon back towards the front and pushing the pace alongside Dijkstra, Morlec and Corciani in what was turning into a great finale to the day. Bentley was running smoothly, and seemingly trying to gradually up the pace from a long way out to put the pressure on Dijkstra, rather than leave it until a sprint finish. That plan worked, and Bentley added another win to his 2022 successes in the British Elite Champs and that Abu Dhabi Championship Finals.
It wasn't easy though, Bentley commenting post-race that he only knew he had the win "about 30-metres from the finish line!".
"Ben had me racing real honest the whole way. It was on from the gun, I'm over the moon to finish first, but we've seen that British racing is still there for me and Ben, so we are really happy.
"That first lap of the run, I was thinking, I don't know if I can hold on to these guys at the front. I was just trying to control my breathing and the second lap I just got into my rhythm and we stretched a little bit away, back and forth with Ben, and then it just seemed to come together for men.
"It's really set my season up. I couldn't ask for a better season opener. There's a few things I need to take away from this and learn from, but it means a lot to me."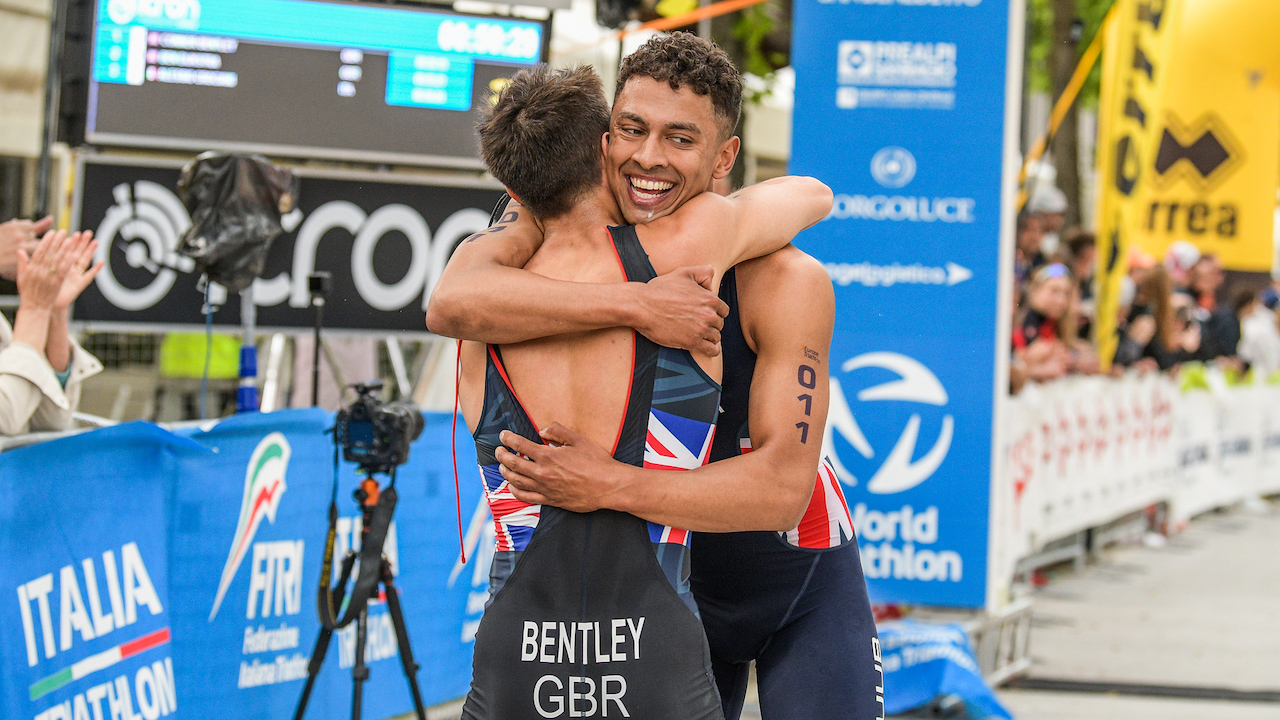 Europe Triathlon Cup Caorle 2023 Results
Saturday 13 May 2023, Caorle, Italy
750m / 19.2km / 5km (Elite) and 300m / 9.5km / 1.9km (Junior)
Elite Women
1. Selina Klamnt (GER) – 57:29
2. Sian Rainsley (GBR) – 57:36
3. Cecilia Santamaria Surroca (ESP) – 57:39
4. Jolien Vermeylen (BEL) – 57:48
5. Candice Denizot (FRA) – 58:03
Elite Men
1. Connor Bentley (GBR) – 50:19
2. Ben Dijkstra (GBR) – 50:21
3. Valentin Morlec (FRA) – 50:22
4. Alessio Crociani (ITA) – 50:24
5. Baptista Passemard (FRA) – 50:33
Junior Women
1. Fanni Szalai (HUN) – 27:34
2. Manon Laporte (FRA) – 27:42
3. Ilona Hadhoum (FRA) – 27:45
4. Léonie Douche (FRA) – 27:53
5. Eve Whittaker (GBR) – 27:57
Junior Men
1. Euan De Nigro (ITA) – 24:49
2. Nils Serre Gehri (FRA) – 24:54
3. Pablo Isotton (FRA) – 25:00
4. Hector Tolsoa Garcia (ESP) – 25:01
5. Zalán Hóbor (HUN) – 25:03