The coastal town of Caorle, in the Metropolitan City of Venice, Italy hosted the latest fifth round of the Europe Triathlon Cup series for Elite senior athletes on Sunday.
Following on the heels of Lievin, Quarteira, Melilla and Yenişehir it was another race with live coverage too. Kudos to Europe Triathlon for getting their product out there.
Both events were decided in the final finish straight, with each winner finishing just one second clear of their nearest competitor.
Women – an Italian double
The opening 750m (non-wetsuit) swim saw the familiar sight in European events of Bianca Seregni (ITA) leading the way. With just Great Britain's Sophie Alden for company, they exited the water with a significant lead of 25 seconds.
That duo rode together in the early stages before Seregni – a multiple World and European Aquathlon champion through the Junior and Senior ranks – pulled clear and Alden was soon back in that large chase group. A brave move, but ultimately the collective strength of the chasers would prevail, leaving a huge group descending on T2 together.
Inspired by home advantage perhaps, as the finish line drew closer, a leading trio contained two Italian athletes – Carlotta Missaglia and Angelica Prestia – plus Germany's Selina Klamt. Whatever the result, it would be a first Europe Triathlon Cup victory at senior level for one of them.
The Italians took the top two spots, with Missaglia taking the gold.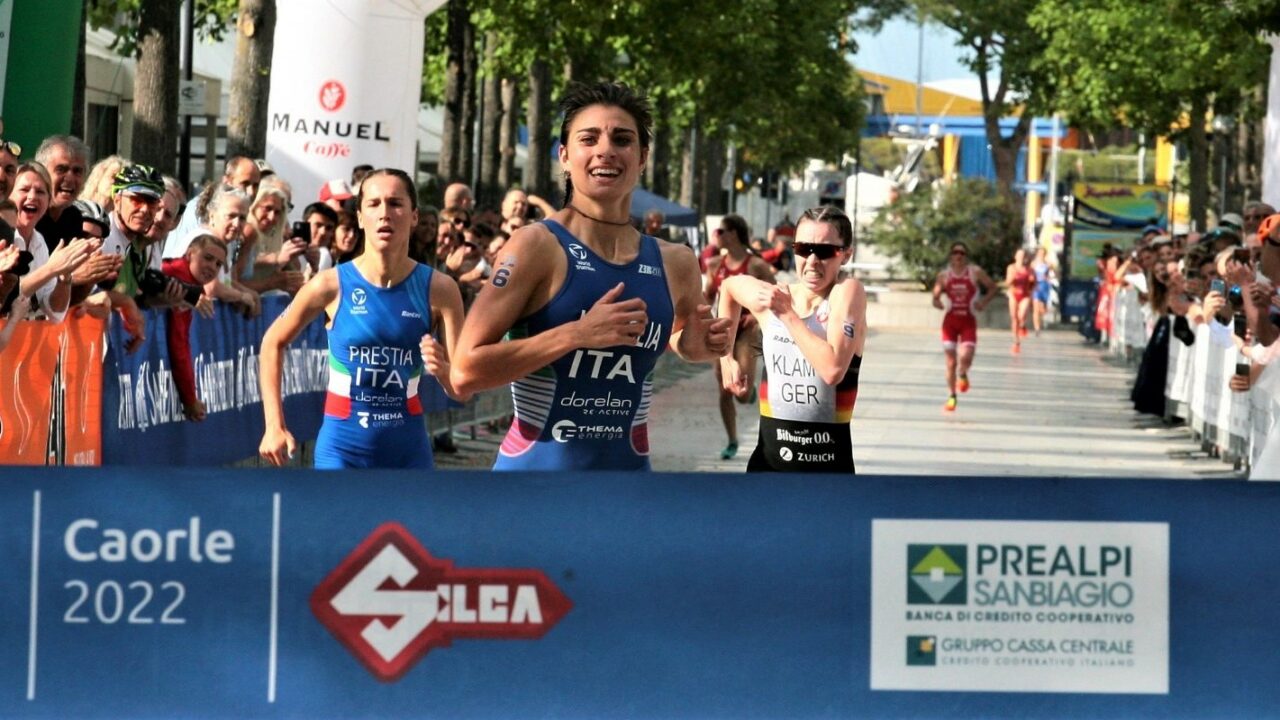 Men – no stopping Studer
As with the women's race, there was a break at the front of the men's race in the water. Again, it was Italy leading the way, with Alessio Crociani 12 seconds clear. With almost the entire field following in a very long line however, capitalising on that was going to be practically impossible on a flat and fast bike course.
That proved to be the case, and led by the hard work of Brits Tom Bishop and Sam Dickinson, the T2 dismount line was a very busy place to be. All down to the run to decide the winner then.
Despite a poor transition, Switzerland's Max Studer powered to the front on the run at what seemed like sprinting pace. Any thoughts that it may have been a reckless move soon evaporated as the European Sprint Champion proved again that he's the real deal.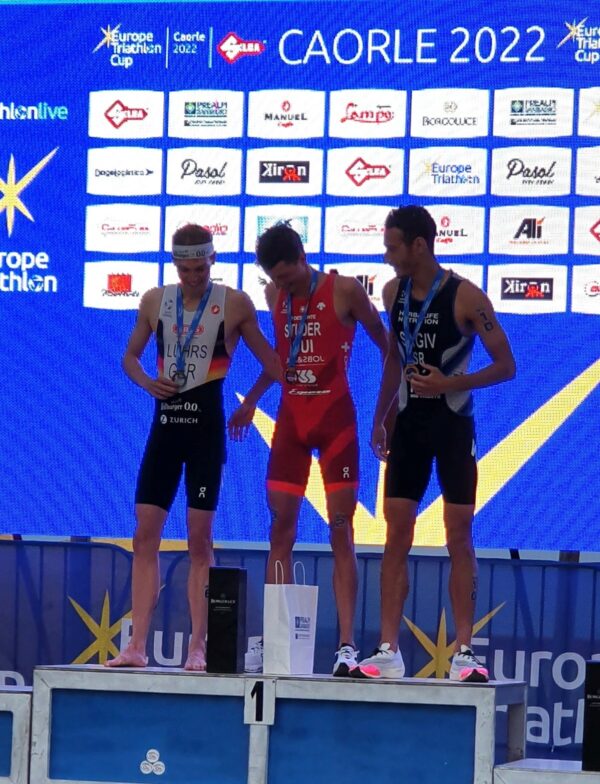 Europe Triathlon Cup Caorle Results 2022
Sunday April 17, 2022 – 750m / 20km / 5km
ELITE WOMEN
1. Carlotta Missaglia (ITA) – 56:58
2. Angelica Prestia (ITA) – 56:59
3. Selina Klamt (GER) – 56:59
4. Cathia Schar (SUI) – 57:09
5. Lisa Perterer (AUT) – 57:56
9. Sophie Alden (GBR) – 57:48
ELITE MEN
1. Max Studer (SUI) – 51:20
2. Lasse Luhrs (GER) – 51:21
3. Shachar Sagiv (ISR) – 51:23
4. Lorcan Redmon (AUS) – 51:29
5. Richard Murray (NED) – 51:33
6. Samuel Dickinson (GBR) – 51:36
9. Thomas Bishop (GBR) – 51:44
14. Barclay Izzard (GBR) – 52:05