Great Britain's Beth Potter kicked off 2022 in winning style today at the Europe Triathlon Cup Quarteira in Portugal.
After exiting with the leaders through what wasn't the easiest of swims, in control on the bike and then running clear over the final stages of the 10km run, the Commonwealth Games-bound athlete delivered exactly what we expected.
She will have far tougher challenges later in the season, but this will represent a very welcome start to her year. Her winter training has seemingly gone very well.
Riding the waves
There was some significant chop in the water today at Quarteira Beach as the Elite Women kicked off with a wetsuit-legal, two-lap, 1.5km swim to start the first (outdoor!) race of the Europe Triathlon Cup season. If you suffer from sea sickness, this was not your day.
Great Britain's Sophie Alden, who ended her 2021 season fourth in Barcelona, led the field through the majority of the challenging swim conditions, which potentially could have a greater impact on the race than we'd given credit for in our pre-race preview.
When they reached the sand for the second time and headed towards T1, it was the USA's Summer Rappaport leading the way just ahead of Alden, but with a group of around 10 in closer order. That also included Potter, our pre-race pick for the win, plus Barbara de Koning (NED), who won recently in Clermont, Florida. Potter was in prime position, while a far from optimal transition from Rappaport was not helping her prospects.
No break on two wheels
As they settled into the 40km ride (six laps), the leading group of seven athletes were soon caught, which saw key names such as Lisa Tertsch (GER), Anabel Knoll (GER) and a Portuguese trio of Melanie Santos, Maria Tome and Helena Carvalho swell the leading pack to around 12/13. That was the race gone – nobody else would see them again, on two wheels at least.
Potter was looking great in her season debut and, despite her strongest discipline to come, seemingly controlling the bike too. This is the sort of field that she should dominate if she's going to make the jump in 2022 from WTCS top-10's to podium contender – and she was doing exactly that. Impressive to see, but certainly not a surprise if you have closely followed her progress in recent years.
The rest of the bike had a strong case of 'uneventful' about it. Knoll, Alden, Potter and Sarah-Jane Walker (RSA) were consistently to the fore, but there were rarely, if ever, signs of any 'break' gaining anything more than a handful of seconds. The pace was solid – De Koning holding on at the back of the group evidence of that – but this was only heading one way. It was time to prep for the 10km run.
Potter powers clear
Potter eased into her running over the opening kilometre, moved towards the head of the race, passed U23 World Champion (from Quarteira) Emma Lombardi… and then it was a case of how long would the French athlete be able to hang on to the fast feet of the Rio 2016 Olympic 10,000m runner?
Lombardi is a fine runner herself, clocking 33:11 over 10km on the roads earlier this month to win in Cannes, and she would prove to be a worthy adversary. There would be no 10km lap of honour jog today. We had a race on our hands.
Potter continued to set the pace, but Lombardi was just a stride behind and showing no signs of yielding to the more experienced Brit. Showing no fear, she was also content to lead too and tried to exert some pressure on Potter around the 5km mark, who was still looking in control. This was turning into a top quality head-to-head battle.
When Potter made a move, she made it strongly, significantly increasing the pace in the closing stages and the French athlete couldn't respond. A gap of 30-metres was gained quickly and that would prove game over. Potter would run to victory and extend her winning margin, but will likely also be pleased that she was kept very honest for around 8km too. A perfect day really to start a busy season.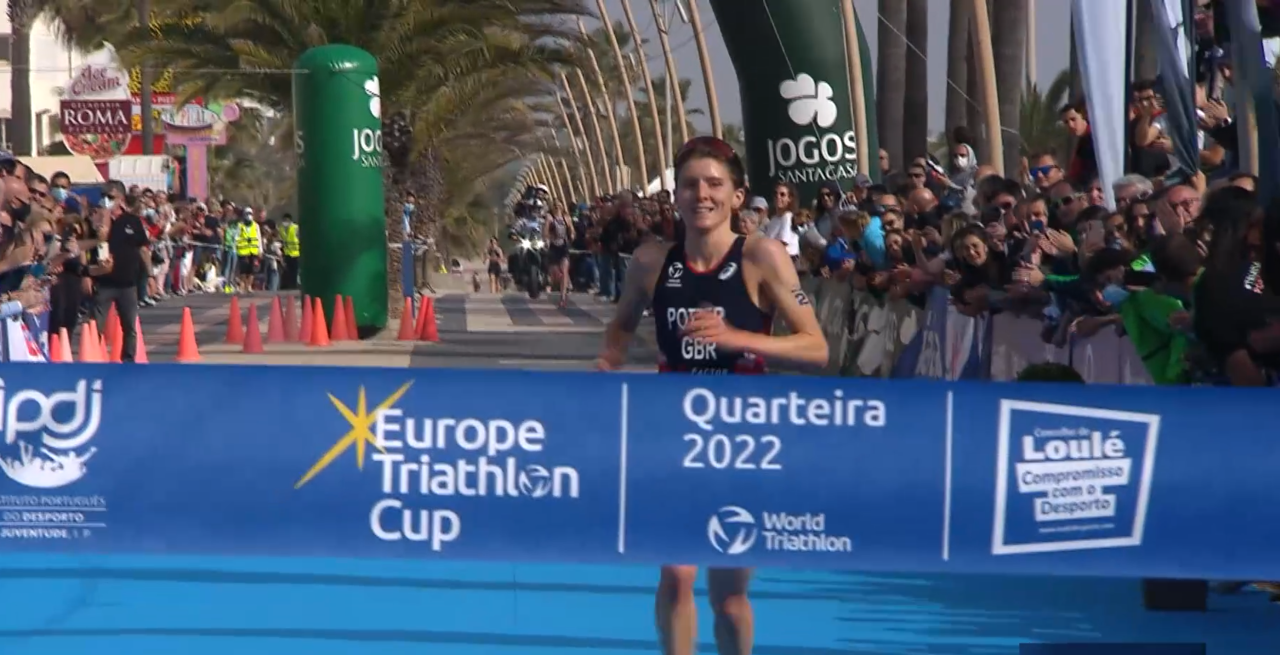 Germany's Lisa Tertsch looked pretty much out on her feet in the finish straight, but held strong to complete the podium, ahead of Maria Tomé (POR)
Europe Triathlon Cup Quarteira Results 2022
Saturday 26th March 2022 – ELITE WOMEN
1.5km / 40km / 10km
1. Beth Potter (GBR) – 1:58:56
2. Emma Lombardi (FRA) – 1:59:19
3. Lisa Tertsch (GER) – 2:00:37
4. Maria Tomé (POR) – 2:00:42
5. Melanie Santos (POR) – 2:01:28
6. Annika Koch (GER) – 2:01:31
7. Sophie Alden (GBR) – 2:01:41
8. Audrey Merle (FRA) – 2:01:42
9. Noelia Juan (ESP) – 2:02:00
10. Candice Denizot (FRA) – 2:02:10
18. Annabel Morton (GBR) – 2:03:09
32. Sophia Green (GBR) – 2:06:03
DNF. Iona Miller (GBR)
DNF. Tilly Anema (GBR)