One minute Sian Rainsley was right in the mix and the next she'd dropped down the field in SLT London – she joins us to give the inside track on exactly what happened…
Round one of my first Super League Championship series kicked off in London and it felt like the best way to get the ball rolling in front of a home crowd.
Like any race day, before you know it, you're stood on the start line!
Team Eagles were lined up furthest right on the pontoon; it was a longer distance to the first buoy but would be the inside line. Being the strongest swimmer in our team, we'd put me on the outside for clear water and hopefully the team could get on my feet.
The gun went and we were off, faster than normal, sprinting, as the swim was only 300m! As the spearheads met I could tell I was in a good position, phew. On Cassandre's feet round the first buoy and I stayed there until the exit, getting out the water in third.
'Bang, I was on the deck'
Transition was fast and my flying mount was nailed, both feet were straight into the bike shoes. Unfortunately I could see GTB having some issues getting her feet into her bike shoes as we took the first corner. I went to pass on the next straight when she accidentally swerved while still trying to get her feet in and bang, I was on the deck.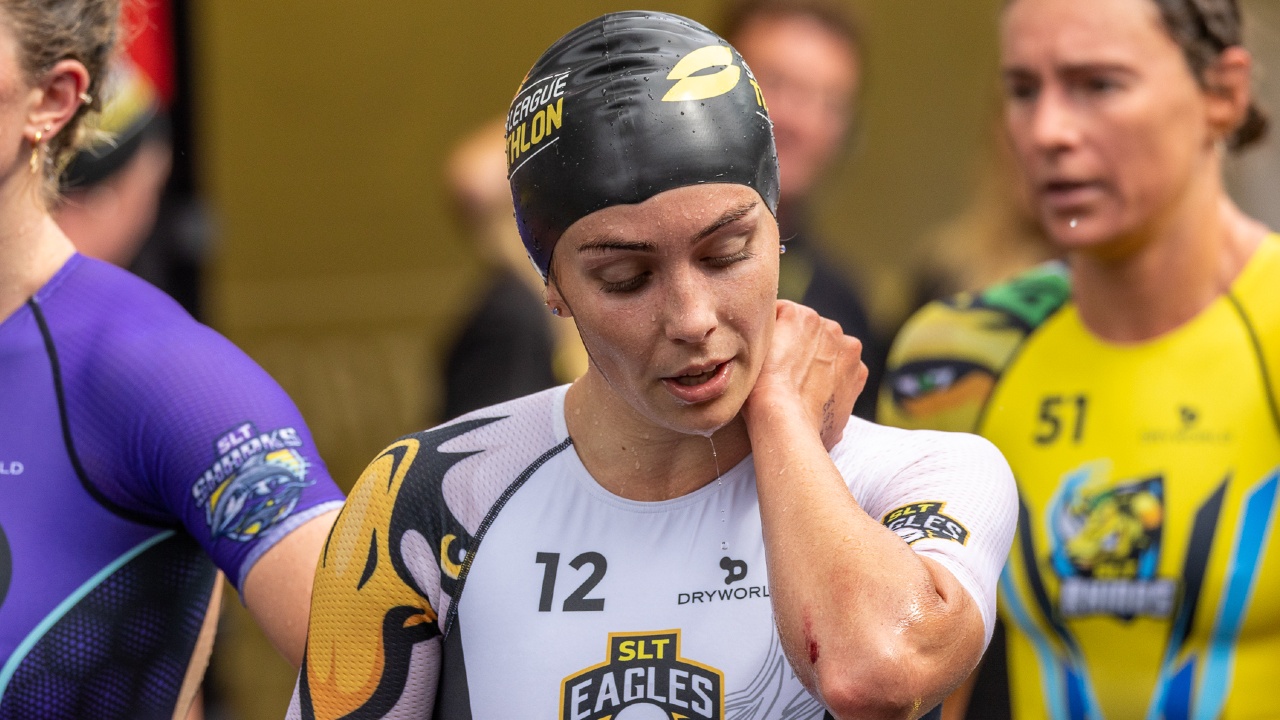 A bit of road rash, a sore left side, a banged head and wonky handle bars. This is not ideal, 80m into the first bike leg. I got up as fast as I could, the team need me, but unfortunately it was a day of chasing from there. The front pack was gone and over half the field had now made it.
During the second round I made up some time and with a solid bike and swim in the third round I was back in the mix for a top 10. Unfortunately, I'd spent my pennies even getting there and the run just felt heavy. The cherry on top was that I hadn't realised you could be eliminated by the 90-seconds rule whilst on a discipline and with 800m left to run, they stopped me as I was 0.5 seconds over… come on! I guess lessons can be learnt the hard way.
So I'm walking away from London with frustration and fire in my belly to come back fighting from this.